The Loop
New golf bag company has most sensational booth at PGA Show
ORLANDO, Fla. -- A slender young woman in a terrycloth robe stands on the sidewalk smoking a cigarette. Next to her is a fully dressed businessman grinning and chatting rapidly, his back to the afternoon sun. The two most striking people outside the Orlando County Convention Center are also getting the most attention inside.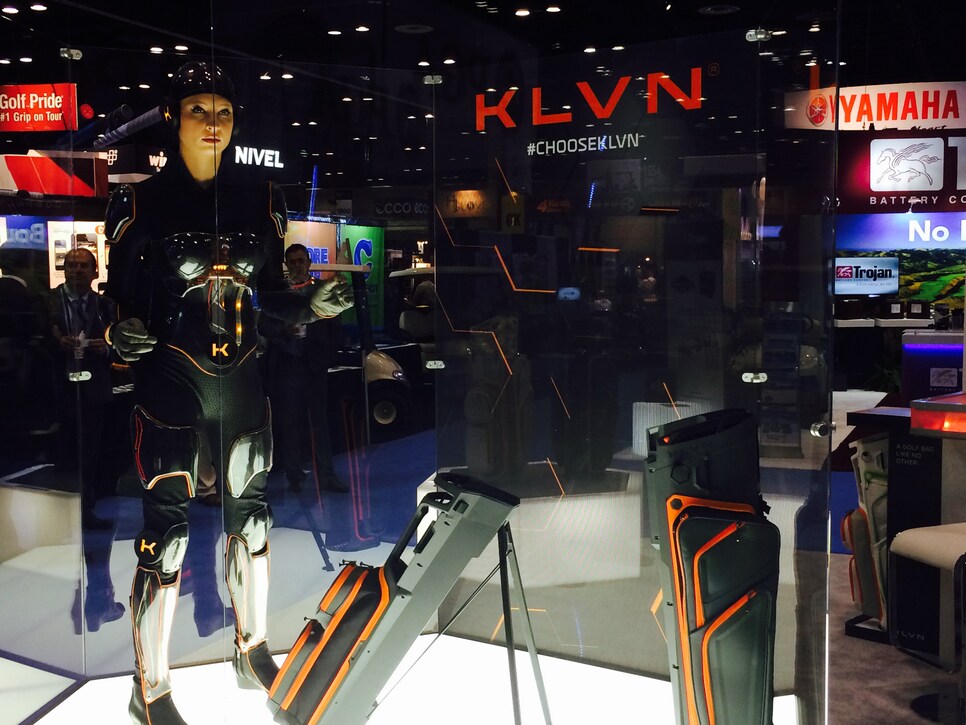 The man is Ted Foxman. He's from Chicago and he's spent the better part of two years preparing for this, the launch of the KLVN golf bag. Made of high-grade plastic, this angular and modish cart bag splits in half to become a carry bag, and just as quickly snaps back together to resume full size. The woman is Eden. She's an actress from Los Angeles and has spent all morning practicing the choreographed robotic dance she'll be performing inside a glass cage with the bag.
She'll wear a tight-fitting body suit, helmet and electronic breastplate inspired by the movie Tron. It gets hot dancing inside the cage, not to mention somewhat bewildering as strangers stop to study you, and it makes Eden lose her sense of time. Only when she sees her counterpart, Ali, appear from behind the dressing wall in a nearly identical custom-fit suit, does Ali know her 45-minute shift is up and its time for the robe and maybe a smoke.
"People can walk by and think hey that's a pretty cool golf bag and just keep on walking. Hopefully, this concept makes them stop," Foxman says.
"A lot of people don't think that I'm a real," Eden says.
The hiring and travel expenses of the two actresses, their bespoke suits stitched by a Hollywood designer, the 250-lb mobile suspending 10 bags high in the air above the booth — these costs are not insignificant, but they are little compared to the sums spent manufacturing prototypes and securing patents. The name, KLVN, is the removal of vowels from the word kolvin, an early form of golf played on ice by the Dutch. Foxman looks around at the avant-garde commercial scene he's created and lets slip an understandably manic laugh at the end of what's been a long day.
"This really isn't me. This isn't my personality," Foxman says. "But if you're going to do this, you've got to do it right."