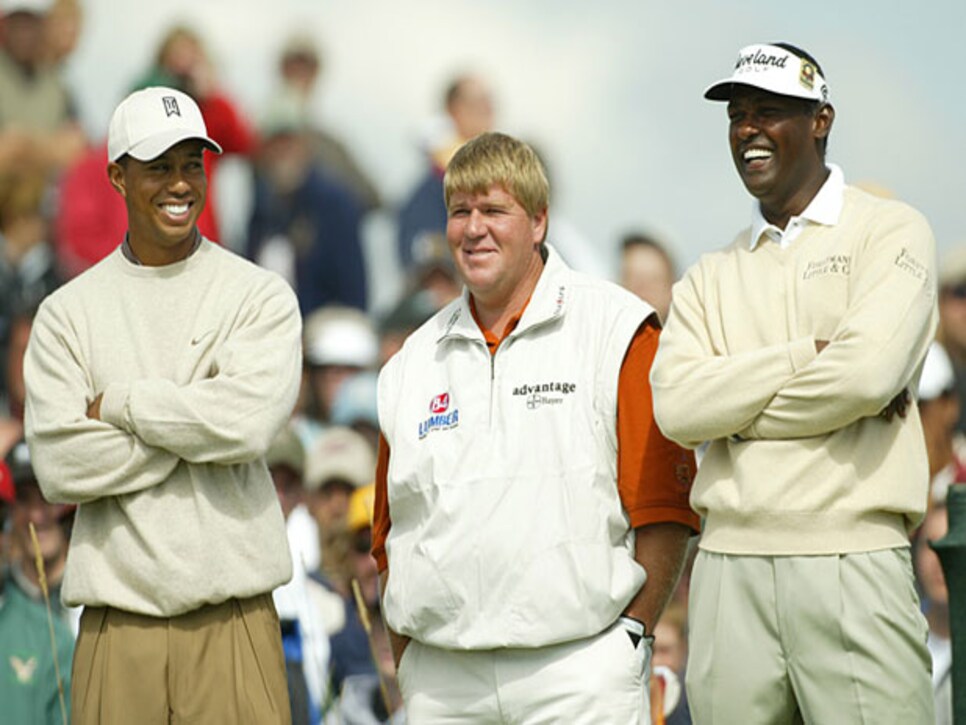 First RoundAn interesting threesome: Tiger Woods, John Daly and Vijay Singh.
First RoundA warmly dressed gallery watches as Vijay Singh hits a tee shot.
First Round
Ian Poulter sported the red, white and blue.
First RoundPadraig Harrington plays out of a bunker on the 13th hole.
First RoundTiger Woods shot a 75 in the first round.
Second RoundPlaying rough can be fun!
Third RoundWith Lake Michigan as a backdrop Whistling Straits earned raves in its debut as a major venue.
Third RoundAfter Saturday's round Ernie Els held the lead.
Third RoundVijay Singh plays a bunker shot.
Third RoundTiger Woods paired with Niclas Fasth is surrounded by fans and press. On Sunday Woods finished T24.
Final RoundPhil Mickelson in an 18th hole bunker finished T6.
Final RoundChris DiMarco's birdie try on the 72nd hole pulled up short, eventually landing him in a playoff.
Final RoundJustin Leonard's 72nd-hole bogey cost him a second major title and placed him in the three-way playoff.
Final RoundVijay Singh began closing the deal on his third major with a splendid fairway wood to Whistling Straits' 18th green on the last playoff hole.
Final RoundVijay Singh's final-round 76 was the highest close by a PGA Championship winner.