The Most Memorable Shots Of 2012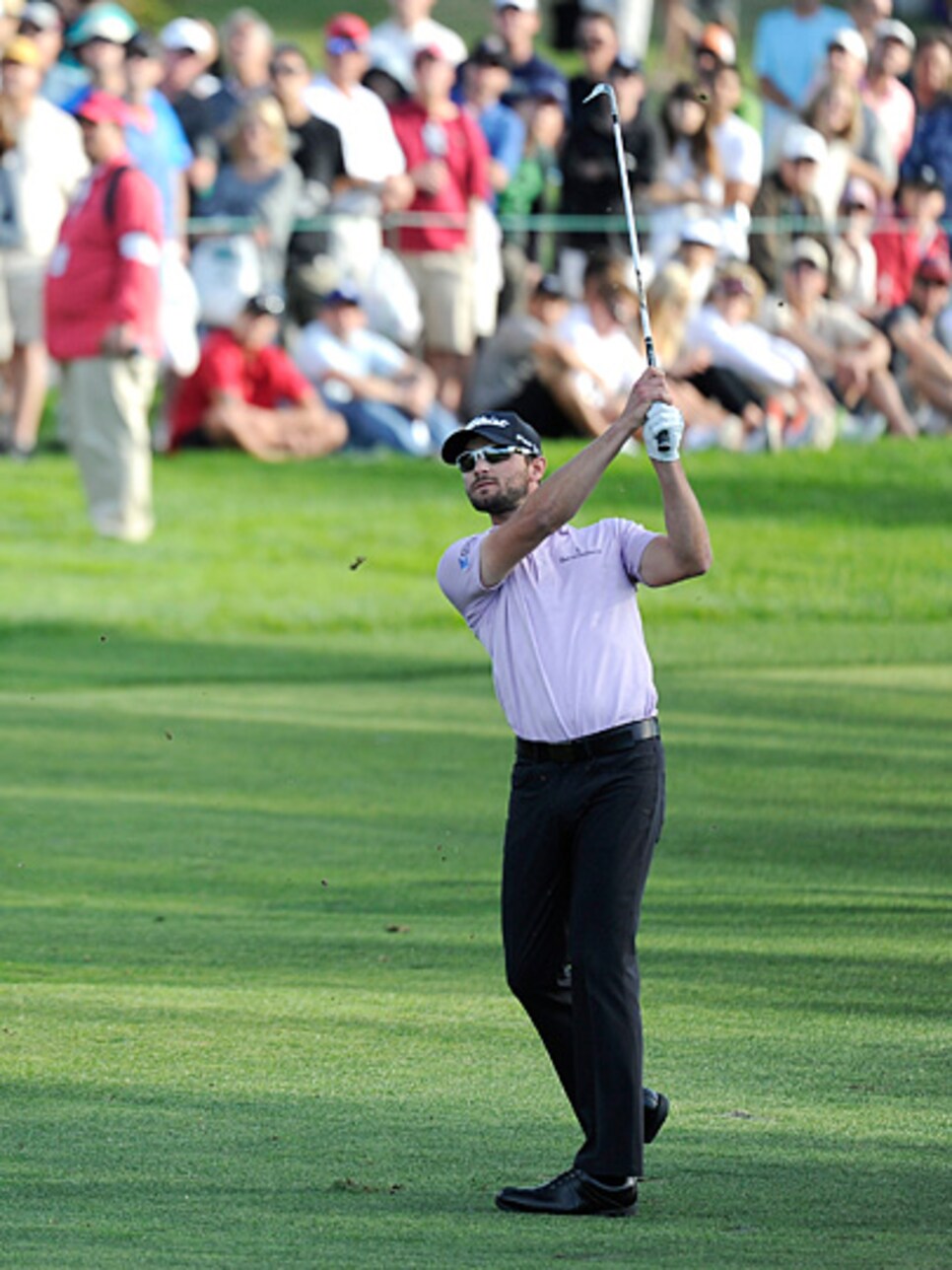 Kyle Stanley (Farmers Insurance Open)
The Clemson product was one disaster-free hole away from his first PGA Tour title when he arrived at Torrey Pine's No. 18. Oops. The sad thing is, Stanley's third shot after laying up on the par 5 wasn't that bad, but
it had a little too much spin
(1:03 mark) and ended up in the water. After dropping, he hit a safer shot to the back of the green and three-putted for a triple bogey to drop him into a playoff with Brandt Snedeker that he'd eventually lose. On the bright side, Stanley bounced back the next week to get that maiden tour win in Phoenix.
Photo By: Getty Images
Corey Pavin (Allianz Championship)
I mean, do you
see
that lie?! Tied for the lead on No. 14 on Sunday, Pavin morphed into an escape artist by turning an 8-iron around and taking a whack at his ball left-handed. Amazingly, the ball wound up five feet from the hole for a shot that
you have to see to believe
(35-second mark). Pavin would save par and go on to claim his first Champions Tour title.
Photo By: Getty Images
Bill Haas (Northern Trust Open)
For a second-straight year, Haas makes this list
with some extra-hole heroics
. This time, there was no water involved. After a wayward tee shot on Riviera's famed short par-4 10th, Haas -- in a sudden-death playoff with Phil Mickelson and Keegan Bradley -- pitched away from a treacherous pin position and safely onto the front of the green hoping to stay alive with a par. But the 2011 FedEx Cup champ
drained an unlikely 43-footer
instead to pick up his fourth PGA Tour title.
Photo By: Getty Images
Sun Young Yoo (2012 Kraft Nabisco Championship)
We've talked about a couple guys benefiting from short missed putts by their opponents, but nothing tops Yoo's win in 2012. I.K. Kim (shown) just needed to two-putt from 15-feet, but stunningly missed this par putt from about 15 inches. Yoo made birdie on the first playoff hole to win her lone major and keep Kim majorless.
Photo By: Getty Images
Louis Oosthuizen (Masters)
Had the South African gone on to win, this wouldn't have just been the unquestioned shot of 2012, but perhaps of all time. Nevertheless, people will be talking about Louis Oosthuizen's albatross for years to come A.) because he
holed a 4-iron from 253 yards
on Augusta National's second hole and B.) because it vaulted him into the lead on a Sunday at the Masters. It also featured the best play-by-play call of 2012, courtesy of CBS' David Feherty: "Oh, come to papa . . . YES!"
Photo By: Getty Images
Bubba Watson (Masters)
Unfortunately for Louis Oosthuizen, his dramatic double eagle in the final round at Augusta wound up not even being the most-talked about shot of the day. That honor went to Bubba Watson's incredible recovery on No. 10 -- the second hole of a sudden-death playoff -- in which he
hooked a wedge from 150 yards to about 15 feet
Photo By: Getty Images
Rickie Fowler (Wells Fargo Championship)
Fowler arrived at Quail Hollow as one of the PGA Tour's biggest stars despite having never won a tournament. He left with some validation for all the attention. In a playoff with Rory McIlroy and D.A. Points, Fowler smoked a drive down the middle of the difficult 18th hole and then
stuck a wedge to about four feet
to set up the winning birdie.
Photo By: Getty Images
Tiger Woods (The Memorial)
Trailing by a shot and in trouble on No. 16 at Muirfield Village on Sunday, Woods summoned some of the short-game magic that has been a staple of his career. Playing
a slippery flop shot perfectly
, Tiger's improbable birdie sparked a second win of the season and prompted tournament host Jack Nicklaus to call it the best shot under pressure he's ever seen.
Photo By: Getty Images
Webb Simpson (U.S. Open)
Webb Simpson made more birdies at Olympic Club than anyone over the weekend, but it was his par save on the finishing hole that stands out. Faced with a difficult chip with his ball sitting down in the rough,
Simpson coaxed it down to about three feet
(49-second mark) past the hole and made the ensuing putt. About a half hour later he was the new national champion despite having never led the tournament while being on the course.
Photo By: Getty Images
Jim Furyk (U.S. Open)
Seemingly in control all day and on his way to a second U.S. Open title, Jim Furyk came unhinged on the par-5 16th. The USGA threw the players for a loop by moving the tees up on Sunday and Furyk's looping swing didn't handle it well. An
ugly snap hook led to a disastrous bogey
and this uncharacteristic reaction from Furyk, who dropped out of the lead for good. Unfortunately for the veteran, this was just one of a series of painful close calls that came to define his 2012 season.
Photo By: Getty Images
Zach Johnson (John Deere Classic)
Despite incredibly-low scores on a yearly basis, TPC Deere Run does have its share of tough holes and No. 18 falls into that category. Johnson made it even tougher by finding a fairway bunker with his tee shot in a playoff against Troy Matteson, but his response not only produced a birdie attempt, but turned it into a piece of cake. Using a 6-iron from 192 yards, Johnson hit his approach to within a foot of the cup to set up a tap-in for the win.
Photo By: Getty Images
Ernie Els (British Open)
Els playing himself into contention on a course where he'd had a couple close calls at golf's oldest major made for a nice story. But the story got much more interesting when the 42-year-old posted a Sunday back-nine 32 that included this
15-foot birdie putt on Royal Lytham & St. Anne's
(50-second mark) finishing hole. Of course, we wouldn't be talking about this crowd-pleasing putt as much if not for. . .
Photo By: Getty Images
Adam Scott (British Open)
While Els surged, Scott stumbled down the stretch at Royal Lytham. The Australian held a four-shot lead with four holes to play, but four closing bogeys,
including this painful par miss from eight feet on No. 18
(28-second mark), handed Els his second claret jug and left Scott to be unfortunately compared to his idol Greg Norman for his Sunday swoon.
Photo By: Getty Images
Rory McIlroy (PGA Championship)
The 23-year-old had sucked any drama out of Sunday hours before, but that didn't stop him from creating one more highlight on Kiawah's Ocean Course. McIlroy
drained a 20-foot birdie putt from the fringe
on No. 18 to cap a dominant eight-shot win and break Jack Nicklaus' tournament record for margin of victory. Incredibly, McIlroy has won his first two major championships by a combined 16 shots.
Photo By: Getty Images
Lydia Ko (Canadian Women's Open)
How does a 15-year-old in contention on the back nine Sunday at an LPGA event react? By birdieing five of six holes, of course. Her fifth and final birdie of that stretch came on No. 15, where she stuck an approach shot eight feet below the hole and calmly drained the putt (left). The birdie gave her a comfortable lead and all but sealed her becoming the youngest winner in tour history.
Photo By: Getty Images
Paula Creamer (Kingsmill Championship)
How did the longest playoff between two players in LPGA history end? Not the way Paula Creamer would have liked. Looking for her first win in more than two years, the "Pink Panther" ran her birdie attempt five feet by on the ninth sudden-death hole -- the first on Monday morning -- and then missed this comebacker (left) to lose to Jiyai Shin.
Photo By: Getty Images
Brandt Snedeker (Tour Championship)
The Vanderbilt product is known for his putting prowess, but the hole-out of his life came with a wedge. After missing the green with his approach on the penultimate hole of the PGA Tour's Playoffs finale,
Snedeker chipped in for birdie
to all but wrap up the biggest win -- and check -- of his career. By finishing on top of a stacked leader board that included Tiger Woods and Rory McIlroy, Snedeker walked away from East Lake with the FedEx Cup trophy and the accompanying $10-million bonus.
Photo By: Getty Images
Martin Kaymer (Ryder Cup)
Photo By: Getty Images