BogeyPro Golf
The Ryder Cup's Most Memorable Celebrations
Recalling those moments when just hoisting a little cup wasn't enough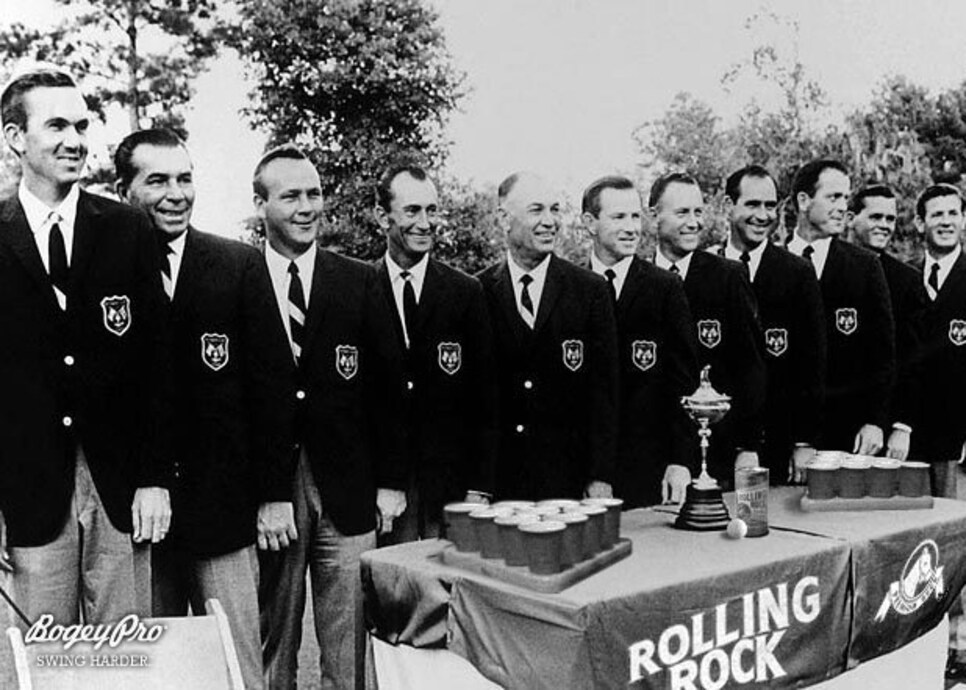 1967: TEAM USA CREATES BEER PONG
Latrobe Brewing (from Arnold Palmer's hometown) flew 50 cases of Rolling Rock, first class, to Rotherham, England. Moments after the first beer was cracked, Al Geiberger devised a unique game that he named "Toss & Chug."
1991: DAVID FEHERTY SABOTAGES TEAM USA'S VICTORY PHOTO
After narrowly winning 14.5 to 13.5 at Kiawah Island, S.C., Team USA gathered on the beach for a team photo. What happened next is what many consider to be history's first "photo bomb."
2002: TEAM EUROPE'S "RETALIATION DANCE"
In response to the 1999 controversial American celebration that followed Justin Leonard's putt, the 2002 European team retaliated with a German-inspired Schuhplattler. They upped the ante, by doing the dance after every hole they won.
2004: SERGIO COLLECTS ON A SIDE BET
Phil Mickelson is unlikely to forget the 2004 Ryder Cup, where he lost his bet with Sergio Garcia after dropping their Sunday singles match, 3 & 2.
2006: OLAZABAL TAKES TO THE RIVER LIFFEY
Following his undefeated Ryder Cup matches at the K Club, the European team treated Jose Maria Olazabal to the century-long tradition of rafting with four daughters of four local farmers.
2008: ANTHONY KIM MAKES IT RAIN ON 18
Even before the last putt dropped at Valhalla, Anthony Kim began advertising up and down the 18th fairway for a local downtown nightclub.
2008: TEAM USA TURNS INTO PARTY ANIMALS
In 2008, the general consensus was that Team USA was boring.  Captain Paul Azinger proves the critics wrong, firing down "Sunny D" juice bongs after their 16 - 11 victory. Team members could not believe how sticky the balcony became at Valhalla.
2010: THE 'MECHANIC' PUTS ON A SHOW
Miguel Jimenez shows off his internal combustion, with the help of orujo, while lighting up the 18th green at Celtic Manor. The celebration singed the once healthy eyebrows of Scotland's Colin Montgomerie (lower right).