The Loop
The 11 most memorable sounds overheard on the Ryder Cup's first tee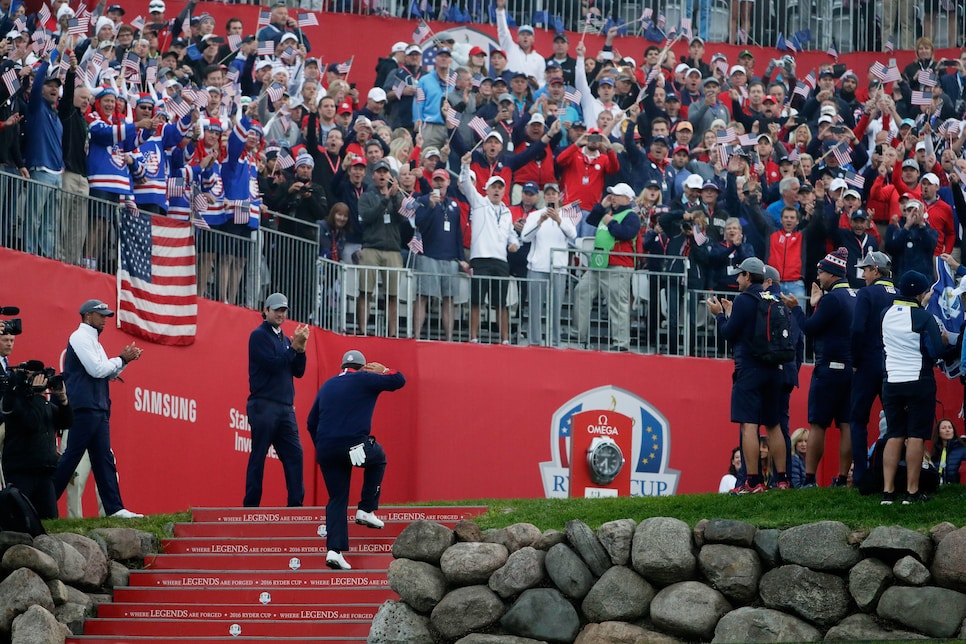 CHASKA, Minn. -- The first tee at the Ryder Cup is a mix of excitement, patriotism, hope and humor. It's a raucous atmosphere unlike anything else in golf, and Friday morning didn't disappoint. Here are the 11 most memorable things we heard (mostly good, some bad) at Hazeltine's opening hole.
1. "Arnold Palmer!": Of course, the boisterous crowd's most common chant was "U-S-A!" But the chants for this lost legend were the most special. Adding to the setting was Arnold Palmer's Ryder Cup bag from the 1975 Ryder Cup sitting on the first tee and a tribute video that ran before the opening shot. The King is gone, but he's certainly not forgotten.
2. "Go away, away, away, away. . . ": The American fans mean well, but this one, set to Europe's "Ole, ole, ole, ole" song felt a little mean. Also, it backfired, because every time it started up, it only caused the Euro fans to respond more loudly with their own rallying cry.
3. "Europe's on Fire!": I still don't know where this song originated, but it's awesome. I first heard it when Joost Luiten was serenaded after his KLM Open win (Have a listen), and now the European fans have tweaked it to, "Europe's on fire! Davis Love is terrified!" Pretty catchy.
4. Anything from The Guardians of the Cup: These colorfully dressed European fans are back with a collection of player theme songs. From where I was standing, it was tough to hear all of their new material -- and they have plenty with Team Europe carrying six rookies -- but they were definitely seen and heard. In case you're not familiar with their work, here's a look back at their five best songs from Gleneagles.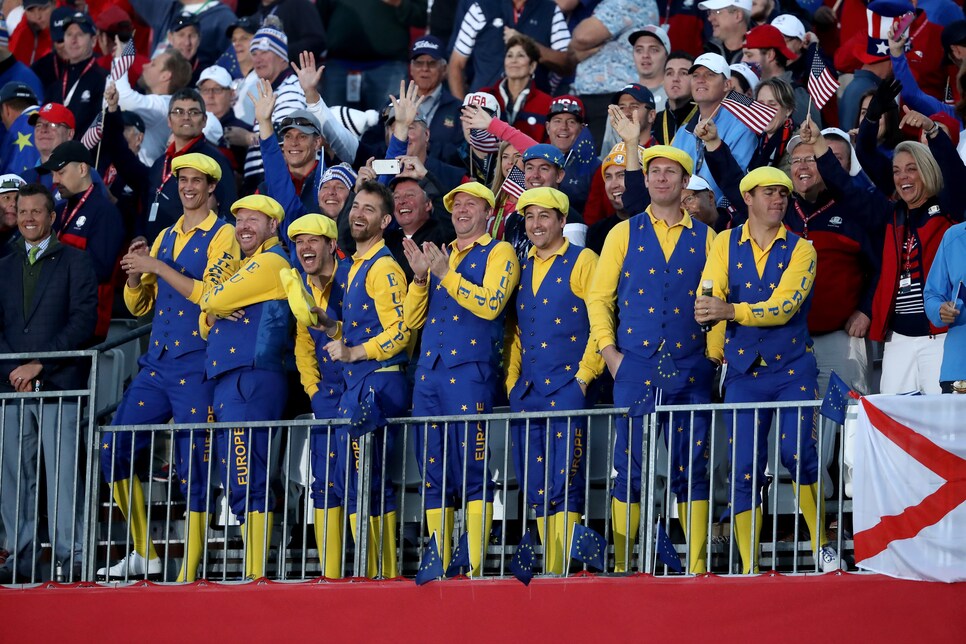 5. "America The Beautiful": Hey, the American fans can sing, too!
6. "We love Amy!": And they love to call out their WAGs. This was actually kind of charming until it started to fade out and one creepy fan blurted out, "We always have! We always will!" Speaking of WAGs, the biggest surprise of the Ryder Cup is that some kind of Paulina Gretzky chant didn't break out -- especially since replacing "U-S-A" with "Pau-li-na!" is so simple. An opportunity missed on Friday morning, for sure.
7. "I believe that we will win. . .": This one was started by U.S. soccer fans at the World Cup, and unfortunately, it's traveled to the Ryder Cup. You know the one. "I believe. I believe that. I believe that we. I believe that we will win." Not especially intimidating. And it's never a good sign when a bunch of European golf writers are openly mocking something.
8. "Junior Ryder Cup!": This chant started by U.S. fans wasn't particularly intimidating, either, but it was funny. It was a reference to Team USA beating Europe in the Junior Ryder Cup earlier this week. Europe may have won the past three Ryder Cups, but the American youngsters have won five straight Junior Ryder Cups. U-S-A! U-S-A!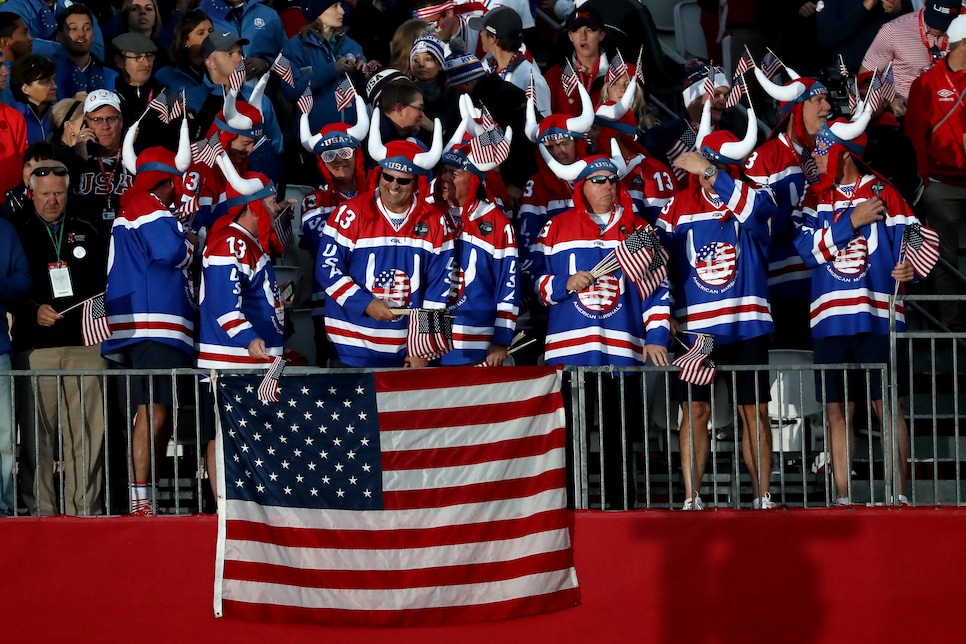 9. "Don't be nervous!": The American fans greeted Team Europe rookie Andy Sullivan with this as he prepared for his first Ryder Cup tee shot. If Sullivan was nervous, he didn't show it, striping a drive and giving the event's first great club twirl. Not every player got off the tee smoothly, though. . .
10. "Fore, right!": This is the one golf event where rooting against the other team is tolerated. And the U.S. fans took advantage of that when both Martin Kaymer and Lee Westwood went way right with their opening tee shots. The "Fore, right!" yells were accompanied by fans waving their hands right like a marshal. What's the point of home-course advantage if you can't taunt a little, right?
11. "Take it off, Patrick!": OK, so I made this up, but while the temperature still hadn't hit 50 in Chaska, Patrick Reed took off his pullover before his opening tee shot, making him the only person at Hazeltine wearing short-sleeves. The decision drew some cheers and then Reed caused an eruption when he reached down to pick up his tee about a tenth of a second after making contact with the ball. The Ryder Cup is officially off and running -- and the cheers and chants have just begun.