Swing Sequence: Vijay Singh
Hitting it flush is like shooting an arrow. Analysis by Golf Digest Teaching Professional Jim McLean.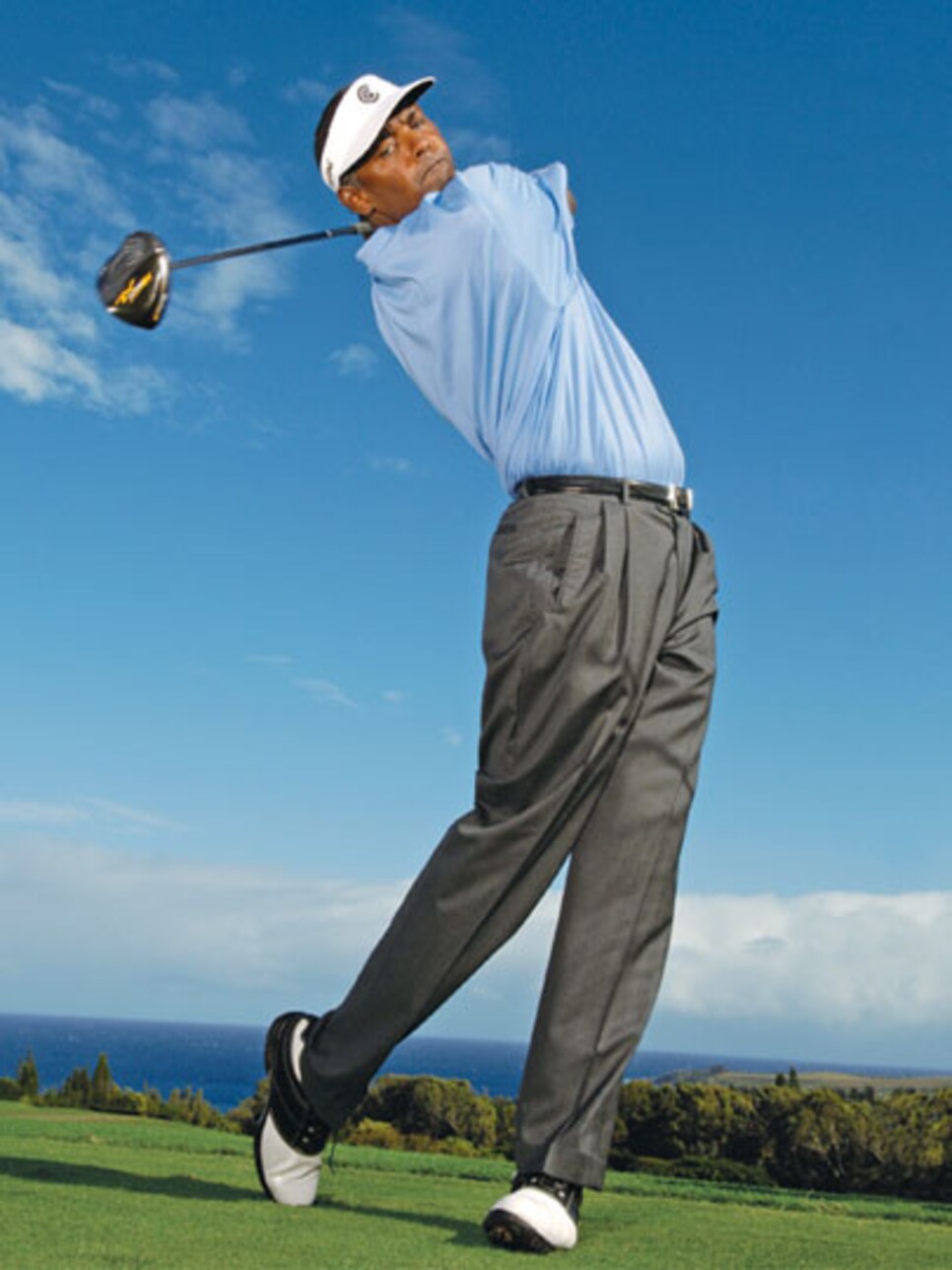 Age: 44Height: 6-feet-3Driver: Cleveland HiBore XL, 9.5 degreesBall: Titleist Pro V1xAverage driving distance: 286.7 yardsLongest drive this year: 408 yardsWhen I need a big drive, I focus on making a complete turn going back. That's how you store power. Think of it like shooting an arrow: The farther back you pull the string, the more energy you have to release the arrow.My other key is rhythm. I try to make a slow turn to the top. Many golfers lose their rhythm when they go after it. A slower turn produces a longer turn, which means more power. Remember, your swing doesn't change much from day to day, but your timing does. Groove good rhythm in your warm-up, then stick to it on the course.
LONG AND LIMBER
Vijay's gift is great rhythmBy Jim McLeanIf you watched Vijay Singh on the practice tee, where you can usually find him, you'd learn plenty to help your game. You'd see the beautiful preparatory moves he makes before the swing. How he carefully positions his feet, or the forward press with his right knee and hands, like Sam Snead used to do. But once he put the club in motion, you'd marvel at his fantastic rhythm. Vijay has classic positions, great footwork, a massive move behind the ball and a major release of his entire body. And it's all tied together with great rhythm.As you can see from these sequence photos, when Vijay starts the club back, everything rotates away from the target, including his head. His left knee breaks to the right, and his hips start to rotate, setting up a big turn to the top. As he starts down, it's amazing how long the clubhead stays back -- he has great clubhead lag (below, frame 5). His knees stay flexed, with both feet firmly on the ground. He's braced and poised to release the energy he has stored on the backswing.At impact, Vijay's right heel is off the ground and, again like Snead, his hands and arms stay close to his body. These positions prove how smooth and relaxed Vijay is through the ball -- nothing is forced or tense. I also like the relaxed look of his front shoulder at impact and how it pulls away from his chin. That's a big-time power move. Many amateurs get gathered up in that area, which reduces extension through the shot and saps power.Vijay sets up slightly open for his predominant shot, a gentle fade with the irons and a power fade with the driver. For a strong player, the fade is the greatest weapon in golf. Like Ben Hogan and Tom Kite, two other extremely dedicated practicers, Vijay has built a swing that has improved with age.Ranked No. 3 by his peers among Golf Digest's 50 Greatest Teachers, McLean is based at Doral Golf Resort & Spa in Miami.
Vijay's right arm moves away from his side going back and stays above his left.
Players with a little more leg action, as Vijay has, tend to have beautiful rhythm. Notice how active his legs and hips are as he swings to the top.
In frames 1 and 2, Vijay's setup and swing indicate he's playing a fade. In frame 2, he appears to swing the clubhead to the outside, but that's only because he's aligned left for his fade. By frame 4, the shaft is directly between his elbows and pointed straight at the target; the club is perfectly on plane. In frame 6, notice he returns the shaft to the same angle it held at address -- that's a real consistency key.
In a unique move, Vijay's right hand loosens on the grip for a millisecond after impact, indicating a complete downward release of the hands and great extension.