News
Vijay Singh leads Bernhard Langer by one heading to final round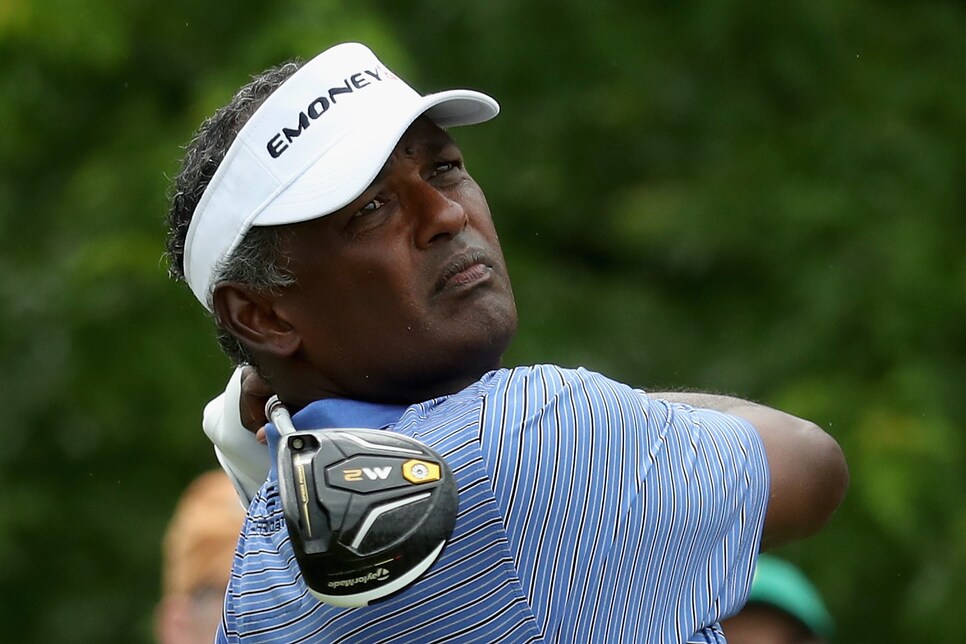 Major champions vying for major championships is how one might script these things, and Vijay Singh and Bernhard Langer have cooperated in the KitchenAid Senior PGA Championship.
The two World Golf Hall of Famers are first and second, respectively, heading into Sunday's final round at Trump National Golf Club, Washington, D.C.
Singh, who won two PGA Championships and a Masters, shot a five-under 67 in the third round on Saturday. In pursuit of his first PGA Tour Champions individual victory, he leads Langer by one.
Langer, a winner of two Masters as well as eight senior majors, shot a two-under 70. Langer is attempting to win win back-to-back majors, having prevailed last Sunday in the Regions Tradition.
"He's got a little different game," Singh said. "He hits the ball very straight. It seems like he doesn't make a mistake. He's got a game plan and he's a pretty hard competitor to break.
"But I'm playing well and I'm hitting my ball pretty good. I had a couple of hiccups with my putter today but I came back strong. I think it's going to be a good match."
Langer, meanwhile, was struggling with his iron shots. "I missed a couple of greens, more than a couple," he said. "But I got some of them up-and-down and so I'm still in a good position. I would rather be two ahead than one behind, but there's a lot of golf left tomorrow and we'll see how it plays out."
Billy Andrade, meanwhile, is in third place following his round of three-under 69 and trails Singh by three. Bob Estes, who had a five-under 67, is in fourth, five strokes behind.