News
How to look at a Swing Sequence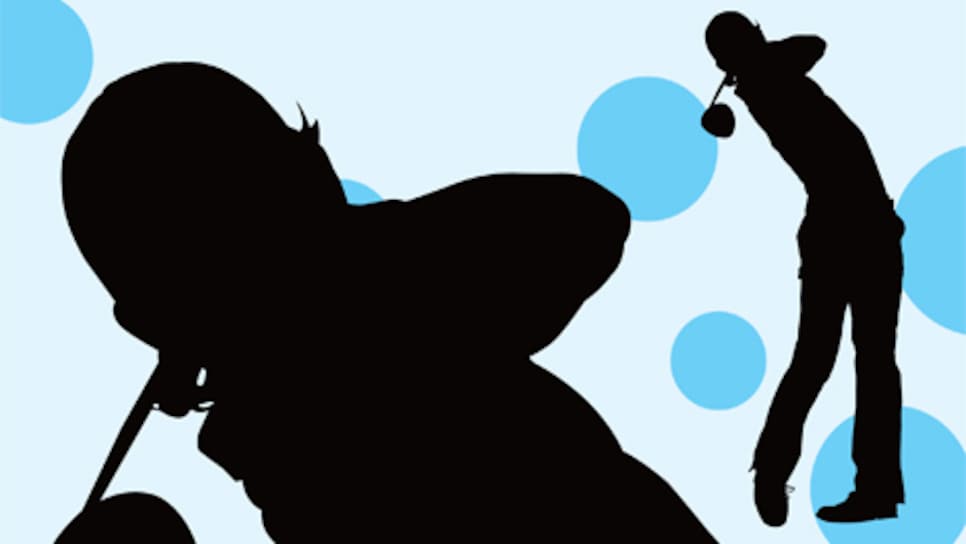 I've been fascinated by swing-sequence photographs since I began teaching more than 30 years ago and have a collection of almost 1,000 different swings dating to the early 1900s. Images such as the ones on the following pages are, in my opinion, the most interesting of golf photographs. They not only tell you what the great players do, but how the swing has evolved.
In looking at these sequences, you'll see that virtually all of the current top players have very similar fundamentals: Their grips, ball positions, alignments, posture and width of stance don't differ much. Their swing positions are also similar, even if their actions look different in real life and on video. When you analyze these photos--most of which were taken by a high-speed camera at 65 frames per second--you will see they are amazingly the same in important positions.
Take the impact positions for the players pictured here. Jim Furyk does some interesting things in his backswing, but at impact, he and Retief Goosen, who has a classic-looking swing, are virtually identical. When you compare Tiger Woods to Ernie Els, Tiger looks so much faster when he swings live, but he and Ernie put the club in almost identical positions and hit the ball very similar distances.
It's also great just to have sequence photographs as an archive of the game. It's a joy to be able to see what Ben Hogan, Byron Nelson and Jack Nicklaus did in their primes and speculate on what they would have been able to accomplish in the modern game.
Chuck Cook, 1996 PGA of America Teacher of the Year and No. 9 on Golf Digest's list of America's 50 Greatest Teachers, is based at Barton Creek Resort & Spa in Austin, Texas, and Dallas National GC. He has taught U.S. Open champions Tom Kite, Corey Pavin and the late Payne Stewart.
We asked four legends--winners of 45 major titles--to name their favorite swings. Jack Nicklaus took our request a step further, submitting the list you see plus a paragraph explaining why he picked each swing. Sam Snead and Vijay Singh made it for their grace, Tom Weiskopf's was the prettiest, while Ben Hogan and Lee Trevino had the most effective.
Littler, Snead, Suggs and Hogan were Wright's contemporaries in the 1950s and 1960s. Cabrera's selection exhibits Wright's keen interest in the current scene.
It isn't surprising that Nicklaus has such respect for Trevino, who beat him in an 18-hole playoff at the 1971 U.S. Open and stopped his Grand Slam dreams at the 1972 British Open.
While Nelson has long been Watson's tour mentor, Watson has special affection for Thirsk, who has taught him since he first started playing, at age 6.
Littler may be one of the most underrated ball-strikers of all time. "The Machine" won 29 times on the PGA Tour, including the 1961 U.S. Open, and was known best for his smooth, reliable action.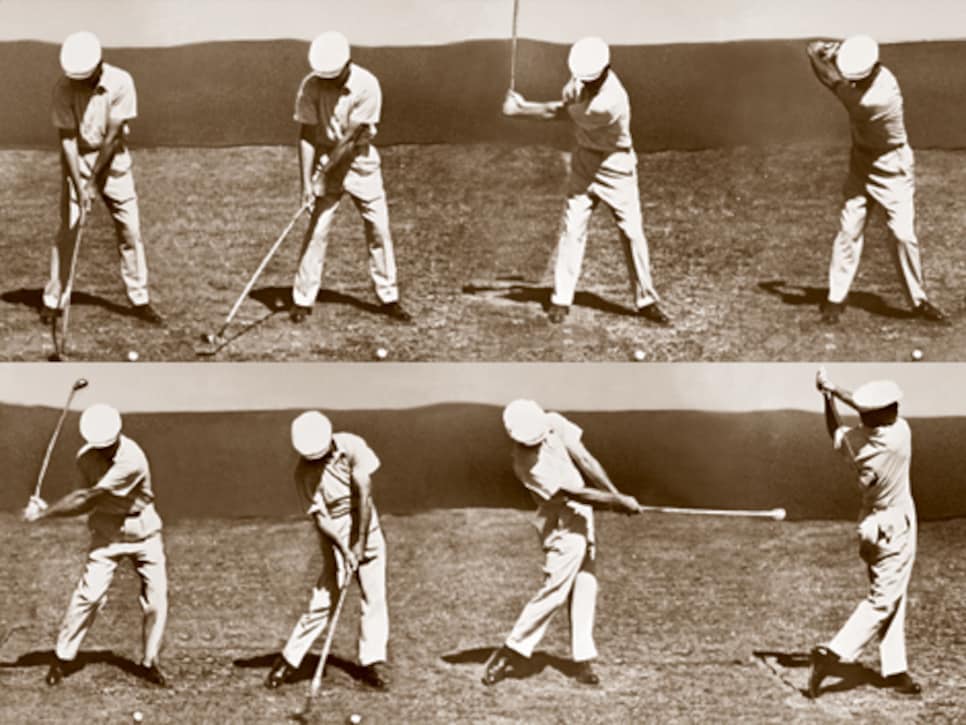 Majors: 9 (1951, '53 Masters; 1948, '50, '51, '53 U.S. Open; 1953 British Open; 1946, '48 PGA Championship)
"Hogan's left arm went left so fast after impact that he was able to keep the clubface on the ball longer than anyone. That's why he had more control than anyone. I watched him hit balls for two days and never miss a shot." --Chuck Cook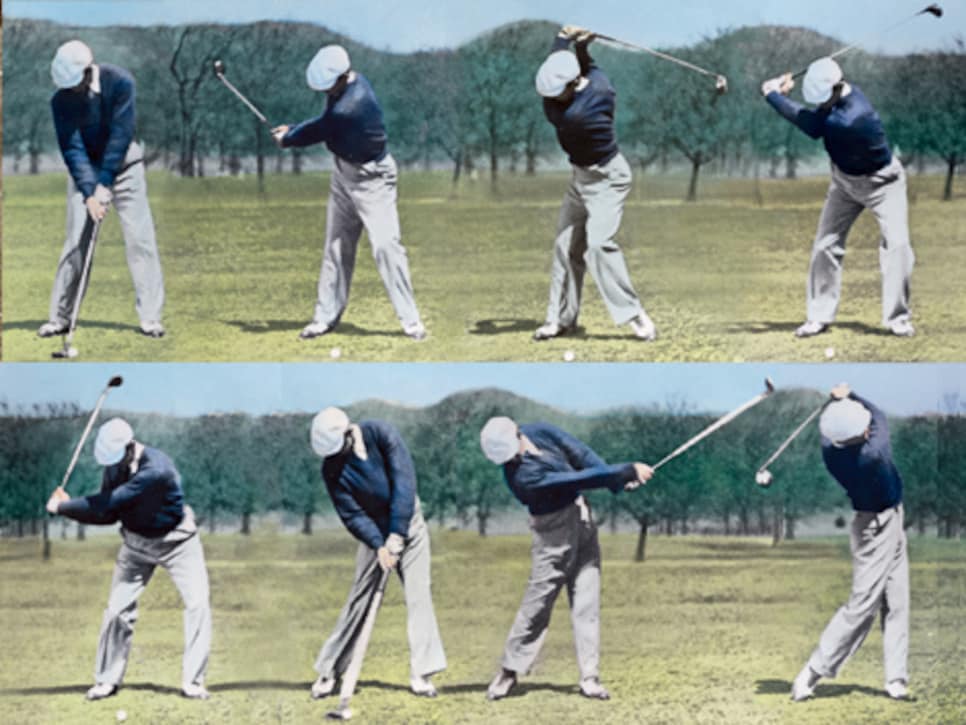 Majors: 7 (1949, '52, '54 Masters; 1946 British Open; 1942, '49, '51 PGA Championship)
"Everybody marveled about his bowed legs at the start of the downswing, but that's because he aimed right, came over it a little and pulled it toward the target. That reduced his leg action. He had what you'd call a totally natural swing." --C.C.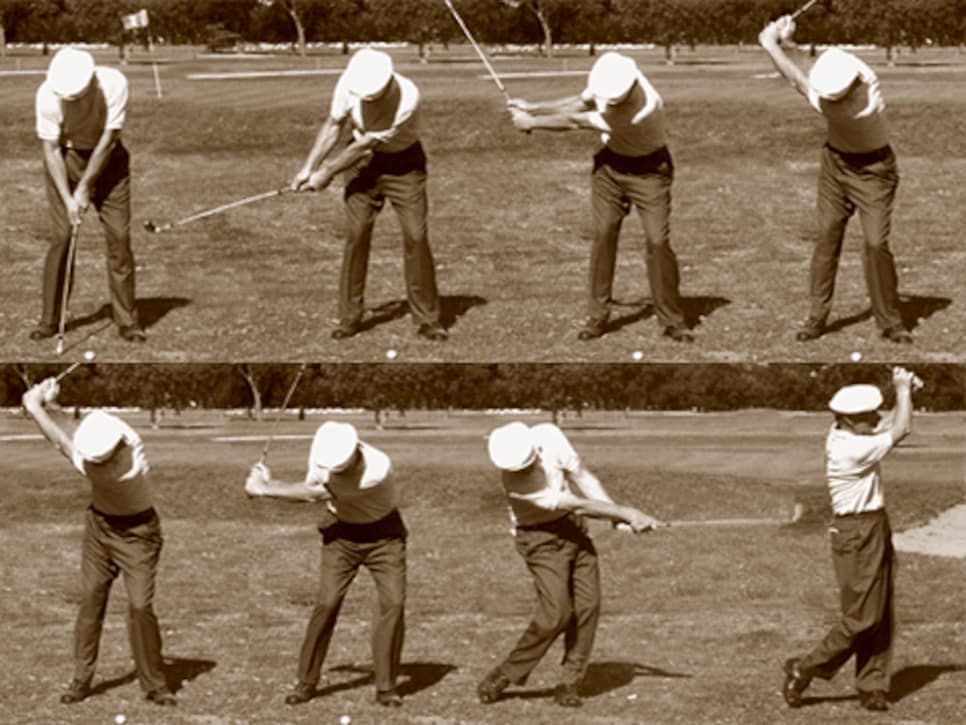 Career: 1932-1966 PGA Tour victories: 52
Masters; 1939 U.S. Open; 1940, '45 PGA Championship)
"Byron was the first player to change his swing to take advantage of the new steel shafts. His swing became really up and down, and he worked to keep the face as square as he could down the line. That's where he got his 'caddie dip.' " --C.C.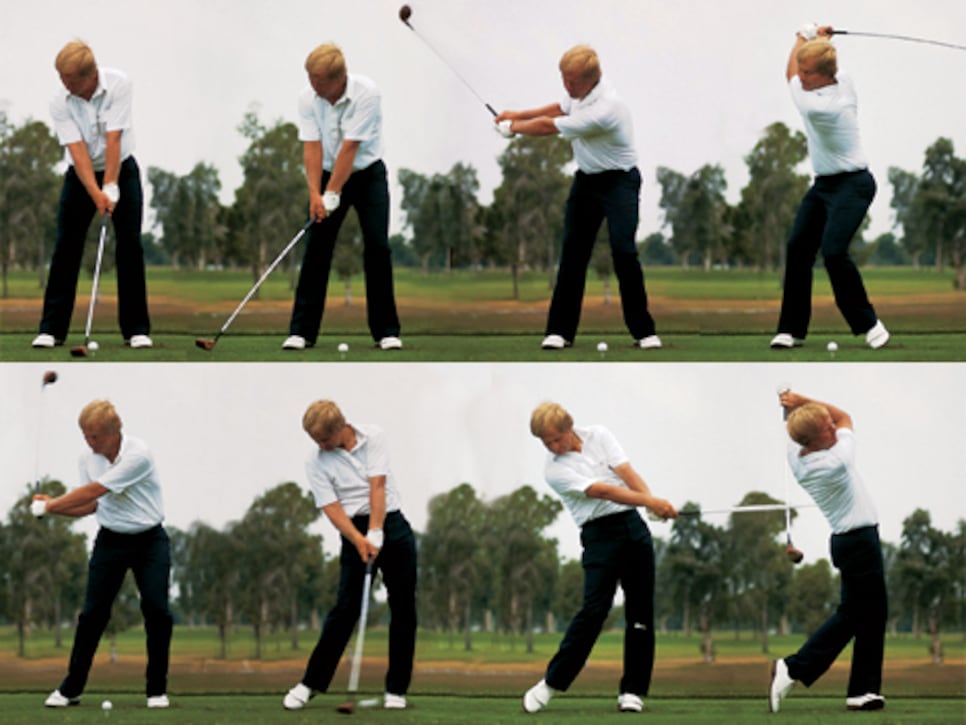 Majors: 18 (1963, '65, '66, '72, '75, '86 Masters; 1962, '67, '72, '80 U.S. Open; 1966, '70, '78 British Open; 1963, '71, '73, '75, '80 PGA Championship) Miscellany: $5,734,031 in career earnings; 10 Champions Tour wins, including 8 majors.
"Nicklaus, of course, is the best long-iron player. He hits it so hard and long and high, with very little curvature." --Byron Nelson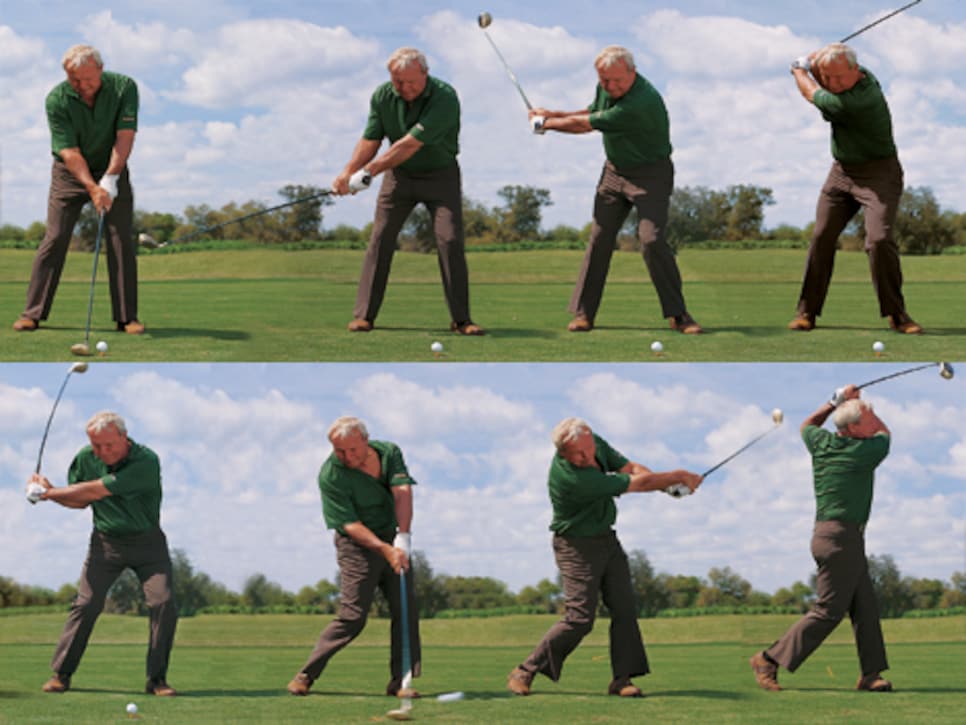 Majors: 7 (1958, '60, '62, '64 Masters; 1960 U.S. Open; 1961, '62 British Open) Miscellany: $1,861,857 in career earnings; 10 Champions Tour wins, including 5 majors.
"He's a charger in everything he does, and this reflects itself in his very fast, all-out swing." --Gary Player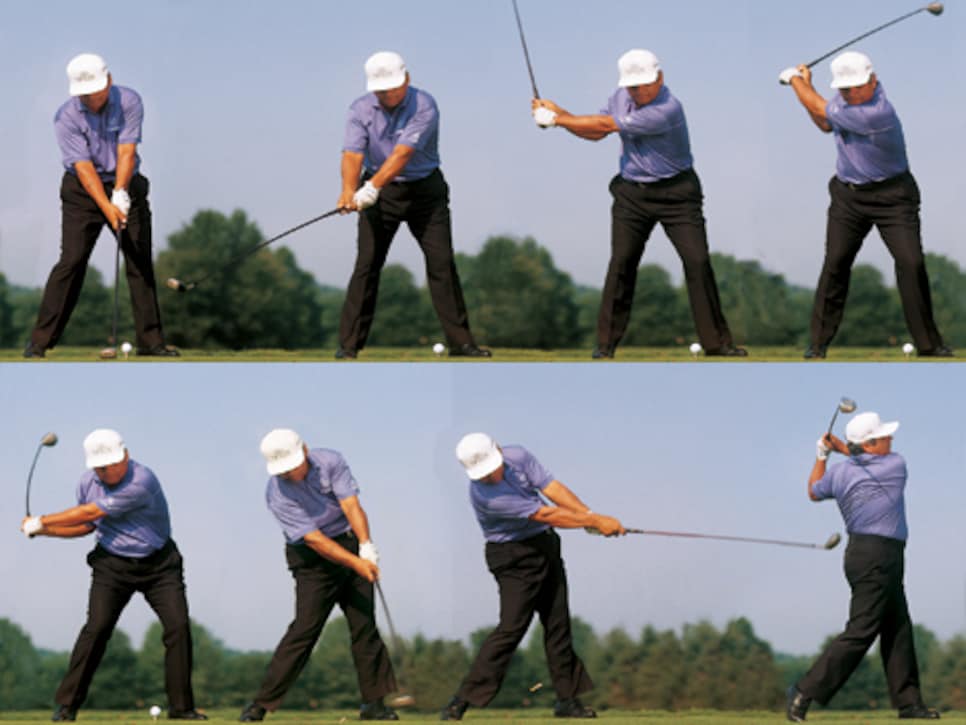 Majors: 6 (1968, '71 U.S. Open; 1971, '72 British Open; 1974, '84 PGA Championship)
Miscellany: $3,478,328 in career earnings; 29 Champions Tour wins, including 4 majors.
"Golf is a game of numbers. They don't draw pictures by the score you write down." --Lee Trevino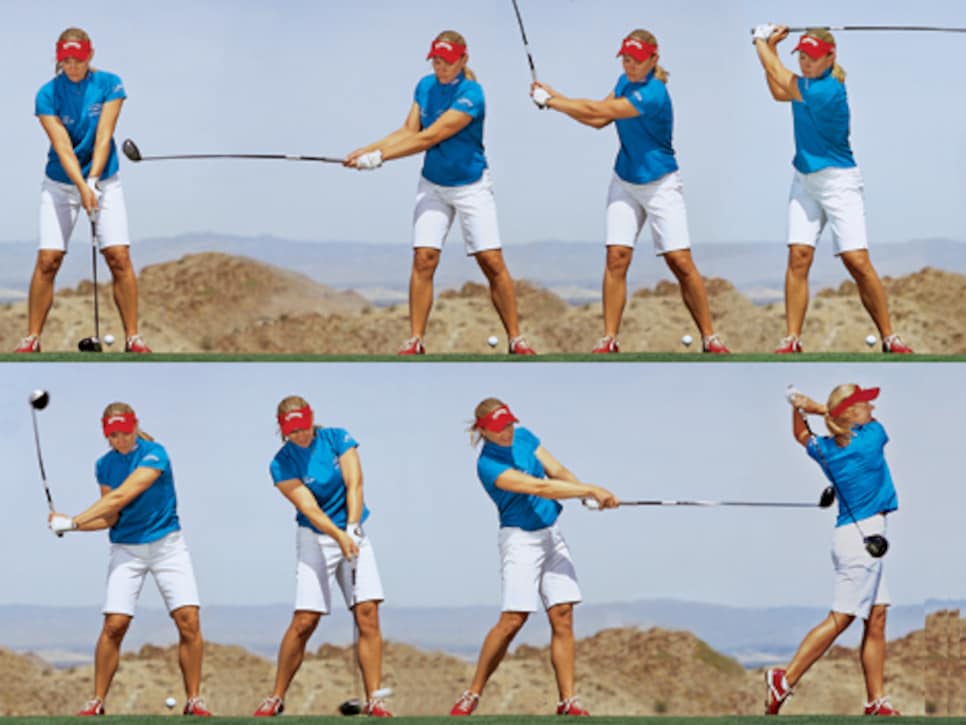 Career: 1994-present LPGA victories: 67
Majors: 9 (2001, '02, '05 Nabisco; 2003, '04, '05 LPGA Championship; 1995, '96 U.S. Women's Open; 2003 Women's British Open)
Miscellany: 8-time LPGA Player of the Year.
"As good as Annika has become, I'm surprised more players haven't challenged her. One thing's for sure, young players coming up will be better because of what she's doing." --Henri Reis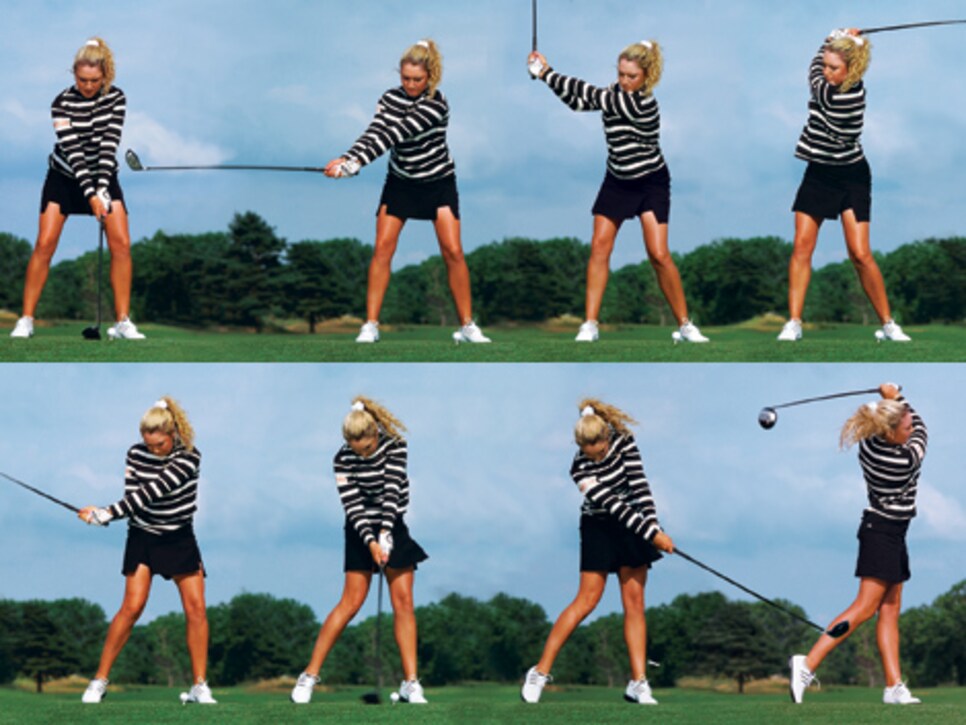 Miscellany: $2.1 million in career earnings; member of 2005 U.S. Solheim Cup team.
"It would be wonderful to live in a world where we could clone everyone to swing exactly the same, but we don't. With the most unusual position at the top that I've ever seen, Natalie Gulbis' swing is famously unorthodox. But with talent and hard work, you can excel." --Butch Harmon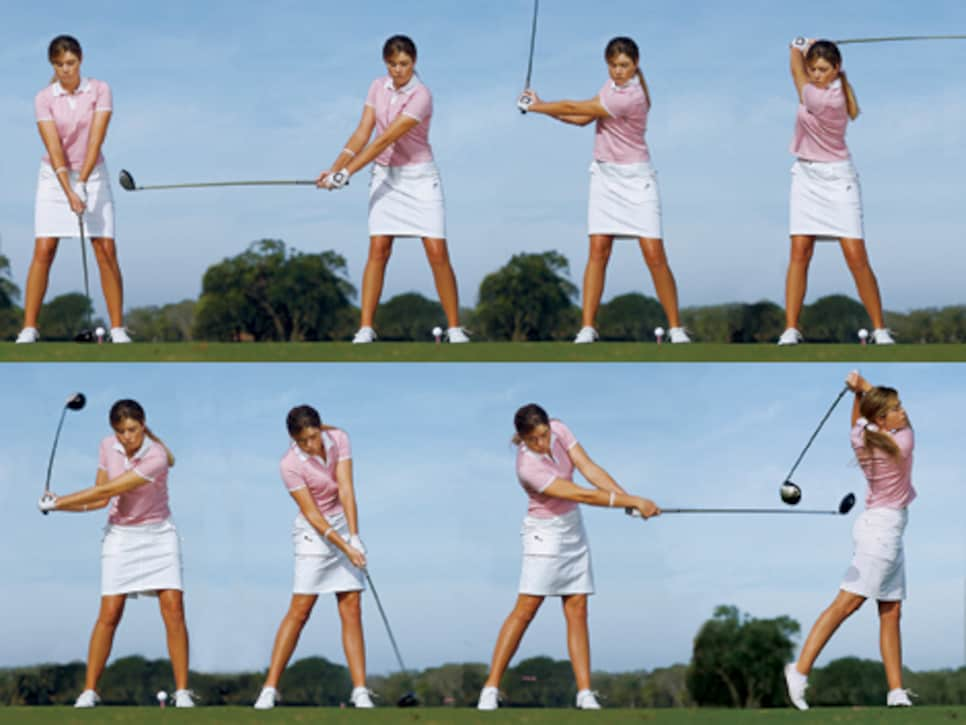 Miscellany: $1.7 million in career earnings; member of the 2005 Solheim Cup team (first rookie to qualify); set the LPGA rookie earnings record ($1.5 million) in 2005.
"She has immense natural talent, but her work ethic and drive have always impressed me even more. She's the first one on the range and the last one to leave each day." --David Whelan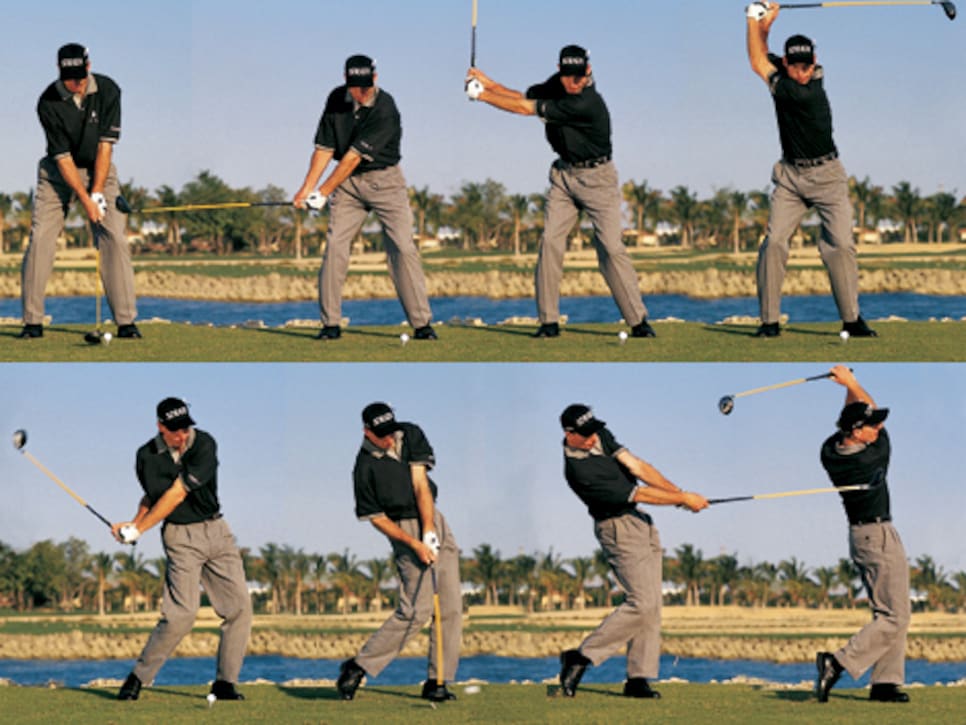 Career: 1992-present PGA Tour victories: 10
Majors: 1 (2003 U.S. Open)
Miscellany: Member of the 1997, '99, '02, '04 U.S. Ryder Cup teams. "One college coach was trying to recruit him and took my wife and me out to dinner. After a drink or two, the coach says, 'I can't wait to get Jim down to our school to change that swing.' I said, 'Coach, he will never go to your school.' " --Mike Furyk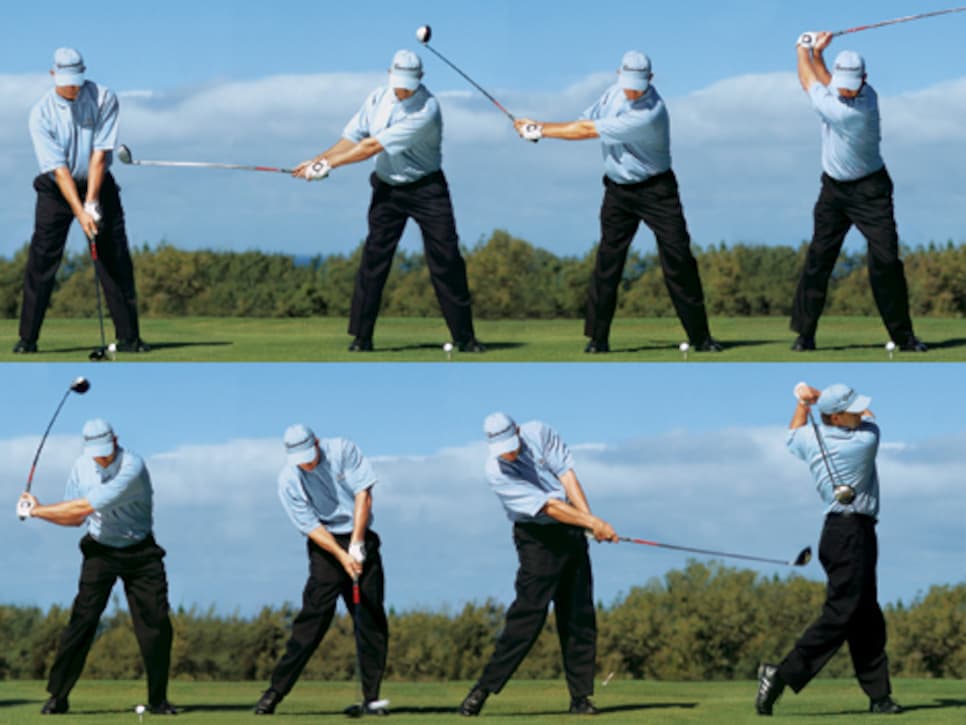 Majors: 2 (2001, '04 U.S. Open)
Miscellany: $16.4 million in PGA Tour earnings; 19 international victories; member of the 2000, '03, '05 Presidents Cup teams.
"Rhythm and timing have been my focus since I got serious about the game. It hasn't really been any more complicated than that." --Retief Goosen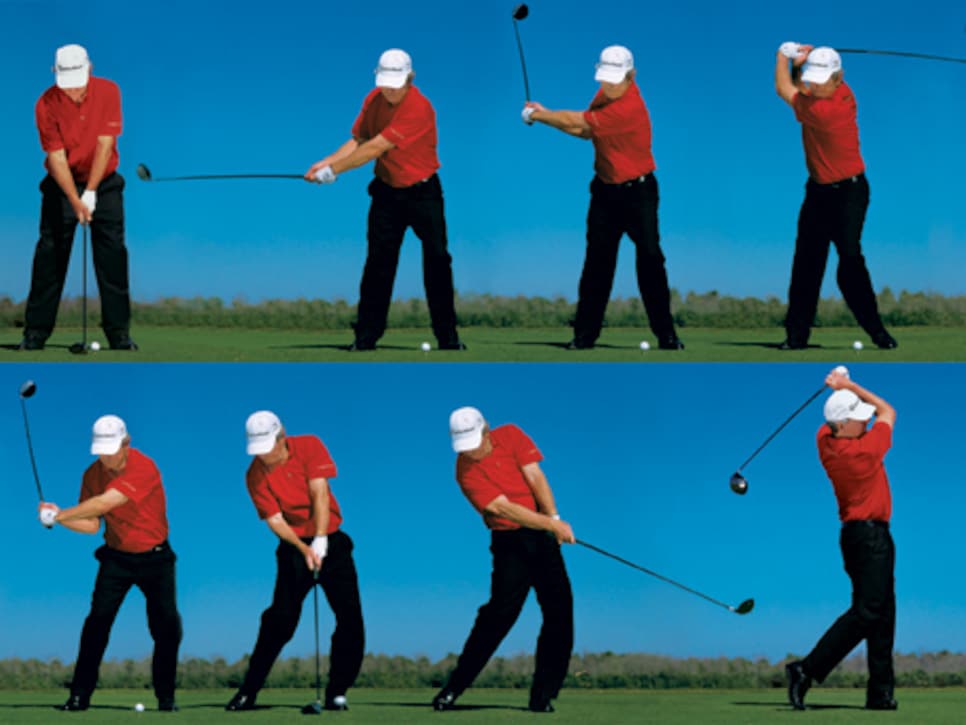 Majors: 3 (1974, '79, '90 U.S. Open)
Miscellany: 44 Champions Tour wins, including 7 majors; $29 million in combined career earnings.
"His method is predicated on his ability to control the ball, and look what it's done for him. He's won three U.S. Opens and has become the best senior golfer in history." --Peter Kostis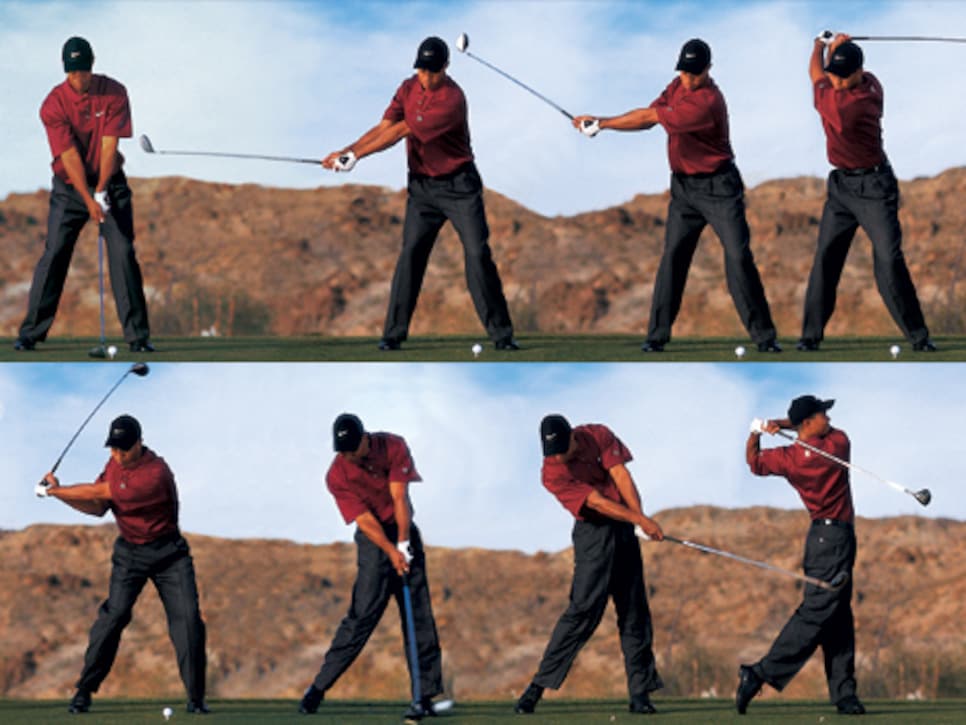 Majors: 10 (1997, '01, '02, '05 Masters; 2000, '02 U.S Open; 2000, '05 British Open; 1999, '00 PGA Championship)
Miscellany: 7-time PGA Tour Player of the Year; first to hold all four professional major titles at once.
"Tiger works harder at his game than anybody I've ever seen. His focus is just incredible." --Hank Haney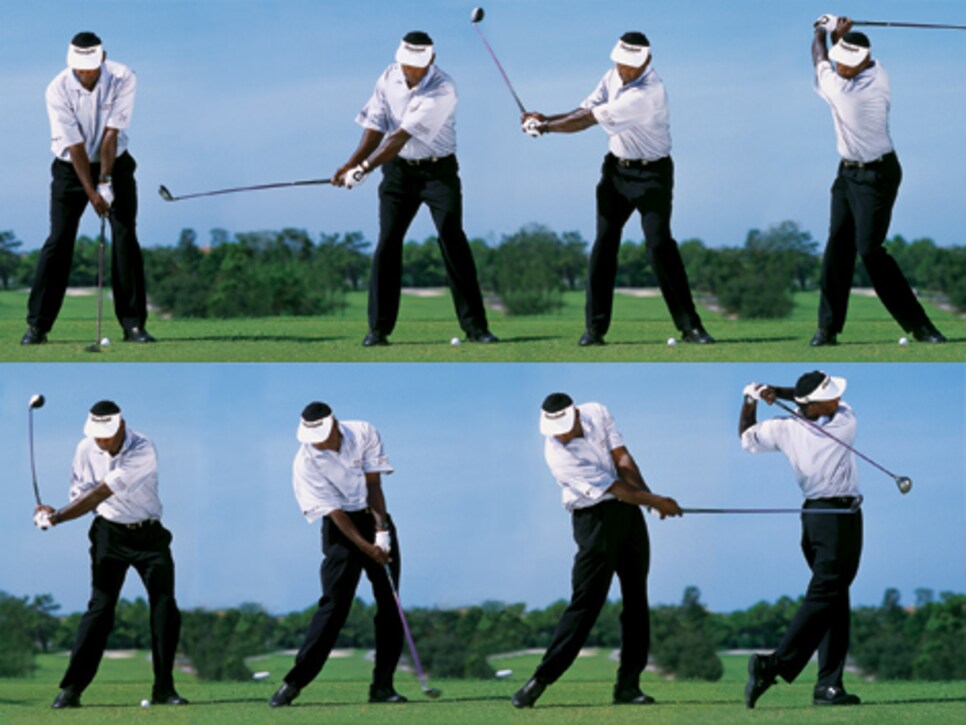 Majors: 3 (2000 Masters; 1998, '04 PGA Championship)
Miscellany: 2004 PGA Tour Player of the Year; 22 international victories. "I'm pretty critical, but if Vijay asked me to make a critique or make any suggestions, I don't know. I don't see one. I can't lie: I don't think he needs to do anything but just play." --Byron Nelson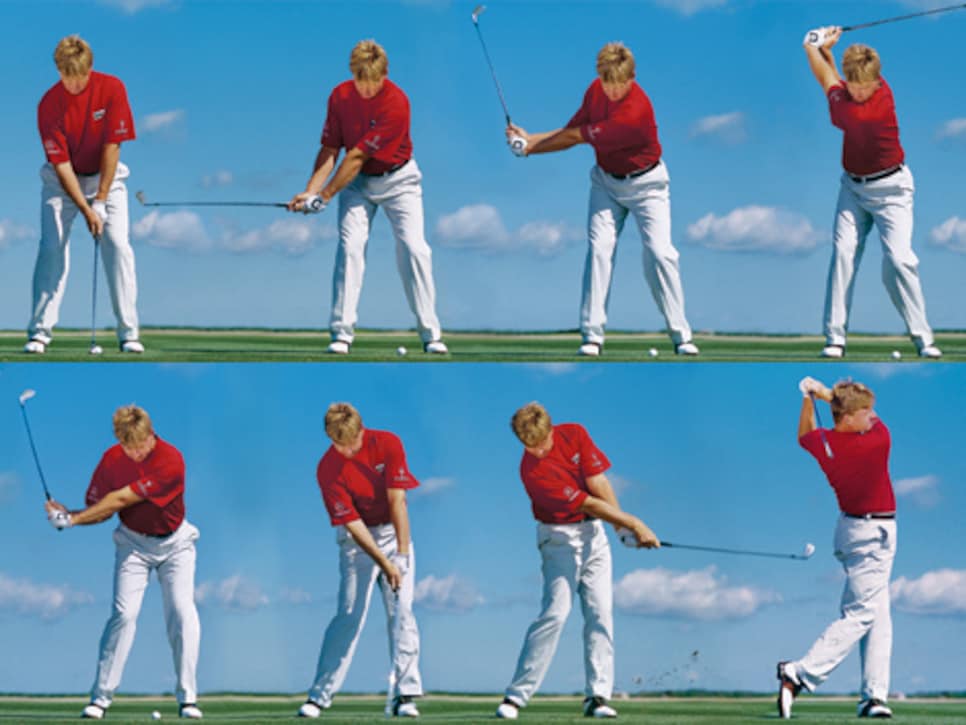 Majors: 3 (1994, '97 U.S Open; 2002 British Open)
Miscellany: $26.8 million in PGA Tour earnings; 42 international victories; leading money winner on the European Tour in 2003, '04.
"As smoothly as his body and arms are moving, his club is traveling at tremendous speed. The synchronization of club, hands, arms and body is the best I have ever seen." --David Leadbetter