Frame-by-frame analysis
Swing Sequence: Zach Johnson
Zach Johnson was a successful tour player long before he won the Open Championship at St. Andrews last July at age 39, surviving a playoff with Marc Leishman and Louis Oosthuizen. Johnson already had won 11 PGA Tour events, including the 2007 Masters. But on the Old Course, his great driving, solid approach play and sheer determination lifted him to a new level. View his swing frame-by-frame →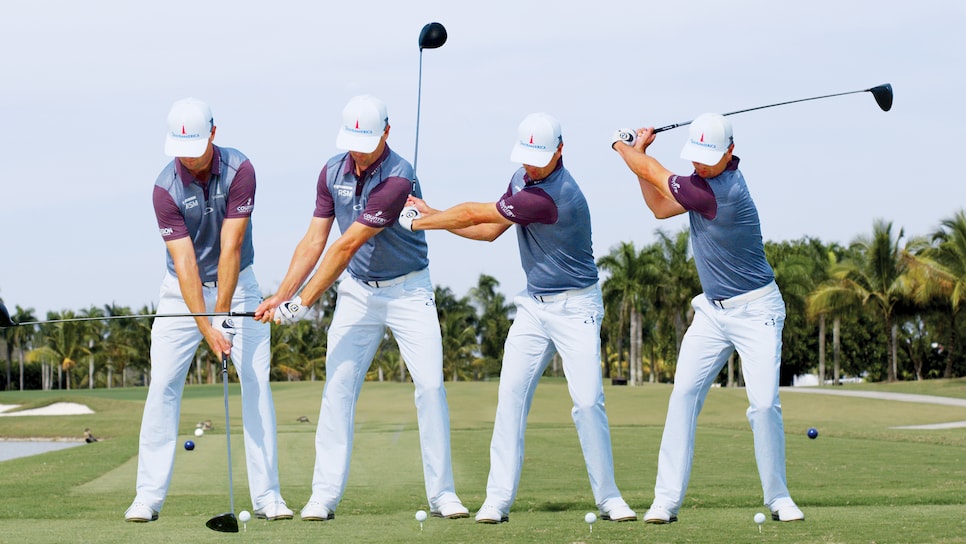 Photo By: Photo by Dom Furore
PART GRINDER. PART TECHNICIAN. PART BULLDOG
Zach Johnson was a successful tour player long before he won the Open Championship at St. Andrews last July at age 39, surviving a playoff with Marc Leishman and Louis Oosthuizen. Johnson already had won 11 PGA Tour events, including the 2007 Masters. But on the Old Course, his great driving, solid approach play and sheer determination lifted him to a new level. When Johnson holed a sliding 30-footer for birdie in front of the R&A clubhouse to get into the four-hole playoff, it showed his grit.It wasn't always that good. Johnson was not the best player on his high school team in Cedar Rapids, Iowa. And he didn't play No. 1 at Drake. After college, he bounced around the mini-tours with his super-strong grip and short swing. When he started working with Mike Bender in 2000, his game got better. Over the next 15 years, it got a lot better.But Bender was careful. For example, he never changed that grip. "The grip only determines how the release squares the face," he says. "Zach might hit it farther with a weaker grip, but he likes being in the fairway."With two major wins and still going strong, who could blame him?
—Roger Schiffman
Photo By: Photo by Dom Furore
PRO-FILE: ZACH JOHNSON
AGE: 40 / 5-11 / 164 pounds
RESIDENCE: St. Simons Island, Ga.
DRIVER: PXG 0811X prototype 9.25 degrees
BALL: Titleist Pro V1x
"The hands and club go where the eyes are looking. He keeps his eyes right on line, which keeps the club perfectly on plane." – Mike Bender
GETTING BEHIND IT
Zach Johnson sets up with his upper body back and right shoulder low, promoting an upward strike. "Many amateurs have their shoulders too level," says his teacher, Mike Bender. "You could draw a straight line from Zach's left shoulder to the ball, and his hands are slightly behind it."
PLENTY OF HINGE
"You can see the wrists hinging early," Bender says. Johnson's clubshaft and left arm form a 90-degree angle—the classic L position—at halfway back. "This helps him keep his hands and shoulder turn in sync, which promotes consistency," Bender says.
WIDE BEATS LONG
Johnson exhibits great width with the arms, which Bender says is more important than swing length. "Also, the left foot staying flat minimizes lower-body motion, keeps the swing short and increases coil." Note Zach's right elbow is below his left arm, setting up a downswing from the inside.
READY THE WHIP
With the clubhead lagging and the left wrist flat, Johnson looks like Ben Hogan here. "As the lower body starts forward, the left shoulder is working up and the right shoulder down," Bender says. "Zach's tremendous lag is created by his arm and hand acceleration toward the ball."
A STEADY GAZE
Johnson's head is well behind the ball at impact. "His eye line is the same as at the top—parallel to the target line," Bender says. "The hands and club go where the eyes are looking. He keeps his eyes right on line, which keeps the club perfectly on plane."
NO ROLLOVER
"Zach keeps the shaft and his right arm in a straight line as long as anybody in the game," Bender says, emphasizing that the face stays square for a long time. "With such a strong grip, Zach can't allow his wrists to rotate excessively. And that great balance at the finish is just a result of swinging in sync."