Golf Equipment
What's In My Bag: Peter Hanson
__Age:__34 | Resides: Orlando | Story: The Swede has won five times on the European Tour. At the Masters this year, he had the 54-hole lead, eventually tying for third, and finished T-7 at the 2011 U.S. Open at Congressional.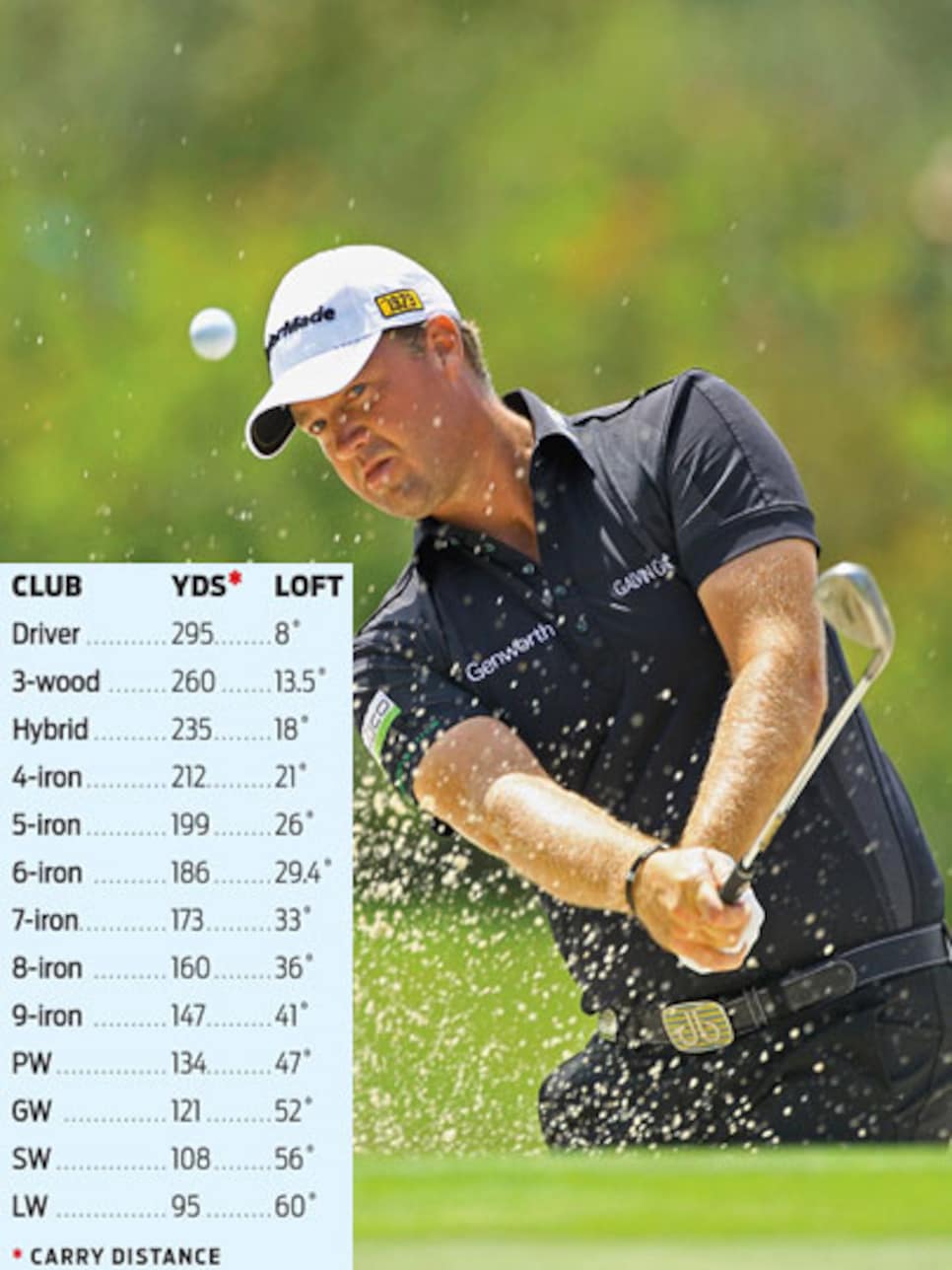 Photo By: Photo: Warren Little/Getty images
Photo By: Photo: Courtesy of Audi
MAJOR ASPIRATIONSI'd have to say before this year I only dreamed about winning a major. After playing well at Augusta, I can actually see myself winning one. That's the first step. If I can put myself in position coming into the back nine, I think I can pull it off. You need a little bit of luck, for sure. That's why if you get only one chance, you have to make the most of it. It's about putting yourself in contention as many times as possible. I hope I can pick up one or two major titles soon.
Photo By: Photo: Warren Little/Getty images
A HUNTER AT HEARTGrowing up in the Swedish countryside, we did a lot of hunting. I've been doing it since I was 12. We pursued everything from ducks to moose. At 13, I shot my first deer. Recently, I've been practicing bowhunting, but with the way my shot is now, I'd never try to aim at an animal until I improved a little more at it.
LASER STRAIGHTI draw a black line on my TaylorMade Penta TP5 to help me aim on the green. During practice, I use a laser and a special board that aid in improving my alignment.
LEAD FOOTI used to drive GP3 Cup cars and did a fair amount of European-style racing, turning both ways. But I sold my race car back in Sweden when I moved over here. I have an Audi S4 now.
Photo By: Photo: Courtesy of Audi
PUT IN THE TIMEMy roll of medical tape gets plenty of use for blisters. If I had one piece of advice for a young player, it'd be to spend more time on the course than on the practice tee.
COINS OF CHOICESometimes I'll mark my ball with a quarter or a Swedish krona, but most of the time I use a commemorative coin I received at the 2010 Ryder Cup. It reminds me that I'm trying to make the European team again.
NOT ERASING THE MEMORYI have a strong appreciation for the game and its history. Playing as well as I did this year at the Masters meant a lot, mostly because of the tradition at Augusta, which is why I held onto a pencil. I'll keep momentos from other famous courses, too.
DRIVERI'm ranked a lot better in the driving-distance stats this year after switching to the TaylorMade R11S (8 degrees, Accra Tour Z 65+ M5 shaft, 45¾ inches, tipped one-half inch, D-4 swingweight).
FAIRWAY WOODI use a TaylorMade Burner SuperFast 2.0 (13.5 degrees, Mitsubishi Rayon Diamana Kai'li 80X shaft, 43¾ inches, D-3 swingweight).
HYBRIDI'm carrying a hybrid for the first time this year. This is my 18-degree TaylorMade Rescue 11 TP (Aldila NV 105 shaft, X-flex, D-3 swingweight).
IRONSI love working on my numbers. I'm not a feel guy at all. I calculate everything -- that's why I have 13-yard gaps between my TaylorMade Tour Preferred MB irons.
WEDGESMy wedges are all Titleist Vokey SM4 models. My grips are Lamkin Performance Plus 3GEN with two wraps of tape under the left hand and three under the right.
PUTTERThe more compact head of my TaylorMade Ghost Itsy Bitsy Spider (35 inches) really fits my stroke. I'm currently ranked second in putting from three-to-five feet.