Golf Equipment
What's In My Bag: Sergio Garcia
Age: 34 | Resides: Crans-Montana, Switzerland | Story: Garcia will make his seventh Ryder Cup team this year. He was the runner-up at the British Open and WGC-Bridgestone.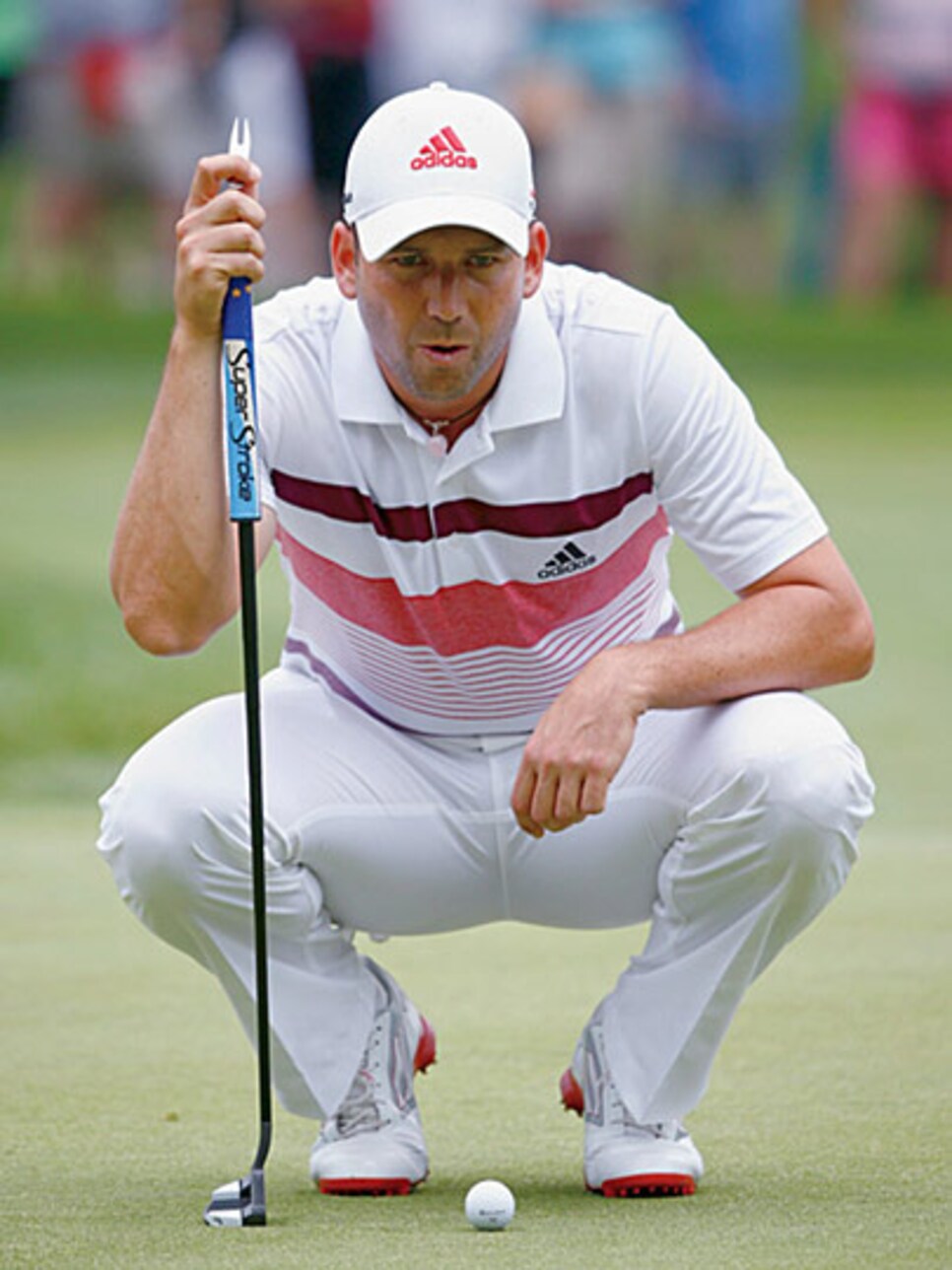 Photo By: Sam Greenwood/Getty Images
Photo By: Scott Halleran/Getty Images
REPPING EUROPEEvery Ryder Cup that I've played in will be an event I'll remember the rest of my life. I find such inspiration from representing my country and the entire continent. We have passionate golf fans in Europe, and to perform well for them is truly a thrill. The Cup will always be a highlight in my career. I have the European flag on my putter grip, which is a boost of confidence to look at before I hit every putt.
Photo By: Sam Greenwood/Getty Images
HAVING FUN AGAINThis has been one of the most fun seasons I've ever had. When you know you're capable of success, it feels nice to see results. It's probably the best I've played since 2008. I'm more comfortable with my swing and my equipment than maybe ever. I'm going in the right direction.
DRIVER
specs: TaylorMade SLDR, Mitsubishi Rayon Diamana Blue Board prototype shaft, 9.5 degree loft, 44 inchesI've played the SLDR and SLDR S. I use the one that gives me the most confidence. This is a higher loft than what I used to play, but it helps me work the ball better.
FAIRWAY WOODS
specs: TaylorMade SLDR, 15, 18.5 degree loft, Mitsubishi Rayon prototype 102X shaftWith today's technology, I'll hit these clubs a lot off the tee without really sacrificing anything. If I can take trouble out of play by hitting 3-wood, there's no need to squeeze a driver into a tight fairway.
IRONS
specs: TaylorMade Tour Preferred MC, Nippon N.S. Pro Modus3 Tour130, X-flex steel shafts, 1 degree flat, Golf Pride Tour Velvet grips (two wraps of tape)Just because we're tour players, don't think we don't want forgiveness. The cavity and the slot on the sole of these irons help maintain that nice, piercing ball flight better than a normal blade. We added 30 grams of weight in the grip to achieve the heavier feel I prefer.
WEDGES
specs: TaylorMade Tour Preferred, 50, 58 degree loftYou have to know what type of shots you're comfortable hitting for certain yardages. My 50-degree is actually bent to 52 degrees, and I can open up my 58-degree if I need to hit a higher shot that lands soft.
PUTTER
specs: TaylorMade Spider Mallet, short slant neck, 3 degree loft, 34.5 inches, SuperStroke 1.0 gripFor the most part, I've played this Maranello style of putter for much of my career. So the team at TaylorMade shaped this to look like it with additional stability.
We want 11!I play TaylorMade's Tour Preferred X ball, all with the No. 10. I changed it to 10 this year when Real Madrid won its 10th Champions League title. I'm hoping it'll be 11 next year!
The heaviest shaft they offerTaylorMade and Mitsubushi Rayon developed this 100-gram shaft, which is similar to a version of the 2005 Diamana Blue Board. It's twice the wall thickness of a typical graphite shaft. Even though this makes for the heaviest driver on tour, it gets me the right feel without too much spin.
A bull by its hornsThese headcovers remind me of bullfighting in Spain. The names match what we called the bulls: Azabache (far right) for my 3-wood and Colorado for my 5-wood.
Once upon a time there was . . .Some friends of mine put together a children's book for golf, Once upon a time there was Golf. I'm a narrator for it, along with fellow Spaniard and LPGA star Belén Mozo.
Hey, that's me kickin' it!In terms of athleticism, I think fútbol and tennis require the most level of fitness. I've played a couple times for the team I own, CF Borriol, and I was so impressed with those guys.
A difference makerHaving stability in my personal life has certainly translated to the golf course. I owe a lot to my lovely girlfriend, Katharina Boehm.
Photo By: Scott Halleran/Getty Images