Golf Equipment
What's In My Bag: Phil Mickelson
__Age:__Turns 42 on June 16 | Resides: Rancho Santa Fe, Calif. | Story: The four-time major-championship winner has won 40 PGA Tour events and was inducted into the World Golf Hall of Fame in May.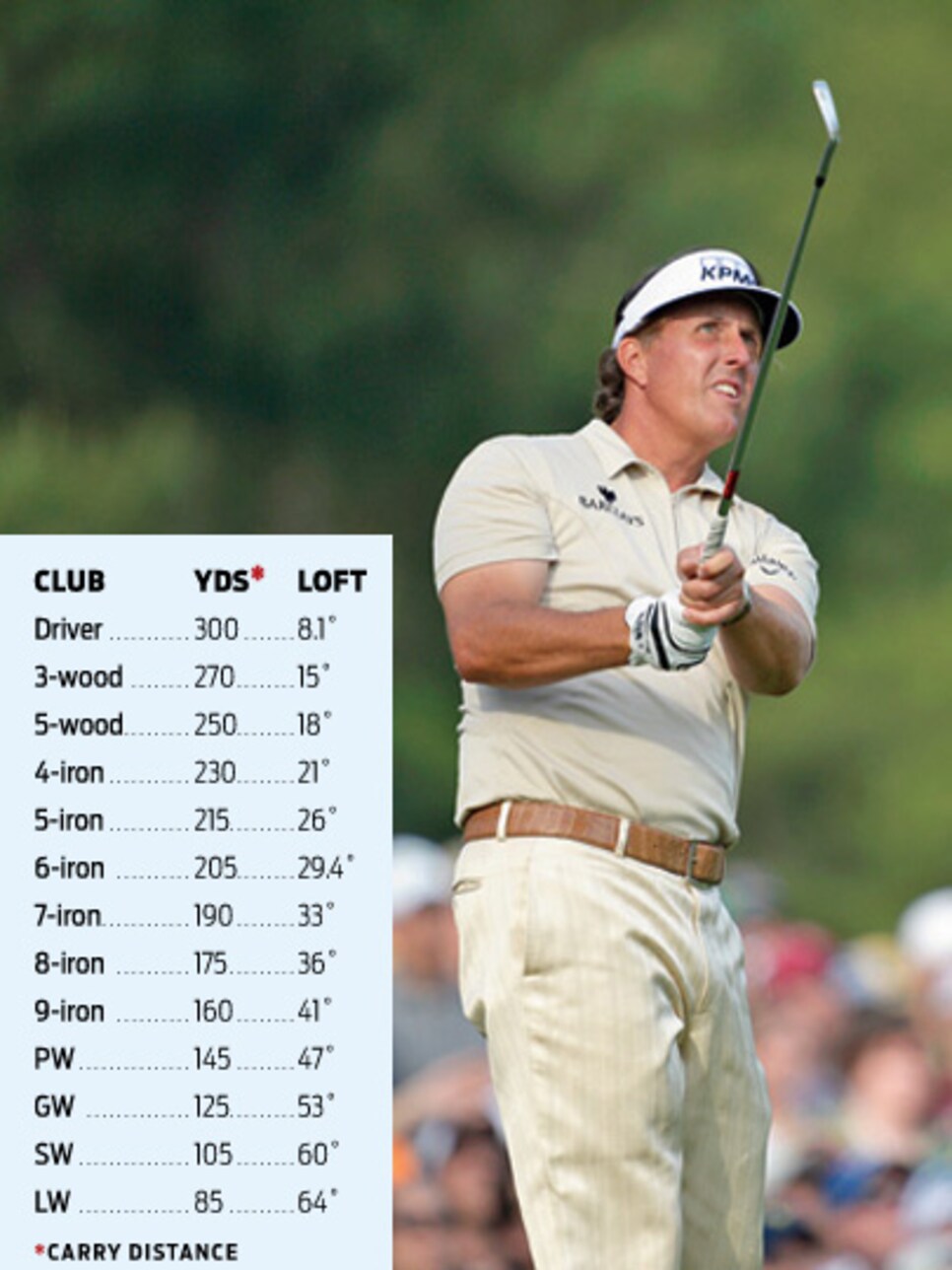 Photo By: Photo: Dom Furore
Photo By: Courtesy of Mickelson family
YOUNG PHIL, TODAYLooking back at the 20-year-old amateur from San Diego, I'm not sure how I would have done on tour today. Aggressive young players of the new generation aren't as fearful as I was, because they haven't experienced the varied course conditions we saw when I joined the tour in 1992. So dealing with different types of lies isn't as much of a requirement as it used to be. But I'm amazed at how quickly these guys adapt to all the different course designs we see during the year.
Photo By: Photo: Dom Furore
THE BEST IN THE GAMEIt's neat knowing that there's a group of five or six guys competing for the No. 1 spot in the world on a monthly basis. I'm not sure how it'll settle, but Rory and Luke are worthy No. 1s. I haven't played consistently enough to attain that spot yet, but I'm glad to be back where I'm contending every week.
THE RIGHT DOTSI play the Callaway HEX Black Tour and use small dots to mark it. Sometimes it can be an issue. In 2001, I incurred a penalty when I picked up my ball to identify it. (I forgot to inform my fellow-competitor.)
HISTORY CLASSI have a collection of old coins for ball markers, like this 1900 Morgan silver dollar from my grandfather. Some have personal significance, but some are just great pieces of history.
I LIKE DINOSAURSScary looking, huh? This dinosaur head was a birthday gift from my wife, Amy. It's a female fossil from Mongolia. Amy also gave me a meteorite once.
Photo By: Courtesy of Mickelson family
KEEPING TIMEI wear a watch on my left wrist--even while I play. One time, I broke a fan's timepiece with a wayward drive. I felt bad so I gave him some money for a new one.It seemed only fair.
COOL TOOLI always make sure to grab some divot tools when I play Muirfield Village for the Memorial. They get everything right there. I believe it's one of the best courses we play, and I've come close a couple of times. It would mean a lot to me to win Jack's tournament.
DRIVERMy Callaway RAZR Fit has the extra hosel cog like the one on the new Tour Authentic version (Mitsubishi Rayon Diamana 'ahina 70XX shaft, 45 inches).
FAIRWAY WOODSI'm known to make a lot of changes. Right now I'm playing Callaway's RAZR Fit 3- and 5-wood (15 and 18 degrees, Mitsubishi Rayon Fubuki K 80X).
WEDGESI use __Callaway'__s X-Series Jaws model (Vintage finish, __True Temper__Project X 7.0 shafts). I like having options around the green, so I carry four wedges, including a 64-degree.
IRONSThere are 15 clubs shown here. I pull a club out based on the course. I play Callaway X-Forged 3- and 4- irons, and RAZR X Muscle Backs, 5-iron through pitching wedge (KBS Tour V.2 X-flex shafts).
PUTTERIt seems like everyone is using a long putter on tour. But not many use a putter shorter than my 34-inch Odyssey White Hot XG prototype blade (3 degrees of loft). I put lead tape behind the face for feel.