Phil Mickelson's Public Grievances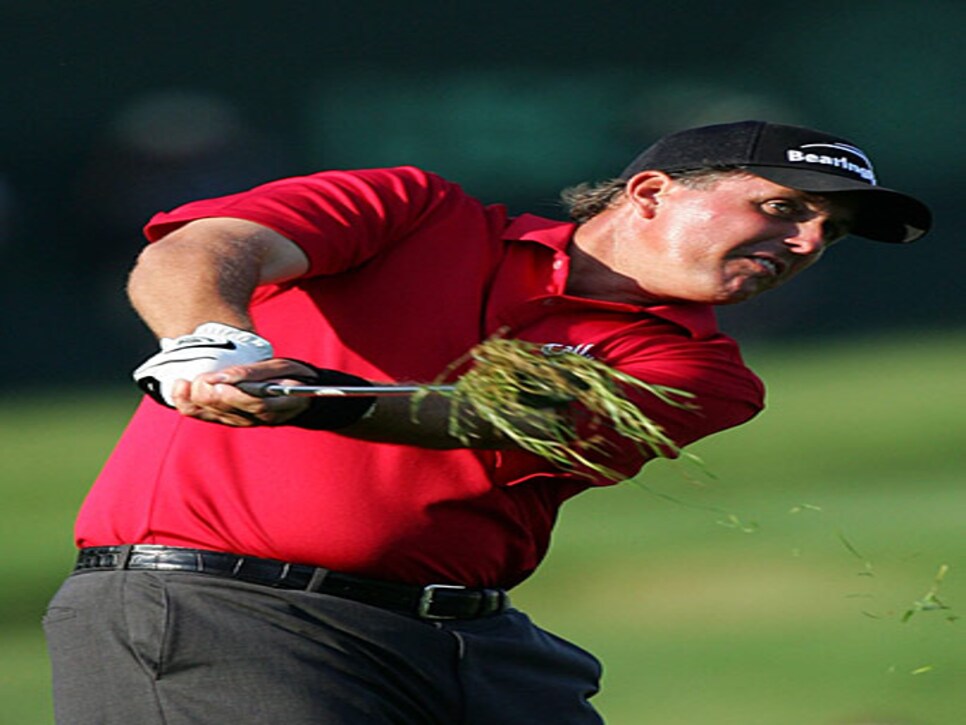 Phil objects to Oakmont's "dangerous" rough: After narrowly missing out the year before at the U.S. Open at Winged Foot, Mickelson was primed to make another run at the national championship at Oakmont. But in a scouting mission at the Pittsburgh-area course two weeks before the Open, Mickelson hurt his wrist in the thick rough. When he went on to miss the cut at 11 over, Mickelson made a point of criticizing the USGA for hazardous conditions. "With the liquid fertilizer and this new machine that makes the grass suck straight up, it is absolutely dangerous," Mickelson said. For the record, he has mustered the courage to play the Open in years since.
Phil sends The Commish a message: One of the early highlights of the new FedEx Cup was Mickelson's two-stroke victory over Tiger Woods at the Deutsche Bank Championship in 2007. But what should have been a celebratory moment for Mickelson and the tour took a bizarre turn when Mickelson, in his post-round remarks, expressed disappointment with Commissioner Tim Finchem for not heeding his advice about the new playoff format. As further protest, Mickelson skipped the next week's tournament in Chicago.
Phil objects to a loophole by exploiting loophole: A new groove rule in 2010 banned the use of a certain type of grooves in wedge, but a handful of players exploited a loophole that allowed Ping wedges with the grooves in question made prior to 1990. When Mickelson put the Ping wedge in play as well, he became the most high-profile player to enter the fray, and he did it, he said, to prove a point. "I'm very upset with the way the rule came about, the way one man essentially can approve or not approve a golf club based on his own personal decision. This has got to change," he said. Mickelson took the club out of his bag soon after, but not before threatening to put it back in play if the game's governing bodies didn't get their acts together and close the loophole -- which they soon did.
Phil blames Rees Jones for ruining golf (or something like that): When the par-3 15th hole at Atlanta Athletic Club measured 265 yards for the 2011 PGA Championship, Mickelson took it as an opportunity to lament how "modern architecture is killing the game." Specifically, Mickelson criticized course architect Rees Jones for making changes to courses that were suitable for professionals but overly penal for amateurs. Mickelson even went on to cite a statistic that said play at AAC was down by 25 percent because of intimidation. Whether that number was accurate or not, the club wouldn't say. "Phil is not a member, so I don't know where he got his information," club general chairman Tom Adderhold said.
Phil would prefer not to underwrite the entire government: Mickelson shot three rounds in the 60s en route to a T-37 in his season opener at the 2013 Humana Challenge, but that wasn't as interesting as his announcement that he needed to rethink his schedule and his state of residence. All this, apparently, because Mickelson was concerned about the hefty taxes he would have to pay at the federal and state level. Mickelson said taxes were also the reason he withdrew from his plan to take an ownership stake with his hometown San Diego Padres. "If you add up all of the federal and you look at disibility and unemployment and the social security and the state, my tax rate is 62, 63 percent," Mickelson said. "So I've got to make some decisions about what I'm going to do." Mickelson later apologized for his remarks in a statement.
After toying with belly putter, Phil says belly putter ban is grossly unfair: Mickelson experimented briefly with a belly putter at the 2011 Deutsche Bank Championship, ultimately deciding it wasn't for him. But  that didn't stop him from weighing in on what was then a proposed ban on anchored putters. "I understand both sides. It's just that I don't think you can take away what you've allowed players to use, practice, and play with for 30 years," Mickelson said in 2012. "I think it is grossly unfair." Strong words, but all for naught. The ban was pushed through and is set to take effect in 2016.
Phil still doesn't like the schedule, WDs from the BMW Championship. Mickelson's frustration with the FedEx Cup format has never been far below the surface (see 2007 Deutsche Bank). So when he slipped from contention at this year's BMW Championship and saw a fourth-straight week of golf was potentially awaiting at the Tour Championship, he decided to withdraw from the tournament, ending his playoffs in the process. "My primary goal is to rest and prepare for the Ryder Cup," Mickelson said in a staement. "Without a chance to contend at the Tour Championship, the most important thing for me now is to prepare for the Ryder Cup." Speaking of which . . .
Phil ambushes Tom Watson in post-Ryder Cup press conference: It will already go down as the indelible moment of the 2014 Ryder Cup, and it didn't even come on the golf course. Fresh off another waxing from the Europeans, after enduring a full-day benching on Saturday, Mickelson indirectly took aim at Ryder Cup captain Watson by praising one of his predecessors, Paul Azinger. "He got everybody invested in the process," Mickelson said of Azinger, before saying of the Watson regime, "Nobody here was in any decision."