Analysis
Players 2022: Phil Mickelson's absence renews questions about PGA Tour's transparency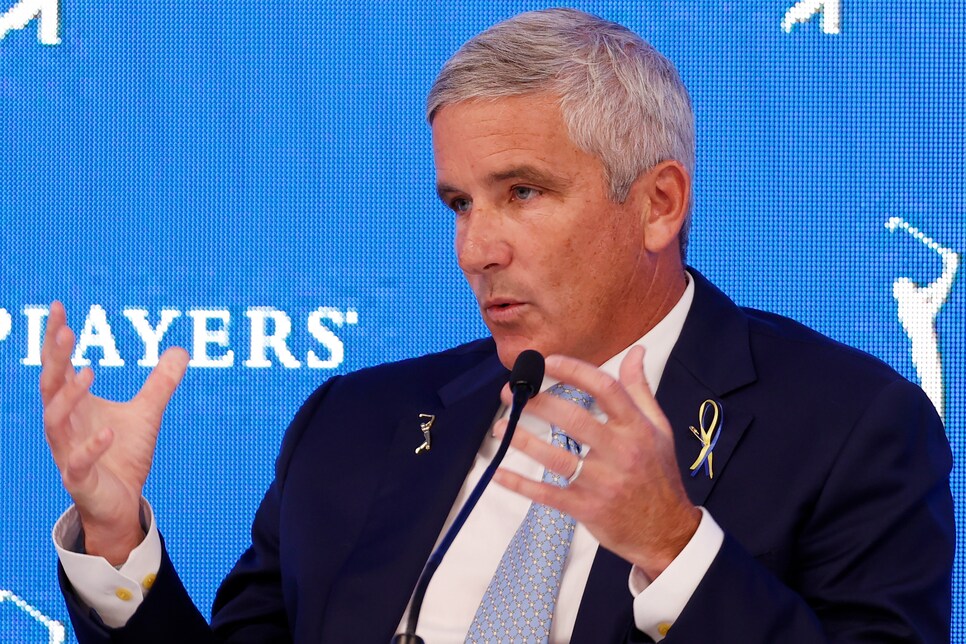 PGA Tour Commissioner Jay Monahan speaks to the media during a press conference prior to the 2022 Players Championship.
Cliff Hawkins
PONTE VEDRA BEACH, Fla. — "We're having a discussion right now with our Players Advisory Council on a number of issues, one of which is disclosures and transparency," PGA Tour Commissioner Jay Monahan said at the Players Championship.
If you somehow missed that admission from the commissioner, don't feel bad. He said it five years ago at this same venue.
The subject of "transparency" in relation to the tour's business—be it financials, the levying of player fines and suspensions, or even the results of voting for Player of the Year—has become a growing topic of discussion in recent weeks and was reiterated on Tuesday in a press conference at TPC Sawgrass.
It's become a fallback point of discussion, of sorts, for players in the wake of the intensifying push for viability by a rival golf tour, backed by money from Saudi Arabia and spearheaded by Greg Norman. A series of comments by Phil Mickelson, who believes that the tour should be sharing more revenue with its membership and who later revealed that he had helped with the formulation of the rival circuit, also has fueled this discussion—especially because Mickelson, the reigning PGA champion and a former winner at TPC Sawgrass, is not in the field for the tour's $20 million flagship event, and it has not been made clear whether or not he is skipping the event of his own volition. When Monahan on Tuesday was asked variations of the same question about a Mickelson suspension, the commissioner cited the tour's longstanding policy of not disclosing disciplinary measures to the media. But he was also vague enough to allow for more speculation.
"He stepped away on his own accord, and he's asked for time," Monahan said on Tuesday when he was pressed about Mickelson's status. "He's been given that time. We don't comment on disciplinary matters, potential matters or actual matters. But every player is accountable for their actions out here."
It's kind of hard to fathom that a guy who's been looking to further enrich himself by aligning with another tour would voluntarily pass up the richest event in golf. But Mickelson, in a statement he issued Feb. 23, apologized for his "reckless" comments and said he "desperately needs some time away to prioritize the ones I love most and work on being the man I want to be."
Through the years the PGA Tour steadfastly has maintained its stance that it serves no viable purpose to reveal actions such as suspensions. However, in the case of Mickelson, winner of 45 tour titles, it might be pragmatic for the tour to, ahem, suspend its standard operating procedure. It certainly would send a message to the rest of the membership while clearing up any questions fans might have about the eligibility status of one of the game's most popular players.
Don't expect that to happen, though. Too much downside. Finchem, in 2015, explained it this way: "I think the ultimate deciding factor for us is that the system works. We take the view that there isn't any necessity to broadcast when we have conduct issues. We feel like the level of the conduct issues that we deal with, almost 100 percent, do not require us to from a fan interest and demand."
A tour official reiterated Wednesday to Golf Digest that the tour doesn't want to distract from its competitions or its sponsors with any news generated from a particular tournament site. But even one of the player directors on the PGA Tour's Policy Board believes that position should change.
"I've always felt that a few of the bans or suspensions, I think that should be announced," Rory McIlroy countered. "I think that should be more transparent. I've always said that."
Contrast the tour's stance to those of other professional sports organizations, which openly disclose disciplinary actions. The National Hockey League, for instance, is comfortable with its policy of total transparency.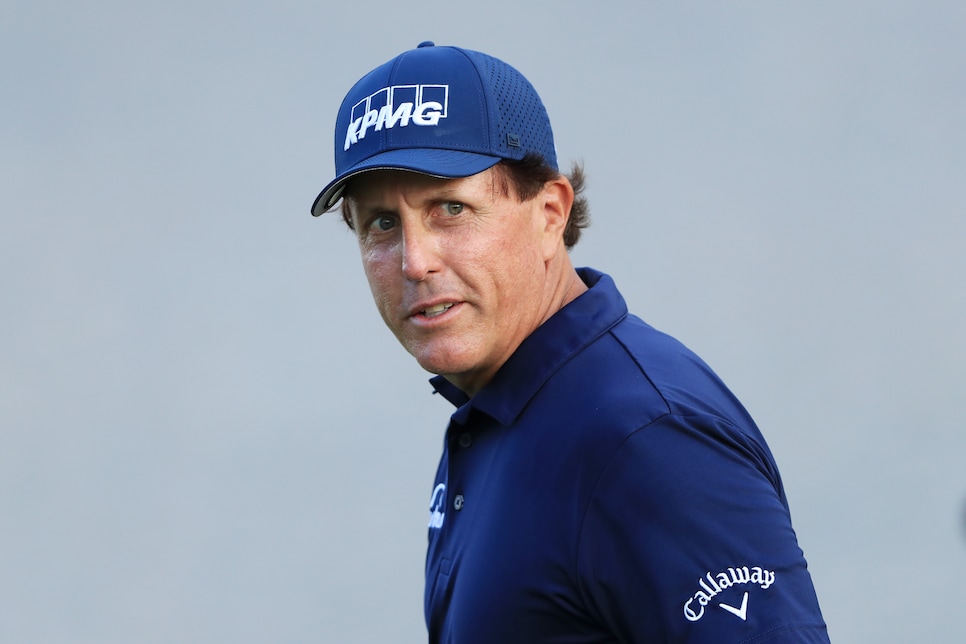 "From a macro standpoint, there are the forces of peer pressure and impact on a team," said John Dellapina, group vice president of communications for the NHL. "It's in the best interest of the league to make fines and suspensions public not only as it relates to the fans and how it affects teammates, but also, perhaps, in helping to change behavior."
Dellapina made note of an important (and obvious) difference between the NHL or another league and the PGA Tour and that is, of course, that professional golfers compete as individuals. So a comparison isn't necessarily relevant. Oddly, he added, golfers call penalties on themselves in the course of competition. Their doing so always gets publicized.
"How does that dynamic square with disciplinary action that is not revealed?" Dellapina asked
There are exceptions. The tour does issue a statement for suspensions related to the use of performance enhancing drugs. To wit, the suspensions of Doug Barron in 2009, Vijay Singh in 2013 and Scott Stallings in 2015, all who tested positive for a banned substance. Barron later received a therapeutic use exception for the drug for which he received his suspension.
In addition, since the onset of the pandemic, the tour has without fail publicized when one of its players has tested positive for COVID-19.
"I would say almost any time you really get into trouble, it's when things aren't transparent and when people don't know where everything is," Patrick Cantlay said. "One of the tough things about the way it's set up out here is the onus tends to be on the player to go and figure those things out for himself. There's not like a big debrief or there's no one that is a professional that's really looking into it, so it seems as though if a player is interested, he can try and go down that rabbit hole and figure it out, but he's kind of on his own."
Which can be self-defeating in a way. Cantlay was almost comical in explaining the challenge, adding, "It's a tricky situation. … It's almost like I don't even know what I don't know to know if there's a situation where they held something back and they shouldn't have, or they didn't hold it back and they should have held it back."
"If I had to say how the tour needs to be more transparent, I think certain players have never really asked the tour to be transparent, to be fair," Xander Schauffele added. "I guess you'd have to ask specific questions to the tour of what you would like them to reveal. When you just say transparency—you'd like the tour to be more transparent—it could mean anything."
As he was five years ago, Monahan isn't averse to considering policy changes if the Player Advisory Council and the board want to take up the issue. "It's a criticism that has been lobbied against the PGA Tour through the years," he said Tuesday, "and I think we always have to be open to evolving."