Our list of this year's Nationwide Tour grads to watch out for on the PGA Tour in 2011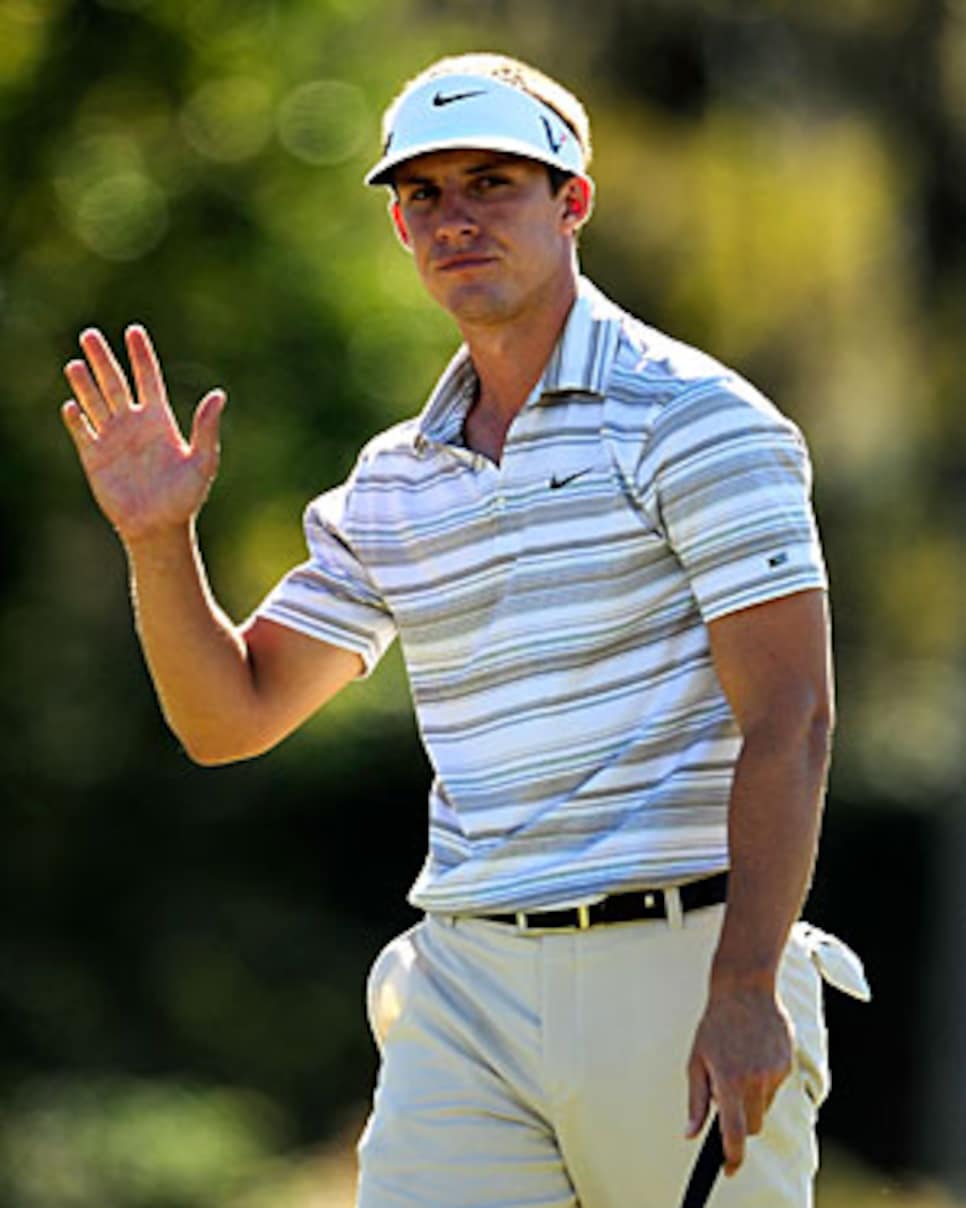 Photo By: David Cannon/Getty Images
Photo By: Gregory Shamus/Getty Images
Photo By: Kevin C. Cox/Getty Images
Photo By: Jamie Squire/Getty Images
Photo By: Phil Walter/Getty Images
Photo By: Hunter Martin/Getty Images
Photo By: Michael Cohen/Getty Images
Photo By: Kevin C. Cox/Getty Images
Photo By: Michael Cohen/Getty Images
Photo By: Steve Dykes/Getty Images
Our list of this year's Nationwide Tour grads to watch out for on the PGA Tour in 2011
Jamie LovemarkThe 22-year-old has been viewed as a can't-miss prospect since his collegiate days at USC. He won the 2007 NCAA Championship as a freshman and has Rickie Fowler-level talent. He nearly earned his PGA Tour card last year in just his fourth event as a pro when he and Fowler lost to Troy Matteson in a playoff at the Frys.com Open. He dominated during what will probably wind up being his only season on the Nationwide Tour this year, picking up a win and earning $452,951 to eclipse Stewart Cink as the youngest leading money winner in tour history. As No. 1, he is fully exempt on the PGA Tour next year and receives an invite to the Players Championship.
Photo By: David Cannon/Getty Images
Tommy GaineyIt's been quite a ride for the former reality TV star. "Two Gloves" burst onto the scene as a contestant on the Golf Channel's Big Break IV. He became the first player from that show to earn a PGA Tour card, but he wasn't able to stick around, finishing 148th on the money list during the 2008 season. At the age of 35, this former assembly-line worker from South Carolina seems to be coming into his own, picking up his first two wins in a six-week span on the Nationwide Tour this year. He finished fourth on the money list with earnings of $403,957.
Photo By: Gregory Shamus/Getty Images
Chris KirkLike Lovemark, Kirk was also a collegiate star, playing his golf at the University of Georgia and winning the 2005 NCAA championship. After two decent seasons on the Nationwide Tour, the 25-year-old broke through this year with his first two wins and adding two runner-up finishes. A T-15 at the PGA Tour's McGladrey Classic, which featured four rounds in the 60s, propelled him inside the top 150 in the World Golf Ranking. A broken bone in his left wrist caused him to withdraw from the season's final two tournaments, ending his chances of taking home the money title.
Photo By: Kevin C. Cox/Getty Images
Hunter HaasHaas had his best season in his 10th full year as a professional. The University of Oklahoma product doubled his career victory total on the Nationwide Tour by winning two events in 2010. This will be Haas' third go-around on the PGA Tour, where he failed to keep his card after both the 2001 and 2005 seasons. Before turning pro, Haas had a noteworthy amateur resume, winning the U.S. Amateur Public Links Championship and the Porter Cup in 1999. Despite the familiar last name, he is not related to Jay or Bill Haas.
Photo By: Jamie Squire/Getty Images
Kevin ChappellIt was an explosive first full season on the Nationwide Tour for the 24-year-old. The UCLA product missed 10 cuts, but he also produced a win, a runner-up and a third-place finish at the Ford Wayne Gretzky Classic, where he opened with a 61. A go-for-broke-type player, Chappell led the Nationwide Tour this season in eagles, par breakers and total driving. In seven career starts on the PGA Tour, Chappell has two top 25s, including a T-6 at the AT&T Pebble Beach National Pro-Am in 2009.
Photo By: Phil Walter/Getty Images
Keegan BradleyA year ago at Q School, Bradley almost became an unlikely recipient of a PGA Tour card, but a disappointing final round left him two shots behind the qualifying number. Now, the 2008 St. John's graduate will enter his rookie season in the big show better prepared with a solid year on the Nationwide Tour under his belt. Bradley didn't win in 2010, but he had a runner-up and two third-place finishes. Winning is definitely in the genes, though, for the nephew of Hall-Of-Fame LPGA player Pat Bradley.
Photo By: Hunter Martin/Getty Images
Jim HermanAfter getting off to a great start with a playoff win over Chris Kirk at the Moonah Classic, Herman had to hold on down the stretch to stay in The 25. Entering the Nationwide Tour Championship he sat in a precarious spot at No. 20 on the money list, but a T-7 wrapped up his spot. Before this season, Herman left his job as an assistant pro at Trump National golf course with the backing of several of the members, including the Donald himself. There he was a regular in some high-stakes games with the real estate mogul so it's pretty safe to say he's a money player.
Photo By: Michael Cohen/Getty Images
Martin PillerIn his second season on the Nationwide Tour, the 24-year-old notched two victories and five top 10s. A graduate of Texas A&M, Piller ranked second this year in putting, something which should certainly help when he jumps up to the PGA Tour next year. Piller picked up the biggest check of his young career ($130,000) at the Cox Classic, where he shot 62-64 on the weekend to win after making the cut by a stroke. His two titles tied him with three others for most on the Nationwide Tour this year.
Photo By: Kevin C. Cox/Getty Images
Colt KnostThe 25-year-old seemed a lock for PGA Tour success when in 2007 he won both the U.S. Amateur and the U.S. Public Links while also leading the U.S. to a win in the Walker Cup. He promptly finished sixth on the money list in his rookie season on the Nationwide Tour to earn his PGA Tour card, but lost it after a 2009 campaign that produced just one top 25 in 24 starts. Most of 2010 was a struggle, but a runner-up at the Nationwide Tour Championship allowed the SMU product to vault from No. 36 to No. 15 and earn a return trip to the big show.
Photo By: Michael Cohen/Getty Images
Jhonattan VegasThe man with the gambling last name, certainly doesn't hold anything back when he's teeing off. Vegas is the longest player of this year's crop of graduates with an average driving distance of 312 yards. The University of Texas product has other skills, though, as evidenced by his four-round total of 264 to claim his lone title at the Preferred Health Systems Witchita Open. After making just 10 cuts in his rookie season last year, Vegas notched nearly as many (nine) top 25s this year to become the first native of Venezuela to earn a PGA Tour card.
Photo By: Steve Dykes/Getty Images