Golf Humor
Comparing professional golfers with their celebrity doppelgangers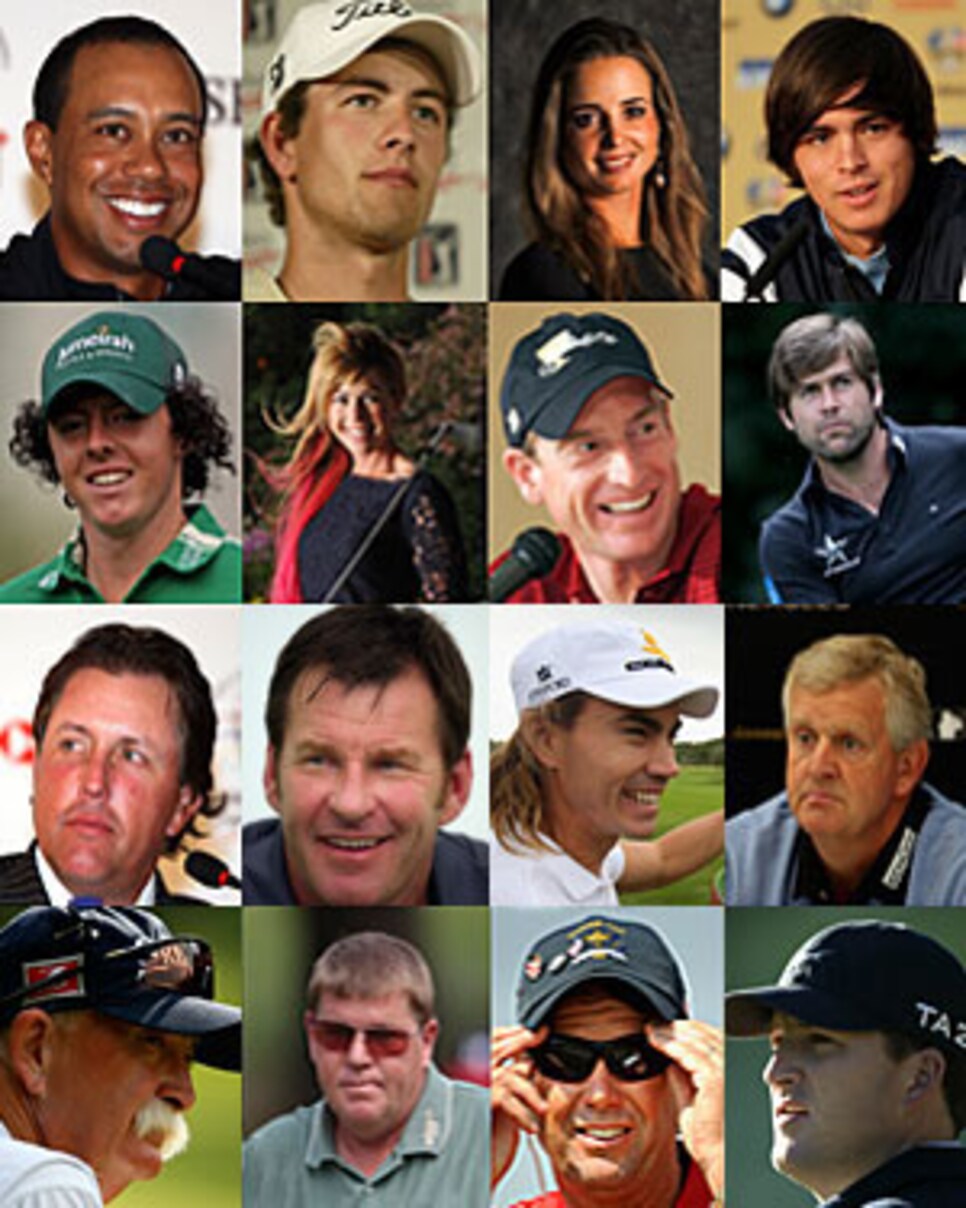 Comparing professional golfers with their celebrity doppelgangers
Phil Mickelson and Emilio Estevez
Turns out Phil Mickelson has
more than one
doppelganger, so we felt he was a prime candidate to kick off our list. As you can see, Lefty could've been Emilio Estevez's Brat Pack stunt man.
Photo By: Getty Images
Steve Stricker and Joe Biden
"Pensive" is not a word often used to describe VP Joe Biden, which is probably why it took us a long time to find a photo that matched the distraught post-Ryder Cup version of his doppelganger, Steve Stricker.
Photo By: Getty Images
Camilo Villegas and Rafael Nadal
We didn't even have to create a split image for this chance doppelganger meeting between Camilo Villegas and Rafael Nadal at the 2008 Castello Masters Costa Azahar Pro-Am.
Photo By: Getty Images
Rory McIlroy and Danny Noonan (Michael O'Keefe)
We're not the first to make this comparison, and if McIlroy keeps up his winning ways, we're sure not to be the last. Cue the "Be the ball" jokes.
Photo By: Getty Images
Rickie Fowler and Zac Effron
Rickie Fowler won our "
Hottest Male Golfer
" poll, so it's not unthinkable to see the young pro take a stab at acting like his doppelganger Zac Effron.
Photo By: Getty Images
Beatriz Recari and Eliza Dushku
Speaking of hot golfers, Beatriz Recari
stands alone
, but she may have a run for her money if her celebrity look-a-like Eliza Dushku takes her
golf ambitions
seriously.
Photo By: Getty Images
Tiger Woods and Phil Ivey
Tiger Woods may have the best poker face in all of golf, but he's got nothing on his doppelganger, eight-time World Series of Poker champion, Phil Ivey.
Photo By: Getty Images
Colin Montgomerie and Mrs. Doubtfire (Robin Williams)
You may think we're being mean-spirited by comparing Monty to Mrs. Doubtfire, but this one was handed to us by the doppelganger Gods. Check out page three of the
"Mrs. Doubtfire" Google image search
.
Photo By: Getty Images
Adam Scott and Hayden Christiansen
It's hard to imagine the chiseled Adam Scott having a dark side. Then again, no one expected the young Anakin Skywalker--aka Hayden Christiansen--to have one either. And we all know how that turned out.
Photo By: Getty Images
Casey Martin and Matthew Perry
Casey Martin is best known for suing the PGA Tour in 2001 for the right to use a golf cart, but he was accomplished on the course as well, spending five years as a touring pro. Which is four more years than any of Matthew Perry's post-Friends television series have lasted.
Photo By: Getty Images
Jim Furyk and Bob Saget
We think Jim Furyk's
Presidents Cup
winning smile is a dead-ringer for
Full House
dad Bob Saget.
Photo By: Getty Images
Mike "Fluff" Cowan and Scruffy the Janitor
True fans of the PGA Tour will recognize Hall of Fame caddie Mike "Fluff" Cowan, just as true fans of Futurama will recognize his animated counterpart--Scruffy the Janitor.
Photo By: Getty Images
John Daly and John Kruk
John Daly and John Kruk share enough similarities that we can see the fan-favorite golfer moonlighting as an ESPN baseball analyst.
Photo By: Getty Images
Nick Faldo and Harrison Ford
Nick Faldo was golf's leading man in the late-80s and early-90s, right around the same time his real-life doppelganger Harrison Ford was on the big-screen as Indiana Jones and The Fugitive.
Photo By: Getty Images
Paul Azinger and Bob Enstein
Older fans of Paul Azinger's doppelganger will remember him as "Super" Dave Osborne, while a newer generation knows him as Marty Funkhouser from Curb Your Enthusiasm. And like his Curb character, Enstein is a golf enthusiast.
Photo By: Getty Images
Paula Creamer and Tara Reid
Looks aside, Paula Creamer and her doppelganger Tara Reid have had similar career paths, both seeing major success at a young age.
Photo By: Getty Images
Robert Rock and Russell Crowe
He has the hair and the name of a movie star, so it takes someone special to be Robert Rock's doppelganger. And we think Russell Crowe has the perfect five-o-clock shadow and furrowed brow to pull it off.
Photo By: Getty Images