The Memorial
Take the Golf Digest Memorial Tournament Quiz
How well do you know the Golden Bear's event? Test your mettle on this 10-question Memorial quiz.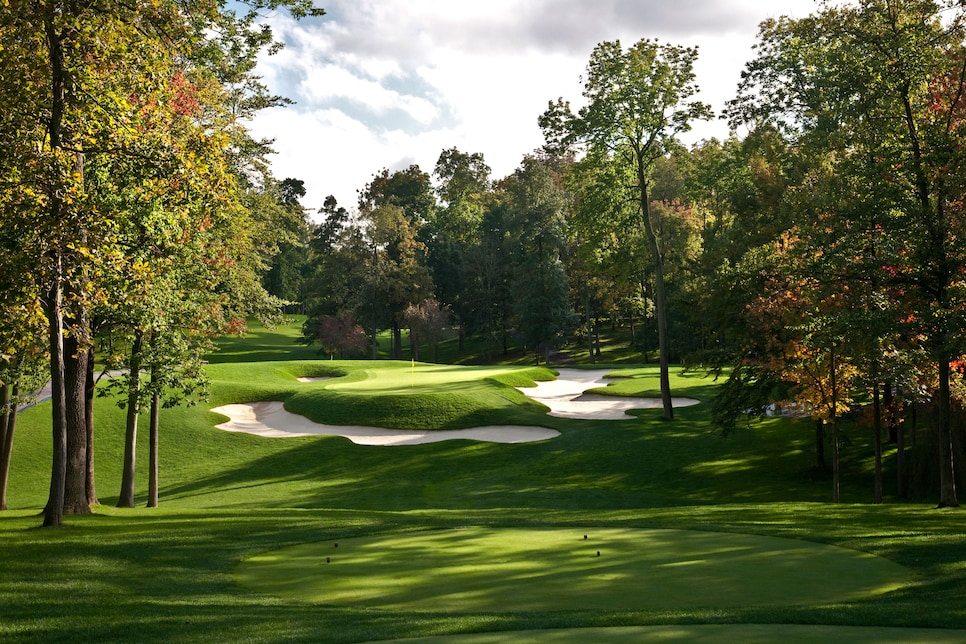 Photo By: Courtesy of Jim Mandeville
Question #1
Who won the inaugural Memorial Tournament in 1976?A) Roger MaltbieB) Jim SimonsC) Ray FloydD) Don Pooley
Photo By: Courtesy of Jim Mandeville
Answer: Maltbie
Maltbie beat Hale Irwin on the fourth playoff hole to win in 1976. It was his third career PGA Tour victory.
Photo By: Getty Images
Question #2
What is Jack Nicklaus' best finish at the Memorial?A) 1stB) 2ndC) 3rdD) He's never played at the Memorial
Photo By: US PGA TOUR
Answer: First
Nicklaus has won the Memorial twice, grabbing the second tournament in 1977 and then as a 44-year-old in 1984.
Photo By: US PGA TOUR
Question #3
What movie has a Memorial-influenced scene?A) CaddyshackB) Tin CupC) Happy GilmoreD) Who's Your Caddy?
Answer: Tin Cup
In "Tin Cup," Kevin Costner's character is seen pocketing brand-new golf balls at the driving range. According to Gary McCord, he actually did that at the Memorial, as it was the only tournament at the time that gave players range balls for
free
.
Question #4
Tiger Woods has five Memorial titles. Who has the second most with three?A) Phil MickelsonB) Lanny WadkinsC) Kenny PerryD) Tom Watson
Answer: Perry
Three of Perry's 14 PGA Tour career victories came outside Columbus. In 2015, Perry used the Memorial to make his final PGA Tour appearance, saying it was time to focus on the Champions circuit.
Photo By: US PGA TOUR
Question #5
Who owns the tournament scoring record?A) Bob TwayB) Keith FergusC) Curtis StrangeD) Tom Lehman
Photo By: US PGA TOUR
Answer: Lehman
Lehman won in 1994 with a 20-under 268 to beat Greg Norman by five shots. John Huston owns the single-round course record with 61 at the 1996 Memorial.
Photo By: US PGA TOUR
Question #6
The Memorial is far from the only tournament Muirfield Village has hosted. Which competition hasn't taken place on the course?A) PGA ChampionshipB) U.S. AmateurC) Ryder CupD) Presidents Cup
Answer: PGA Championship
Muirfield Village held the 1987 Ryder Cup, a match remembered as Europe's first win on American soil in the event's history, the 1992 U.S. Amateur, won by Justin Leonard, and the 2013 Presidents Cup, which was mostly a rainy affair.
Photo By: Getty Images
Question #7
Who helped Jack Nicklaus design Muirfield Village?A) Pete DyeB) Gary PlayerC) Robert Trent JonesD) Desmond Muirhead
Photo By: Getty Images
Answer: Muirhead
Muirhead had a six-year partnership with Nicklaus. Muirhead best remembered for his outlandish -- some would say cartoonish -- designs, such as holes shaped like New Jersey and bunkers mirroring Nordic crosses.
Question #8
The Memorial Tournament was the first PGA Tour event to...A) Allow amateur players in the fieldB) Hold a three-hole aggregate playoffC) Grant winners a three-year tour exemptionD) Offer a $1 million purse
Answer: Three-hole aggregate playoff
Technically, the inaugural event featured a four-hole playoff, as Maltbie and Irwin were tied after three holes and forced into a sudden-death match.
Photo By: US PGA TOUR
Question #9
Tiger Woods has enjoyed prosperity at Muirfield Village, but his feats at the 2015 tournament made news for another reason. What happened to Tiger at this event?A) He withdrew after shooting a front-nine 44 on FridayB) He shot an 85, his worst round as a professionalC) Lost a playoff on No. 17 thanks to a triple bogeyD) He switched caddies mid-tournament
Answer: 85
Woods started the weekend at one under, but saw his fortunes change on Saturday as he played the last 11 holes in 11 over par.
Photo By: Getty Images
Question #10
Muirfield Village is named after Muirfield, Scotland; the course design was primarily influenced by Scioto Country Club. What tournament served as the model for the Memorial's setup?A) The MastersB) Bay HillC) The Colonial InvitationalD) The Tour Championship
Photo By: Getty Images
Answer: The Masters
The Memorial was nicknamed the "The Masters of the North" by the Columbus Dispatch following Nicklaus' declarations that his event would try to replicate the ambiance of Augusta National's famous tournament. Nicklaus went as far as consulting Augusta National chairman Cliff Roberts on how to run his Dublin competition.
Photo By: Getty Images