News
Golf Digest Editor Jerry Tarde receives Memorial Tournament Journalism Award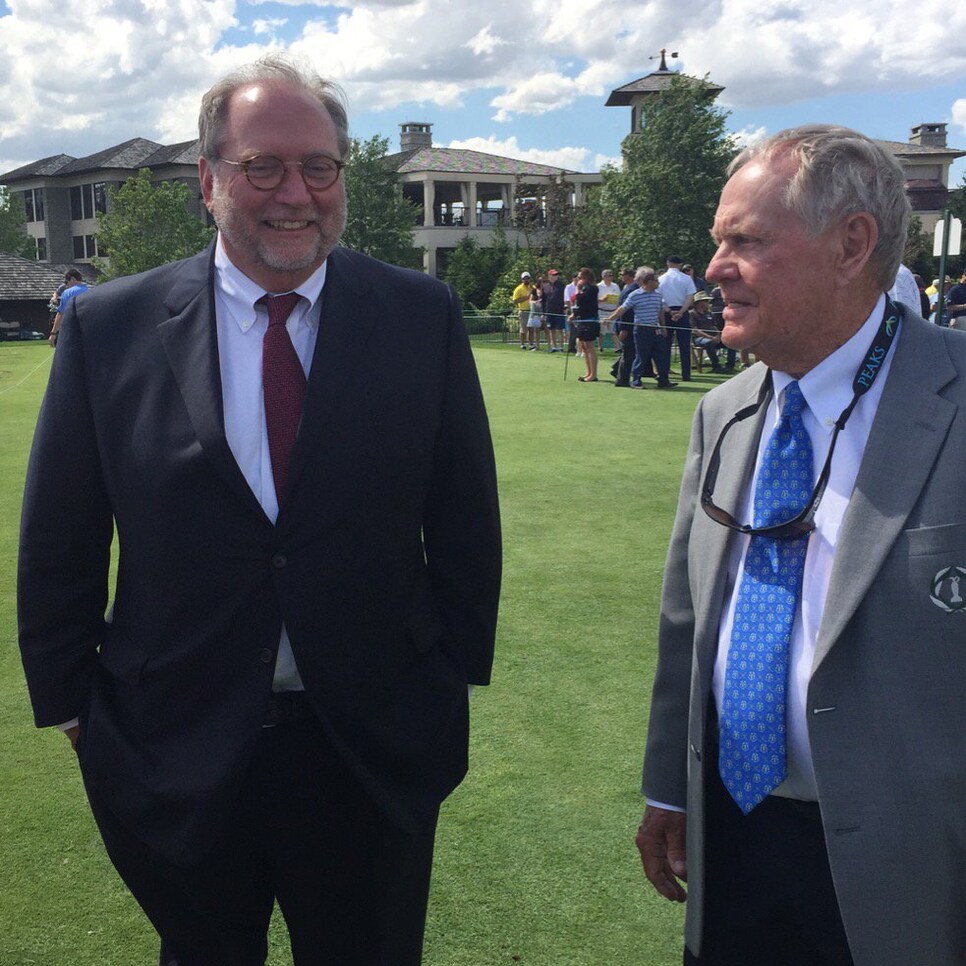 Golf Digest chairman and editor-in-chief Jerry Tarde was the recipient of the Memorial Tournament Journalism Award at Muirfield Village in Dublin, Ohio, on Wednesday, and used the occasion to pay homage to tournament host Jack Nicklaus and his wife, Barbara.
Tarde, who has been the magazine's editor since 1984, recalled how he used character-building parables, "Nicklaus parables," he called them, to help keep his daughters Sam and Lauren from arguing in the back seat of the car while waiting for their school bus.
"What's the editor of Golf Digest to do? So I tell golf stories," he said. "I'd say something like, 'hey girls, did I ever tell you why Jack Nicklaus likes to wake up on Sunday morning and look out the window to see its raining and windy?' There'd be a groan in the back of the car.
" 'Exactly,' I'd say. 'Jack liked wind and rain in the last round of a major championship because he knew half the field would give up and half the rest couldn't play in inclement conditions. So he eliminated three-quarters of the competitors before a shot was struck. Adversity gave him an advantage. That's what perseverance is all about, ladies.'
"Or I'd say, 'Do you know how many thank-you notes Barbara has written? She teaches us the meaning of courtesy.'
"One of my favorites was Jack's concession to Tony Jacklin at Birkdale. Pure sportsmanship. Or Jack in his last major making that final birdie putt on 18 at St. Andrews when even that old cuss Tom Watson wept in respect.
"Who could have sat in the Capitol rotunda and heard Jack speak so eloquently about Arnold and not felt the integrity of both men?
"Or remember the one time Barbara didn't feel like following Jack in a Ryder Cup match. 'I'm just not up for walking 18 holes today,' she said. 'Barbara,' Jack said, 'we're not going all the way around.' That's confidence.
"Our family has multiple Nicklaus parables for each of the nine core values of the First Tee before even there was a First Tee. So in serious moments, like this here today, I realize Golf Digest doesn't just cure slices or offer putting tips. We tell the character-building stories of the greatest game of all, which happens to be the name of Jack's autobiography.
"This tournament memorializes Jack not just for the 20 majors he's won or the 400 courses he's built, it honors Jack's enduring legacy of character. He's taught us how to win and how to lose with equal grace and sensibility. And that's why this award means so much to all of us, but especially to my family and me. Thank you, Jack."
Tarde, who was the ninth Golf Digest editor or contributor to receive the Memorial Journalism Award, was introduced by Charlie Meacham, Nicklaus' friend and a former LPGA commissioner.
"Jerry will tell you that his hobbies are fly-fishing and horse racing," Meacham said. "Don't let him fool you. Golf is and has been his life, and the game is infinitely better off as a result of his talent and dedication."
Here is a video of Tarde's speech in its entirety: