The Masters
Augusta National's Unwritten Rules
The do's and don'ts for fans, players and announcers during Masters week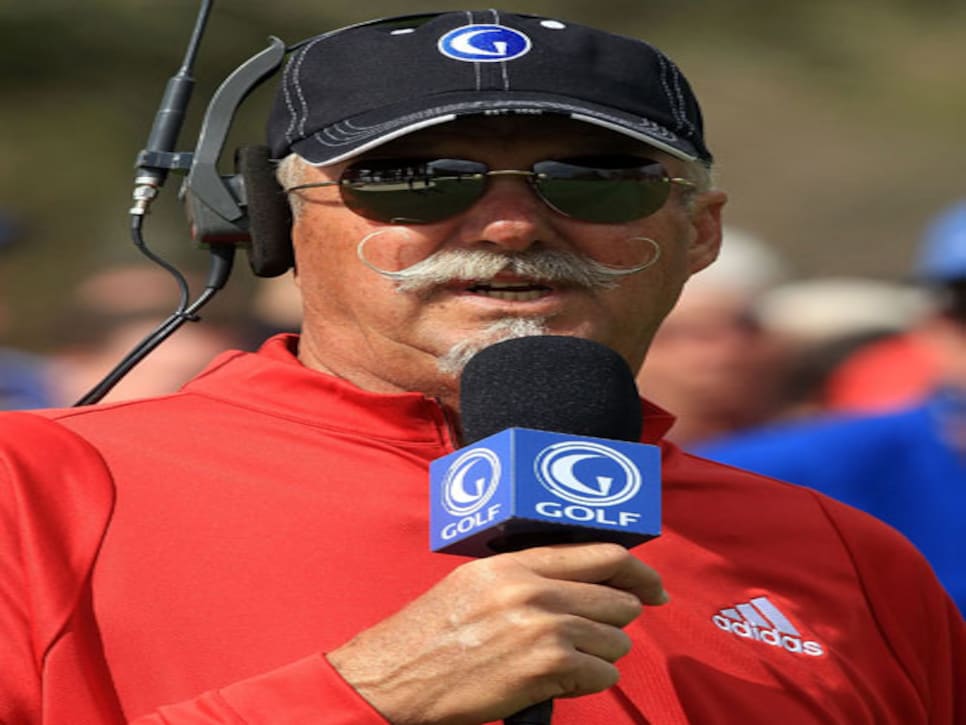 Announcers: Don't be cute
What's wrong with an announcer at the Masters occasionally pushing the envelope? Ask Jack Whitaker, who in 1966 referred to the Masters galleries as a "mob scene" and was removed from his Augusta National broadcasting duties. Or Gary McCord (left), who suffered the same fate when in 1994 he said the greens were smoothed with "bikini wax." Colorful language is OK at the Masters, provided you're just talking about the azaleas.
Announcers: Don't call them fans
They say attending the Masters can be a transformative experience. For example, you may think you're going as a "fan," but you're actually going as a "patron." The difference is mostly semantic, but it's
one the club is adamant about
because it establishes a Masters attendee as a valued customer for the day.
Fans: Don't nap
Actually, Augusta National's rules are even stricter than that. Fans—sorry, patrons—aren't even allowed to lay down on the grounds' luscious grass. People who lean too far back, even on the hillside underneath the sixth tee box, are told to sit up straight. Kind of takes you back to your days in kindergarten …
Guests: No tipping
Augusta National doesn't allow tipping, which is good news for the member or guest light on cash that day. The rule stems from Augusta National co-founder Clifford Roberts' belief that a member shouldn't be given special treatment over another because of how much they tip. But according to Ron Sirak in his April 2003 Golf Digest story, "What's it Like To Be A Member," club employees aren't slighted. Sirak writes, "No tipping is allowed, but [club co-founder Clifford] Roberts was known to intervene if a caddie was underpaid and always told guests to 'pay what you think he was worth,' which almost always ensured a healthy remuneration."
Fans: Don't take off your shoes
Similar to the no-laying-down rule, patrons who are spotted barefoot (here, Caroline Wozniacki gets away with it following Rory McIlroy in Dubai) are promptly instructed to put their shoes back on, even if they are sitting down. We're guessing Augusta National co-founder Bobby Jones didn't own too many pairs of sandals.
Players: No Backwards hats
Fans: Don't run
When the gates open for spectators each day at the Masters, there is a rush for patrons to set their chairs down alongside popular spots like the 16th and 18th greens, first come, first served. The problem is Augusta National strictly forbids running, giving way to the best speedwalking display outside of the Olympic Games.
Fans: No cell phones
While the PGA Tour permit these on the course, Augusta National has stood firm—even when it comes to the media—during the Masters. If you plan on attending as a fan, don't forget to leave your phone in the car or it will be a long walk back and another long wait in line before you can enter the course. Need to make an emergency call? Don't worry, Augusta National has several large banks of phones around the course for patrons' use.
Guests: Don't ask to be a member
Do you really, really want to be a member at Augusta National? Good, just don't tell anyone that. The club's membership is selected by invitation only, so don't bother looking for an application by the front desk. And if you want to be invited, it's best to keep that to yourself. Although he's an Augusta National member now, billionaire Bill Gates' invitation was reportedly withheld for several years specifically because he spoke freely about wanting to join the club.
Fans: Don't scalp your tickets
Want to pawn off your badge for a day and watch on TV? Better think twice. While there are companies that legally buy and sell tickets to the year's first major, trying to do it on your own outside of Augusta National's gates can lead to stiff penalties.
Forty-one people were arrested in 2012 alone according to the Augusta Chronicle
, with most being charged not for scalping, but for disorderly conduct. Yep, if there's a way for them to get you, they'll get you.
Announcers: Don't call it a back nine
In the same vein as the fans/patrons rule, Augusta National is picky when it comes to describing the two halves of its famed course. Bobby Jones felt the terms "front" and "back" weren't accurate and he also felt using the word "back" could lead to the phrase "back side," which sounds like someone is describing a rear end. No, we're not making this up. On the bright side, the course
switched the order of the two nines
after the inaugural Masters in 1934. Good call.
Players: Don't visit Butler Cabin prematurely
Rory McIlroy found this out the hard way in 2011, when a hooked tee shot on the 10th hole punctuated a Sunday collapse. Punching out from near where Charl Schwartzel would have a green jacket slipped on him later that day, McIlroy made a triple bogey on his
way to a final-round 80
. The next time he, or any other player, takes a trip to this Augusta National landmark, they'll want to do it in the presence of Jim Nantz, Masters chairman Fred Ridley and that tournament's low amateur.
Fans: No stealing anyone's seats
In this "you snooze, you lose" culture, one might think a vacated chair around the 18th green is fair game. Not at Augusta National, where fans are known to rush in the early morning to plop their chairs down around the green, then not return to the course for several hours. What would happen if you just took one of those empty seats for yourself? You might be given a new seat altogether—at home on your couch.