Masters
Augusta National's 10 Scariest Shots
Red numbers are expected at the Masters, but that doesn't mean Augusta National can't strike fear into the world's best golfers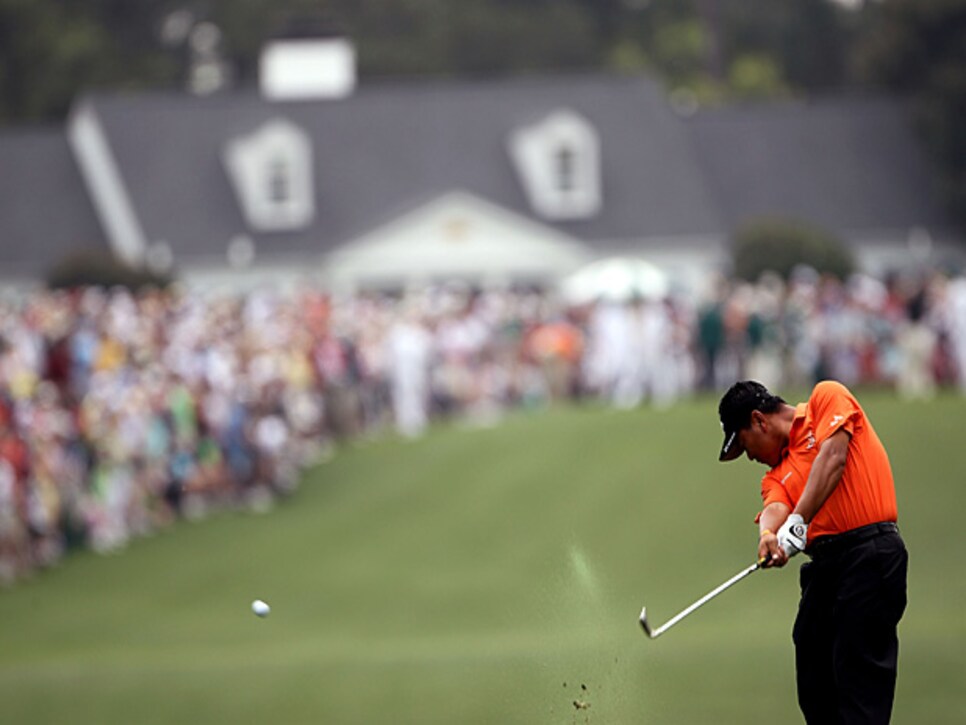 Approach Shot, No. 1
A good opening tee shot doesn't make hitting this green much of a problem. However, just hitting the green doesn't always get the job done. No, a more precise shot is necessary to help navigate a treacherous putting surface on which players averaged a whopping 2.044 putts in 2012, the most of any hole.
Tee Shot, No. 4
A 240-yard par 3? Under major championship pressure? Yeah, this is an obvious one. Phil Mickelson found out the hard way in 2012, when he missed long and left and wound up making a triple bogey that cost him a shot at a fourth green jacket.
Tee Shot, No. 5
This uphill, dogleg left was the fifth most difficult fairway to hit in 2012. Oh yeah, you might want to aim right to avoid ending up in the massive pair of fairway bunkers (above). Making things tougher is that like with No. 1, a challenging green makes coming in with a shorter club a priority, so most players hit driver.
Tee Shot, No. 7
The chute of trees players have to hit through off the 18th tee gets more attention, but No. 7 stays narrower for a longer time and was the fourth-most difficult fairway to hit in 2012. The hole also featured the fourth-most difficult green to hit in regulation last year.
Approach Shot, No. 10
This tee shot can cause trouble for a player who has a hard time hitting a big right-to-left shot under pressure (Think:
Rory McIlroy hooking one near Butler Cabin
in 2011), but even if you bend one around the corner and get the benefit of a generous downhill roll, you're still left with a long, uphill second shot. Despite nearly 80% of players finding this fairway for the week in 2012, this hole still had the fifth-toughest green in regulation to hit and was the fifth-toughest in relation to par.
Approach Shot, No. 11
Historically, this is Augusta National's most difficult hole. In fact, you have to go back to 2004 to find a year where it wasn't in the top two -- it ranked No. 3 that year. Ben Hogan once said, "If you see my ball on that green in two you'll know I missed my second shot." Not surprisingly, it was the toughest green to hit in 2012, with just 40 percent of players putting it on in regulation for the week. The safer play on this long, downhill approach with water left is to come up short and right -- and that's not always a bad thing. Just ask
Larry Mize
.
Tee Shot, No. 12
The shortest hole on the course usually forces the longest deliberations on the tee as players factor in the swirling winds of Amen Corner. Last year, it played the easiest of the course's par 3s, but it still produced 13 double bogeys, tied for the most of any hole. Looking back at other years, it was the third-toughest hole in 2011, second in 2009 and fifth in 2007, when it produced 30 double bogeys and six others.
Second Shot, No. 13
Statistically, this is always one of the easiest holes, but because of that, players face pressure to post a red number here every day. A big drive makes that fairly simple, but leaving a longer second shot for those going for the green in two, especially from the right side of the fairway isn't so straightforward. "That sidehill lie is a lot tougher than it looks, and you have to clear Rae's Creek," 1982 champ Craig Stadler said. "Overall, not easy, even for the best of us."
Third Shot, No. 15
Hit a perfect drive and this becomes an easy birdie hole, but anything else and you could be left hoping just to walk away with a par. A layup will leave you just a short wedge in, but that shot requires a lot of precision to a tricky green, which is an especially small target if the hole is cut on the left. Add to the fact that you're hitting your approach off a downhill lie over water and a tightly-shaved bank and you can make a big number quick.
Approach Shot, No. 18
A difficult tee shot has a lot to do with Augusta National's finishing hole playing to a 4.309 average last year (third-most difficult on the course), but the rest of this par 4 isn't easy, either. The second shot plays much more uphill than it appears on camera and last year only 35 percent of golfers hit this green in regulation, including fewer than 25 percent during the second round.