The Loop
The Grind: Watson's Waffle House run, geezers rule, and Augusta National mini-golf
Welcome to another edition of The Grind, where we're not at all surprised Bubba Watson went to a Waffle House after winning a second green jacket. Have you ever been to Augusta? There's one on every corner! Also, if you feel like eating breakfast at 1:30 in the morning, can you really be that picky? In any event, we've got a full helping of stuff to talk about. Let's dig in.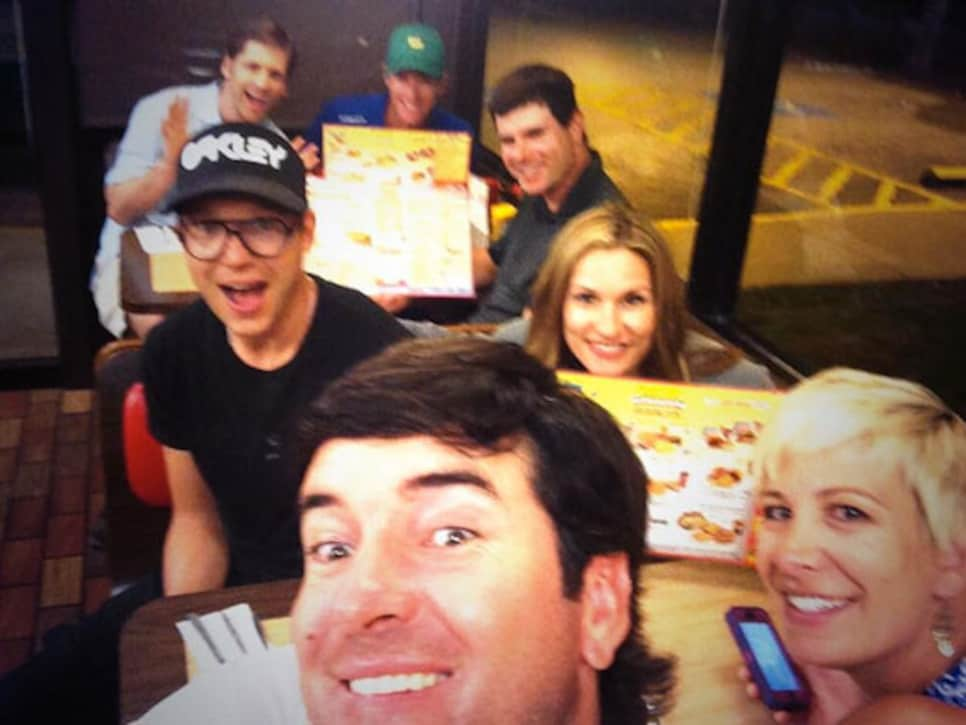 Bubba Watson: The unofficial Waffle House spokesman is on top of the golf world yet again after a brilliant Sunday performance. Bubba's booming drives stole the show, but key birdie putts on Nos. 4, 6 and 9 were what really won him a second green jacket. He really threw us all off his scent with that WD at Bay Hill last month after a first-round 83, didn't he? Sneaky! Now, Watson is the clear front-runner for PGA Tour Player of the Year.
Jordan Spieth: Sure, he came apart after the seventh hole, but the guy is 20 years old! Spieth's runner-up in his first trip to Augusta National was the latest evidence that he could be golf's next great superstar and a lock to win a bunch of majors. Then again, we said the same thing about a 19-year-old Sergio Garcia following the 1999 PGA Championship. . . But back to the positives! Spieth almost just won the Masters at 20. Most people his age still don't even know what they want to be when they grow up.
Old guys: Six guys over 50 made the cut. Six! There were probably more seniors playing at Augusta National over the weekend than there were at your local muny. Miguel Angel Jimenez finished fourth, Bernhard Langer backdoored a T-8 and Fred Couples had his usual Sunday fade, but not after he got within two shots of the lead during the final round. It seems like it's just a matter of time before Jack Nicklaus' record for winning the Masters at 46 is shattered.
Team PUMA: A week after Lexi Thompson won her first major, Jonas Blixt and Rickie Fowler contended at the Masters. For Blixt, the T-2 was the Swede's second straight top five at a major. And Fowler continued to show his work with Butch Harmon is paying off, matching his career-best finish in a major with a T-5. From partying at the pool with Lolo Jones to coming close to winning a green jacket, it's been quite a couple weeks for Rickie.
Big names not named Bubba: We knew this year's Masters would miss Tiger Woods, but guys like Phil Mickelson, Dustin Johnson, and Sergio Garcia joined him on the couch for the weekend with poor play. Even Adam Scott disappeared on the weekend after a promising start. All of their struggles added up to a 24 percent decline in TV ratings from last year. Of course, it didn't help that the Par 3 Contest was more exciting. . .
Back-nine drama: Thanks, Bubba. You turned the last hour of the Masters into a yawnfest. Actually, the blame goes to those in contention. The usual back-nine roars at Augusta were almost nonexistent as no one mustered a charge. The biggest roar came from Bubba's big drive on No. 13. As incredible as that was (Is that the greatest drive EVER?), it wasn't the same as someone rolling in an eagle on that hole.
Matt Kuchar: Speaking of guys not making a back-nine run, we have to single out Kuchar not getting it done for a third consecutive week. That's a Grind record no one wants to have! We really thought this was his week to win a first major, especially after he jumped into a tie for the lead on the third hole on Sunday, but Kuchar faltered once again down the stretch. If it's possible to have a bad T-5 at a major, this would qualify.
Caroline Wozniacki's pink hair: What in the. . .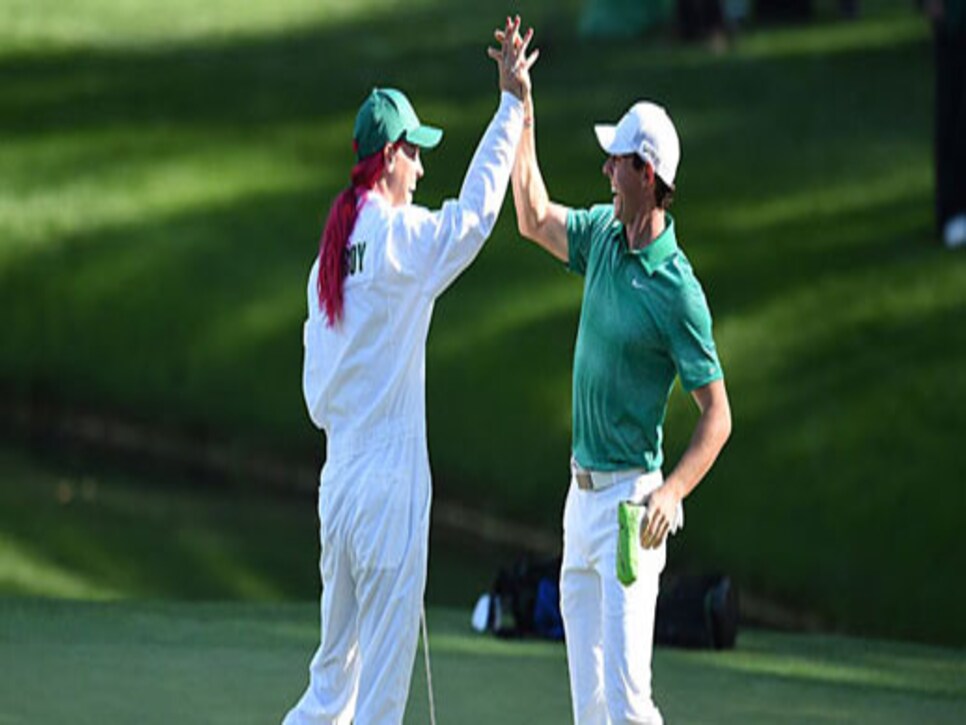 Wozniacki deserves praise for draining a long putt in the Par 3 contest, but her hair was scary. Fortunately, by Sunday, she was back to being a blonde. Ahh, that's better.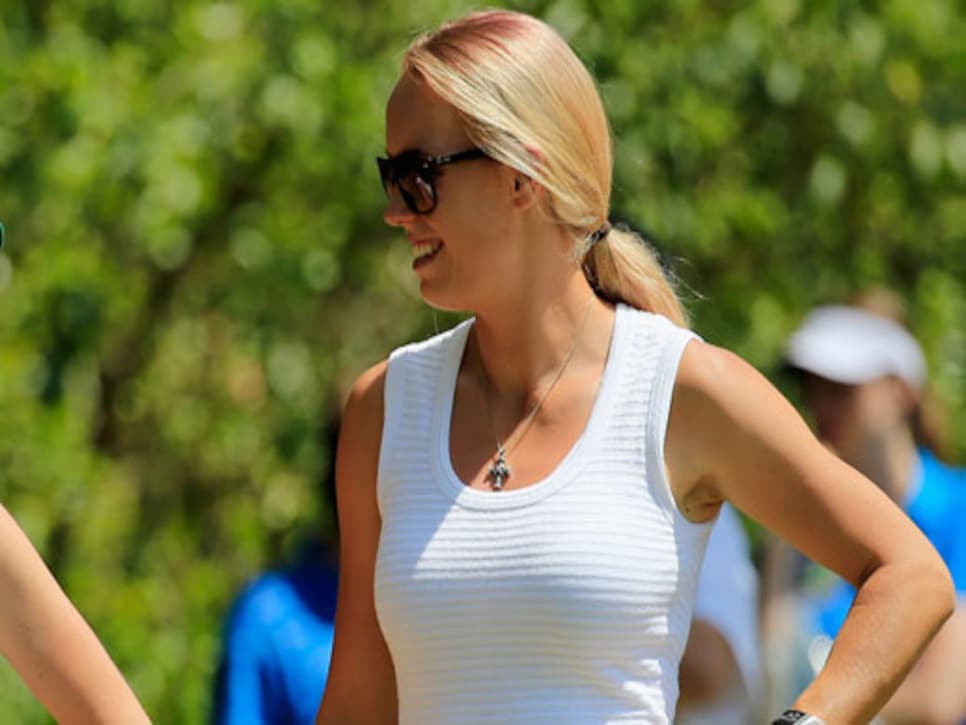 The PGA Tour heads up the road to Hilton Head for the RBC Heritage. To make things more exciting, the course's famed lighthouse is in play this year. OK, not really.
Random tournament fact: Nick Faldo, 56, will come down from the broadcast booth and tee it up. Faldo won the first of his three non-major PGA Tour events there in 1984.
RANDOM PROP BETS OF THE WEEK
-- Jordan Spieth regrets leaving college early: 1 million-to-1 odds.
-- Bubba Watson will buy his own Waffle House: 2-to-1 odds
-- Bernhard Langer, 56, could break me into two pieces: LOCK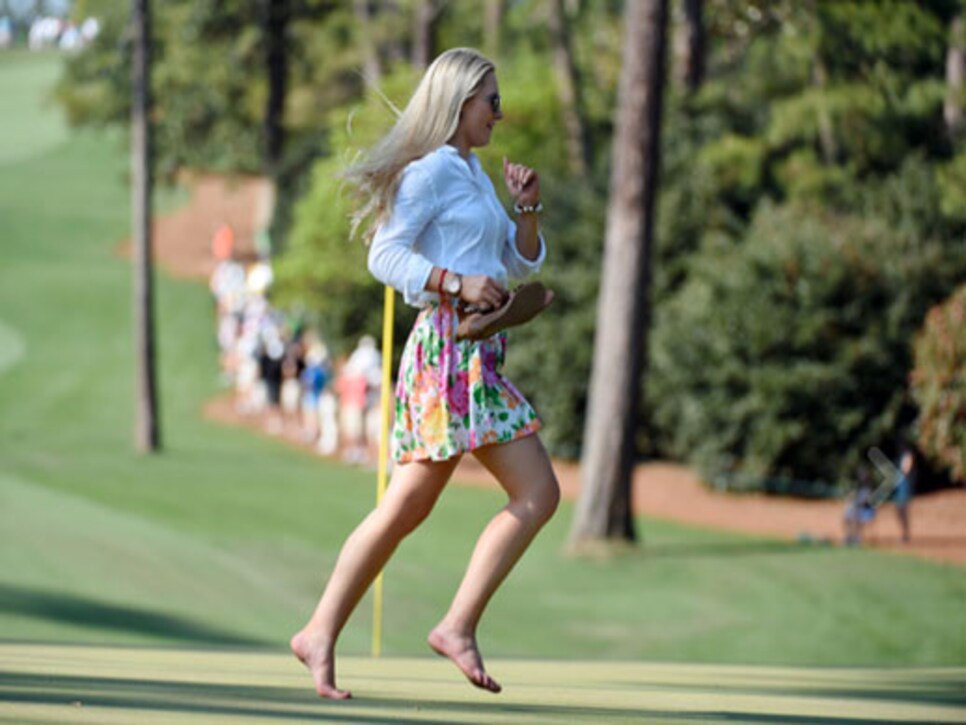 Who is this enchanting and bold blonde who ran across Augusta National's 10th green on Saturday? Can we get Dick Fowler, P.I., to investigate? If you want to see 14 almost identical photos to this (you know you do), go to the Augusta Chronicle's website. Taking off your sandals at Augusta National? That's basically the same thing as streaking at Augusta National.
Highlights of the 2013 Masters complete with actual commentary and with mini-golf obstacles transposed over the footage? This is one of the greatest videos ever made.
Tiger Woods isn't looking good for the U.S. Open, according to friend Notah Begay. Not surprising if you listened to any doctor when Woods first announced he'd had back surgery. . . . Michael Phelps announced he's coming out of retirement to swim competitively again. At 28, he still has plenty of time to retire again and focus on his celebrity golf career. . . . Billy Horschel hit the ball well enough to contend at the Masters, but his putting was awful. Maybe one of the winning kids of the Drive, Chip, and Putt Contest can give him a few pointers before next year. . . . Jason Dufner became the first golfer to be sponsored by a television network when he played at Augusta National wearing a shirt with the Fox Business logo (above). Unfortunately, that was the only Masters history Dufner made last week.
RANDOM QUESTIONS TO PONDER
How much golf did Tiger Woods and Phil Mickelson watch over the weekend?
Is Jordan Spieth really only 20? Is Bernhard Langer really 56?!
Why aren't there any Waffle Houses in Connecticut?