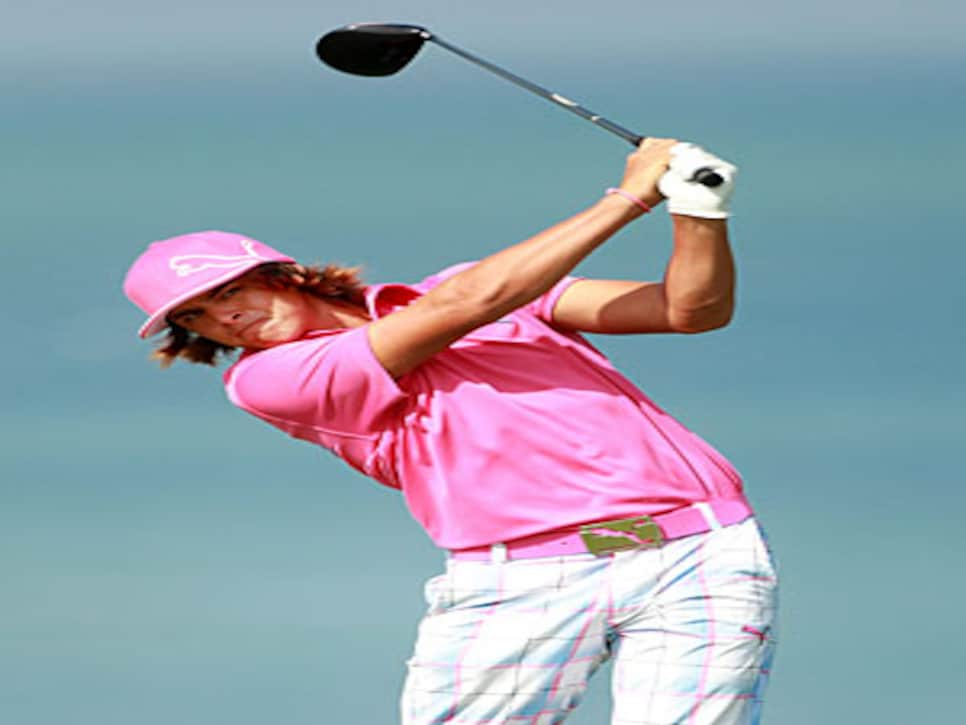 Hunter MahanHey Hunter, nice shoes!
Graeme McDowellLouis OosthuizenMoral of the story: wear white trousers, belt and shoes and you too might have a chance to win a major (at least style-wise)!
Rory McIlroySeriously, you really think I need a haircut?
Justin RoseWarm-up pants do not have a place on tour!
Steve StrickerSteve, in case you have missed my previous comments: It's 2010, so NO PLEATS PLEASE!
Phil MickelsonPhil: "A" for effort on the shoes.
Matt KucharSee Stricker comments: NO, I repeat, NO PLEATS.
Henrik StensonAttention John Daly, these are what they call good-looking check pants!
Stewart CinkGreat pants, great shirt, BAD belt color! This is why you MUST match your belt to your trousers.
Jerry KellyNotice how a black belt does NOT help this look.
Paul CaseyPaul, nice modern look.
Ryo IshikawaOK. If your game is on par with Ryo's, you, too, can match your belt to your shirt.
Ryan MooreNice shoes. Hey Freddie, check these out!
Tiger WoodsTiger, take a note: This color combo looks great.
Ben CraneYes. With horizontal stripes, bolder is better so long as you are trim!
Jim FurykWhy do people say if you wear an orange shirt you look like a highway safety cone? I think Furyk looks great!
Rickie FowlerRickie, we love your spirit, but please stop trying to dress like Paula Creamer!
Dustin JohnsonDustin, great look. And Phil is right, the white grips really make the look.
Zach JohnsonNice pants, nice fit.
Bubba WatsonLove your game, love your heart, HATE this color.