Clubs On Tour
We found some clubs and gear on the PGA Tour that go against tradition.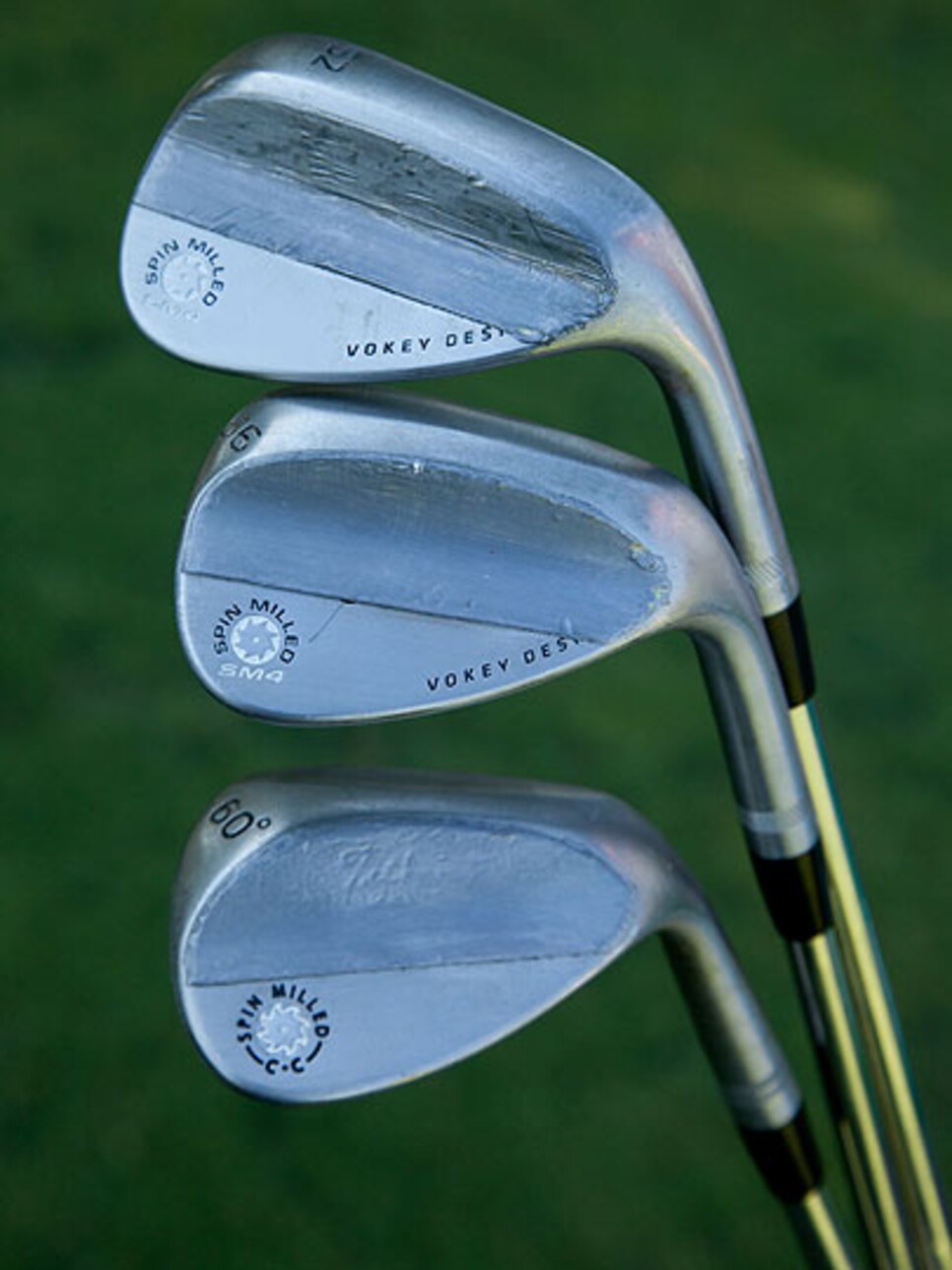 Scott Piercy's wedges
It's not the lead tape on Piercy's Titleist Vokey wedges that make the clubs interesting, but rather their length. Piercy found his 52-, 56- and 60-degree wedges traveling too close together. The solution: Instead of the standard 1/4-inch change in length between lofts Piercy opted for shafts that were 1/2-inch apart, with the bigger difference in shaft length creating a desirable distance gap between clubs.
Danny Lee's driver
Callaway's uDesign program is supposed to allow players to customize RAZR Fit drivers to their own personal liking. Danny Lee, however, was content to take Fredrik Jacobson's leftovers. Freddie Jac had a blue-colored RAZR Fit built but decided to stay with the gamer he won with in Hartford last year. Lee was more than happy to take Jacobson's club (which has 8.5 degrees of loft, a 2-gram weight in the heel and 12-gram weight in the toe and Fujikura shaft) and put it in play.
Rod Pampling's irons
Although Cleveland Golf's 588MB irons come standard with a chrome finish, Rod Pampling prefers his irons to be the raw versions that rust over time. "I just prefer the look and they seem to have a better feel," said Pampling, who noted that these irons are relatively new and will rust considerably more over time.
James Driscoll's woods
Take a look at the photo. Can you spot what is interesting about James Driscoll's TaylorMade woods? Well it's not the clubs themselves (other than the fact they're pretty banged up) but rather the fact they have no headcovers. Driscoll not only eschews headcovers for his woods on the range, but on the course, in the car and even in the travel bag.
Gary Woodland's irons
The Titleist MB irons in Gary Woodland's bag are bright and shiny -- except they're not supposed to be. The clubs normally come in a duller satin finish but Woodland prefers the brighter look and asks Titleist to make his irons with a  chrome finish. The big-hitting Kansan also gets some distance help from lofts that are slightly stronger than standard.
Sean O'Hair's irons
Although he has used TaylorMade's muscleback irons for some time, Sean O'Hair prefers more bounce on his irons, leading to a switch to the company's RocketBallz model, which has a more rounded sole and leading edge. O'Hair took things one step further, having TaylorMade round the sole slightly more to prevent digging into the turf too much on his irons.
Sang Moon-Bae's utility irons
It's almost a certainty that Sang Moon-Bae is using a utility-iron combination unlike any other tour player. Bae's 3-iron utility is from Royal Collection, a brand that is popular in Japan, but rarely seen in the hands of U.S. players while his__4-iron utility is Callaway's prototype X Utility__ that only recently was brought out on tour.
Kyle Stanley's driver
Earlier this season Kyle Stanley worked on a alignment issue with his driver (he was setting up open and needed to get back to square) at Titleist's test center in Oceanside, Calif. After his spin rate dropped under 2,000 RPMs, however, Stanley upped the loft on his Titleist 910 driver to 8.5 degrees, boosting his spin by 400 RPMs and helping achieve the desired ballflight. Stanley has the adjustable hosel set in the B-2 position, which is standard loft with a slight draw bias.
Cameron Tringale's wedges
Titleist players often have Bob Vokey or his right-hand man, Aaron Dill, personalize wedges by stamping names or initials on the back. Cameron Tringale, however, prefers random words, in this case "Choo Choo" and "Express" (although his 56-degree wedge simply has "Tringale"). The reason is, well, no reason. Tringale comes up with different words or sayings every time he gets new wedges. Prior to this batch one of Tringale's wedges read, "The juice is worth the squeeze."
Patrick Cantlay's bag
Sometimes a staff bag says it all. In the case of Patrick Cantlay, the heralded amateur-just-turned-pro, the Titleist bag and 14 of the company's clubs in it revealed an endorsement deal with the company that hadn't yet been announced. The prior week (at Travelers) Cantlay had a stand bag with rumors of a deal with Callaway swirling.
Robert Garrigus' putter
For years known as the man with the 29 1/2-inch putter, Robert Garrigus went to the other extreme and now wields a 46-inch long Scotty Cameron by Titleist Kombi putter. "I practiced with the long putter after Disney last year because I wanted to see what all the buzz was about," says Garrigus. "I put it in play at the [Humana Challenge] and ditched the little guy. I've used it since."
Robert Garrigus' grips
There's nothing standard about Robert Garrigus' clubs. For starters, each is a beefy D-7 swing weight or higher. Then there's the grips. Garrigus has a different colored Golf Pride Multicompound New Decade grip on each of his clubs. "I've got every color in the rainbow and then some," says Garrigus. "I used to only have yellow ones, but then I decided to change it up."
Rory Sabbatini's headcover
A driver headcover is a valuable marketing tool for equipment companies. For Rory Sabbatini, however, it's merely another opportunity to display his affection for his family. Sabbatini cuts out the top of his driver headcover and replaces the missing material with a photo of his kids (Harley, Tylie and Bodhi).
Rory Sabbatini's wedges
TaylorMade tour technicians get a bit of a break when Sabbatini wants a new grind on his wedges. That's because the South African grinds them himself in the company's tour van. Sabbatini is quite particular about the grind, which requires removing a fair amount of material from the sole area to allow for versatility in shotmaking. Another interesting aspect of Sabbatini's wedges: KBS Tour graphite shafts with Gripmaster leather grips.