The Year In Golf
The Top Golf Equipment Stories of 2016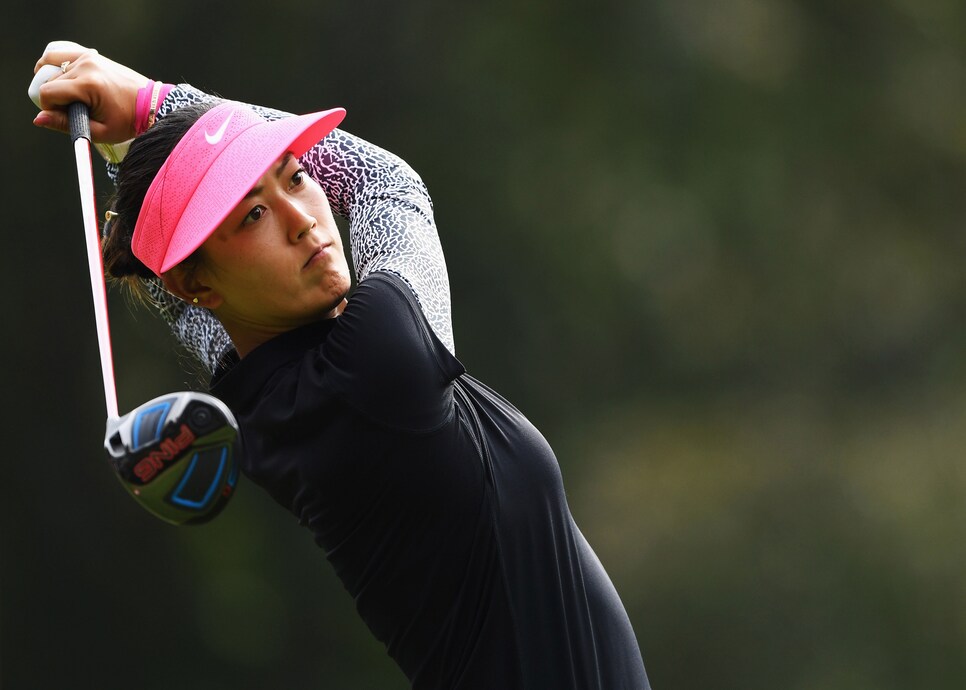 Photo By: Bloomberg via Getty Images
Photo By: Courtesy of Ping
Nike Exits Equipment Business
When Nike entered the golf ball business in 2000 and the club side a year later, it sent shivers through competing brands. The company had the wherewithal of Nike behind it and arguably the most famous athlete in the world in Tiger Woods on staff. Yet this past August, Nike announced it was stepping away from clubs and balls to focus on footwear and apparel. The decisions shocked some, but rumors had been swirling for several years that Nike might opt out of the equipment biz. The decision to exit left Nike's tour staff free agents to try other clubs and balls and by year end most had done so, including Michelle Wie (shown) on the LPGA Tour and PGA Tour standouts Rory McIlroy and Tiger Woods, each using TaylorMade woods and Scotty Cameron by Titleist putters late-year events.
Photo By: Getty Images
Anchor Ban Turns Out To Be No Big Deal
At the height of anchoring, interest in it both on tour and among the masses was not as a matter of last resort, but as a more efficient way to putt—something the USGA's Mike Davis and then R&A chief executive Peter Dawson cited when the proposed rule was announced. Now, with a full year of non-anchored putting complete, the question might be asked, "Was it really a better way to putt?" The stats seem to indicate the amount of effect was virtually non-existent; those who were good putters before continued to putt well and those that struggled continued to have trouble finding the hole. And what of Bernhard Langer? The PGA Tour Champions stalwart barely moved his Odyssey White Hot 2-Ball Long putter away from his body (causing some early in the year to insist he was still anchoring) and went on to rank second in putting average—an impressive accomplishment given that he led the tour in greens in regulation (he led the tour in both putting putting average and GIR the year before). Langer won the tour's season-long Charles Schwab Cup for the third consecutive season.
Photo By: Getty Images
DeChambeau's Year-long Equipment Odyssey
Equipment writers have a new gift that keeps on giving: Bryson DeChambeau. Although the former U.S. Amateur and NCAA champ was already well-known for his use on single-length irons, DeChambeau took it to a new level at Augusta National when using a new set of Edel irons with stampings that showed a sharp appreciation for Masters history. Weeks earlier DeChambeau began employing a modified version of Cobra's King F6+ driver in which he had the 18-gram movable sole weight removed to get the club to a light B-9 swingweight. The use of the driver was a precursor to DeChambeau signing a lucrative endorsement contract with Cobra Puma for his pro debut at the RBC Heritage, putting a single-length set of the company's irons in play shortly after, sparking speculation the company would produce such a set for the masses (it did later in the year). As 2016 wound down, DeChambeau continued to tinker, this time on the greens, giving the intriguing, spaceship-looking Directed Force mallet a try at the RSM Classic and then adopting a side-saddle approach at the Franklin Templeton Shark Shootout.
The PXG Phenomenon
If President-elect Donald Trump expertly used the media during the presidential election, then Bob Parsons is the golf equivalent. Rarely, if ever, has a start-up equipment company garnered the kind of attention Parsons' PXG brand did in 2016. Then again, Parsons isn't your typical golf CEO. The founder of GoDaddy has a net worth of more than $2 billion and a personality bigger than his bank account. This past year was the company's breakout season, as it kicked off by signing a slew of PGA Tour and LPGA players, including reigning Open Championship winner Zach Johnson and former FedEx Cup champion Billy Horschel. In addition to the assembly of its tour staff and various product introductions throughout the year, the company snared a pair of major championships with Rocco Mediate at the Senior PGA Championship and Brittany Lang at the U.S. Women's Open. By year's end word had it that the No. 1 women's player in the world, Lydia Ko, was on the verge of signing with the company.
Photo By: Getty Images
Tiger Woods' Bag In The Bahamas
It might have been the most anticipated return to golf in anyone's memory when Tiger Woods teed it up at the Hero World Challenge. Intriguingly, there was almost as much interest as in what would be in Woods' bag as there was in how he played. Given Nike's exit from the equipment business in August, Woods was expected to have some new gear, and his set makeup was indeed a mixture of new and tried-and-true. Woods wielded a TaylorMade M2 driver with a Mitsubishi Tensei CK Pro White 70TX shaft at 9.5 degrees, commenting that using an adjustable driver was taking some getting used to as he had previously only played glued-in model. His 3-wood and 5-wood were also TaylorMade, but the company's M1 model at 15 and 19 degrees. Woods did stick with his Nike VR Pro irons (3-iron through pitching wedge) as well as his wedges (Nike VR Forged at 56 and 60 degrees). Woods also returned to his Scotty Cameron putter. The most notable change, however, might have been Woods switching to a Bridgestone Tour B330-S golf ball (he went on to sign an endorsement pact with the company to play its ball shortly after the event).
Photo By: Getty Images
A Successful IPO For Acushnet
The long-awaited IPO for Acushnet (parent of Titleist and FootJoy) came to fruition in late October with the common stock trading on the New York Stock Exchange under the ticker symbol GOLF. The initial offering price was $17 per share with just under 20 million shares of common stock sold by existing shareholders of Acushnet, which was bought by Fila Korea and a consortium of Korean banks in 2011. The first day of trading saw a little more than 6.9 million shares change hands with a day's range of $16.90 and $18.00. At the close of trading on day one the stock was at $17.95 and by Christmas was up to $19.61. As for the impact on Acushnet's business, COO David Maher noted, "We will be more transparent, but in terms of how we launch product, we have a consistent two-year launch cycle, and we don't see a lot of change to that."
Photo By: Bloomberg via Getty Images
Dustin Johnson's U.S. Open-themed Driver
There are "statement" watches, cars, etc. But a statement driver? That apparently is part of what led Dustin Johnson to change to a 10.5-degree TaylorMade USA-themed, red, white, and blue version of its M1 driver at the Barclays. The club was inspired by Johnson's victory in the U.S. Open at Oakmont in June. The cosmetic enhancements included changes to the crown and sole. Instead of the M1's usual gray-black translucent weave finish on the crown contrasting with the white front section, the Special Edition M1 has a translucent blue coloring on the carbon-composite crown. On the sole, the 15-gram weight that moves from heel to toe was blue, while the 10-gram weight that moves front to back was red, as was the hosel sleeve and alignment aid on the crown.
Photo By: Getty Images
Jason Gore's Double-eagle Club Worth $4.82
Although we're not sure of the monetary value of the three strokes Jason Gore picked up with his double eagle on the par-5 18th hole Saturday at the Farmers Insurance Open, it's a pretty solid bet it was more than the $4.82 trade-in value of the club he used to hole the 250-yard shot. That club was a 15-degree Callaway Big Bertha 3+ fairway wood first introduced in 2004. The shaft is an old Fujikura Pro 95 that is 42.5 inches in length. As with some PGA Tour pros, Gore simply likes the club. Of course, had Gore not listened to his caddie, he likely would not have recorded the first double eagle of his life. "I had 2-iron and Scotty [caddie Scott McGuinness] talked me into hitting 3-wood," said Gore. "He said, 'Just hit a nice, big cut 3-wood.' And he was right."
Jason Day's Friend On The Greens
Jason Day was seeing red at the RBC Heritage but it wasn't anger after his third-round 79. Instead, it was the head of a new TaylorMade Itsy Bitsy Spider putter that featured a nearly entirely red clubhead. The putter, first shown to tour staff at the Northern Trust Open at Riviera in February, has all the characteristics of the Itsy Bitsy Day used for the better part of the last 18 months. This one, however, incorporated the color of the Redback Spider, which is found in Day's homeland of Australia. The putter also does not have a sightline on top, at Day's request. Day went on to use the putter the remainder of the season.
Henderson's Putter Of A Different Color
Another player with a new look on the greens was Brooke Henderson, who grabbed some attention for the putter she first put in play at the Olympics in Rio. An early adopter of Ping's Vault Oslo mallet, Henderson asked the company for something special for the Olympics, specifically a fuchsia-colored Oslo with additional colored paint fill on the sole plate, including "B.H." in the green and gold so prevalent at the Rio Olympics as well as her last name spelled out in a kaleidoscope of colors. The putter, which measures 33.5 inches, has 3 degrees of loft and SuperStroke GT Pistol 1.0 grip. Henderson, who also uses a 48-inch Ping G driver, finished T-7 while representing Canada, two shots behind bronze-medal winner Shanshan Feng of China.
Photo By: Courtesy of Ping
Golfsmith Sold At Auction
One of golf's largest retailers, Golfsmith, was sold at auction in October to sporting-goods behemoth Dicks for a reported $70 million at a bankruptcy auction, a deal that included the liquidation of all but 30 of Golfsmith's current 109 stores in the U.S., including the 40-acre Austin campus and first retail store, a 30,000-square-foot retail location that opened in 1992. That served as the company's headquarters and included 240,000 square feet of shipping and distribution facilities, as well as club-building workshops and an extensive driving range that was used as a teaching facility and in product development for the company's private-label brands.
Long-drive Champ Uses 3-degree Callaway Driver
Although there is a certain WWE element to a world where 350-yard drives are good for little more than a pat on the back and a "nice try" comment, it belies the fact that long-drive specialists are serious about their craft—and the equipment they use to perform it. One only need to look at the driver of 2016 World Long Drive champion Joe Miller. Miller used a Callaway XR 16 LDA driver with a Fujikura Joe Miller proprietary 3x shaft that is 50 inches in length (the USGA limit is 48 inches, but for long drive the limit is 50 inches). Although the clubhead says it is 5 degrees of loft, the finished head measured 4 degrees. By setting the adjustable hosel at minus-1 for loft, that meant Miller was using a driver with just 3 degrees of loft. Miller used the club to win his second World Long Drive championship (his first was in 2010) by hitting a 423-yard drive in the finals. In the semifinals he struck one even longer at 439 yards.
Beem's Solid (Sort Of) Purchase
Rich Beem won the PGA Championship 14 years ago but was the subject of some talk at this year's PGA regarding his purchase of some PXG clubs. Beem, 45, has played sparingly in recent years but made the cut at Baltusrol, the first time he played the weekend in a major since the 2012 PGA. Beem is using irons and wedges from PXG (Parsons Xtreme Golf) and getting the clubs in his bag has not been as simple as one might have thought. Although most tour players get their clubs for free, those that don't play frequently or have conditional status sometimes have to pay for their sticks. That was the case with Beem and PXG, except there was a hiccup—the credit card Beem used for the $2,800 purchase a few months ago was declined. "We knew we'd see Rich so there was no urgency," Rollins said. "Just some sort of mix up. Not a big deal. He gave me another card about a month ago but I hadn't gotten around to running it. In the meantime, he had us re-shaft his irons. When I saw him earlier this week I said, 'If you play well we won't charge you for them.' After his first round 69 he texted me, saying, 'Was that good enough?' " Indeed it was.
Photo By: Getty Images
Fowler's Unique Cobra Baffler Fairway Wood
Over the years there have been numerous stories of players tweaking their equipment in the month of March (or earlier) with the Masters firmly in mind. Such was the case with Rickie Fowler and his Cobra Baffler 5-wood. After coach Butch Harmon suggested to Fowler that he should play a fairway wood with more weight on the sole to assist launch, Fowler asked Cobra to make him a club with rails on the bottom, not unlike the original Cobra Baffler of years gone by. Cobra's PGA Tour rep, Ben Schomin, created a test club for Fowler by welding "rails" to the bottom of Fowler's existing Bio Cell+ 5-wood. Fowler tested the "Frankenstein" club (as it was deemed internally) and put it in play, with an eye towards using it for second shots on the par 5s at the Masters.
DJ's Caddie (And Brother) Takes A Dive
Sometimes a caddie has to do what he has to do—something that takes on extra meaning when you're looping for your brother. Austin Johnson, who was on the bag for his brother, Dustin, was in hot water, literally and figuratively, after dropping Dustin's ball in the pond on TPC Sawgrass' 17th hole during Friday's second round. The Rules of Golf state that in such a scenario if the ball is not found then a penalty is incurred. So what's a brother to do? In this case jump in the pond and come out of it with the ball, saving Dustin some strokes and providing some comic relief to everyone else.
Reed's Putter Was Ready For Ryder Cup
When it comes to the Ryder Cup, few players are as "all in" as Patrick Reed. When Reed made the 2014 squad at Gleneagles he had red, white and blue paintfill on his irons as well as stars stamped on the back. This time around, Reed had Odyssey doll up his White Hot RX 2 putter for the matches at Hazeltine National, again using red, white and blue paintfill on sole of the club as well as having a pair of American flags. The putter Reed used is a modified, squared off heel-toe weighted blade with a flow neck hosel, White Hot insert and a half-shaft offset. Reed's putter was 34 inches long with four degrees of loft and a top sight line added—all of which worked well during his epic singles match against Rory McIlroy.
Photo By: Getty Images