Green Is The New Black
15 photos of Tiger Woods when he had a, um, limited sense of style
Drip, fit, style, swag. Whatever you call it, Tiger Woods had it in spades while slipping into his fifth green jacket. As this visual history of Tiger's sartorial struggles proves, however, it wasn't always so effortless for Eldrick.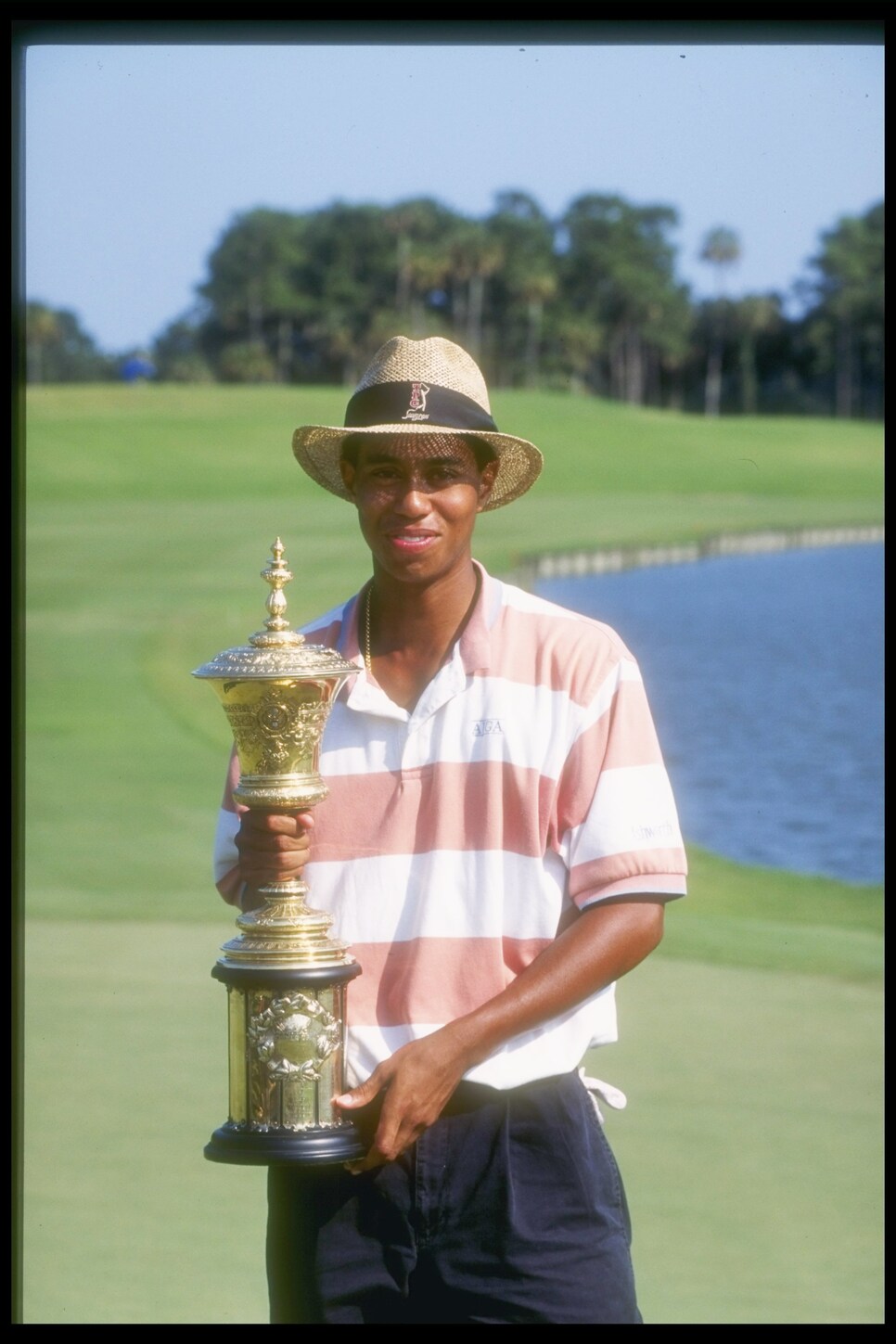 Photo By: Neal Simpson - EMPICS
Anything looks good when you just won the U.S. Am. Well, almost anything . . .
1994: Tiger Woods holds the trophy of victory after completing the U.S. Amateur Championship tournament at the TPC at Sawgrass in Ponte Vedra Beach, Florida. Mandatory Credit: Rusty Jarrett /Allsport
Photo By: Rusty Jarrett
Watches 'The Matrix' once . . .
Tiger Woods during Tiger Jam IV at Mandalay Bay Resort in Las Vegas, Nevada, United States. (Photo by L. Cohen/WireImage)
Photo By: L. Cohen
Carson Daly just threw up in his mouth a little bit
Photo By: Steve Grayson
Ah, the rare poloneck, one of the most exotic sightings in golf.
26 Oct 1996: Tiger Woods hits his second shot on the 7th hole during the third round of the 1996 PGA Tour Championship at Southern Hills Country Club in Tulsa, Oklahoma. Woods shot a 2 over par 72. Mandatory Credit: J.D. Cuban/Allsport
Photo By: J.D. Cuban
Dress code: Jimmy Buffett job interview
This pattern also available for basement wallpaper
Tiger Woods (Photo by Neal Simpson/EMPICS via Getty Images)
Photo By: Neal Simpson - EMPICS
Ray ban these sunglasses
Tiger Woods and Teri Hatcher during Tiger Jam IX Benefit Concert - Backstage and Show at Mandalay Bay Event Center in Las Vegas, Nevada, United States. ***Exclusive*** (Photo by L. Cohen/WireImage)
Photo By: L. Cohen
Straight from the Woody Austin Collection
26 Aug 1995: Tiger Woods looks for his birdie during the 1995 U.S. Amateur Championship tournament at the Newport Country Club, in Newport, Rhode Island. Mandatory Credit: J.D. Cuban /Allsport
Photo By: J.D. Cuban
Wearing your own name is a bold move, Cotton
26 Feb 1993: Tiger Woods hits a shot during the 1993 Los Angeles Open at the Riviera Country Club in Pacific Palisades, California. Mandatory Credit: Gary Newkirk /Allsport
Photo By: Gary Newkirk
Aquaman, coming soon to a theater near you
Denim shorts, elastic waist, can't lose
PALM BEACH GARDENS, FL - AUGUST 24: Tiger Woods, age 14, hits a drive at the PGA Junior Championships, August 24, 1990 in Palm Beach Gardens, Florida (Photo by Rick Dole/Getty Images)
Photo By: Rick Dole
We all have a 'Friday Night Lights' phase
Tiger Woods accepts award from State of Indiana.(Photo by PGA of America via Getty Images)
Photo By: PGA of America
The sixth Backstreet Boy
THE TONIGHT SHOW WITH JAY LENO -- Episode 951 -- Pictured: Professional golfer Tiger Woods arrives on June 25, 1996 -- (Photo by: Margaret C. Norton/NBC/NBCU Photo Bank)
Photo By: NBC