The Grind
Xander Schauffele's weird drought ends, Lexi Thompson's latest painful putting performance, and some fantastic (winning) F-bombs
Welcome to another edition of The Grind, where we are mere hours away from leaving for the only major that truly matters (to me and seven other hackers), the 2022 HGGA Championship. Sadly, as of this moment, golf fans won't be able to watch the HGGA from lovely Wisconsin, culminating in a final two rounds at Sand Valley. But I have a call in to YouTube, so fingers crossed. In any event, there was a LOT going on last week so I couldn't leave without weighing in. Let's cover it all with a special, speedy (Monday) edition of The Grind.
Xander Schauffele: My fan curse has been lifted! Xander finally won since I declared him my new favorite golfer at last year's Masters. Well, he finally won an individual event. That he didn't get screwed in because of a staggered start.
Xander! My man! Seriously, what a weird drought this dude was in before winning the Travelers Championship. But hopefully, we can all move past this and go back to focusing on whether he's the best player without a major. You know, the fun stuff.
In Gee Chun: The 27-year-old from South Korea now has three major titles to her name after holding on to claim the KPMG Women's PGA despite shooting a pair of 75s over the weekend. Of course, it helps when you shoot maybe the greatest round of all time on Day 1:
Amazing. Almost as amazing as her nicknamed being "Dumbo" (her coach says she has "elephant ears"), and this great response to Justin Thomas on Twitter after her historic round:
And JT wound up watching!
Golf Twitter bringing people together! You love to see it.
Rob Labritz: There are some great stories in golf right now, but I'm partial to this one with a local angle for me. The longtime club pro at GlenArbor Golf Club is living his dream after earning his PGA Tour Champions card for this season. And he's not going anywhere after a T-4 finish at the U.S. Senior Open.
Well done, Rob! Oh, and well done, Padraig Harrington. You know, for winning the tournament.
Lexi Thompson's putting: We've seen it before, but it never gets any easier. Thompson appeared like she would finally win long-awaited major win No. 2, but she blew a two-stroke lead on the back nine, in large part because she missed two short putts. Really short putts.
Yikes. With the way she hits a golf ball, it's crazy that she only has one major. Oh, and to add insult to injury, Lexi was also hit with a slow play fine. As she walked off the 18th green. Ouch.
Sahith Theegala's finish: Just as painful was watching this PGA Tour rookie suffer another close call. After a bad break cost him on the penultimate hole at the Waste Management Phoenix Open, it was a bad decision on the final hole in Hartford that kept him from hoisting his first tour trophy.
Perhaps he was inspired to go for it after Matt Fitzpatrick's 18th hole heroics last week? Either way, the closing double bogey handed the title to Schauffele, but Theegala handled it all with such class. There are few guys who seem easier to root for. If Xander is my new favorite, Sahith is a close second.
Playing with Rory McIlroy: I mean, I'm sure it's fun to play with a four-time major champ. (Unless you're a LIV guy and he's tossing around terms like "Duplicitous"!) But this has to be demoralizing:
Of course, I often feel the same playing with co-workers/bombers Dan Rapaport and Joel Beall.
The PGA Tour heads to the John Deere Classic, AKA Steve Stricker's fifth major. Unfortunately for tournament organizers, the Strick Show will probably be the biggest draw in a field that's not much stronger than the 2022 HGGA Championship, the other big golf event taking place in the midwest this week.
Random tournament fact: Stricker has won the John Deere three times. I have won the HGGA three times. I have also finished runner-up a record dozen times. Actually, I don't even know how many times it is, because I've lost count.
RANDOM PROP BETS OF THE WEEK
—Steve Stricker will win in Illinois this week: 80-to-1 odds (Actual odds)
—I will win in Wisconsin this week: 800-to-1 odds
—I will finish runner-up again: LOCK
It's a bit, um, rich that Talor Gooch of all people is taking credit for the PGA Tour bumping up prize money, but I respect his GIF game:
With two young girls, we are very pro Moana (and Maui) in my house.
Someone captured Big Cat working on his golf swing while at a youth soccer game:
The Grind never stops! Not even for 15-time major champs!
VIRAL VIDEO OF THE WEEK (WILDLIFE DIVISION)
Turns out, it was actually a sea lion, but either way, that's crazy.
VIRAL VIDEO OF THE WEEK (WILD VEHICLES DIVISION)
This runaway golf cart—and the man who nearly decided to try and stop it—were the real stars at TPC River Highlands last week:
Good choice, man. Note to self: Never, EVER try to stop a runaway golf cart.
THIS WEEK IN PUBLIC DISPLAYS OF AFFECTION
Good for my guy Xander finally getting back in the winner's circle, but remembering to make a sweet Instagram post for his one-year wedding anniversary:
Aww. What a guy. My guy Xander.
THIS WEEK IN PUBLIC DISPLAYS OF EMOTION
What a scene. What a sport. Get it all out, Haotong. It's been a wild ride these past couple years.
"I don't think so. I never dreamed about playing for this much money. I don't know how much I've made this year, but it's definitely too much for hitting a little white ball around." —Scottie Scheffler. Amen, Scottie. And I probably get paid too much for writing about you hitting a little white ball around.
Congrats to Texas standout and grandson of Masters champ Charles Coody, Pierceson Coody, for both turning pro and winning his first Korn Ferry Tour event after turning down a lucrative LIV Golf offer. Very impressive. ... Congrats to 21-year-old Dylan Menante on not only successfully defending his title at the prestigious Northeast Amateur, but doing it by NINE shots! LIV Golf is putting an offer together for this kid as we speak. ... But they're going to need even more to sign Michael Thorbjornsen, who finished fourth at the Travelers as an amateur to forego a $400K payday. Kid's got some serious game. ... Kudos to 68-year-old Jay Haas for firing an opening 67 at the U.S. Senior Open. Go Deacs! ... And, finally, I played a final practice round for my big golf trip at spectacular Quaker Ridge. Not the best place to go if you want to feel confident about your golf game, but it doesn't get any better than the bacon bar at the halfway house: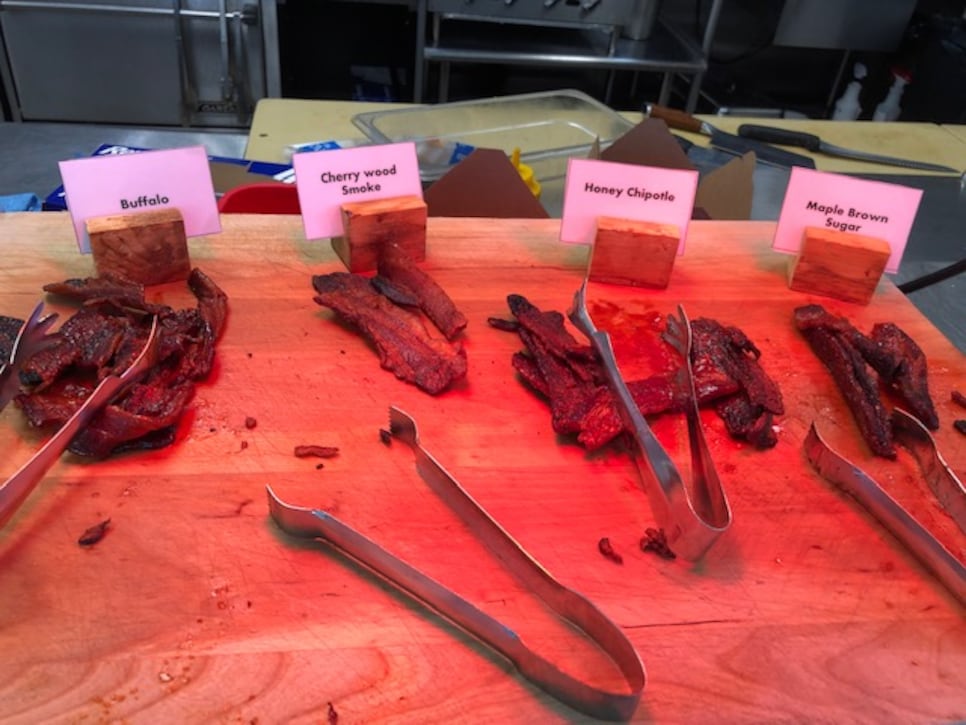 RANDOM QUESTIONS TO PONDER
Why don't more places have a bacon bar?
How will I finish runner-up again?
Anyone have any advice for playing Sand Valley?