BETHESDA, Md. — It appeared Lexi Thompson was in control during the final round at the KPMG Women's PGA Championship, even though she began the day trailing In Gee Chun by three.
By the third hole Sunday at Congressional, that deficit had disappeared. By the fourth hole, Thompson was leading.
Thompson has always been a beautiful ball-striker and this year she has improved her putting. The combination of her long and short game coming together has put Thompson in contention several times in 2022. But the putter, no matter how improved, has long caused her difficulty.
Thompson couldn't get the job done again late on Sunday at a major championship and she struggled mightily on the back nine, making four bogeys in the final seven holes. On the 14th she missed a two-footer for par. On the 16th, still up two, Thompson made another bogey, while Chun made birdie. One more bogey from Thompson on 17 via another short miss gave Chun back the lead. She played the last six holes in one under and hung on just enough to secure her third major victory and fourth overall on the LPGA with a five-under 283 total despite a closing 75.
With a clutch five-foot par putt on 18 to seal her one-shot win over Thompson and Minjee Lee, Chun was overcome with emotion. The 27-year-old from South Korea had taken an early lead on Thursday with a stunning eight-under 64 to open the tournament, five shots clear of the field. Conditions were brutal on Thursday. Two inches of rain fell the previous night, saturating the renovated Blue course. The already long championship layout (set up at 6,800 yards) was playing even longer. Even Nelly Korda, one of the longest players in the game, had to hit 7-wood into a green with her approach on one par 5.
As the week went on, the course began to dry out, and Chun grew her lead to six shots after two rounds. But over the weekend it was clear she was feeling the effects of the extreme heat coupled with the stress of playing a major championship with such a large lead. On Saturday, Chun stumbled to a three-over 75, and suddenly her advantage was down to three.
Throughout the week, though, Chun spoke about patience. Whenever she got some misfortune, she smiled and attempted to live by this philosophy: "When I got bad luck, then I always try to believe the good luck is coming to me in the future," Chun said.
It was an inspiring mentality. Chun treats herself with extreme kindness and patience on the golf course, while simultaneously being a relentless competitor. Often, being competitive is equated to being outwardly fierce. But Chun proved it's possible to treat yourself with gentleness when you're in the heat of battle for five-plus hour, four days in a row.
Chun said she's been battling depression and that last week she broke down while talking to her sister on the phone. She felt lost and wanted to return to South Korea.
"She said, 'In Gee, just quit golf. You're the important thing,'" Chun said about her conversation with her sister. "When I heard what she said, I didn't want to quit the golf. Then I believe I still have a spirit, and I saw, 'In Gee, you still want to play golf.'
"I believed if I stick to my game plan and then I believe I have a chance in the back nine, so I try to hang in there. I'm so happy I made it. My body still shaking, though."
That resolve earned Chun the large KPMG Women's PGA Championship trophy and a $1.35 million winner's check.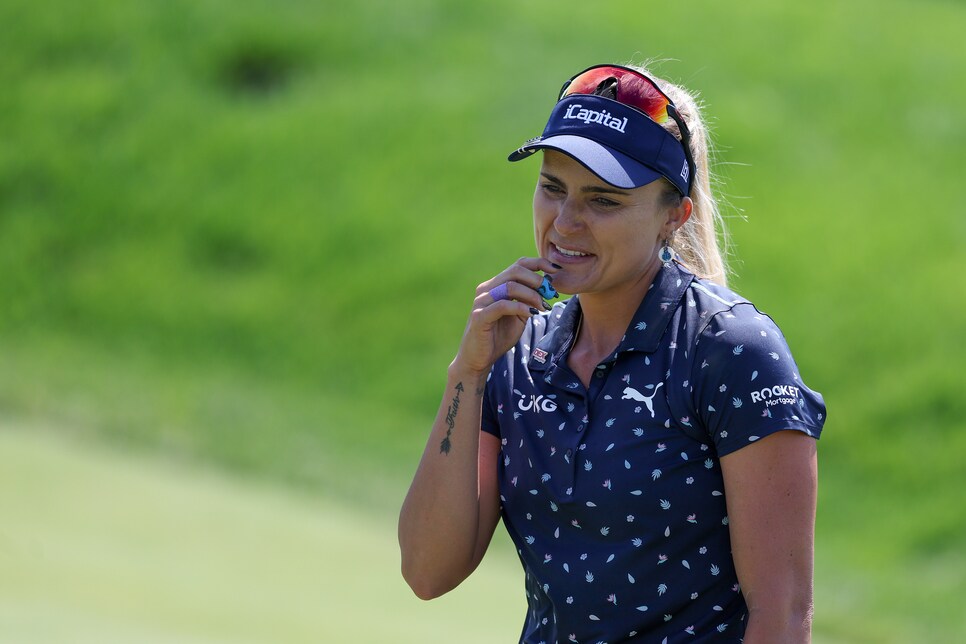 Back to Thompson. Despite her rocky back nine, she had a 12-foot birdie attempt on the 18th hole that would have forced a playoff. But once again, she couldn't convert, closing with a one-over 73. Thompson signed autographs afterward, only to skip speaking with the media. She was understandably emotional; this isn't the first time her putter has failed her in a big moment. Last year, she lost a five-stroke lead during the final round of the U.S. Women's Open at The Olympic Club. And since the last of her 11 career LPGA victories, the 2019 ShopRite LPGA Classic, she has had nine runner-up finishes.
As distraught as Thompson was, truth is, she's played well this year even if she hasn't won. Impressively, she has worked her way into the top 10 on tour in strokes gained/putting—a position she could have only dreamt of being in before this year. She's ranked third in strokes gained/total and has recorded five top-five finishes. She is, without question, one of the best players in the world.
Thompson is 27 and in her 11th season on the LPGA but says she's still learning about what works and what does not on the golf course. She's more calculated about leaderboard watching these days and is looking well beyond just driving-distance statistics and more into the minutiae that make good players great.
All week, Thompson spoke about focusing on herself and only on what she can do. In the wake of another painful loss that philosophy is something she'll need to rely on.
Thompson will do well to listen to the person who was holding the trophy she wanted at the end of a grueling week. Chun believes good luck follows bad luck on the golf course. It's not a cute little saying. She truly believes it. It's carried her through adversity.
This week at Congressional, it carried her to another major championship.