Betting Advice
WM Phoenix Open picks 2023: Our caddie loves this sneaky revenge angle with Justin Thomas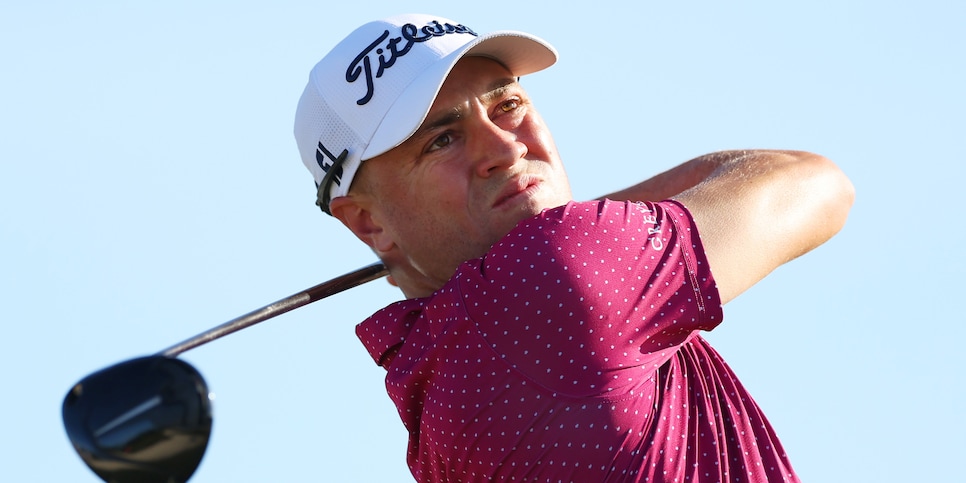 It doesn't get much better than WM Phoenix Open week. Golf's largest outdoor cocktail party meets concert meets PGA Tour event somehow keeps growing—and this year marks the first year of elevated status. Twenty-two of the top-25 players in the world will compete for a $20-millon purse, and with the Super Bowl also taking place in Scottsdale this week, golf bettors will reach peak levels of gambling nirvana.
It might be tough to whittle down your favorite bets of the week with such an elite field, but if you dive closer, you can start to see how players separate themselves at TPC Scottsdale. Per our friend Rick Gehman's data website RickRunGood.com, there's a huge correlation to SG/tee to green success. As Pat Mayo of DraftKings and FantasyNational.com points out, Sunday might come down to hot putting—but you'll also need to survive the chaos and difficult conditions that the final round often presents. The course usually firms up, and it's a matter of surviving the tough holes and taking advantage of the risk-reward holes down the stretch.
Our betting panel—which consists of a caddie reporting anonymously from TPC Scottsdale; Brandon Gdula of numberFire and FanDuel; Andy Lack of RickRunGood.com and his Inside Golf Podcast; your two authors and Mayo and Gehman—have crunched the data to give you their best bets of the week. Enjoy responsibly, and let's cash some tickets heading into kickoff of the Super Bowl!
Scroll down to see who we like this week at the 2023 WM Phoenix Open.
WM Phoenix Open picks 2023: Our Experts' Outright Predictions
Anonymous Caddie Picker of the week: Justin Thomas (23-1, Bet365) — The past four years at TPC Scottsdale have seen JT post results of: T-3, third, T-13 and T-8, so this pick is less about current form, and more about cumulative history here. And for sentiment, who wouldn't want to see Bones hold that flag high on Sunday afternoon in his hometown event. This is, after all, Mickelson's hometown event, too. How great would it be to say, "Take that, Lefty!"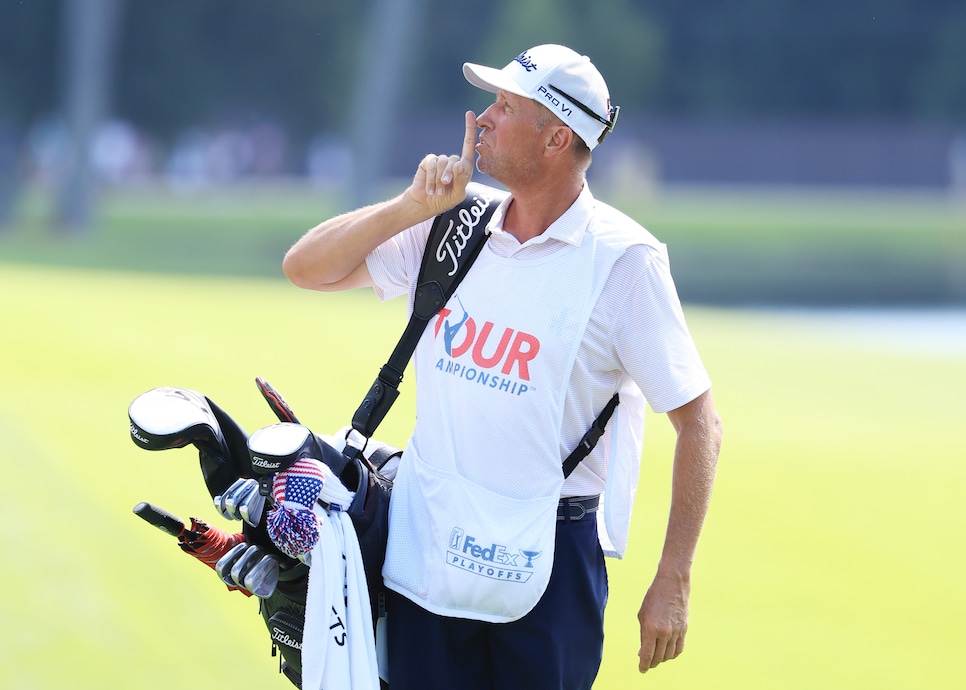 Jim "Bones" Mackay, caddie for Justin Thomas, is a Scottsdale resident and caddied for dozens of years for Phil Mickelson.
Sam Greenwood
Pat Mayo, DraftKings/Fantasy National, Mayo Media Network analyst: Collin Morikawa (16-1, DraftKings) — It's funny how different perceptions can be applied to results. Morikawa has played in two events this year, and each has come with its own share of disappointment. He's come second and third in those two starts. Obviously, the chipping is likely to be an issue, per usual, and the putter can always go frigid, but the elite ball-striking has returned. And, as we've witnessed in the past, Phoenix is where bad putters can excel.
Brandon Gdula, FanDuel/numberFire managing editor: Scottie Scheffler (13-1, FanDuel) — It's a weird week where my model likes Rory, Rahm, and Scheffler well enough at the top of the board to consider all three. With that in mind, I'll take the better odds on Scheffler, who is quietly knocking on the door while Rory and Rahm are kicking doors down.
Rick Gehman, data scientist and RickRunGood.com founder: Collin Morikawa (16-1, DraftKings) — The advanced metrics for Morikawa are about as good as they get. His 2023 has started with a bang, runner-up in Maui and third in San Diego. He gained a staggering 10.33 strokes ball-striking in San Diego, per the RickRunGood.com golf database. That's vintage Morikawa, and the skill-set that allows him to separate from the rest of the field. If he can gain strokes putting, something he's done in two straight, he can absolutely contend this week.
Stephen Hennessey, Golf Digest dep. managing editor: Tony Finau (20-1, BetMGM) — Any gambler remembers their heartbreaks more than their wins. That's why I can recall my emotions as I threw things around a party as Webb Simpson defeated Finau ahead of the 2020 Super Bowl. Finau doesn't have great history here apart from that year, but he's playing the best golf of his career at a venue where his bold play will be rewarded. Lucky you if you grabbed the 25-1 earlier in the week, I still think the 20-1 is worth a bet.
Christopher Powers, Golf Digest staff writer: Sungjae Im (28-1, BetMGM) — Normally, I salivate over these types of week. But a cold streak coupled with the fact there are so many intriguing names to bet has me in Waffle House mode. Ultimately I've landed on Sungjae, who is coming off a top-five finish at Torrey Pines where he gained 8.1 strokes tee-to-green and over five with his putter. That was also his fifth finish of seventh or better in his last 12 starts. He seems ready to peak and pick up his first win since the 2021 Shriners, which feels far too long ago for a player of his caliber. Course history is solid, too, with a top 10 in 2019 and a top 20 in 2021. Also, in my Uber to TPC Scottsdale this morning, the first time I looked up from my phone while in traffic, Sungjae was sitting there in his courtesy car right next to me. Who am I to deny such a sign from the gambling gods?
Andy Lack, RickRunGood.com and Inside Golf podcast: Justin Thomas (23-1, Bet365) — I have a hard-and-fast rule with Justin Thomas: I have sworn I will bet him any time he crosses 20-1 in the outright markets. I understand that his recent form leaves a lot to be desired, but if there is ever a "get-right spot" for him, it's TPC Scottsdale. The reigning PGA Championship winner has recorded six top-20 finishes in eight appearances at the Weiskopf/Morrish design. He's gained strokes off the tee here in six straight starts, never lost strokes on approach, and he's actually gained over 2.7 strokes putting on four separate occasions at TPC Scottsdale. This is a pure number grab for me, and of all the elite players, the 15-time PGA Tour winner feels most due to add one more to the trophy room.
Past results: Golf Digest's betting panel caught fire at the end of the summer, correctly predicting the winner in five of the final six events of the season. We cooled off a bit during the Fall Swing, though we were able to still pick off one winner at the Houston Open, with Stephen Hennessey and Brandon Gdula each hitting on Tony Finau at 16-1. Here's to many more winners in 2023.
WM Phoenix Open picks 2023: Sleepers/Dark Horses Who Could Win
Caddie: Maverick McNealy (110-1, DraftKings) — There's exceptional value to be had if Maverick McNealy can break through. He has played incredibly consistent golf for the past year and is one of the best putters on tour. His time will come soon and at triple-digit odds, if his WD at the end of last week was just to get ready for a much bigger event, there's no reason not to back him here.
Mayo: Sam Burns (45-1, DraftKings) — There's no real form to point to, but Burns' odds are just too large to ignore. With four wins in the past two seasons, Burns has the ability to put together victories from left field, and this number is long enough to back that sort of chance.
Gdula: Jason Day (75-1, FanDuel) — Day is surging lately, and the putter is helping—but that's not the only positive for him. The ball-striking is there for Day, and he can gain distance and accuracy with the driver. A classic ball-striking performance from Day could be looming.
Gehman: JT Poston (130-1, DraftKings) — Poston is grooving right now, with three straight T-21 finishes before a T-6 at The American Express in his most recent start. During that stretch, he's gained strokes on approach in each event and gained strokes off-the-tee in three of four. Now he'll make his fifth start in Phoenix, where he's never missed the cut and finished T-11 in 2021.
Hennessey, Golf Digest: Taylor Montgomery (66-1, Bet365) — At a ball-striker's course, the narrative is that Montgomery's metrics leave a lot to be desired. That might be true, but Montgomery has continued to record great results at all kinds of courses. This is a bet on his talent. It reminds me a little of how Brooks Koepka entered the 2015 WM Phoenix Open before he broke out with his first win. Plus, the Vegas native plays so much golf on desert courses at home at Shadow Creek—so he will be right at home in his debut.
Powers, Golf Digest: Sahith Theegala (60-1, PointsBet) — Seems to be in the mix every time he tees it up and there would be no better story this week than Theegala avenging the gutting near-miss that brought him to tears at TPC Scottsdale a year ago. Fresh off a T-4 at the Farmers, it would be foolish to pass up this number on a dude bound to win any week now.
Lack: Shane Lowry (80-1, BetMGM) — I understand that Shane Lowry has not been at his best over the last few months, but +8000 on a player that routinely goes off at lower that +5000 at most major championships feels a bit irresponsible to me. The 2019 Open Championship winner remains one of the best drivers of the ball in this entire field, ranking ninth in good-drive percentage, and his irons are not far behind, ranking ninth in SG/approach and 20th in long-term proximity from 150-175 yards. Lowry is a far better player than his betting market price this week, and I am willing to look past a few uninspiring results overseas, as my numbers suggest that it is only a matter of time before Lowry gets his season going in the right direction.
WM Phoenix Open picks 2023: Players We're Fading
Caddie: Keith Mitchell (65-1, DraftKings) — His T-4 last week looks promising, but ball-in-hand all week around 17 Mile Drive will create some false hope. Revisit his play when we get to Honda in a couple of weeks.
Mayo: Rory McIlroy (+850) (DraftKings) — It's never fun fading the world's top-ranked player. Yet, in a field featuring almost all the top players, the price is simply too short at an event that will end up coming down to who has the hottest Sunday putter.
Gdula: Hideki Matsuyama (29-1, FanDuel) — Matsuyama has two wins here in his career, but the recent driver and iron numbers are pretty worrisome. He's been finishing well lately because of the short game, and that's a weird thing to see from him. It's possible he figures out the ball-striking without losing the short game, but it's also possible he's overvalued because the putter and wedges have been better than normal.
Gehman: Justin Thomas (23-1, Bet365) — It's difficult to find any fade on the top of this board, but Thomas seems like the most reasonable. This is a course he has always picked apart with his second shots, but that's the most underperforming portion of his game right now. Over his past eight starts, he's lost a total of 0.94 strokes on approach—or in any words, completely tour average. He hasn't gotten help from his driver in 2023, losing 4.05 strokes off-the-tee in two starts and has been struggling with the flat stick for the better part of six months.
Hennessey, Golf Digest: Matt Fitzpatrick (35-1, DraftKings) — I'm with Andy here: I'll be taking any matchup against Fitzpatrick with his injury concerns.
Powers, Golf Digest: Patrick Cantlay (18-1, DraftKings) — Cantlay told the media on Tuesday he recently did some equipment tinkering, going up a weight in both his shafts and his woods in a search for more stability. Maybe it all clicks this week, but it feels too soon to hop on him at sub-20-1 odds when he might still be working out some kinks.
Lack: Matt Fitzpatrick (35-1, DraftKings) — There were injury concerns surrounding Matt Fitzpatrick last week at Pebble Beach, and a MC where he lost over four strokes on approach in his one round at Pebble Beach proved that something just isn't right currently with the reigning U.S. Open champion. Judging by the fact that he cannot be found in any matchups, books seem to agree that Fitzpatrick simply cannot be trusted right now.
WM Phoenix Open picks 2023: Matchups
Caddie: Rory McIlroy (+110) over Jon Rahm (DraftKings) — Some great action on the board with Scheffler/Cantlay and Schauffele/Homa. But like everyone I'll have my eyes on the leaderboards watching the Rory and Rahm show, and I expect to see amazing highlights. Jon Rahm has been absolutely amazing lately. But Rory will continue to show his form from a couple weeks ago, and remind us all that he is still a huge part of the conversation. I will take McIlroy against anyone, all day long, at +110.
Mayo: Justin Thomas (+100) over Sungjae Im (DraftKings) — Strange how Thomas is favored over Sungjae in outright winning odds but is an underdog in a head-to-head. Sure, Im is uber-consistent, but JT hasn't finished worse than T-17 in any of the past five years at TPC Scottsdale while Im has only bested that result once in three tries.
Gdula: Rickie Fowler (-112) over Shane Lowry (FanDuel) — We haven't seen much from Lowry lately, and he's finished T-28 and missed the cut in two starts in 2023. Fowler is finding a groove with the irons lately and is returning to a course where he has won and generally played well.
Gehman: Tyrrell Hatton (-110) over Shane Lowry (DraftKings) — Hatton has been one of the more consistent golfers on tour, gaining at least a stroke to the field in 82 percent of his past 50 rounds. That's the third-highest rate in this field behind only Rory McIlroy and Tony Finau. Though he might lack the upside displayed by some of his peers, he finds himself in a great position to be near the top of the leaderboard on Sunday.
Hennessey, Golf Digest: Sungjae Im (-134) over Matt Fitzpatrick (Pinnacle) — Sungjae's coming off an elite iron performance at Torrey Pines, and his long-term ball-striking numbers are a perfect fit for TPC Scottsdale. Fitzpatrick, on the other hand, is coming off a MC at Pebble Beach, where he's had success, which is a red flag. He says he's battling a neck injury, so I'm taking any matchup I can get my hands on here. Some sharp guys I know out in Las Vegas are on the same page as me in fading Fitz.
Powers, Golf Digest: Jason Day (-110) over Tyrrell Hatton (DraftKings) — Hatton has played this event once and he managed a top 15 (2019). But he wasn't quite as well known, at least among casual golf fans, as he is now. Just a hunch, but I have a feeling the odd heckle or two could throw him a bit off his game this week. Day, meanwhile, is returning to peak Day form with six finishes of 21st or better in his last seven starts, including his last two.
Lack: Xander Schauffele (-120) over Max Homa (DraftKings) — I often look to fade players coming off emotional wins, and while it is hard to find a bad thing to say about Max Homa right now, this number feels a touch short against Xander Schauffele, who has never finished worse than 17th in six appearances at TPC Scottsdale. Schauffele has done everything short of raising the trophy at this event, and coming off a 13th-place finish at the Farmers Insurance Open where he gained strokes in all four major categories, I expect Schauffele to once again play a relevant role coming down the stretch on Sunday afternoon in Scottsdale.
Matchup Results from Pebble Beach: Caddie: 1 for 1 (Kevin Streelman (+105) over Will Gordon); Lack: 1 for 1 (Viktor Hovland (+105) over Matt Fitzpatrick); Mayo: 1 for 1 (Taylor Moore (-110) over Trey Mullinax); Gdula, Gehman, Hennessey, Powers: 0 for 1.
Matchup Results from this season (Wins-Losses-Pushes): Hennessey: 9-5-0 (up 3.45 units); Gehman: 8-5-1 (up 2.1 units); Powers: 7-7-0 (down 0.28 units); Lack: 3-2-0 (up 0.87 units); Mayo: 6-7-0 (down 1.56 units); Caddie: 6-8-0 (down 2.23 units); Gdula: 3-10-1 (down 7.22 units)
WM Phoenix Open picks 2023: Top 10s
Caddie: Cameron Young (+280, DraftKings) — Cameron Young is the easy pick. His exceptional game tee to green has been off set by some woes with the putter. But Phoenix has seen a few putters come to life and snatch a victory.
Mayo: Justin Thomas (+240, DraftKings) — Picking between the elites this week might just come down to sheer luck. They all look like amazing plays on paper. But the price discount on Thomas from the very top of the board is enough to suck me in. JT has the best Phoenix record without a win (yes even better than Rahm). The discount comes from his slow start to 2023. He was pretty lackluster at Kapalua, looked fine at Torrey but wilted each day. In those two starts, it's been the driver giving him issues. It was the first time he lost strokes off the tee in consecutive events since the beginning of 2021. It was 2017 before that. Seems pretty fixable for him.
Gdula: Keegan Bradley (+600, FanDuel) — Bradley's a great ball-striker, and that's a huge piece to the puzzle this week at TPC Scottsdale. He's made five straight cuts here and nine of 11 in his career. He just hasn't putted well on these greens, something that might change with his recent success with the flat stick.
Gehman: Sam Burns (+400, DraftKings) — Burns hasn't teed it up since The American Express, where he finished T-11. He gained strokes in all four major categories there, which is generally a good sign moving forward. Burns has shown that when he's playing his best, he can gain a ton of strokes on his approaches and with the putter. That's a high-upside combination that should help in this stacked field.
Hennessey, Golf Digest: Davis Thompson (+1400, DraftKings) — The 23-year-old just went toe to toe with Jon Rahm on the last desert course they played on tour. Plus, he's super long off the tee (seventh in this elite field over the past 36 rounds, per RickRunGood.com), and he gains in all the major ball-striking stats. It's a lot to ask of the debutant—but these odds are worth the flier.
Powers, Golf Digest: Corey Conners (+500, DraftKings) — Conners, normally a top-10 machine, hasn't had one since late August at the BMW Championship. He did, however, have his best ball-striking performance since that week at the Sony Open in January, and he likely would have been in serious contention if he didn't lose nearly four strokes with his putter. If he rights that ship, I'd expect the Canadian to be hanging around on Sunday in Scottsdale.
Lack: Sungjae Im (+250, DraftKings) — Over the past few months, Sungjae Im has done just about everything but find the winner's circle. I have no reason to believe that he can't keep the momentum going this week at a course where he has already recorded two top-20 finishes in three starts, never gaining less than 1.5 strokes ball-striking, nor losing strokes putting. Coming off a fourth-place finish at Torrey Pines, where he gained seven strokes on approach through three rounds at the South course, good for the best iron week of his career, I expect Sungjae to find himself firmly in the mix.
Top-10 results from Pebble Beach: Gehman: 1 for 1 (Joseph Bramlett, +650); Everyone else: 0 for 1 (shoutout to Beau Hossler missing a six-footer for birdie on the 72nd hole, which cost Hennessey a +700 top-10!).
Top-10 results from this season: Gdula: 6 for 14 (up 17.4 units); Hennessey: 3 for 14 (up 1.55 units); Gehman: 4 for 14 (up 7.55 units); Mayo: 3 for 13 (down 1.5 units); Lack: 1 for 5 (down 0.8 units); Caddie: 2 for 14 (down 5.95 units); Powers: 1 for 14 (down 9 units)
WM Phoenix Open picks 2023: One and Done

Gehman: Scottie Scheffler — This is an elevated event, sporting a $20-million purse, so it's time to use a big name. Scheffler has played twice in 2023, finishing T-7 in Maui and T-11 in Palm Springs. Going back to last year, he's piled up five straight top-11 finishes. Now he's back for his first of four title defenses in 2023.
Previous weeks: Fortinet Championship: Emiliano Grillo. Sanderson Farms Championship: Sam Burns. Shriners: Taylor Montgomery. Zozo: Sungjae Im. CJ Cup: Matt Fitzpatrick. Bermuda: Denny McCarthy. Mayakoba: Viktor Hovland. Houston Open: Aaron Wise. RSM Classic: Brian Harman. Sentry TOC: Cameron Young. Sony Open: Hideki Matsuyama. American Express: Brian Harman. Farmers: Jason Day. AT&T Pebble Beach: Maverick McNealy.
Hennessey: Collin Morikawa — Morikawa's form entering this week makes him a heckuva bet and a safe one-and-done play.
Previous weeks: Fortinet Championship: Cam Davis. Sanderson Farms Championship: Denny McCarthy. Shriners: Emiliano Grillo. Zozo: Hideki Matsuyama. CJ Cup: Sungjae Im. Bermuda: Mark Hubbard. Mayakoba: Viktor Hovland. Houston Open: Jason Day. RSM Classic: Brendon Todd. Sentry TOC: Patrick Cantlay. Sony Open: Matt Kuchar. American Express: Brian Harman. Farmers: Will Zalatoris. AT&T Pebble Beach: Seamus Power.
Powers: Sungjae Im — The sign I mentioned in the outright section, plus the fact SungBae has been balling of late, has me all in on this pick.
Previous weeks: Fortinet Championship: Sahith Theegala. Sanderson Farms Championship: J.T. Poston. Shriners: Sungjae Im. Zozo: Hideki Matsuyama. CJ Cup: Tyrrell Hatton. Bermuda: Russell Knox. Mayakoba: Thomas Detry. Houston Open: Sepp Straka. RSM Classic: Davis Riley. Sentry TOC: Xander Schauffele. Sony Open: Gary Woodland. American Express: Cameron Young. Farmers: Taylor Montgomery. AT&T Pebble Beach: Maverick McNealy.
The latest Golf Digest golf club Hot List just dropped! Our interactive quiz below will help you find the best new equipment for your game:
Pat Mayo is an award-winning video host and producer of long and short-form content, and the host of The Pat Mayo Experience daily talk show. Mayo helped create the golf stats and research website Fantasy National along with the Race for the Mayo Cup One and Done contest. Mayo won the 2022 Fantasy Sports Writing Association Daily Fantasy Writer of the Year and is a finalist for three FSWA Awards in 2023 (Best Podcast, Daily Fantasy Writer of the Year, Golf Writer of the Year). His 27 FSWA nominations lead all writers this decade and are second-most all-time. Follow him on Twitter: @ThePME.
Brandon Gdula, managing editor and analyst for NumberFire, a FanDuel daily-fantasy analysis company, recently won the 2018 FSWA Golf Writer of the Year. Gdula also co-hosts the DFS Heat Check podcast. Follow him on Twitter: @gdula13.
Rick Gehman is the founder of RickRunGood.com and the RickRunGood YouTube Channel, is one of the industry's leading experts on golf DFS and gambling. Gehman is co-host of the First Cut Podcast and appears regularly on the Pat Mayo Experience golf podcasts. Follow him on Twitter: @RickRunGood.
Andy Lack is a PGA Tour writer and podcaster from New York City who now resides in Los Angeles. He hosts Inside Golf, a twice weekly podcast focused on the PGA Tour, betting, daily fantasy, golf course architecture, and interviews, as part of the BlueWire podcast network. As well as contributing to Golf Digest, Andy is also a data analyst and writer for RickRunGood.com, where he covers PGA Tour betting and daily fantasy. He came to Golf Digest's betting panel after previously writing for Golf.com, the Score and GolfWRX. In his free time, Andy can likely be found on a golf course. Follow him on Twitter: @adplacksports