The Grind
Will Zalatoris' fiancee's well-timed message, Cameron Smith's poorly-timed penalty, and the USGA's well-played 'Seinfeld' tribute
Welcome to another edition of The Grind, where we are sad that 'Better Call Saul' has finally come to an end, and with it, the entire Breaking Bad Era of TV history. A dozen years of dominance perhaps only rivaled by Tiger Woods. What a run. On a bright note (NO SPOILERS), but how about those two subtle golf references in the series finale, including the TPC Sawgrass one? It's been a rough few months for Jay Monahan, but even he must have smiled at that. Too bad Saul Goodman couldn't represent the PGA Tour in court, am I right? In any event, let's talk about what's actually going on in golf.
Will Zalatoris: It's crazy to say that a 25-year-old in his second season on the PGA Tour FINALLY won, but, yeah, Will Zalatoris FINALLY won on the PGA Tour. And it was about as easy as that underground drug lair Gus Fring had constructed (By the way, great news that Giancarlo Esposito is getting his own AMC show!). But a third playoff of 2022 and a third sudden-death hole in which his golf ball miraculously bounced seven times on a rock wall before staying dry led to the bogey of Will's life and that long-awaited breakthrough victory for my fellow Wake Forest Demon Deacon.
Maybe I declared the golf gods dead too soon, because that seemed like quite the gift from the universe that this young man was owed one after so many close calls at majors. And a nice gift to claim $2.7 million and take the lead in the FedEx Cup Playoffs. I know a lot of gamblers who were happy as well, including myself. It felt good to finally cash a (small) winning ticket on Will. Of course, if I add up all the other bets on him I'm probably in a hole as deep as the one his golf ball wound up in during the playoff. Anyway, Will was really, really fired up to quiet his (putting) critics:
There were so many other great angles to this story. Will winning in his first FedEx Cup Playoffs event after that dumb PGA Tour rule kept him out of the postseason last year. Will winning his first event with new caddie Joel Stock, already a winner in Memphis with Ben Crane previously, on his bag. And Will winning just days after his fiancee, following a so-so opening round, dared to ask him, "What are your plans if you don't make the weekend?"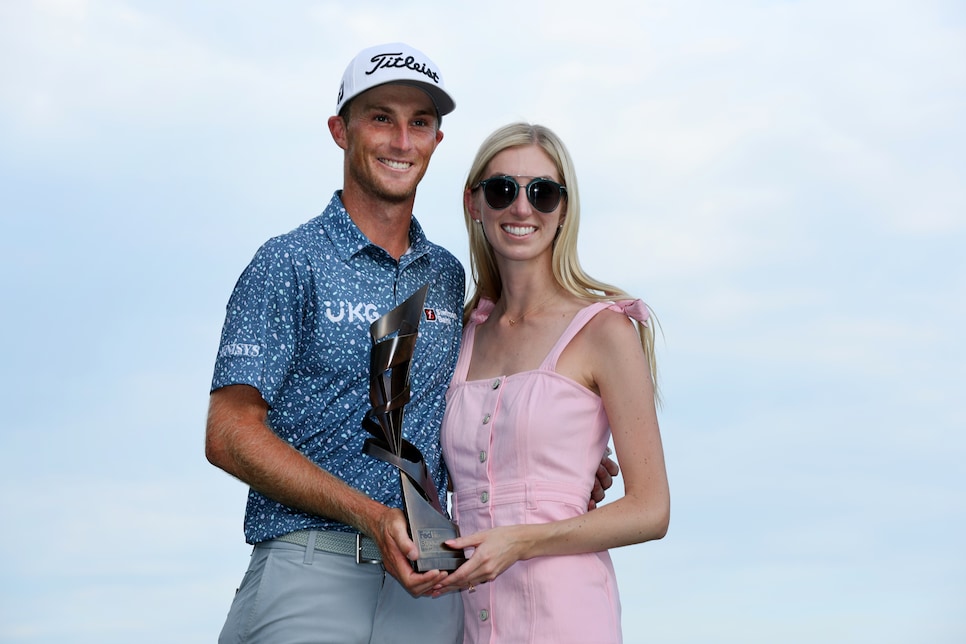 Then again, maybe that was all part of an elaborate Better Call Saul-esque scheme to put her guy over the top. If so, brilliant.
Maja Stark: The 22-year-old Swede didn't need such dramatics to win her first LPGA title in at the ISPS Handa World Invitational. With a bogey-free 63 in the final round, Stark cruised to a five-shot win. Despite turning pro just a year ago, the Oklahoma State product already has five Ladies European Tour victories in addition to Sunday's win. And she produced arguably the greatest club twirl of all time:
OK, so that was an accident. But still pretty cool. Not that we should be surprised with that last name . . .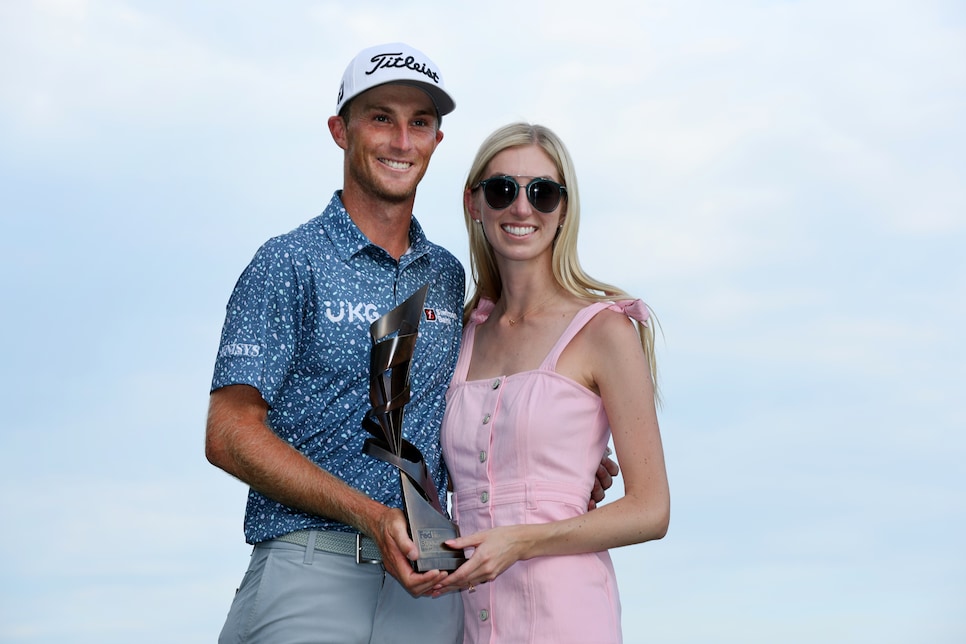 "The 25": As always, there were so many great stories (and, yes, a few heartbreaking ones) to come out of the Korn Ferry Tour's regular season finale won by Robby Shelton. We'll highlight Kevin Roy, though, who earned his PGA Tour card for the first time. And he did it in front of his wife and parents:
Aww. I'm tearing up more than I was during Saul and Kim's. . . oh, right. No spoilers.
The "Seinfeld" pairing: First of all, kudos to the USGA. Their cheeky tournament pairings have gotten them in trouble in the past (that group of, um, big guys Shane Lowry, Kevin Stadler, and Brendon De Jonge at the 2014 U.S. Open), but I think they're fun. But this "Seinfeld" group for the first two rounds of the U.S. Amateur topped them all:
And how about Kremer, Newman, and Costanza playing great on Day 1? Well done all around.
Playing that rocks shot: Will seems like a bright young man. I mean, how can he not be having gone to Wake Forest? (Go Deacs!) Also, the dude majored in psychology there. I could barely get through Intro to Psychology (with Bill Haas as a classmate)! Yet, there was Will deciding whether to play that shot off the rocks when everyone watching was screaming at the TV for him to pick up his golf ball. Obviously, Zalatoris has no regrets after winning the tournament, but now he can feel even better about his decision. Someone attempted the shot on video after the event ended, and, well, it went exactly how everyone (besides Will) thought it would:
On behalf of all those winning gamblers everywhere, "PHEW!" Speaking of gambling . . .
Cameron Smith's penalty: Or, rather, the timing. Look, it was clearly a penalty. Cameron admitted as much before his final round (somehow he didn't know the rule that you had to take complete relief from a hazard).
But to wait until after the final round started? Particularly now with all the gambling and DFS going on? Not good. And not fair. Not that I'm complaining as someone who hopped on a live Zalatoris bet just moments before this was announced. Anyway, between this, the LIV rumors, and the WDing from this week's BMW, there's a lot of drama swirling around Mullet Man these days!
Bedrooms with hall windows: Honestly, I didn't even know this was a thing until caddie Geno Bonnalie posted his latest hotel review. Apparently, Geno had himself a nice bedroom where he was staying in Memphis (slightly different than the cramped Pebble Beach quarters), but, well . . .
Yeah, there's a window looking in from the hallway. Bizarre.
The PGA Tour heads to the BMW Championship at (*checks notes*) Wilmington Country Club. That's right, Delaware.
Random tournament fact: This is the first time Delaware has hosted the PGA Tour, but the First State has hosted a men's major before! Kind of. We left Ocean City, Md., to play the third round of the 2016 HGGA Championship (Yes, my annual golf trip) at Bayside Resort Golf Club, a tough Jack Nicklaus track. Would this event be going to Delaware if we hadn't gone there first? Who's to say?
RANDOM PROP BETS OF THE WEEK
—This week's winner's golf ball will bounce seven times off a rock wall and stay dry: 2.7 MILLION-to-1 odds
—Will Zalatoris will win again this week: 14-to-1 odds (Actual odds, tied for second favorite behind Rory)
—Will Zalatoris will win again on the PGA Tour: LOCK
TWEET OF THE WEEK (CELEBRITY DIVISION)
How about Happy Gilmore himself giving Willy Z his caddie a shout-out!
TWEET OF THE WEEK (WAGS DIVISION)
Posted by Jessica Hadwin after Adam Hadwin's 76-77 weekend: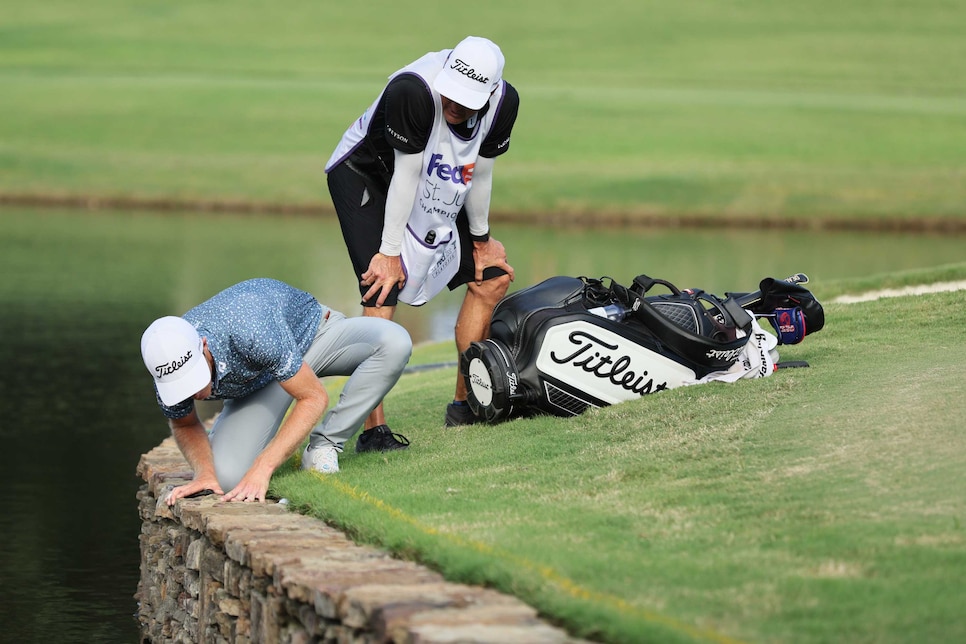 VIRAL VIDEO OF THE WEEK (WELL PLAYED DIVISION)
Apparently this 12-year-old made a hole-in-one on his first-ever par 3 (and second-ever golf hole). AND his dad was recording it!
Yeah, I hate this dude too. Kidding. Sort of.
VIRAL VIDEO OF THE WEEK (GOOD LUCK DIVISION)
After playing some media day at Ridgewood a few years ago, we declared it ROUGHwood. And while there have been some videos taken ahead of this week's U.S. Amateur depicting the thick stuff, this look at the lightning greens from our pal Lou Stagner has drawn most of the attention:
Looks like a great potential spot to see someone try the Phil Mickelson moving ball putt!
THIS WEEK IN PUBLIC DISPLAYS OF AFFECTION
Apparently one of Tyson Alexander's buddies from high school made a bet that he'd get a tattoo honoring the golfer if he ever made it to the PGA Tour. Well, some 16 years later he did—and the dude paid up!
Now that's a man of his word.
"I actually can't believe I said that. At least it wasn't something worse." —Will Zalatoris on his 72nd hole, "WHAT ARE THEY GONNA SAY NOW?!" outburst. Good thing he wound up winning that playoff! Reminiscent of Adam Scott's "C'MON, AUSSIE!" before the 2013 Masters was over.
Congrats to 17-year-old Japanese phenom Saki Baba for winning the U.S. Women's Amateur with an 11-and-9 thumping in the 36-hole championship match. And for those saying there shouldn't be 36-hole championship matches, just remember that Tiger Woods wouldn't have won that third straight U.S. Amateur without that second round. . . . Congrats to 13-year-old Chinese phenom Alice Ziyi Zhao for becoming the youngest medalist/co-medalist in USGA history at the same event. These kids are good. . . . Dustin Johnson dropped out of the top 20 in the Official World Golf Ranking for the first time since February of 2015. I'm guessing he couldn't care less. . . . And, finally, the price of my beloved bottled Mexican Coke continues to skyrocket: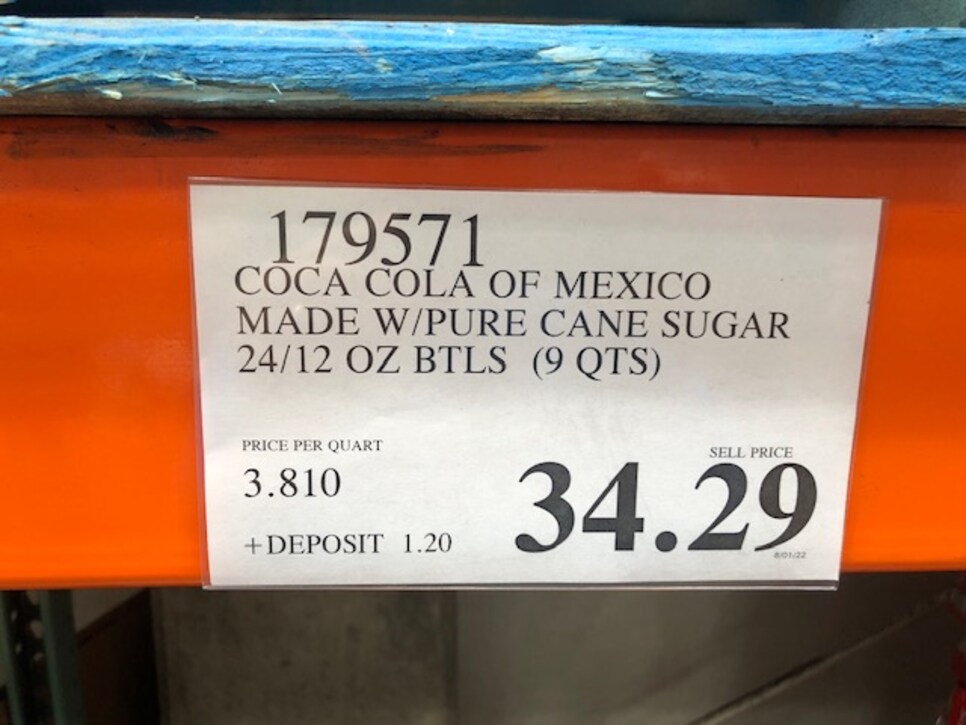 That is outrageous! Seriously, what the heck? It's almost doubled over the past couple years! Anyway, I couldn't get myself to buy it. Amazing discipline by me.
RANDOM QUESTIONS TO PONDER
How has Bob Odenkirk never won an Emmy for acting?
Is "Breaking Bad" still on Netflix . . . ?
WHAT ARE THEY GONNA SAY NOW?!