honest mistake
Will Zalatoris' fiancee asked him one of the biggest deal-breaker questions in golf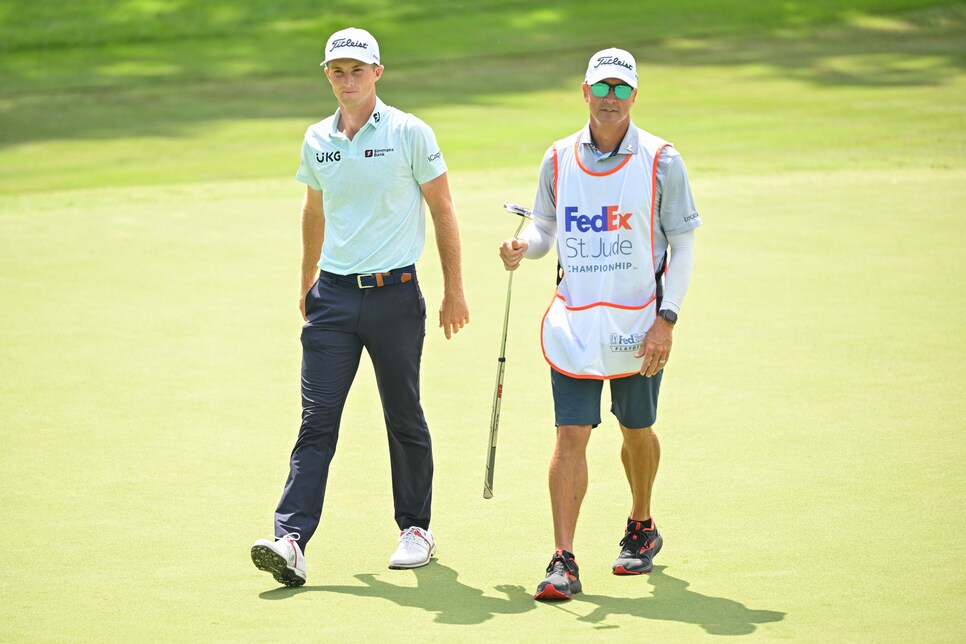 Will Zalatoris and caddie Joel Stock walk off the seventh green during the first round of the FedEx St. Jude Championship.
Ben Jared
Will Zalatoris has dealt with his share of anguish in an otherwise impressive PGA Tour season. Among his eight top-10s are three runners-up, including at two majors—the PGA Championship and U.S. Open. Incredibly enough, he's still searching for his first victory, and he's going to get another shot at hoisting a trophy on Sunday in the final round FedEx St. Jude Championship in Memphis after shooting a five-under-par 65 on Saturday.
There has, however, been a double "ouch" moment this week for Willy Z. It came after a first-round 71 at TPC Southwind that put him in danger of missing only his fourth cut in the calendar year. As Zalatoris told it on Saturday, after the frustrating round he was on the phone with his fiancee, Caitlin Sellers, who asked the question that has no doubt doomed past relationships of professional golfers.
"What are your plans if you don't make the weekend?"
Apparently, Zalatoris' head did not instantly combust.
"She meant that all in good fun," Zalatoris said, good-naturedly letting her off the hook.
And what was his response to her, a reporter asked.
"I told her let's cross that bridge when we get there," Zalatoris said.
The fiancee can probably now take credit for possibly firing up her dude a bit. He rallied with a 63 on Friday, followed by Saturday's 65 that has him well within striking distance of the title. Over the last two rounds, Zalatoris' play has been nothing short of spectacular, notching 13 birdies against just one bogey. He entered the first event of the playoffs at No. 12 in the standings and could take over the top spot with a victory.
"I love playing this place. I played well here last year and got some good vibes running around this place," said Zalatoris, who tied for eighth in the 2021 St. Jude.
Asked about the rough start to the week, Zalatoris said he didn't allow his new caddie, Joel Stock, to read the putts on the first day as they worked to get a feel for each other. Stock is toting the bag for the first time since Zalatoris and his longtime caddie, Ryan Goble, split up in the middle of last week's Wyndham Championship. It's also well-documented that Zalatoris is one of the shakiest putters on tour from inside 10 feet.
"I had [Stock] start reading the putts yesterday and obviously it's been a nice little run," Zalatoris said. "We've obviously been close all year, but having that confirmation in there has been super helpful the last couple days."
All is good with the girlfriend and caddie, so watch out for Willy Z on Sunday.