That's awkward
Tequila, football, weight gain and bread: Sam Burns' press conference goes off the rails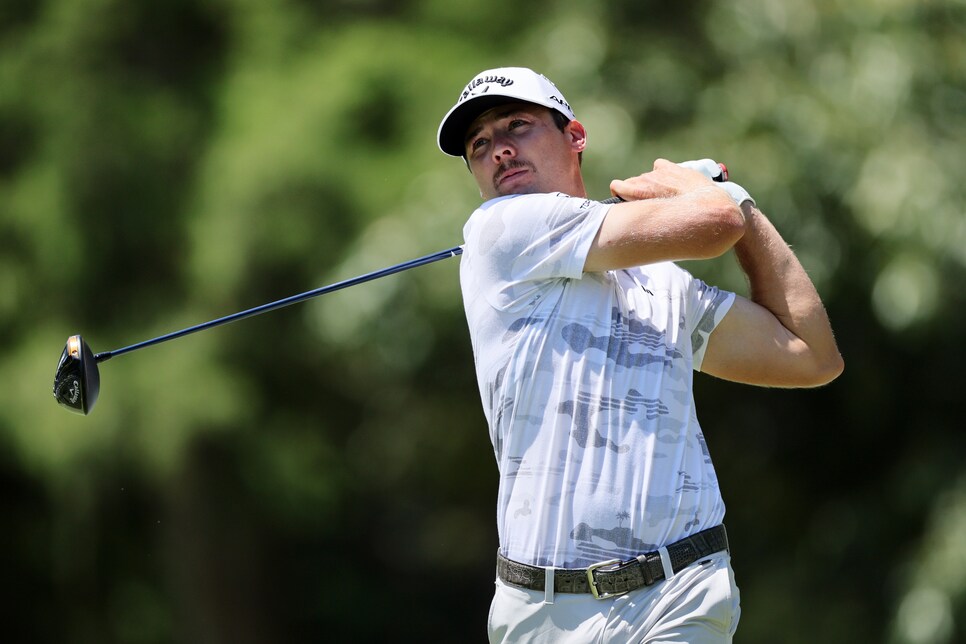 Sam Burns plays his shot from the seventh tee during the third round of the FedEx St. Jude Championship.
Andy Lyons
MEMPHIS — "Have you ever been fat?"
That question, coming near the end of Sam Burns' post-round pressure at the FedEx St. Jude Championship on Saturday, would have been the absurd highlight of most interviews on the PGA Tour, especially at an otherwise staid venue like TPC Southwind. In this case, it might not have made the top five in this particular interview.
The encounter began ordinarily enough, with Burns answering questions about his third round of 67 that put him at nine under and within shouting distance of the leaders. The moment when it started to veer into chaos also started on a relatively innocuous note, with a reporter referencing a quote from earlier in the week, when Burns said he ate so much on a Greek vacation (with his wife and Scottie Scheffler and Scheffler's wife) that he gained eight pounds.
"Have you lost any of that?"
"I guarantee I probably lost a pound a day here just from water weight," Burns said. "I haven't weighed since I was at home, but I probably lost a little of it."
Then, from the same reporter, came the question leading this post: Have you ever been fat?
"That's not ..." Burns began, but quickly trailed off as he decided exactly how to answer. "I guess maybe. I don't think so."
"What position did you play in football?" another writer asked, taking a different angle to the question. When Burns said quarterback and safety, it was widely agreed that these were "skinny positions."
"You were never fat," the first writer asserted.
"I mean," Burns said, "everybody goes through the awkward phase at like 12, 13 where you look a little pudgy, but..."
Here again Burns trailed off, but the reply from the press corps was fast:
"Some of us stick with it."
At this point, Burns' expression teetered between amused and mystified, and that only deepened when the next question came from yet another writer.
"Is there any adjustment to the added weight this weekend?"
"Walk a little slower, I guess," he said, now fully up to speed.
Just when the discussion threatened to enter more sane territory, the first writer intervened again.
"Let's stay on this for just one more second, if you don't mind," he said.
"I see you're enjoying this."
The question was, what did he actually eat on vacation to gain so much weight?
"A lot of pita bread, hummus, some tequila," he said, before clarifying that, "I didn't eat tequila, drank tequila."
Nothing could slow the momentum of the conversation at this point, and neither side seemed quite ready to call it quits.
"Are you a dessert guy or more of a bread guy?" the third writer asked, setting up a false dichotomy and implying that the two were mutually exclusive.
"Oh, yeah, both," said Burns, refusing to fall for the trap. "A lot of dessert."
Chocolate chip cookies are his favorite dessert item at the moment, he said, thanks to the ones bought by his host family in Memphis, but when offered a macadamia cookie from the media center, he declined.
Finally, a media member who had been waiting with saintly patience to ask a serious question managed to commandeer the microphone.
"Do you want to ask about my weight too?" Burns asked.
"No, no," came the response. "I've got my own weight problems."