LPGA Tour
Swedish upstart Maja Stark earns LPGA membership with a runaway win in Northern Ireland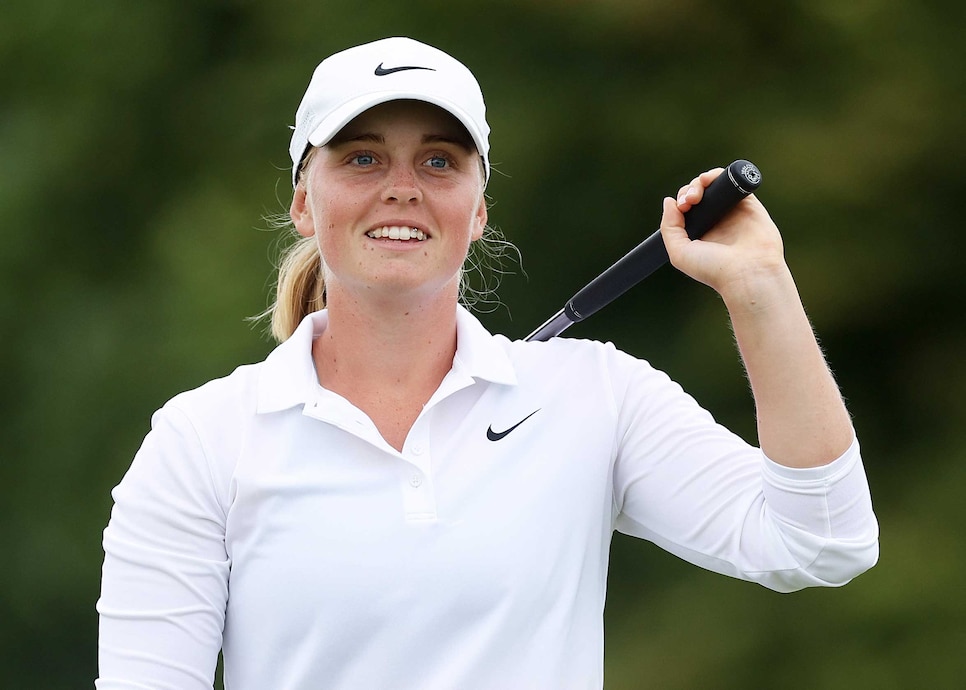 Entering the final round of the ISPS Handa World Invitational, Maja Stark was tied for fourth, two shots off the lead. While the field was admittedly not the strongest on the LPGA calendar, Stark, a member of the Ladies European Tour with four wins to her name, was by no means a favorite. Georgia Hall, a major champion, sat a stroke ahead of her, and fellow Europeans Linn Grant and Emily Kristine Pedersen looked more poised for their first LPGA wins than the 22-year-old Swede.
But Stark would not be denied on Sunday in Northern Ireland. Making two birdies in the first three holes, she never let up, shooting a bogey-free 10-under 63 and setting the course record at Galgorm Castle Golf Club to finish the tournament at 20-under. She didn't just win, but ran away with the title by five.
Stark, who played two seasons at Oklahoma State University before turning pro in 2021, said she kept her nerves in check by playing the final round three holes at a time. It made the pressure-packed close more manageable. Instead of having to put together 18 great holes, she thought about scoring well on three and resetting after each third hole.
"I was like, just three more holes, three more holes," Stark said.
The nerves did, understandably, creep in on the final hole where her approach went about 30 yards left of target into the water. With a nice cushion to play with, it wasn't an issue; she still managed to save par to maintain her clean scorecard.
"I was not aiming there. I was aiming as far right on the green as you possibly could, but then I don't even know what happened to be honest," Stark said.
Part of the reason there was more pressure on Stark in this final round is because this win is more than just a win: It's a ticket to LPGA Tour membership.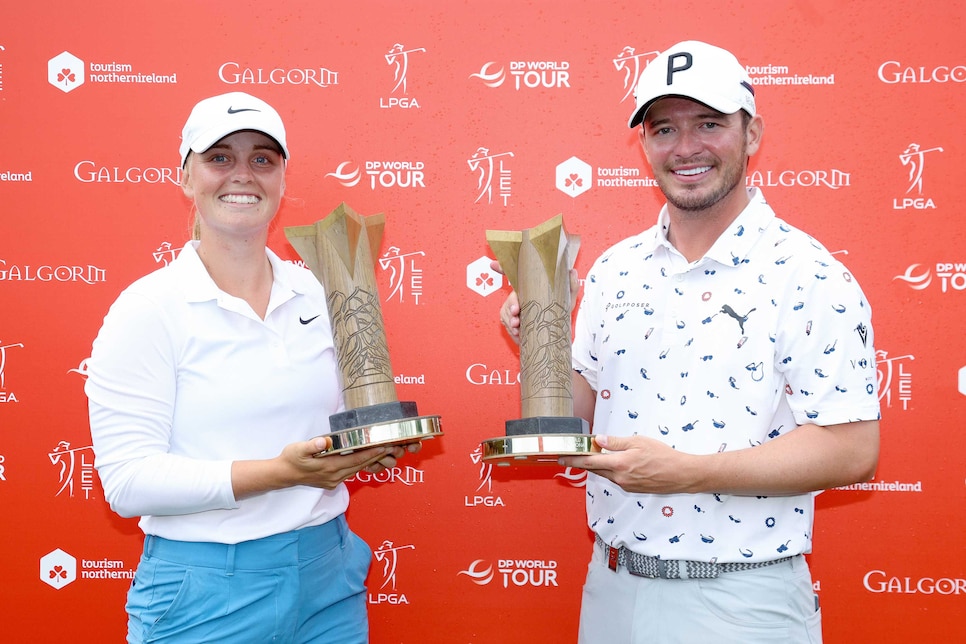 Maja Stark and Ewen Ferguson of Scotland pose for a photograph with their trophies after winning the Women's and Men's, respectively, ISPS Handa World Invitationals.
Andrew Redington
When you're a non-member of the LPGA Tour and you win an event, you've earned the right to join the tour. You can either accept membership immediately and play out the rest of the season as a rookie, or you can defer your rookie year and have it begin at the start of the following season. Of course, you can also choose not to become a member at all, like Hinako Shibuno did after winning the 2019 AIG Women's Open, opting to instead stay in Japan and develop her game further before earning her card via Q-Series in 2021.
Stark eventually told LPGA officials that she will accept LPGA membership immediately.
"I did not expect this at all," Stark said. "If you told me a year ago that I would have a win on the LPGA, I would not have believed it."
The event, co-sanctioned between the LPGA and LET, was played concurrently with a tournament on the DP World Tour on the same course. Scotland's Ewen Ferguson, who opened the tournament with a blistering 61 and held a three-shot edge entering Sunday, closed out a wire-to-wire win for men's title at Galgorm Castle with a one-under 69. He won with a 12-under 268 total, beating Spain's Borja Virto and Scotland's Connor Syme by three shots for his second DP World Tour win of 2022.
"It feels unbelievable," Ferguson said. "I just can't believe how calm I was out there. It couldn't have worked out any better playing with Connor. I felt although I played with him the first two days and he was playing so, so good, and I felt he was my main rival for the day, so managing to play with him and hold each other off and keep up with each other was so good. Just can't believe I'm a winner again."