Tour Style
7 LPGA looks we're stealing this summer
*All products featured on Golf Digest are independently selected by our editors. However, when you buy something through our retail links, we may earn an affiliate commission.*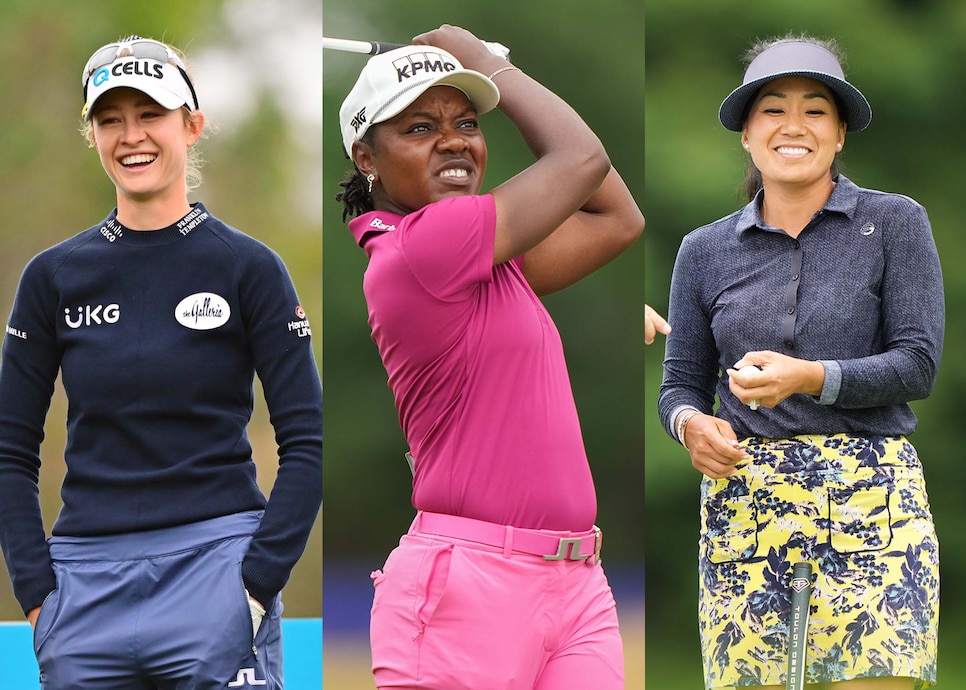 Many of us look to LPGA players for on-course style inspiration. After all, imitation is the sincerest form of flattery—and who wouldn't want to be able to play like them? OK, OK. We know it doesn't work like that. But, if you want to steal some style tips from the best of the best, here are seven trends the pros are rocking this summer that are sure to be a hit at your home course.
RELATED: Lululemon released a hiking collection, here's which pieces will work on the golf course
Knit Polos
These vintage-inspired tops will elevate your golf outfit and the light-weight knit material is perfect for cool mornings on the course. Pair with your favorite retro accessories to complete the look. Knits like these may seem like something that wouldn't work in the summer but with the proper performance-ready fabrics, the ventilation in the looser knit pieces will keep you cool without clinging to the body or absorbing sweat. In Gee Chun's knit has visible dotted ventilation that adds a fun pattern to the upscale top. When temperatures drop, these knits can also transition into great insulation pieces with the right layering.
Get the look
More:
Bucket hats
Bucket hats are making a comeback in a big way and with all the different colorways and styles, it's easy to find one that fits your unique golf look. Standout junior Anna Davis was arguably responsible for the resurfacing of buckets hats among the women's golf style discussion earlier this April, when she won the Augusta National Women's Amateur while wearing one. The 16-year-old provides inspiration for how to style these fun headwear options: Here, she's wearing two pigtails underneath a short-brimmed bucket hat, giving her a clean, youthful, and preppy look. Plus, the bucket hat design gives you additional sun protection around your entire head and neck. 
RELATED: If you don't already have a bucket hat in your golf wardrobe, this is your sign to get one
Sporty Dresses
Believe it or not, golf dresses can be some of the easiest pieces to style for the golf course. They especially come in clutch when you're rushing to your tee time—throw on a dress and you'll look put-together and ready for your round almost immediately. Danielle Kang's Adidas dress below is both sporty and practical for serious golfers, as it features pockets for ball markers and tees. Plus, the pockets are hidden and don't interrupt the flattering silhouette of the dress. 
RELATED: The best golf dresses for women
More:
Statement Skirts
A great way to revamp your golf wardrobe for summer without investing in a complete new set of clothes is to add a few fun skirts into the mix. From bright colors and funky prints to lots of pleats, this is a trend everyone can participate in. Jenny Suh Thompson's Foray Golf skirt adds a memorable pop of color to an otherwise simple outfit. Patterned skirts like these can be styled in a variety of ways, but it's always safe to pair them with a top and hat that match one of the colors from the bottom. That way, the look ties together nicely without being overly busy. 
More:
Sun safe apparel
One trend that's sure to stick around is UPF clothing. For many tour pros, like 19-year-old Atthaya Thitikul of Thailand, it's the key to staying stylish and well-protected from the sun on the course. Not only does the thin, athletic material keep harmful UV rays off your skin, but it also features moisture-wicking technology that helps to keep you cool and dry on hot summer days—and makes for a great layering piece as temps cool down.
RELATED: What this brand is doing to keep you safe in the sun
More:
Monochrome/Matching sets
Looking to take your sleek personal style to the course? Monochrome outfits and matching sets are a quick and easy way to achieve a polished look. Add more of these coordinating sets to your wardrobe to look good without even trying. Take these perfectly paired outfits to the next level with matching accessories. And don't be afraid to try some new and bolder colors like Mariah Stackhouse's pink ensemble from the 2022 KPMG Women's PGA Championship.
Non-traditional collars
Whether it's a layered collar or a mock-neck moment, we've seen a lot of tour players wear golf shirts that stray from the traditional golf polo and we're loving it. Hannah Green wore a modern-yet-athletic white mock at the 2022 KPMG Women's PGA Championship that would be just as stylish off the course as it was on. This twist on the conventional and classic golf shirt we're used to is a great way to express your personal style—just be sure to check the course dress code before you try out this trend. 
RELATED: As women's on-course fashion progresses, so should dress codes