Women's Style
The best golf dresses for women
*All products featured on Golf Digest are independently selected by our editors. However, when you buy something through our retail links, we may earn an affiliate commission.*
Every female golfer has been there before—you're getting ready for your tee time and can't seem to find a top and bottom that work well together. It's impossible to decide between a skirt and shorts, your top won't tuck in right, patterns are clashing, you name it. To solve this issue, consider looking into golf dresses. When you think of country-club-style or preppy-looking dresses, your mind might jump to tennis. However, as golf clothing (especially women's golf clothing) continues to evolve and adopt new trends, more brands have invested time in designing the perfect golf-ready dress. A golf dress will not only eliminate your outfit dilemmas in the morning, but it will also keep you swinging freely and looking put-together on the course. We rounded up the best golf dress options out there with styles ranging from racerbacks to pleated skirts.
RELATED: If you don't already have a bucket hat in your golf wardrobe, this is your sign to get one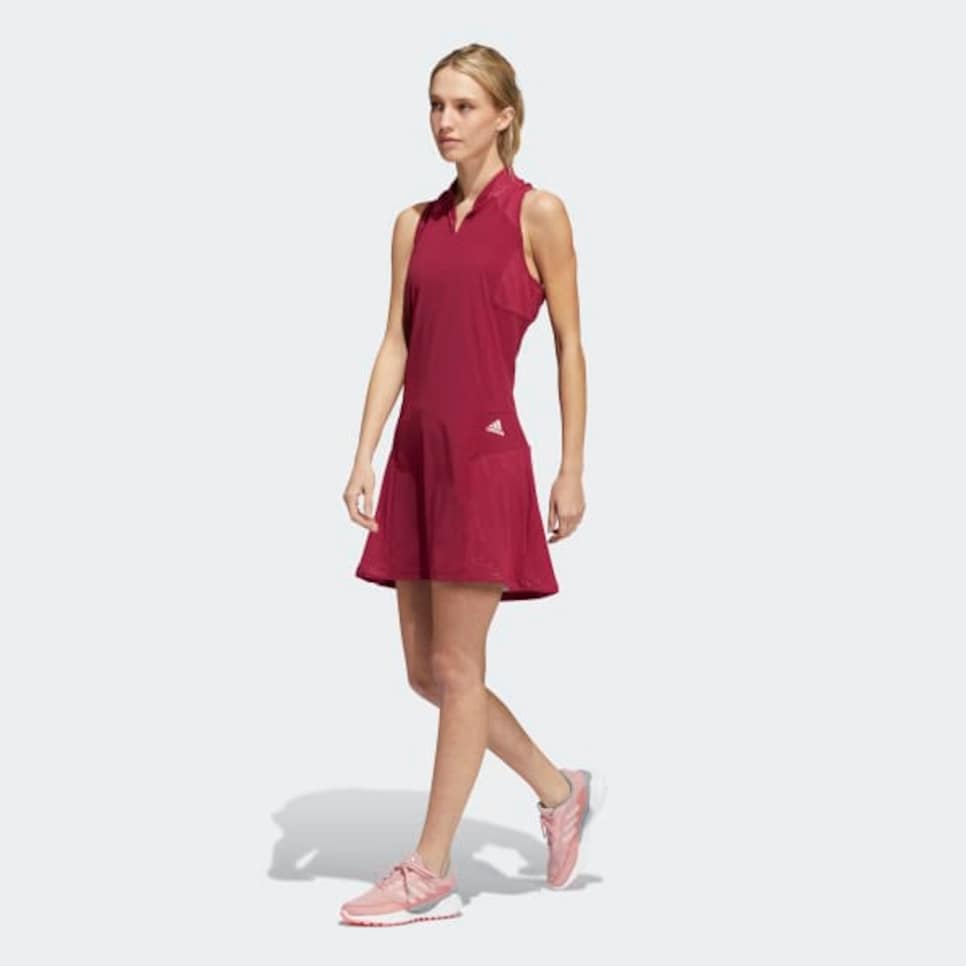 Adidas Sport HEAT.RDY Sleeveless Dress
Made partly from recycled materials, this mock-collar Adidas golf dress is specifically designed with heat resistant technology for hot days on the course. The racerback construction allows for mobility without any restriction, as do the dress' detachable undershorts.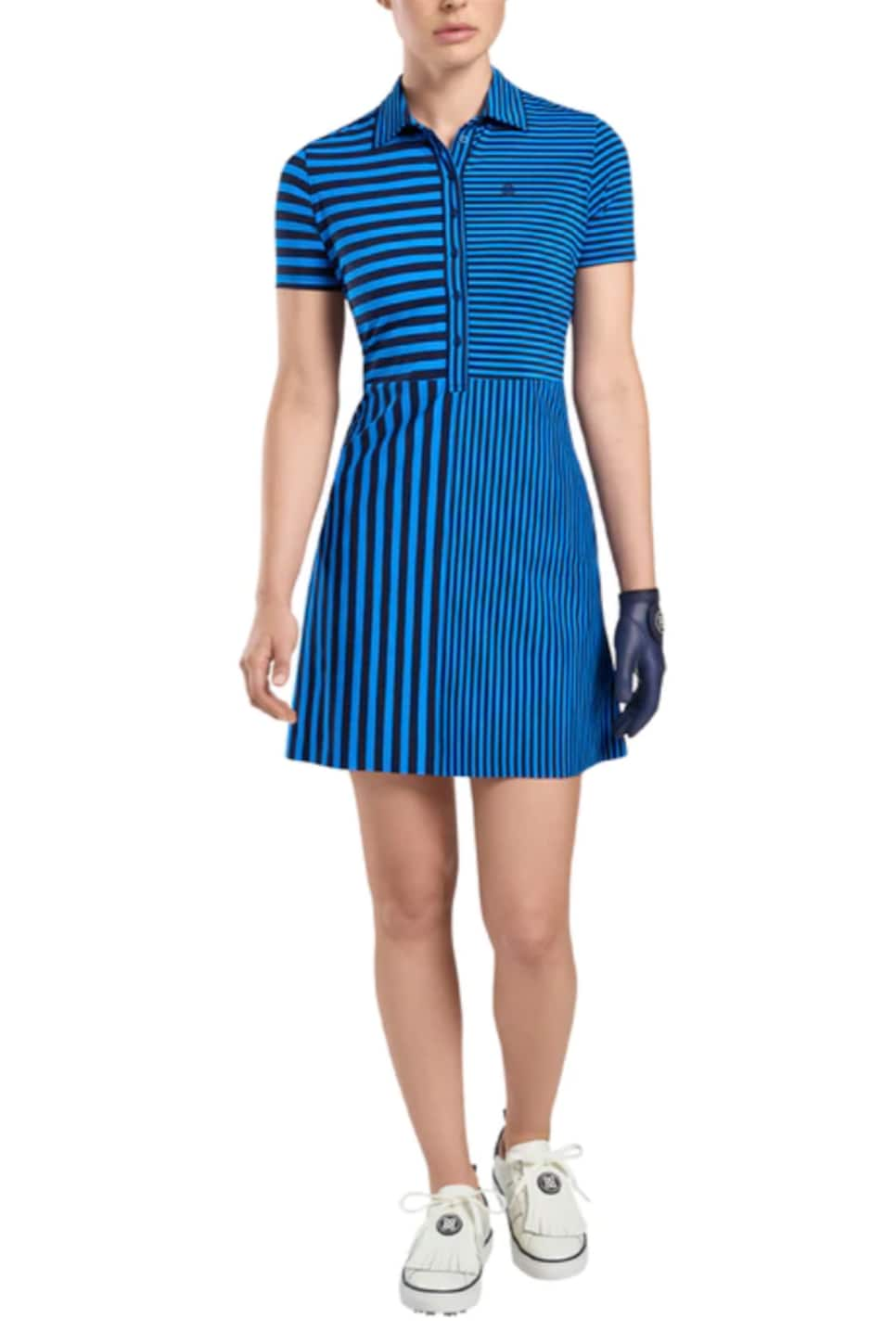 G/Fore Mixed Stripe Dress
G/Fore's Mixed Stripe Dress is perfect for the golfer who wants to take a risk with her pattern choices, but loves a classic collar and button-up design. Made from performance nylon, this dress will keep you comfortable on the course all day long.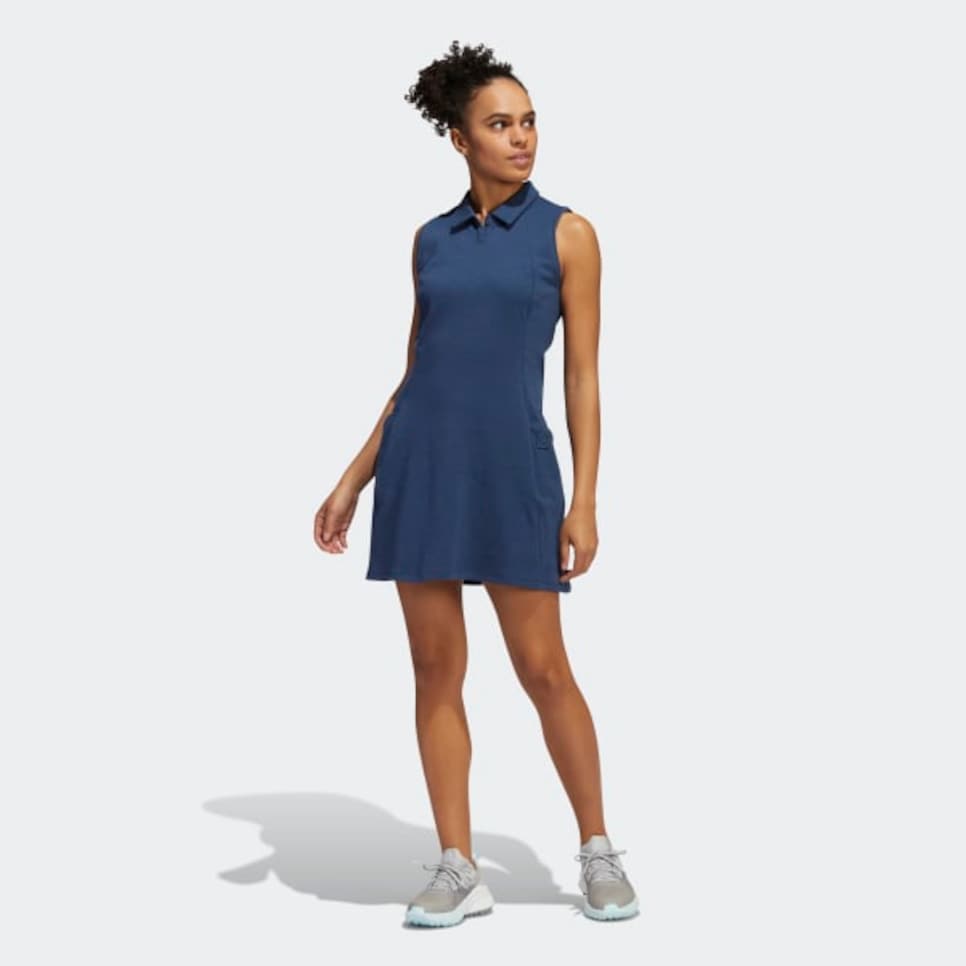 Adidas Go-To Golf Dress
This Adidas golf dress is made from a comfortable and lightweight cotton blend material. It features detatchable shorts to wear underneath, and three pockets: two in the front and one hidden back pocket.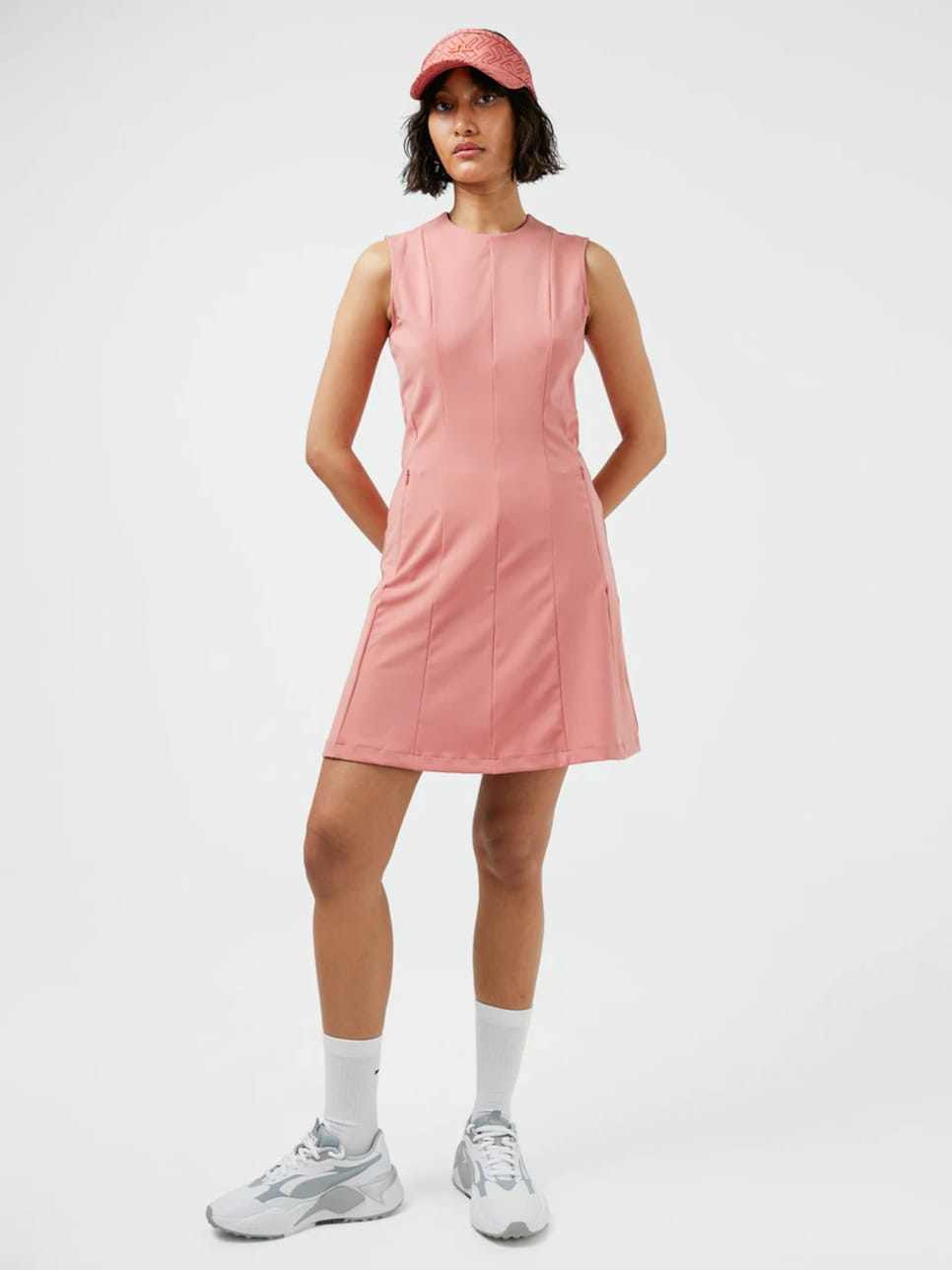 J.Lindeberg Jasmin Golf Dress
The A-line silhouette and round neck of this sleeveless J.Lindeberg dress gives it a golf-ready feel even though it doesn't have a traditional collar. This moisture-wicking and stretchy design also features two zipped side pockets that add storage without making the skirt look bulky.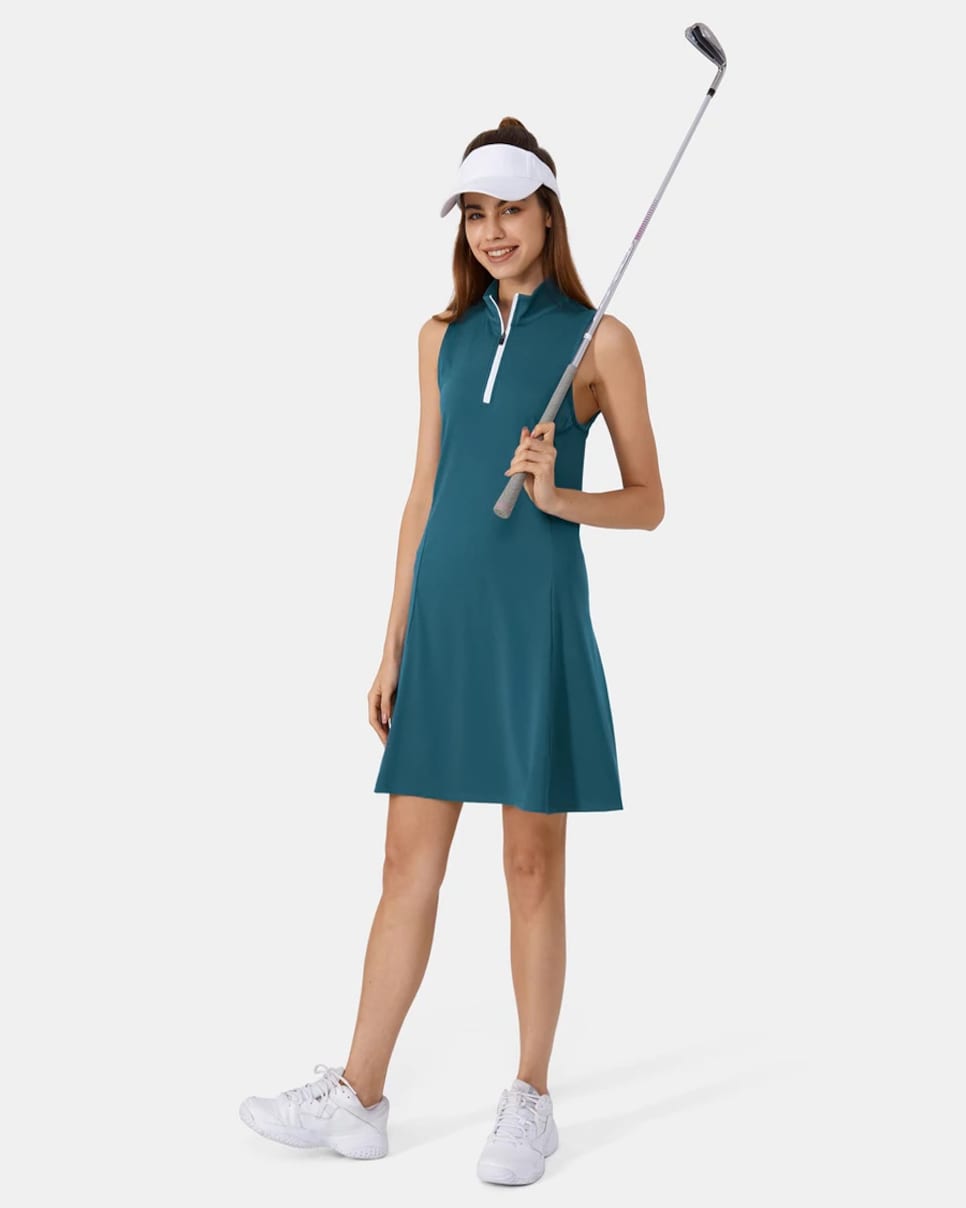 Halara Everyday Cloudful Air Half Zip Golf Dress
This versatile Halara dress includes a half-zip and side pockets for all your golf essential items. The undershorts are included in the set, but are a separate piece from the dress. An extensive set of color options are available, including this dusty light blue option and an on-trend forest green shade that would look great on the course.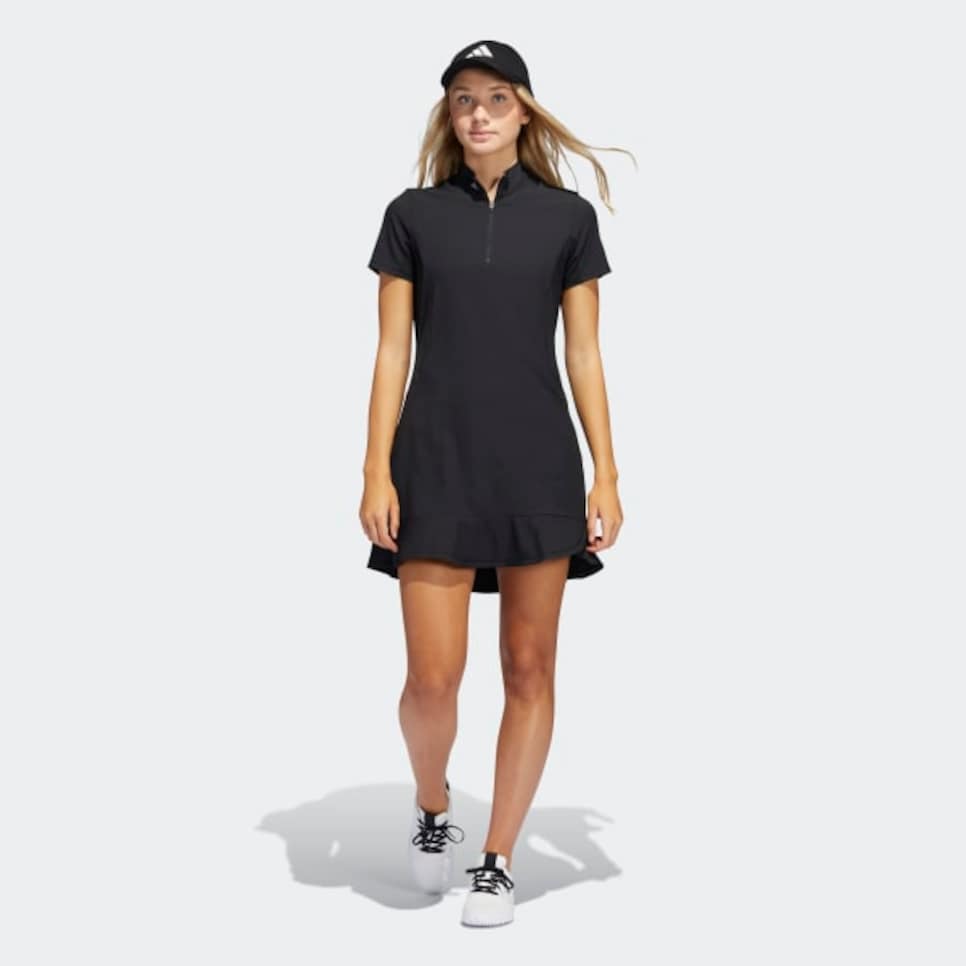 Adidas Frill Dress
For a sporty, yet feminine look, this Adias golf dress has a sleek zip collar and a flattering ruffle detail around the outer edges of the skirt. It's a great introduction to golf dresses for those who haven't added one to their wardrobe just yet. The lightweight piece includes detached undershorts, two front pockets, and one back pocket.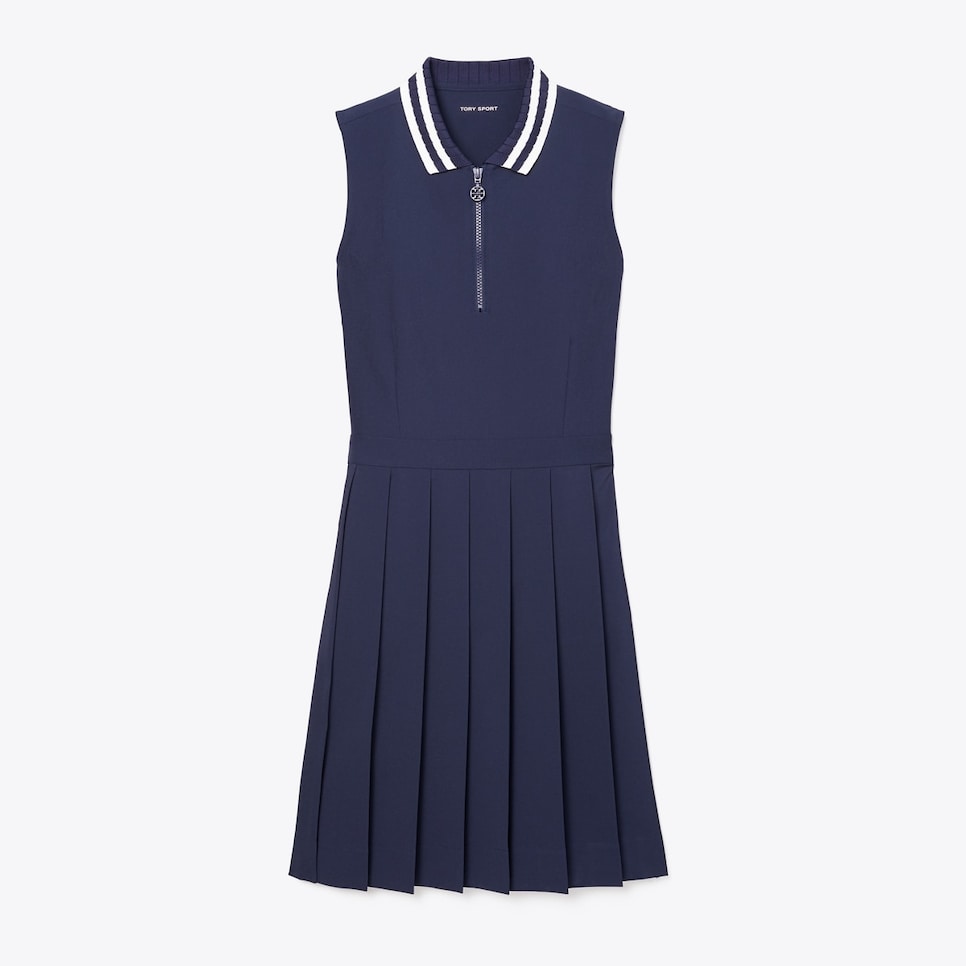 Tory Sport Performance Pleated Golf Dress
This Tory Sport pleated dress has a retro look, but it includes all of the necessary features of a modern golf dress. It's made with four-way stretch, moisture-wicking fabric, and a longer hem for courses with dress codes on the stricter side of things.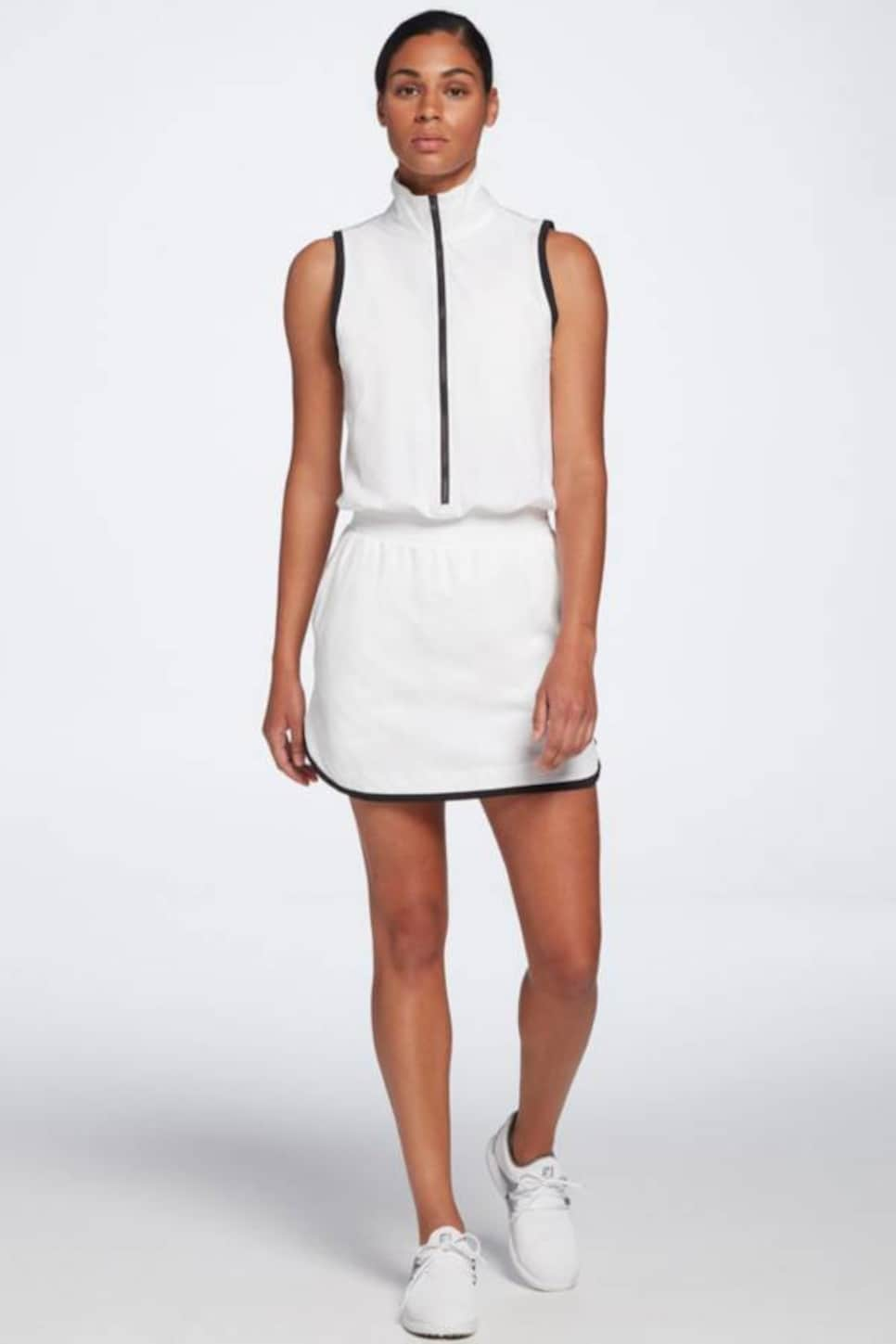 Calia Women's Golf Woven Sleeveless Dress
This Calia dress features a sporty zip detail down the front and a comfortable elastic waistband that adds shape to the upscale design. With two front pockets, a back pocket, and built-in undershorts with golf ball storage, this piece is an excellent choice for the female golfer who values both style and practicality.

$110
$65
|
DICK'S Sporting Goods