FedEx St. Jude Championship
The breakthrough: Will Zalatoris survives bizarre, thrilling playoff to grab first PGA Tour win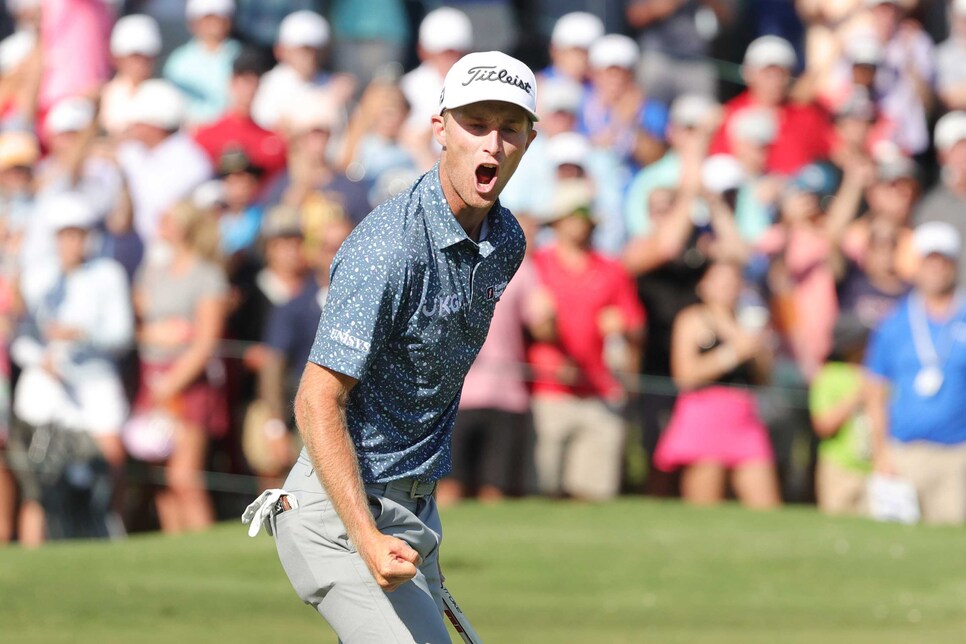 MEMPHIS — There were two moments that defined the final playoff hole of Will Zalatoris' maiden PGA Tour victory at the FedEx St. Jude Championship, and neither one of them was an actual shot.
A chaotic playoff reached feverish heights (or depths, depending on your perspective) when Zalatoris reached the par-3 11th hole, the third and final theater of his duel against Sepp Straka at the first event of the FedEx Cup Playoffs. Zalatoris had honors, but his shot was in trouble immediately. It came up well short of the green, and as it bounced eight times along the stone facade separating dry land from the water, it seemed ludicrous to believe that it wouldn't eventually careen off at the wrong angle and disappear into the beckoning pond. In a stroke of what appeared to be good luck, though, the ball somehow came to a stop on dry land.
"I thought there was no chance that ball was covering the water," Zalatoris said later. "When it landed and saw it bounce a few times and heard the crowd cheer, I knew I got a pretty fortunate break."
As if this sequence of events wasn't sufficiently strange, Straka followed by hitting almost exactly the same shot. He just wasn't as lucky; his ball bounced twice and fell into the water.
Which brings us to the first moment, when Straka proceeded to the drop zone without getting a good glimpse of the Zalatoris' lie. If he had the chance to look, he would have seen a ball lodged between a flat stone and an overhanging wall of thick Bermuda grass—a lie that seemed to guarantee the ball would go backward when struck, and that only a maniac would attempt to chip forward. As far as Straka was concerned, though, Zalatoris had a direct chip for his second shot, and he proceeded to the drop zone with that in mind.
"I figured he probably had a chip," Straka said. "Yeah, the wind kind of caught me off guard on that one. I guess it did him, too. That's why we both kind of hit it a little right."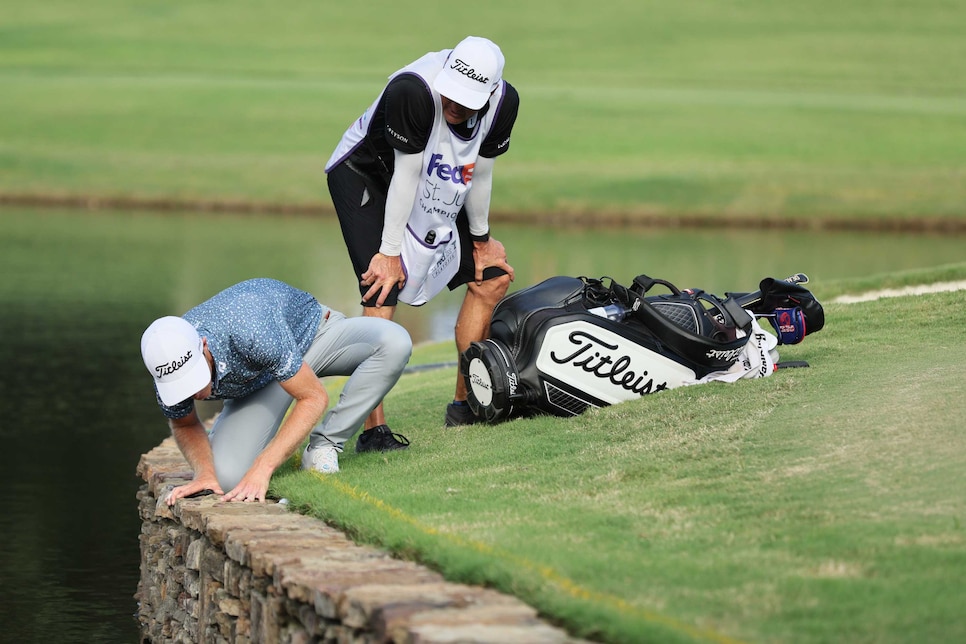 Zalatoris and his new caddie, Joel Stock, took their time trying to figure out if they could play this shot on the third extra hole, ultimately deciding it was too risky.
Andy Lyons
Had Straka known the fate that awaited Zalatoris, things might have been different. As Straka made his way to the drop zone, took an aggressive line on his third shot, and sent it into the bunker, Zalatoris and his new caddie, Joel Stock, were intently contemplating their next move. They stared at the ball practically to death, looking for anything optimistic, and this was the second key moment of the final hole, because at long last, buoyed by the fact that Straka was in the bunker, they decided not to take the ambitious shot, and to head to the drop zone themselves.
"Considering where Sepp was, and he had four feet for 5, there's no reason for me to try that shot and make it bank right into the grass and go back in the water and all of a sudden I've lost the golf tournament," Zalatoris said. "I knew I wouldn't have played the shot, but I at least was going to take a peek at it. Joel told me about three times, 'Hey, Sepp's got four feet for 5, go back, go back.' "
Stock was working for Zalatoris for the first time after Zalatoris split with his friend Ryan Goble in the middle of the Wyndham Championship a week earlier. Their first round wasn't everything they dreamed—a one-over 71—but starting Friday, Zalatoris asked Stock to help him read the putts, and from there everything started to work. On Sunday, Stock was in his ear at the most critical time to help him avoid making a bad decision, but throughout the round he managed to keep him calm, at times resorting to what Zalatoris called "dad jokes." (Example: What's brown and sticky? A: A stick.)
It was Stock who seemed intent on almost forcing his player to the drop zone on 11. From there, Zalatoris hit a brilliant third shot to seven feet, and made the bogey to capture the tournament and jump to No. 1 in the FedEx Cup points standings with two playoff events remaining.
To summarize: He was lucky the first shot stayed out of the water, then he wasn't lucky because he had to treat it like it was in the water, but then he was lucky again because the fact that it didn't go in the water fooled Straka into thinking he had a clean shot, and Straka had to play the rest of his hole like Zalatoris wasn't in the water. Simple, right?
"It just shows you," Zalatoris said, "I mean, at that point it's basically match play. Yes, very fortunate in the fact that it looked like I had maybe an easy up-and-down and I didn't, and maybe for Sepp to hit one over there towards the flagstick."
On the previous playoff hole, playing TPC Southwind's 18 for a second spin in overtime, Straka had made a terrific decision of his own, opting not to hit his second shot from an awkward spot inside a penalty area near water, taking relief (and adding a stroke to his scorecard) and hitting his 152-yard third shot to eight feet. He made par, and only Zalatoris' 14-foot par putt following an errant tee shot that stayed in bounds by the good graces of a friendly tree kept Straka from winning right there.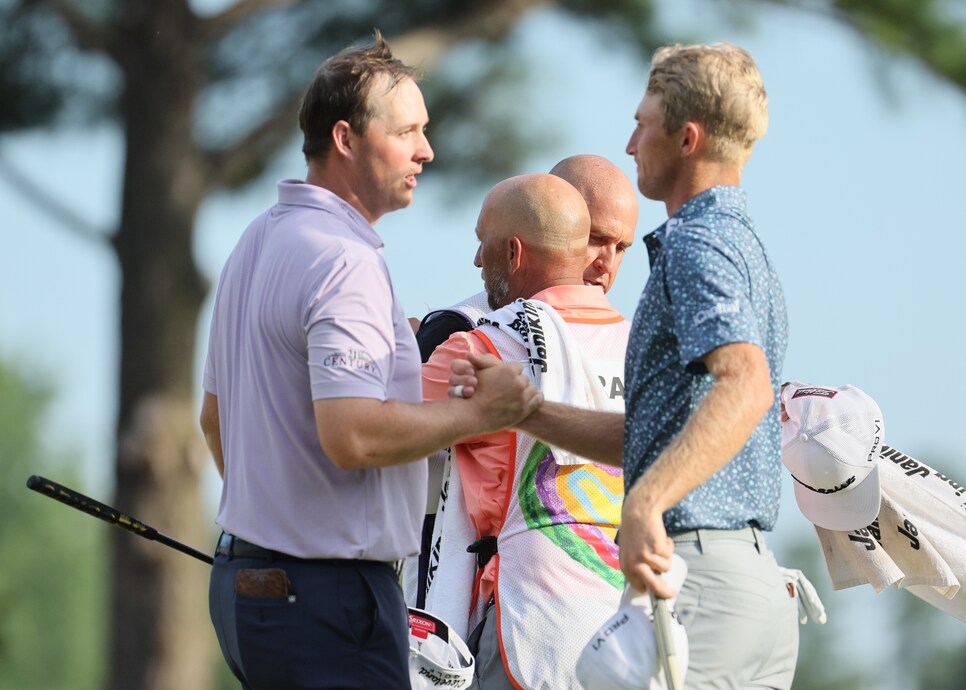 Straka shakes Zalatoris' hand after falling on the third extra hole at TPC Southwind.
Andy Lyons
In fact, that was the second massive putt Zalatoris had made to that point, the first coming on the final hole of regulation, when he holed a 10-footer for par and shouted amid the roars:
"What are they going to say now?"
That was a reference to the same line Steph Curry shouted after winning the NBA Championship in June, and though Zalatoris was embarrassed about it afterward, it spoke to the frustration of someone who had come close to winning again and again, in very big tournaments, before this breakthrough. Zalatoris' season has been a gutting run of almosts, highlighted by a playoff loss to Justin Thomas at the PGA Championship and a runner-up finish at the U.S. Open after a closing duel with eventual winner Matt Fitzpatrick. It was particularly gratifying that his most clutch shots down the stretch came with the putter, which has long been seen as his greatest weakness.
"It's kind of hard to say 'about time' when it's your second year on tour," Zalatoris said, "but about time."
Sitting in front of the media, a small grin spreading beneath his aquiline nose, Zalatoris made it clear that he never felt any self-pity, even during the close calls. In fact, to hear him tell it, each so-called "failure" was actually a step forward.
"Anytime you put yourself in contention you're going to learn something about yourself," said Zalatoris, who joined Camilo Villegas (2008 BMW Championship) as the only pros to win their maiden tour titles in a FedEx Cup playoff event. "The first second at the Masters was life changing because it put me in position to play out here as much as I wanted to and put me kind of on the map. The second at the PGA was kind of affirmation that it wasn't a fluke of a week, and the third one at the U.S. Open gave me that much more belief that I can win a major, I can win out here."
That self-belief propelled him through his season, and through the strange, dramatic moments on a hot Sunday in Memphis, where the 25-year-old "finally" grabbed the brass ring that was always meant to be his. As he would say, about time.