Stay Hydrated
New study determines which golfers drink the most and the answer might be the most obvious thing ever
Here in the good ol' US of A, we like drinking on the golf course. Beer, bourbon, seltzer, cocktails, jello shots. You name it, we're slugging it down by the gallon. But have you ever wondered which golfers drink the most on the course? Have you ever looked at a map of this vast, vibrant nation and wondered which of the 50 states gets the biggest buzz tee to green? Well, the data scientists over at Pickswise have the answer, conducting a recent study to determine the drunkest golfers in America. When the cans were crunched and the hangovers cleared, the answer was clear:
Florida. It always had to be Florida.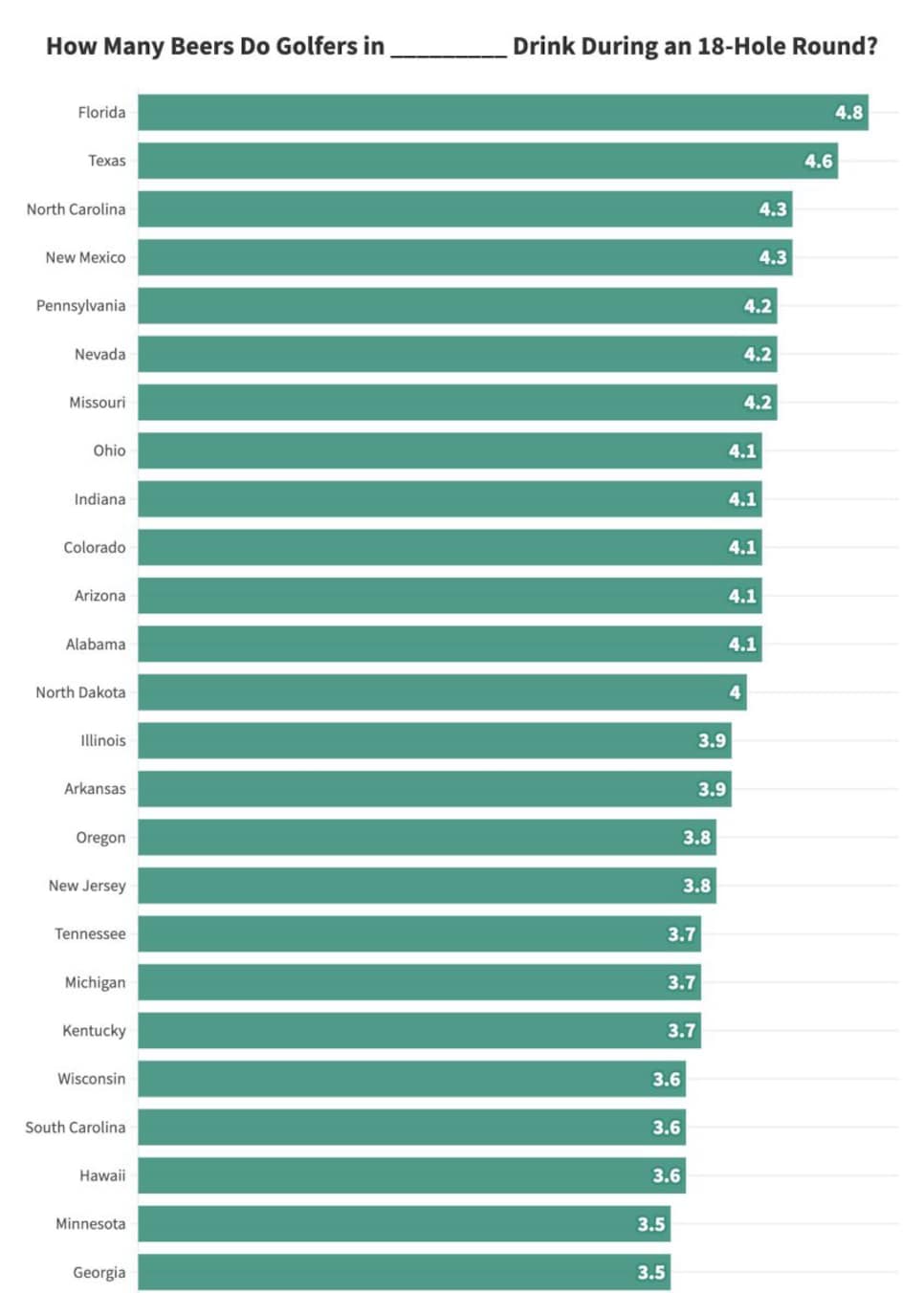 That's right, Florida Men and Florida Women average a whopping 4.8 drinks per round. That equates to a drink every 3.75 holes. Texas comes in second at 4.6 drinks per round, while North Carolina, New Mexico and Pennsylvania round out the top five (along with Nevada and Missouri, which are tied with Keystone State at 4.2 drinks per 18 holes). On the opposite end of the spectrum, Utah—with a large Mormon population—consumes the least at 1.1 drinks per round, followed by New England mainstays Massachusetts and Vermont at 1.6 drinks per round.
Interestingly, even America's most sober golf states still outpace their United Kingdom counterparts by over half a drink per round. Pickswise also polled 1,500 golfers from the UK, finding that, despite what the galleries at the Open and Ryder Cup seem to suggest, drinking is not as big a part of golf culture across the pond. Northern Ireland, perhaps drowning their sorrows over Rory's major drought, consume the most at .4 drinks per round, while England and Scotland follow close behind at a third pint per 18.
This is by no means definitive. Sample size makes this more of a snapshot than a portrait, but if Florida's dominance is any indication, they at least got one thing right.