The Grind
Viktor Hovland's fitting champions dinner, Phil Mickelson's amazing Masters story and the most painful fail in golf history
Welcome to another edition of The Grind, where we honestly have no clue what we would do with $18 million. Or, sorry, as one CPA on Twitter pointed out, $10.3 million after taxes. There's only so much you can spend during weekly Costco runs. Although if the kids keep liking all the samples, those trips are only going to get more expensive.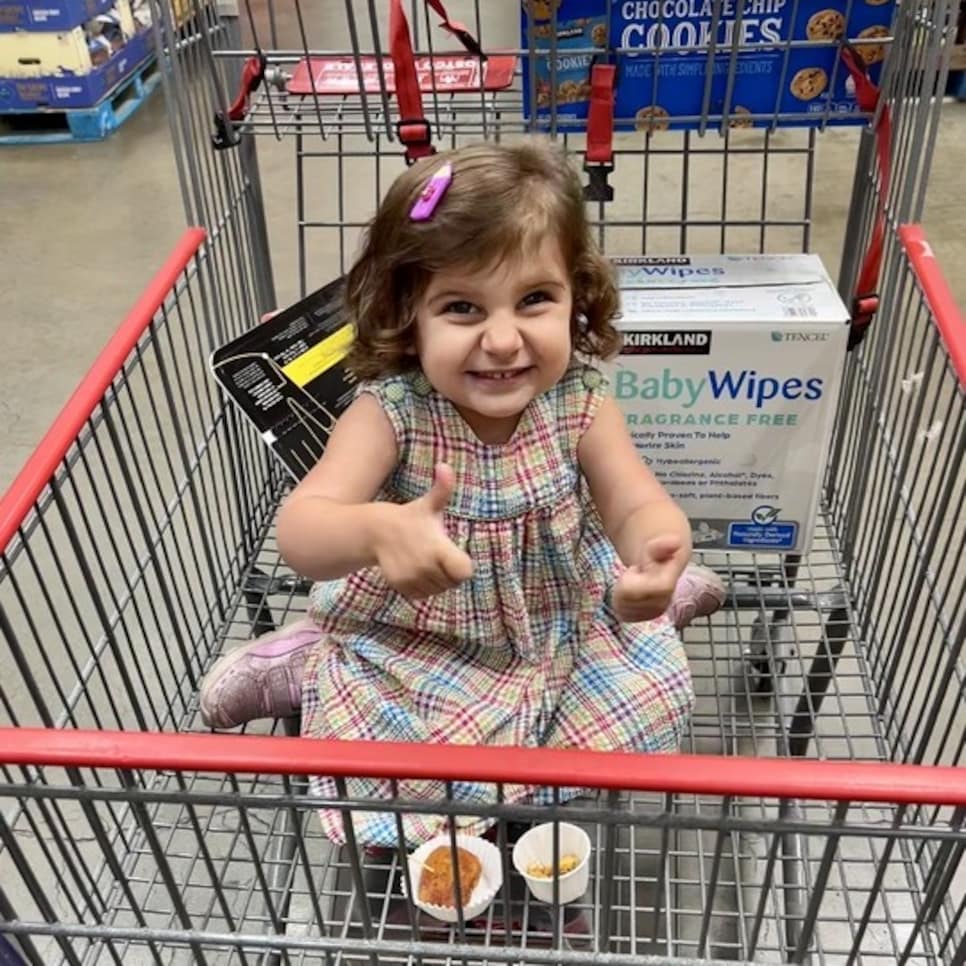 Anyway, it was another week of great golf to load up on and we've got it all covered. So pull up a shopping cart and let's get started.
Viktor Hovland: There's not much more we can say after his stunning performance the week before East Lake at the BMW Championship. This guy is a future Hall-of-Famer and a soon-to-be World No. 1. He's that good. And he proved it yet again by winning—or, at least, tying (more on that later)—the Tour Championship and taking down the FedEx Cup's $18 million first-place prize.
How do you say, "Show me the money" in Norwegian? Actually, according to Google Translate it's "vis meg pengene." The more you know. But Viktor is like me, a simple man. And after his latest VIKtory, he noted that he doesn't "spend money out the wazoo every week." Heck, without kids yet, he probably doesn't even go to the Stillwater, Okla., Costco every week. In fact, after winning the biggest prize in pro golf, his champions dinner came from … Chipotle.
Love this kid who once had to refrain from ordering double meat and extra guac while he worked on earning his tour card. Now his family is set with those things—for generations to come.
Megan Khang: This American earned an important win of her own by picking up her maiden LPGA Tour title at the CPKC Women's Canadian Open. "I think it crosses a lot of people's minds," Khang said of whether she would ever win an LPGA event. But now she doesn't have to worry about that any more after defeating Jin Young Ko in a playoff in her 191st career start: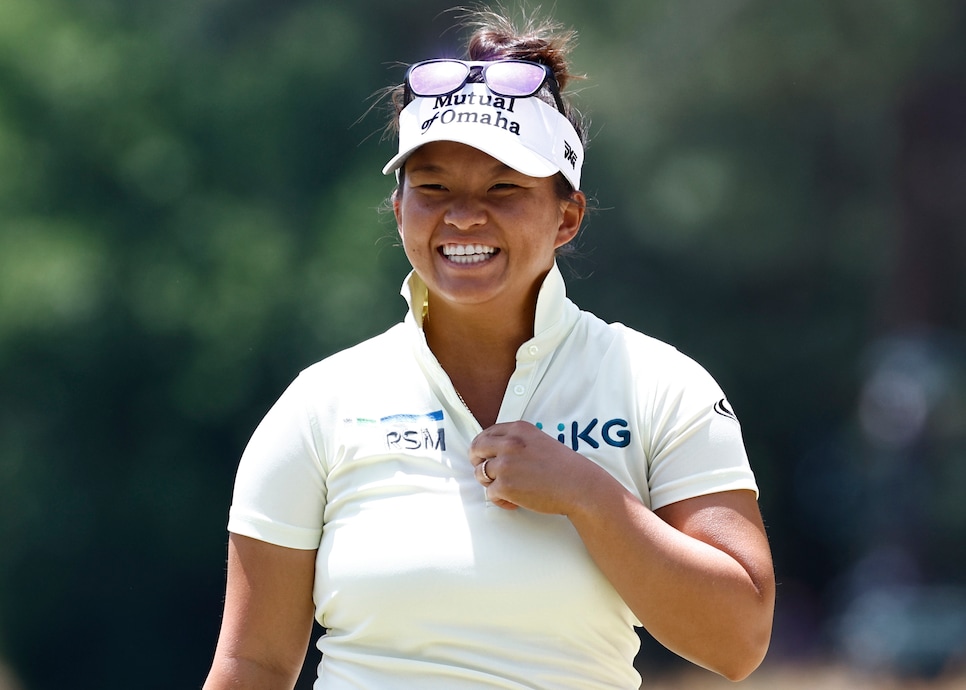 For her efforts, Khang earned a winner's check of $375K. And unlike the $18 million, I definitely know what I would do with that kind of cash.
Team Europe: With a surging Hovland, not to mention the likely PGA Tour Player of the Year in Jon Rahm and Rory McIlroy, the Europeans have a Big Three that rivals anything the U.S. is currently sporting. Then there's how captain Zach Johnson has chosen to round out his American squad, eschewing form for past experience, in particular the Justin Thomas selection. Poor Keegan Bradley.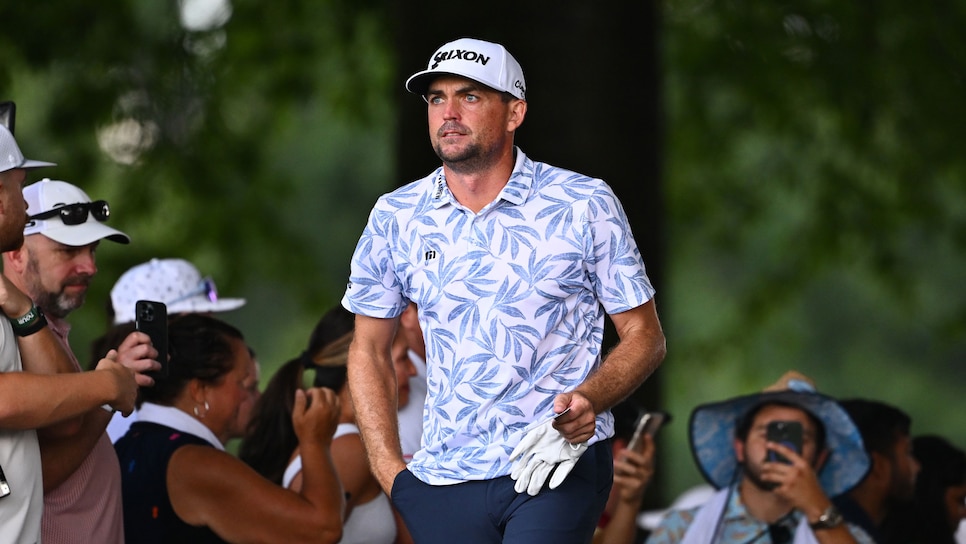 For once, Team Europe might actually be stronger on paper. Add in the fact that the Amercians haven't won on foreign soil in three decades and I'm kicking myself for not betting on the "OLE, OLE, OLE, OLE" boys a couple months back when they were 2-to-1 underdogs.
Xander Schauffele's timing: At least, at the Tour Championship. First, the guy won as a rookie when that didn't also earn you the FedEx Cup (Justin Thomas won that instead). Then the event switched to the staggered-start format and he's shot the low gross twice—only to walk away without a trophy. For him to only have one win considering how much he owns East Lake is absolutely criminal. And now they're doing a full renovation of the course?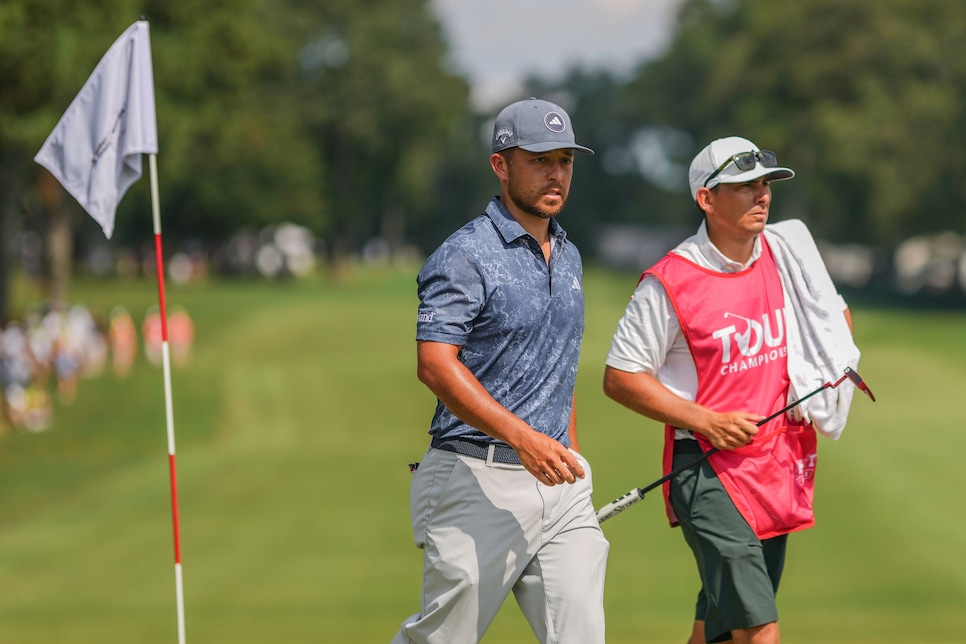 The guy just can't win. On the bright side, Xander did get a pretty nice consolation prize in $6.5 million—and a wheelbarrow full of Official World Golf Ranking points.
Bryson DeChambeau's merch: On one hand, we applaud Bryson for trying to make a quick buck off his 58. Last time we checked, this is America, and he's well within his rights.
On the other hand, dubbing himself "Mr. 58"? Seven years after Jim Furyk beat him to that spot? In a PGA Tour event with much greater significance? Not a great look. Especially if Furyk is ever a Ryder Cup captain again and Bryson needs to be a captain's pick.
Missing your tee time: It's bad enough when you're playing with friends, but to do it in a tournament? When you're on site?! That's just brutal. And that's exactly what happened to Curtis Luck at the Albertsons Boise Open. The former U.S. Amateur champ mixed up his tee time by 10 minutes and didn't get to the first tee from the range in time. Yikes. But lucky for James Nicholas, who took his spot after the five-minute grace period and finished T-35. The good news for Luck is that he already has his Korn Ferry Tour card locked up for next season, but this was a blow to his chances of earning his PGA Tour card.
This four-putt: It was actually a five(!)-putt by Paul Goydos on the penultimate hole of the PGA Tour Champions' Ally Challenge, but we'll focus on the two-time PGA Tour winner needing four putts from three feet. It was tough to watch. So tough, in fact, that the PGA Tour Champions took the video down. Even worse is that it cost Goydos his first pro win in six years and opened the door for Vijay Singh to win. Goydos' response was to quote a Harvey Danger lyric, "I'm not sick, but I'm not well."
Great response. Great song. And a sneaky-great album! But, yeah, sorry, Paul.
The PGA Tour heads to, um, hang on, this must be a mistake. There's actually no PGA Tour event this week? And the tour is actually taking a full TWO weeks off before restarting with its new fall schedule at the Fortinet Championship? But the LPGA Tour rolls on with the Portland Classic so it's a great chance for golf fans to watch the women do their thing.
Random tournament fact: JoAnne Carner won her first of three titles here way back in … 1974! And she's still going strong at 84. Here she is easily beating her age again at the U.S. Senior Women's Open.
Take a bow, JoAnne. What a legend.
RANDOM PROP BETS OF THE WEEK
—Viktor Hovland hasn't thought about having his own Chipotle franchise: 18 MILLION-to-1 odds
—Europe will win the 2023 Ryder Cup: 1.5-to-1 odds (Actual odds, still tempting)
—Tiger Woods had a say in that Justin Thomas captain's pick: LOCK
PHOTO/TWEET/INSTAGRAM OF THE WEEK
Has anyone ever looked happier than Tom Kim after going on this shopping spree?
They might have to change the phrase from "Like a kid in a candy store" to "Like Tom Kim at a Nike store."
CLUB PRO GUY TWEET OF THE WEEK
VIRAL VIDEO OF THE WEEK (TIGER DIVISION)
We've got a Tiger sighting, folks! And one in which he's moving around smoothly! It comes courtesy of a fellow GOAT, Mike Trout, with whom Woods is building a golf course in New Jersey. Check out this extra-sizzly sizzle reel:
News of Trout National has been out there for a while, but it really looks like it's coming together. And again, more importantly, Tiger's latest rehab looks like it's coming together nicely as well.
VIRAL VIDEO OF THE WEEK (PHIL DIVISION)
Golf's ultimate Content King is back, and Phil Mickelson really outdid himself with this Masters story. Trust me, you're going to want to watch this. And all the way to the end:
What a payoff! What a story and great storytelling by Phil. And in case you don't believe it's true, here's even more proof:
VIRAL VIDEO OF THE WEEK (FAIL DIVISION)
We've seen some big-time fails when it comes to practicing at home, but this certainly looked to be the most embarrassing—and the most painful:
THIS WEEK IN PUBLIC DISPLAYS OF AFFECTION
Pro soccer star Ashley Hatch presented her non-pro-athlete husband with a hole-in-one trophy and even moved her actual important trophies out of the way to display it:
Ashley is now the front-runner for golf spouse of the year.
THIS WEEK IN PUBLIC DISPLAYS OF
AFFECTION

ALCOHOL
For a second consecutive week, Chan Kim won on the Korn Ferry Tour and celebrated with some beer:
See you on the PGA Tour next season, Chan. Other than Hovland, this dude might be the hottest player on the planet.
"I'm good. Only Zero. Only drink Zero." —Viktor Hovland turning down a Coca-Cola because he only drinks Coke Zero. As if I couldn't love the guy more, he's got great taste in diet soda!
I will never understand how people like Sepp Straka still drink Diet Coke over Coke Zero. That being said, I love treating myself to the original every now and again. In fact, I just restocked at Costco, where this liquid gold in a bottle costs more than beer. But it's well worth it. In the words of Curtis Strange, "You'll learn," Viktor. You'll learn.
Congrats to Eugenio Chacarra for defeating Matt Jones in a 10(!)-hole playoff in the Asian Tour's inaugural St. Andrews Bay Championship. Like Viktor and Xander, Eugenio and Matt should share OWGR points after being tied after that many holes. … Congrats to Dylan Newman for winning the Met Open, a major around these parts. And Dylan, who I covered when he played at New Rochelle High School, was nice enough to hop on this week's podcast. Check it out. … Congrats to Holly Sonders on launching her new (NSFW) business venture, Exposed Sportz. The former Golf Channel star was nice enough to hop on the podcast this week as well:
OK, so we probably should have led with Holly. No offense, Dylan. … Oh, and an even bigger congrats to Jessica Korda, who announced she and husband Johnny DelPrete are expecting their first child in a few months:
With the six-time LPGA winner's FootJoy sponsorship, that kid is set for life with golf shoes. … And, finally, this is really random, but I finally finished all five seasons of Narcos/Narcos: Mexico and it has to be the most underrated/under-appreciated series in TV history. That is all.
RANDOM QUESTIONS TO PONDER
Why don't more people talk about the Met Open?
Why don't more people talk about Narcos?
Do they have Costco/Chipotle in Rome?