Hide your eyes
Gut-wrenching five(!)-putt costs PGA Tour Champions pro first win in six years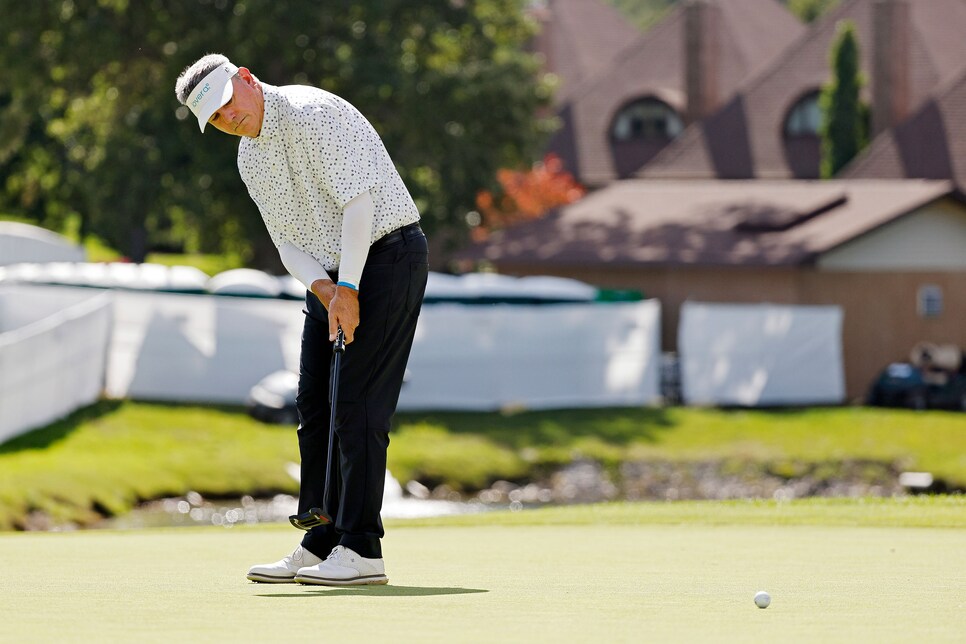 Paul Goydos missed this 18-foot birdie try on the 17th hole Sunday at Warwick Hills. Four more putts later, he had a triple-bogey 6 that cost him the Ally Challenge title.
Mike Mulholland
Vijay Singh hadn't won a PGA Tour Champions event in nearly five years. But that wasn't what made the 60-year-old's Sunday victory at the Ally Challenge a surprise. Rather it's how he won … or rather how Paul Goydos lost.
Looking for his first senior win in six years, Goydos held a one-stroke lead heading to the par-3 17th hole at Warwick Hills in Grand Blanc, Mich. But after hitting the green off the tee, Goydos watched his 18-foot birdie try go three feet long. And then it got ugly.
Four putts from three feet, and five putts total for a triple-bogey 6 left him now two shots back of Singh, who was in the group in front of Goydos and in the midst of posted a four-under 68 to get to 14-under 202 for the tournament. When he looked at the leaderboard, he realized he was suddenly out front.
"I was 14 (under), Jeff [Maggert] was 13 and no ... no Goydos," Singh said. "I was surprised what he did there."
That contrasted the incredulous look Goydos had on the 17th hole, wondering how things had slipped away. Not to mention the incredulous voices of the Golf Channel announcers watching what was happening.
John Swantek: "It has become complete unglued for Goydos, who was in command here at 17."
Lanny Wadkins: "I was thinking all he had to do was tap this short one in and par 18 and it's his. But not now …"
Swantek: "Groans and gasps from the gallery here. Just a man alone on an island."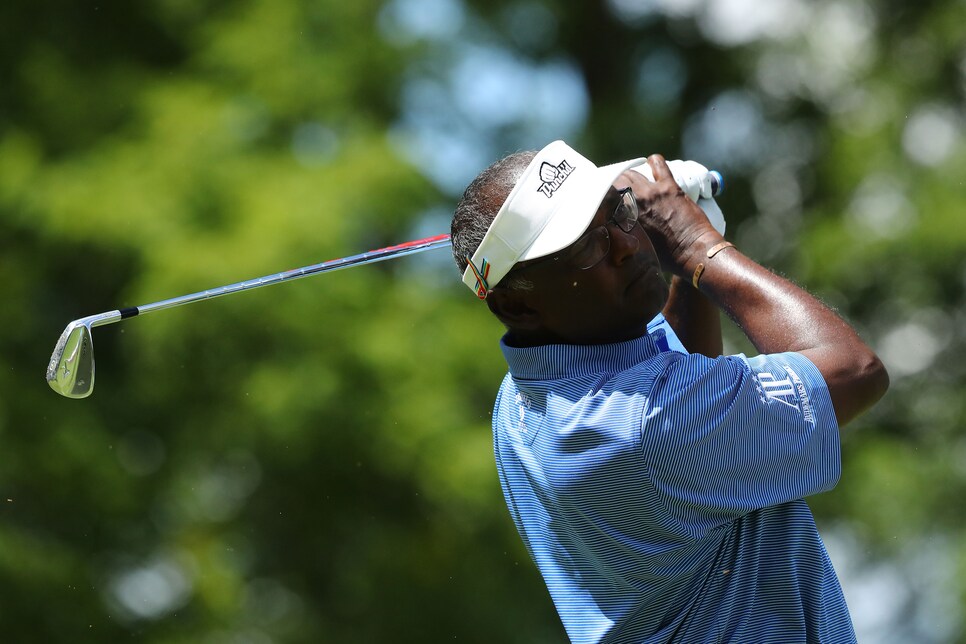 Vijay Singh won his fourth title at Warwick Hills, having taken the PGA Tour's Buick Open title there in 1997, 2004 and 2005.
Rey Del Rio
Goydos would make a par on the 18th hole to finish with a one-under 71 and in a tie for third place.
The win for Singh was his fifth career PGA Tour Champions title but first since the Charles Schwab Cup Championship in November 2018. Interestingly, it was the fourth time he's won a pro event at Warwick Hills; the course used to host a PGA Tour stop that Singh was the victor in at 1997, 2004 and 2005.
"For some reason, I drive the ball very well here," Singh said. "I did that this week, and I putted well. Putting has been a mystery for a long time. I found a few things out in the last few weeks and I've been putting really well."
And as for Goydos' reaction to what happened? Well here was his response on social media, posting this music video with the lyric, "I'm not sick, but I'm not well":