look at him now
Viktor Hovland's dominant FedEx Cup performance shows how far he's come—and how good he can be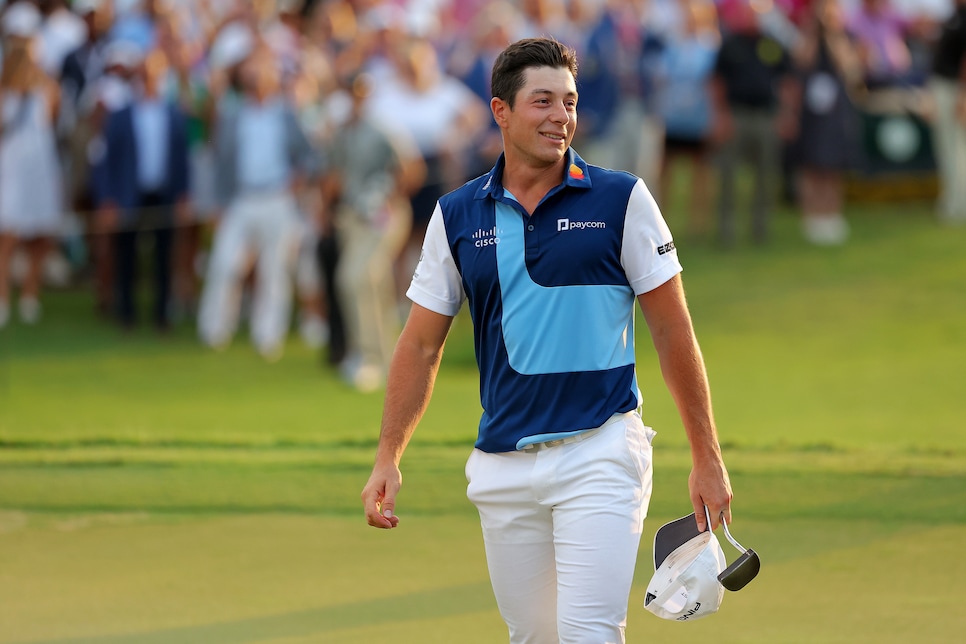 ATLANTA — Four years before FedEx Cup champion Viktor Hovland made a statement to the golf world about his enormous potential, the Norwegian first showed his personality.
At the 2019 Travelers Championship at TPC River Highlands, Hovland made his pro debut following a stellar amateur and college career at Oklahoma State. He was low amateur at the Masters and U.S. Open at Pebble Beach earlier that year. The PGA Tour rolled him out alongside Collin Morikawa, Matthew Wolff and Justin Suh for a joint press conference showcasing the tour's next generation. After 10 minutes of questions about the California connection between Morikawa, Suh and Wolff—natives of the Golden State—Hovland was asked about his upbringing in Norway.
"Growing up in Oslo, Norway, or 'California 2.0' as we call it, it's a completely different situation," Hovland said as a pack of reporters burst into laughter.
Hovland, now 25, has been one of the most popular characters on the PGA Tour since. But while his goofy sense of humor won over fans, his play did not, at first. Instead, it was Morikawa and Wolff who enjoyed meteoric rises. Both won in their first handful of starts on the PGA Tour, while Hovland took until the following year to win his maiden title in the US. He also won twice in Europe. Morikawa broke away from them all with majors at the 2020 PGA and 2021 Open Championship.
The past two years, however, and especially this summer, Hovland has begun to fulfil the potential most knew he had. Last year, he played in the final group at the Open at St. Andrews and finished T-4. This year, he registered a top-10 at the Masters and a career-best T-2 at the PGA Championship.
In 2023, though, Hovland has taken off. The Tour Championship and FedEx Cup victory at East Lake was his third of the season, following the Memorial Tournament in June and the BMW Championship last week, when he shot a final-round 61.
"It's a lot of cash we're playing for, it's in the back of your mind," Hovland said of his riches. "I live in Stillwater, Oklahoma. Money goes a long way there. It's not like I'm spending money up the wazoo.
"It's nice to have that, but it's not something that drives me."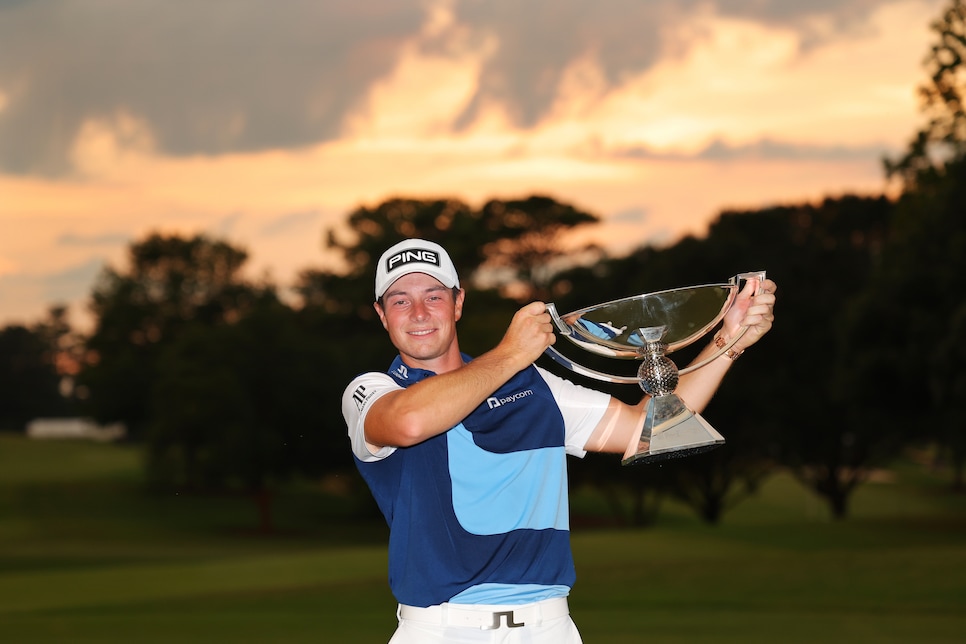 Xander Schauffele, once a winner at East Lake and never worse than seventh, posted a valiant 62 to be runner up at 22 under, earning a second-place check of $6.5 million.
"The game plan was trying to play as boring as possible, just trying to play like Tiger back in the day when he would post the 69 or a 70 in a major championship and walk away with a victory," Hovland said. "I was four under through six, but Xander just kept pouring [putts]. He put up a 62 today. It was very special. Certainly he made today a lot more stressful than I felt like it should have been after that start."
A prolific ball-striker, Hovland has turned around his short game from ranking 99th in strokes gained/around the green last year to 60th this year. It's what saved him at East Lake. He began the week at No. 2 on the FedEx Cup leaderboard, two shots behind pre-tournament leader Scottie Scheffler.
Hovland couldn't afford mistakes. And there weren't many, especially around the greens. On the 14 times Hovland missed the green this week, he saved par 12 times. After a near two-hour storm delay Sunday, Hovland returned to drain a 15-foot par putt at the par-3 second after having hit a poor bunker shot.
The biggest par save of the week, though, was at No. 14 when playing partner Schauffele was within three shots. An improved short game briefly deserted Hovland as he left his pitch shot 23 feet short but made the putt. "That putt was huge; two shots with four [holes] to go is a different [mindset] than three shot," he said.
Rory McIlroy says that's where Hovland has blossomed as an elite player. "He's one of the best drivers of the golf ball in the world and a hell of a player," said McIlroy, who finished fourth despite problems with his back all week. "I think as we all know he's improved around the greens this year. That's been the difference from being a top-10 player in the world to what he's done this year."
Hovland's Ryder Cup teammate, Matt Fitzpatrick, agreed, saying, "He is just so straight and so accurate; tee to green he is phenomenal."
Tommy Fleetwood, who finished T-6, reminded reporters that despite being on tour for four years, Hovland was still only in his mid-20s. The best, Fleetwood said, was likely yet to come.
"He's not that old," the Englishman said. "Nobody's going to be the finished package at that age, really. Apart from maybe Tiger Woods. But he's, I think he's showing how good he truly can be."
It is only a month until Hovland has a chance to show how good he is on one of the biggest stages he'll face—a Ryder Cup on European soil. McIlroy welcomed any possibility of a pairing in Rome at Marco Simone.
The World No. 2, emphatically said: "Four-balls, foursomes [wouldn't matter] … if someone said to any of us on the team, 'We're going to put you out with Viktor today,' I don't think anyone would say no."