OLYMPIA FIELDS, Ill. — As he navigated the short staircase to the podium for his post-round press conference Sunday at the BMW Championship, Viktor Hovland tripped slightly, caught himself and laughed at his own clumsiness. It was about the only misstep he made during a record-setting afternoon defined by one of the most remarkable feats of clutch scoring in the 2023 golf season.
Having shown steady growth as an all-around golfer since turning professional four years ago, Hovland took a giant leap forward as a scary force to be reckoned with by shooting a course-record nine-under-par 61 at Olympia Fields to win the second leg of the FedEx Cup Playoffs. The performance, fueled by an inspired surge of ball-striking, included a back-nine 28 on the North Course featuring seven birdies, none longer than 13 feet.
The incomparable finish made a hard-luck loser of Scottie Scheffler, who led for much of the final round but could not come up with the requisite answer as Hovland stormed to a two-stroke victory. Scheffler, who closed with a 66, had to settle for his 13th top-five finish of the season that includes a pair of wins, one of them the Players Championship.
"To win at a place like this and amongst the best players in the world, it's pretty cool," Hovland said after finishing at 17-under 263. "And to do it that way, making seven birdies the last nine holes, and yeah, to beat those guys, that was pretty cool."
The 25-year-old Norwegian was the coolest of them all on a sweltering afternoon, eclipsing by one the course record Max Homa and Sam Burns had posted in previous rounds. Hovland established a record for low score in a FedEx Cup playoff event as well as his career low while winning his fifth PGA Tour title and second this year to go with his victory in the Memorial Tournament.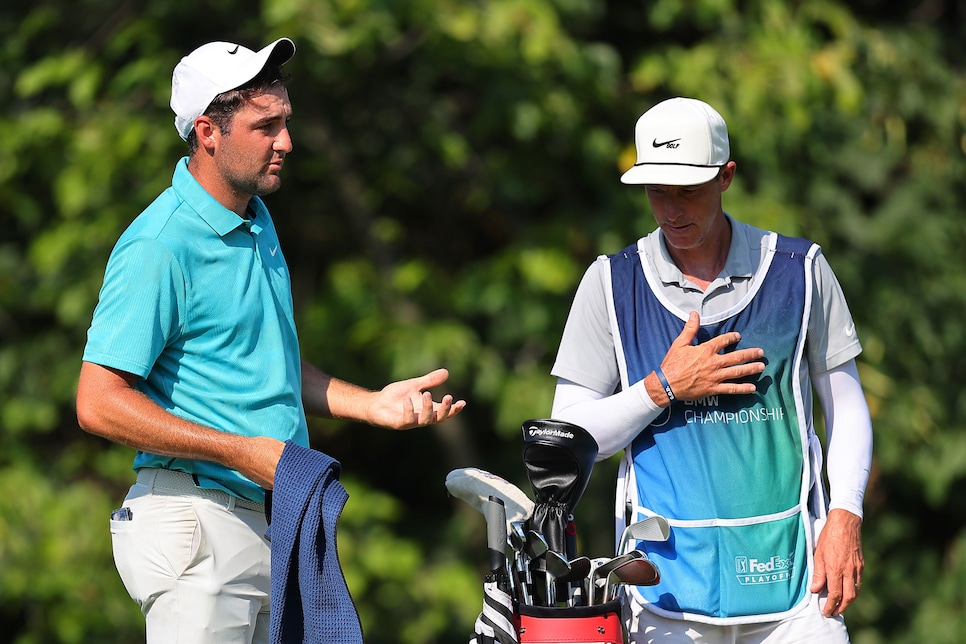 Matt Fitzpatrick, who shared the 54-hole lead with Scheffler, had two late birdies and managed to tie Scheffler for second at 15-under 265. When he saw Hovland outside the scoring room, he grabbed his European Ryder Cup teammate by the shoulders and said something that made him burst out laughing.
"I said he was a little s--t," Fitzpatrick said.
Actually, he was a very big, well, you know.
For much of the day, Scheffler appeared unstoppable, immediately separating himself from Fitzpatrick and keeping his nose ahead throughout the tense afternoon by going five under through 13 holes. But Hovland, who began the final round three behind, just kept coming with an inward nine of eight 3s and a birdie at the par-5 15th that cut a four-shot deficit at the turn to one. But putting, which has held Scheffler back on many occasions this season, again became his undoing.
After failing to birdie 15, Scheffler missed a seven-footer for birdie at 16, leaving the door open, not that Hovland was obliged to knock it down anyway. A 9-iron to eight feet at 17 and a pitching wedge to six feet at 18 set up the birdies he needed to leapfrog the Texan. When Scheffler three-putted the 17th from 26 feet, the dye was cast. Scheffler added a sixth career runner-up finish to go with six career wins.
"Yeah, pretty amazing round of golf to win this tournament like that," said Scheffler, who for the second year in a row will enter the Tour Championship as the leader. "I'm just a bit frustrated. I think that would be the way to describe it. I mean, Viktor went out and really just beat me today and played a fantastic round. I can hold my head high and just … I did my best out there today and fought hard. Just ultimately came up a couple shots short."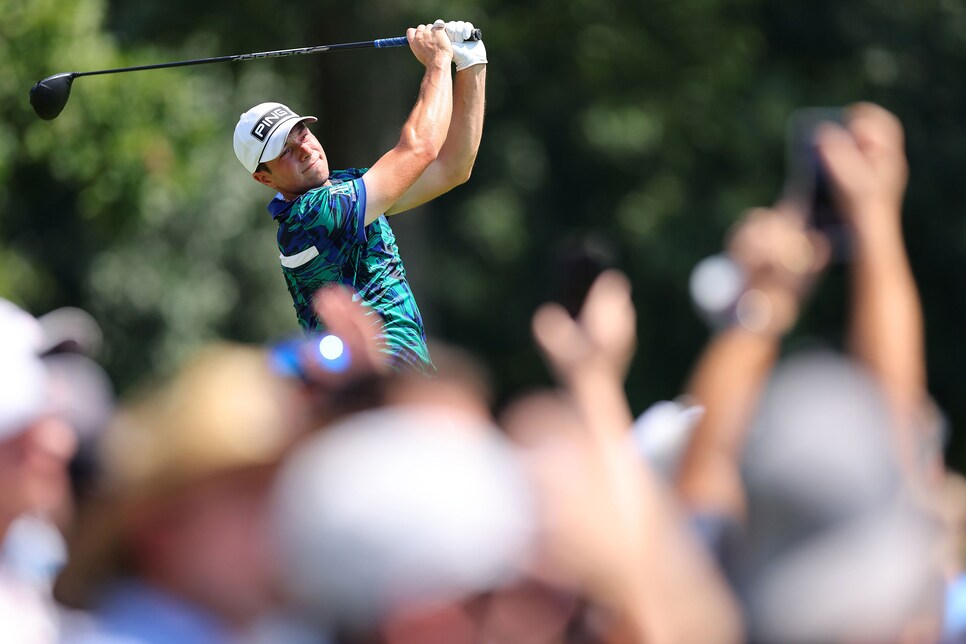 Hovland, who didn't miss a cut this year and finished in the top 20 in all four majors, won the Memorial in large part thanks to a blossoming short game. At Olympia Fields, he had everything going, and that was, perhaps, the most pleasing aspect of the week ... other than the $3.6 million payday. He didn't lead in any single strokes-gained discipline, but he ranked among the top four across the board.
"If you take everything into account," he said, "it's just putting all of that together, and then being clutch at the right times at Memorial and obviously this week and having a chance to contend in those major championships, I think I've taken a big step this year compared to other years."
Of course, there's one more step to take, at least this year. Hovland, who has reached the Tour Championship in each of his four seasons on tour, has momentum and a prime seeding as he goes for the $18 million bonus that comes with winning the FedEx Cup. A long season is wearing on all 30 qualifiers to East Lake, but Hovland will go there with a definite spring in his step.
"Well, I'm about to pass out right now," Hovland said, alluding to the toll the grueling final round had on him. "But no, just a good night's sleep, and we're right back at it next week at East Lake. I'm sure it'll be hot, and we'll be sweating a lot, so I'm definitely feeling that it's been a lot of golf, but it seems like the more I've played recently, I seem to play better. Just need to lean into that and hopefully we have another good week."
If nothing else, he's proven eminently capable.