The Grind
King Viktor's humble airport story, Collin Morikawa's still very good week, and Tiger Woods' secret love
Welcome to another edition of The Grind where we wish we could have seen the world's best golfers competing in those Monday Night Football conditions in Buffalo. Talk about carnage. Players would have had to keep it almost exclusively on the ground just … like the Patriots. And my money wouldn't have been on Sam Burns after watching him disastrously try to deal with a false front on Sunday. Seriously, watching Bill Belichick have his QB only throw the ball three times the entire game reminded me of when Tiger Woods only hit one driver the entire week on his way to winning the 2006 Open Championship. That's why they're GOATs and we're, well, not GOATs. Anyway, let's talk more about Tiger—and, yes, a few other things happening in the world of golf.
Viktor Hovland: Particularly in a tropical paradise. The Resort Golf King was at it again, this time in the Bahamas where he made back-to-back eagles during a final-round 66 to win the Hero World Challenge. His four PGA Tour/Hero wins have come in Mexico (twice), Puerto Rico and the Bahamas. This guy is from Norway, by the way. Anyway, loved his answer on whether this feels like an official win:
The World Ranking points are certainly official as he climbs to No. 7. But despite his status among the game's elite, he remains quite humble. Check out this airport story involving Hovland on his way to the tournament:
How can you not love this guy? Long live King Viktor!
Tiger Woods' continued comeback: And how can you not love to see what was happening on the range while the tournament was going on? Woods was putting in serious work—and he's looking pretty darn good:
Especially in his trademark Sunday red!
The U.S. Adaptive Open Championship: The USGA takes a lot of heat—especially from Phil Mickelson—but a new national championship for golfers with disabilities has everyone raving. Even Phil Mickelson!
Good stuff. Now this is growing the game.
Collin Morikawa's Tuesday: It's been an incredible couple years for this young stud, but we're guessing he was the most nervous he's ever been when he popped the question to girlfriend Katherine Zhu on Tuesday. Of course, she said yes, because (Man-crush alert!) he's a total stud:
Seems like a pretty safe bet that the guy with arguably the best approach game in the world was pretty smooth with his proposal. Again, he's a total stud. It's also a pretty safe bet these two kids are going to make it. After all, Morikawa has called Kat his "good-luck charm" and just look at the former Pepperdine golfer's swing!
The couple that golfs together, stays together. Not that I would know. My wife would rather spend four hours doing literally anything else.
Collin Morikawa's Sunday: Well, at least this Sunday for Collin. On his way to pulling off the rare marriage proposal/tournament win/move to No. 1 trifecta, Morikawa shockingly melted down during the final round with two early double bogeys. A 76 took him from a five-shot lead to a disappointing T-5. Still, it's been a tremendous run that's included two majors, and being No. 2 (for now) isn't so bad.
Jordan Spieth's daddy debut: Perhaps it was PERSPECTIVE overload, but Spieth sputtered in the Bahamas, finishing in 20th place. Out of 20 golfers. Yikes. More proof that his head wasn't in it following the recent birth of Sammy was the fact that he picked up two strange penalties, the second of which he shared with Henrik Stenson as the two played from the wrong tee on the ninth hole during the final round. And after he said he thought they might not get penalized because the Hero is "a charity event." Oof, better hope Tiger doesn't hear that if you want an invite back. Speaking of Tiger … Again …
Tiger's taste in soda: I've gotten on Tiger before for his jeans, but this is much, much worse. Thanks to some nice sleuthing by our Hally Leadbetter, we know the guy still drinks Diet Coke instead of Coke Zero:
At least it's not Diet Pepsi, but can't someone in his inner circle get him to try the good stuff? A Cherry Coke Zero would blow his mind. Then again, this shouldn't be too surprising considering how old school he is. He probably thinks of Coke Zero in the same way he thought of the belly putter. Anyway, there's still time. And by the way, Tiger's jeans have come a long way since I poked fun at him. Just saying.
This was supposed to be the European Tour's DP World Tour's time to shine, but COVID put a damper on that. As a result, we really don't have much this week other than the Big Easy Tour Championship and the QBE Shootout. Oh, and waiting to find out if Tiger will tee it up at next week's PNC Championship with his son Charlie. Fingers crossed.
Random tournament fact: In case you forgot, the 2020 PNC was the last time we saw Woods inside the ropes. And when we learned the apple doesn't fall from the tree when it comes to draining putts and fist-pumping:
OK, so that's not really a fact, but it was awesome. And admittedly, we don't know anything about the Big Easy Tour.
RANDOM PROP BETS OF THE WEEK
—Diet Pepsi will ever want to sponsor The Grind: 1 MILLION-to-1 odds
—Tiger will play in the PNC Championship: 2-to-1 odds
—Tiger (and Charlie) will wear Sunday red if he does: LOCK
VIRAL VIDEO OF THE WEEK (NON-TIGER-ON-THE-RANGE DIVISION)
Club Pro Guy reached another level of genius with this one. Just a heads up, it's kind of NSFW, but any possible NSFW stuff is in the captions, so you can probably get away with it:
I was crying watching this. Bravo, CPG. Bravo.
VIRAL VIDEO OF THE WEEK (FAIL DIVISION)
This is it, this is the worst putt ever.
As if we needed more confirmation that we were right to put Brad Faxon on our list of the year's biggest turkeys for putting Rory McIlroy on his list of the best putters ever. I know he pays you for putting lessons, Brad, but c'mon.
Word on the mean streets of Golf Twitter is that some people have been snickering at this. But I'm sorry, this photo captured by Ryan Schude in the latest issue of Golf Digest is pretty darn cool: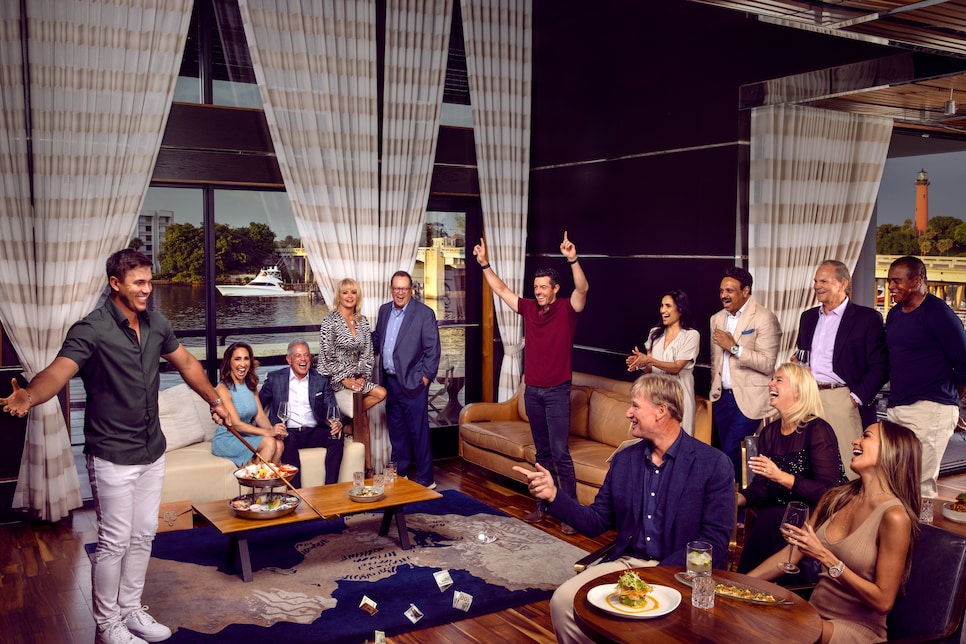 THIS WEEK IN PUBLIC DISPLAYS OF AFFECTION
Since we already covered Collin Morikawa's engagement, here's Kevin Na having the big honor of cranking the pregame siren for his beloved Las Vegas Golden Knights!
And they won the game! Good job, Kevin. And good pace!
THIS WEEK IN PUBLIC DISPLAYS OF AFFECTION ATONEMENT
I put a list of the year's best comeback stories together last week, but I should have waited for this one from our own Dan Rapaport. Dan had the unfortunate experience of blanking on a question to Tiger Woods last week in a clip that went viral. But he took it well and even managed to get the Big Cat on camera for a do-over in what is one of my favorite videos of the year:
Well done, Dan. And Tiger.
"That wasn't peak," Brooks Koepka when asked about returning to his 2018-2019 form. "That wasn't peak. Just wait." And, yeah, it sounded just as cocky as it reads:
Before the Bryson feud, there was Brooks constantly believing he was being overlooked. Ah, the simpler days
PGA Tour Live will offer four feeds and more than 4,300 hours of live coverage through ESPN+ in 2022. That Hulu-Disney bundle is the best money I've ever spent! … Also coming in 2022 is the Elite Amateur Golf Series, a summer-long competition in which players can earn USGA and PGA Tour exemptions. Not sure why the Met Am didn't get included, but it's a great idea nevertheless. … And finally, we took the kids to see this famed Christmas-light-covered house in Stamford, CT: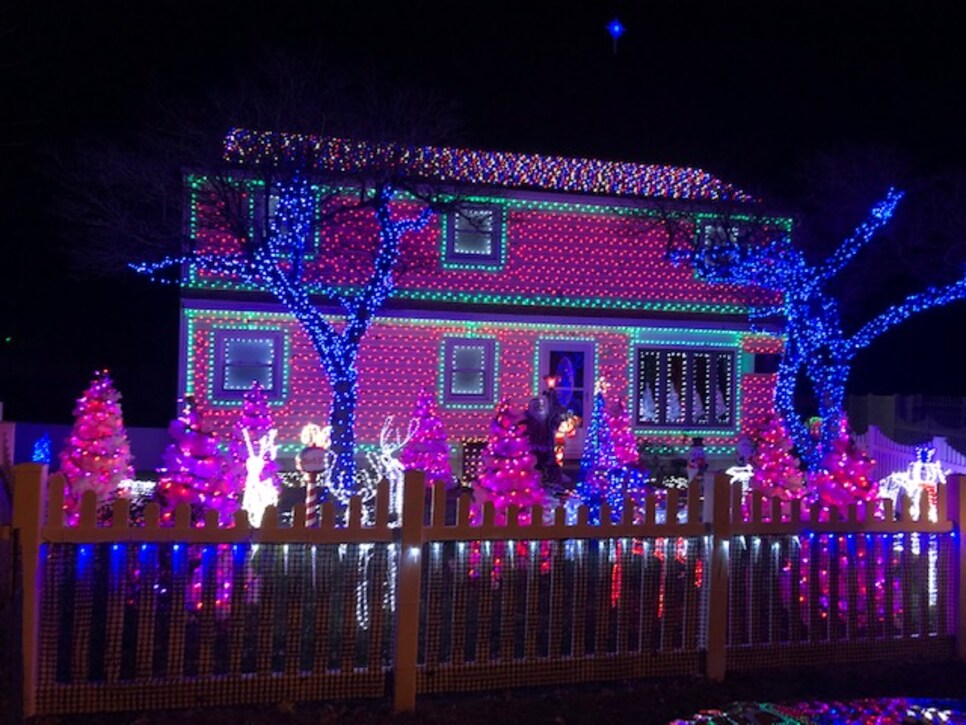 Our 3-year-old loved it, but now she keeps saying, "It's the best house ever" and "Why can't we live there?" So I can never win. You'll learn, Spieth. You'll learn.
RANDOM QUESTIONS TO PONDER
What's the windiest conditions you've ever played in?
What's the one question you'd like to ask Tiger Woods?
How much is that family's winter electricity bill?