Editor's Letter
We got some of Jupiter's biggest powerbrokers together for a very elaborate photo shoot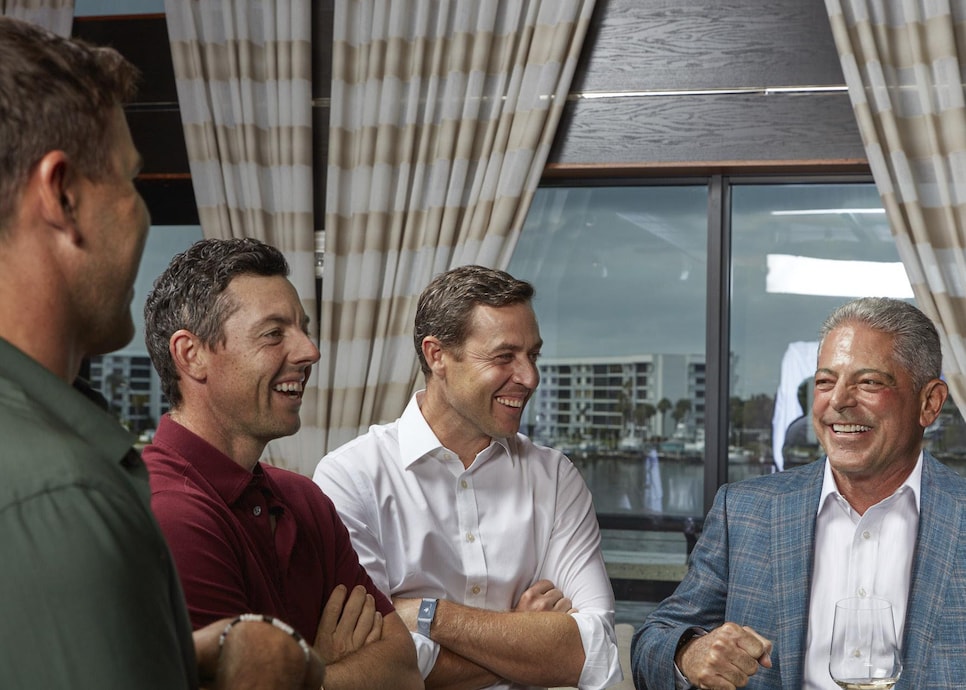 JOKE'S ON ME: Bill Terlato (far right) owns vineyards across the world and is a fourtime club champ at The Bear's Club. Brooks Koepka and Rory McIlroy (left) combine for eight majors, which leaves me in the middle. Photograph by Ryan Schude
The set, or canvas, was the upstairs members lounge of 1000 NORTH, the emergent social hot spot where Shipnuck followed his reporting. (Many trails lead to this sanctum of leather furniture and libation overlooking the town's lighthouse. Co-owners Michael Jordan and Ira Fenton tried but couldn't think of a better name than the physical address.) Under Schude's direction, 13 subjects became actors, including three guys with four majors apiece, Rory McIlroy, Brooks Koepka and Ernie Els; football legends Ahmad Rashad and Tucker Frederickson; and the principal partners of the restaurant and their wives.
The scene was meant to be one you would encounter on any night out in Jupiter, but for maximal control Schude shot dozens upon dozens of versions with his camera in a fixed location. This technique afforded mixing and matching the best facial expressions and hand gestures, as well as me not freaking out when a deluge of rain soaked the patio at pretty much the exact moment everyone arrived.
"Don't worry, I already got the clean sky and drawbridge opening with the boat going by on other plates," assured Schude, who has worked on advertising campaigns with stupid-big budgets. "We can stitch those in later."
The other benefit of post-production layering is it allowed our celebrities to mostly get out of posing and simply enjoy themselves. Fire-and-ice margaritas and Chimney Rock wines were the drinks of choice while the chit-chat offered little windows into the lives of very successful people: Blithe agony at having thrown away a lifetime of random sporting articles given the price an old pair of MJ's sneakers recently fetched at auction. Where to find a good chef these days who will cook in your kitchen or drop off meals for easy heating, all tailored to one's most recent dietary analysis, of course. Els teasing McIlroy about McIlroy having bought his house from Els at "exactly the right time." Then a moment later, the somehow profound and hilarious realization that McIlroy has been playing golf longer than the starting-to-gray Rashad.
Yet as much as this Jupiter can seem like a veritable other planet, whose inhabitants are incredibly wealthy or incredibly good at golf or both, to be in such a power room is also a reminder of human commonality. "Wouldn't it be great if this were every Friday night?" said McIlroy, who has had the same trouble getting a babysitter as any new father with a busy work schedule.
"This place is the perfect date night," said Jena Sims as she gripped the hand of her fiance, who's on the road a lot, too.
Ernie and Liezl Els had to leave early to attend a fundraiser dinner for the local school they have built for autistic children. Son Ben, 19, has transformed his parents' lives, and in turn Ernie and Liezl have made a rugged and often overwhelming journey easier for many families without the same means.
When Rory jumped behind the bar to play tender to Brooks and Jena—a coy joke—the visual, of course, brought to mind Gerry McIlroy tirelessly running a bar in Northern Ireland, scraping and saving to buy his son a chance, one bucket of range balls at a time.
I asked Rory if he ever tended that bar.
"No," he said, "but I stocked the shelves."
So as you view Schude's photographs in this issue and across Golf Digest channels, all of which are heavily produced, one might even say fabricated, consider the words of the French philosopher Albert Camus: "Fiction is the lie through which we tell the truth."