Morikawa's advantage evaporated with two double bogeys in his first six holes of the final round, and it was his housemate this week who catapulted to the title and furthered his claim as the best resort golfer in the world.
Viktor Hovland, who shared a beachside villa with his fellow Class of '19er, played Nos. 14-16 in five under par to edge Scottie Scheffler by a shot and pick off his second title in four weeks. This won't go down as an official PGA Tour win like his victory at last month's Worldwide Technology Championship at Mayakoba, but we're talking semantics. The 24-year-old from Norway takes home $1 million and 48 World Ranking points for his effort, and his six-under 66 to beat a field chalk-full of superstars was good enough to win anywhere.
"Honestly, when I first teed off and obviously got off to just making a few pars early on, I didn't really think winning was even in question," Hovland said. But after he'd made three straight birdies on Nos. 6-8, looked at the leader board behind the ninth green and saw he was in contention after starting the day six back, "that's when I knew that, 'OK, if I play really well on the back nine, I've got a chance.'"
Hovland now has four victories—two at Mayakoba in Mexico, one in Puerto Rico and now this one in the Bahamas—that have come in tropical paradises. The man from a country synonymous with snow-covered landscapes and cross-country skiing loves himself some golf in the sun.
"Yeah, there's not that many similarities to Norway, so I don't really get it myself," Hovland said. "Usually, there's trouble off the tee and you've got to hit it straight, I think that helps. But frankly, the grass here, the Paspalum and the Bermuda, is not something that I'm very used to, so I don't know. For some reason I just play well here."
Morikawa's collapse started early, perhaps the result of missing three makeable birdie putts to begin his round. A tricky stance resulted in a massive pull hook and a lost ball on 4, and he wasn't able to convert another shortish putt for bogey. Double bogey, but still leading. After a breezy par on 5 and a perfect tee shot on the par-5 sixth, he seemed to have returned to the type of mistake-free golf that has him on the precipice of summitting the World Ranking.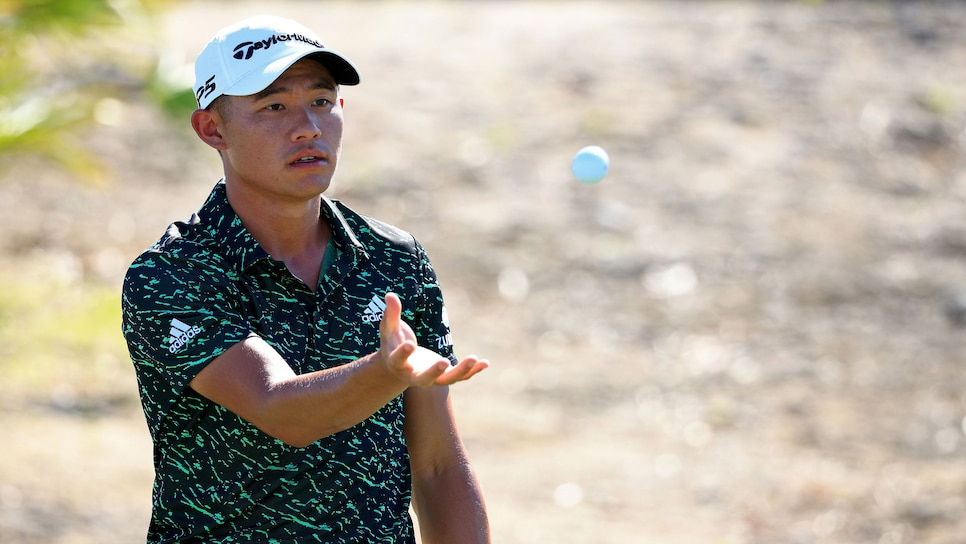 Morikawa's five-shot lead to start the round disappeared on the front nine as he stumbled home to a surprising 76.
Mike Ehrmann
"He plays like an athletic Jim Furyk," is how tournament host Tiger Woods put it. But his second on 6 swerved violently left, hampered no doubt by an unfortunate clump of mud stuck to his ball, forcing yet another drop and leading to another double bogey that saw him relinquish a lead that he never sniffed again. A three-putt bogey at the last sealed a bitterly disappointing 76, given what he could've accomplished with just a one-under round.
Hovland held steady for 13 holes as the tournament dissolved into a dizzying mess. Early in the day, Jordan Spieth and Henrik Stenson were penalized two shots for inexplicably teeing off from the wrong tee marker. Roughly an hour later, Morikawa's doubles handed the lead to Sam Burns, who butchered his way around the green on the drivable par-4 14th. An overcooked chip from left of the hole resulted in a third shot up a steep, shaved slope. And a fourth shot. And a fifth shot. Indeed, three times he bumped a fairway wood—it was a popular play this week, given Albany's grainy Bermuda green surrounds—only to have it roll back to his feet. His sixth went 15 feet past the hole and while making the comebacker, it still resulted in a rally-killing triple.
Meanwhile, Scottie Scheffler got his nose in front with four straight birdies from Nos. 14-17, and his final-round 66 saw him finish solo second. "I looked at the leader board and when I was making the turn," Scheffler said, "I think there was a couple guys at 16 [under] and I thought to myself, and [caddie] Teddy [Scott] and I mentioned, 'Let's have a pretty good back nine here, still have chance.'
"So I was pretty motivated going into the back nine and was able to hit some really good shots. Hit some great putts, too. Some of them looked like they were going in and didn't, but outside of that, felt good with how I played."
Burns' playing partner, Daniel Berger, holed a full wedge shot for an eagle 3 on the hole directly after Burns' collapse. It was a sign of things to come, with that downwind par-5 15th, yielding more eagles than pars during the final round.
More rare—at least for some—were eagles on the 14th. That's where Hovland took control of this tournament, holing a bunker shot that could well have rolled into the same valley of death that torpedoed Burns' chances. It struck the center of the pin, however, and dropped in for a 2, his third on that hole in four rounds.
He followed that up with an eagle at 15 (driver-approach to 20 feet, swish), then added a dart on the difficult par-4 16th for a birdie that pushed his out-of-nowhere lead to three and rendered the final few holes a just-don't-screw-it-up situation.
Of course, it wouldn't be that simple. When it comes to golf in 2021, nothing has been. Hovland bricked a four-footer for par at 17 before NBC's broadcast noted a potential rules violation. Hovland's tee shot finished just short of the green, and he removed sand that was on the green and directly in his line. Officials checked to see if he hadn't also brushed away sand that was off the green, which would've been a penalty, before quickly deciding that everything was OK. So his bogey stayed a bogey. Fiasco averted. Two-shot lead intact.
Still, the dropped shot ensured that his tee shot on 18, a difficult dogleg left with water all down the left, would be nervy as hell. He striped a tight draw just left of center—youth, it's a helluva drug—only to have to wait for playing partner Patrick Reed to sort a rules situation in a waste area right of the fairway. (This foray into Albany's sand, thankfully, did not result in a full-blown crisis). A blocked approach forced him to play a delicate third off grainy and somewhat barren turf just right of the green.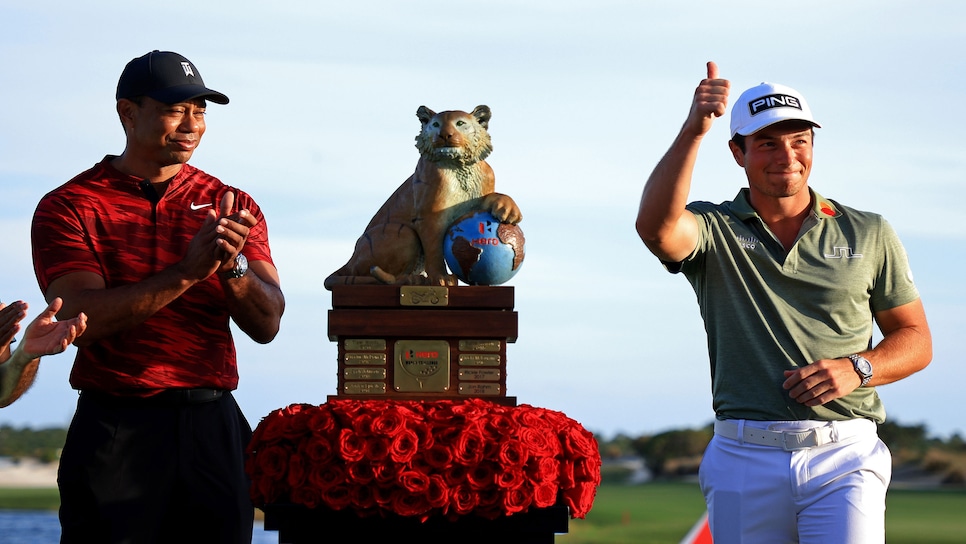 Hovland made victory at Tiger's event his third win in the 2021 calendar year, along with victory at Mayakoba and at the European Tour's BMW International Open in June.
Mike Ehrmann
A closing bogey sufficed, and the man from Norway, who lives in Oklahoma, captured another title in paradise.
"It's crazy to think that I'm … you know just playing the PGA Tour is pretty incredible just from thinking back to where I grew up and playing golf in Norway, you're playing golf six months out of the year and it's pretty farfetched to even just play golf professionally coming from Norway," Hovland said. "So for me to be here and winning tournaments is pretty unreal."