DUBAI, U.A.E — Sticks, along with their stoney counterparts, have long been renowned for their ability to fracture bones. But they can break hearts, too. And, as things turned out in this DP World Tour Championship, heavily influence the eventual destination of the title, the $3 million first-place check and the $1 million bonus paid to the man finishing first on the European Tour's season-long Race to Dubai.
The record book will show that Collin Morikawa, two days after his ball rebounded to safety off a yellow stake marking the boundary of the water hazard guarding the par-3 17th green on the Greg Norman-designed Earth Course, claimed both prizes. Displaying the sort of ruthless efficiency that has already become his professional trademark, the 24-year-old Californian—who becomes the first American to win what used to be called the Order of Merit—played his last 41 holes bogey free. More importantly, he made five birdies over the last seven holes to finish at 17-under-par 271, three shots clear of the runners-up Matt Fitzpatrick and Alexander Bjork.
Still, that story would not be complete without mention of Rory McIlroy. Tied with the eventual champion atop the leader board on 15 under par with four holes to play, the Northern Irishman hit his pitch to the 371-yard 15th green right down the pin. Literally. The ball struck the stick (remember those) and caromed into the front bunker, from where the Northern Irishman took three to get down. All of which was followed by a three-putt bogey at the 16th and another dropped shot on the last. In the end, McIlroy, who wordlessly left the premises with his shirt ripped and hanging off his torso, subsided to a T-6 finish, five shots adrift of Morikawa, the man of the hour, day, week, month and year.
"From the first hole on Thursday, I was ready to play golf," said Morikawa, who opened with a solid four-under 68. "And that's a big thing, getting off to a good start. Playing well in the first round is something I don't necessarily do. So it was important for me this week."
Which is not to say that all of Morikawa's eventually momentous closing round of 66 was marked by a seamless smoothness. For one thing, he was three shots off the pace standing on the 10th tee as the most unlikely of the possible Sunday scenarios came briefly into play.
Fitzpatrick, who had to win the tournament and have Morikawa finish lower than ninth to claim the Race to Dubai title, made the sort of fast start that attracted the attention of the leaders. Starting T-13, the former U.S. Amateur champion made six birdies in his first 10 holes to reach 14 under. Good, but not quite the sort of number that would necessarily strike fear into those following. And, as it turned out, Fitzpatrick was unable to progress further. A birdie-bogey-bogey-birdie finish contained obvious regret and finally ended his chances of the RtB title and a third victory in this event.
"I was only thinking about the tournament, really," he said. "I spoke to a journalist yesterday, and he asked me what I needed to shoot. I thought if I shot eight under, I might have a chance. And if I had shot that, I think I would have done."
That seemingly remote eventuality did get further encouragement when, following pars at the opening six holes (after he finished with 12 in succession on Saturday), Morikawa had a becalmed look about him, a feeling he clearly shared.
"All I needed to do was catch a spark," said the Open champion, having claimed his third career European Tour title. "Starting off so slowly wasn't fun. I felt like I was hitting good shots, but I wasn't getting the breaks I needed. The putts weren't dropping. After parring 10 and 11 [both birdie chances], I told myself, 'you shouldn't have done that.' So I knew something had to change. And on 12, I got a great break. I thinned my second shot but made the putt. That got the momentum started."
All of which turned out great, of course. Tournament victories anywhere on the planet and on just about any tour are to be savored. But winning the Race to Dubai clearly meant as much if not more to Morikawa. Making a little bit of history clearly appealed to his sense of self. Although he is far from satisfied.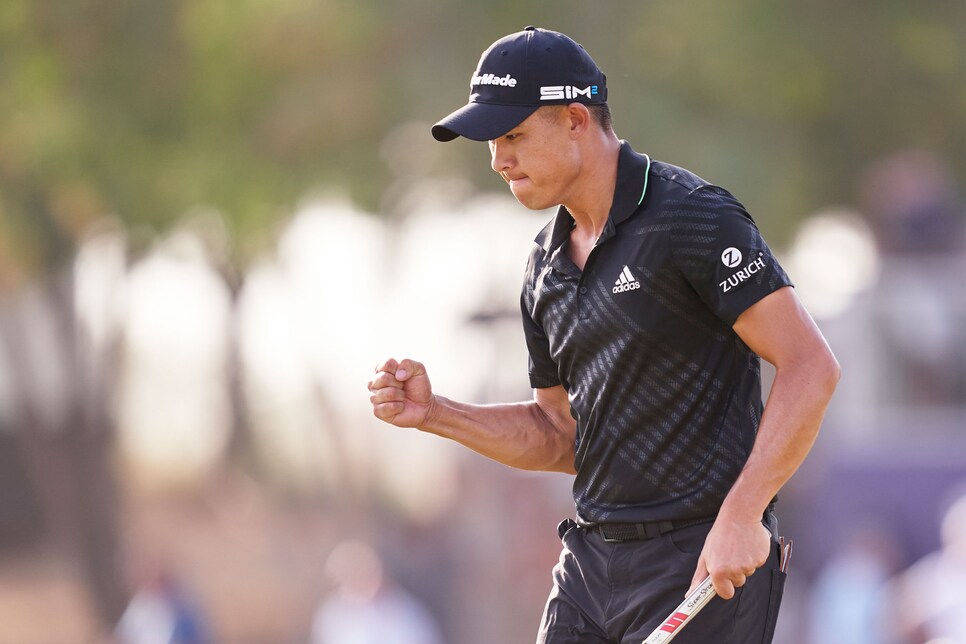 Morikawa, bogey free over the weekend in Dubai, made five birdies on the back nine Sunday to walk off the big winner.
Quality Sport Images
"This is special," he said. "It's such an honor to be the first American to do this on the European Tour and put my name against many, many great Hall of Famers. I get choked up just talking about it. Like I said two years ago, this wasn't my thought. It was, yeah, let's go play around the world. But we didn't know what cards were going to be dealt. To have this chance and close it out with a win, not just a top-10 or something, is, as I said, special. But I'm not going to stop setting some high goals. I always have. I'm going to set the bar as high as I can and keep going. I'm still not No. 1 in the world. I still have a lot to work on in my game. There's a ton to work on. The way my head is wired, I'm always looking for what's next, but I'm going to try to enjoy this one."
One might even say the memory will stick with him.