The Grind
Viktor Hovland's new royal title, Nick Dunlap's Tiger-like conquest and the funniest 'golf' text ever sent
Welcome to another edition of The Grind, where we are barely able to walk after a weekend that included nearly six hours of manual labor in the yard. Talk about a literal grind. That's enough time for a foursome of J.B. Holmes, Ben Crane, Glen Day and Patrick Cantlay to play 18 holes. Just brutal. And in the end, the side of my house looks … OK. I guess?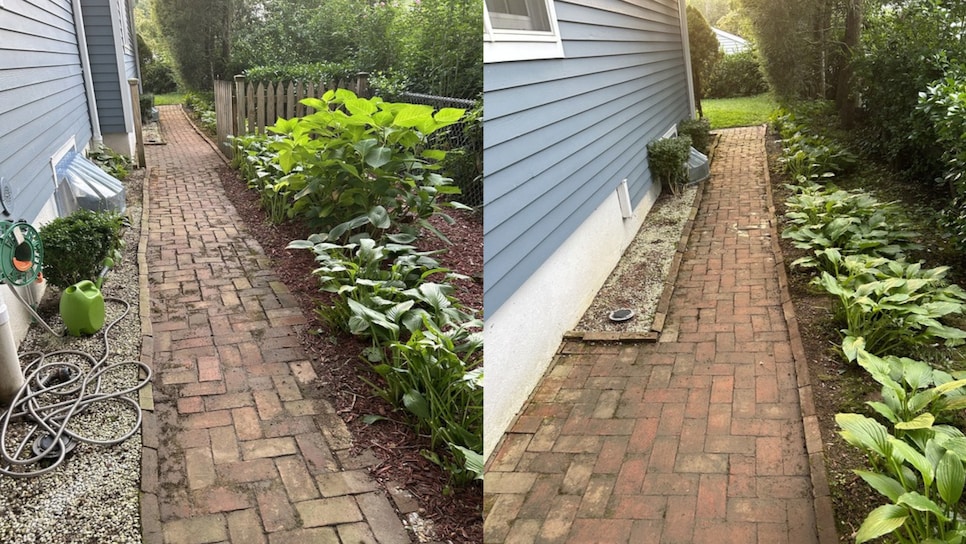 As J. Peterman tells Elaine in "Seinfeld," "Congratulations on a job … done." Anyway, fortunately, my arms and hands are feeling fine so I'm still able to type. Let's get to it.
Viktor Hovland: The 25-year-old found an extra gear few have ever seen with a back-nine 28 at Olympia Fields to ride off with the BMW Championship. No disrespect to the German car maker, but this Norwegian is the real Ultimate Driving Machine. However, on this Sunday it was Hovland's irons that were particularly sharp as his seven back-nine birdies came on an average of only six feet, including that six-footer on the last that put away the biggest win (so far) of his career. I mean, this back nine is the stuff of legend:
Incredible. Let's check on how our favorite Norwegian golf announcers handled the madness:
So good. Anyway, forget about that "Resort Golf King" title. After winning the Memorial in Columbus and the BMW in Chicago, this Scandinavian is the King of the Midwest.
Nick Dunlap: From one U.S. Amateur champ to the newest one, this rising sophomore at Alabama also joined Tiger Woods as the only male golfer to win both the U.S. Junior and U.S. Am.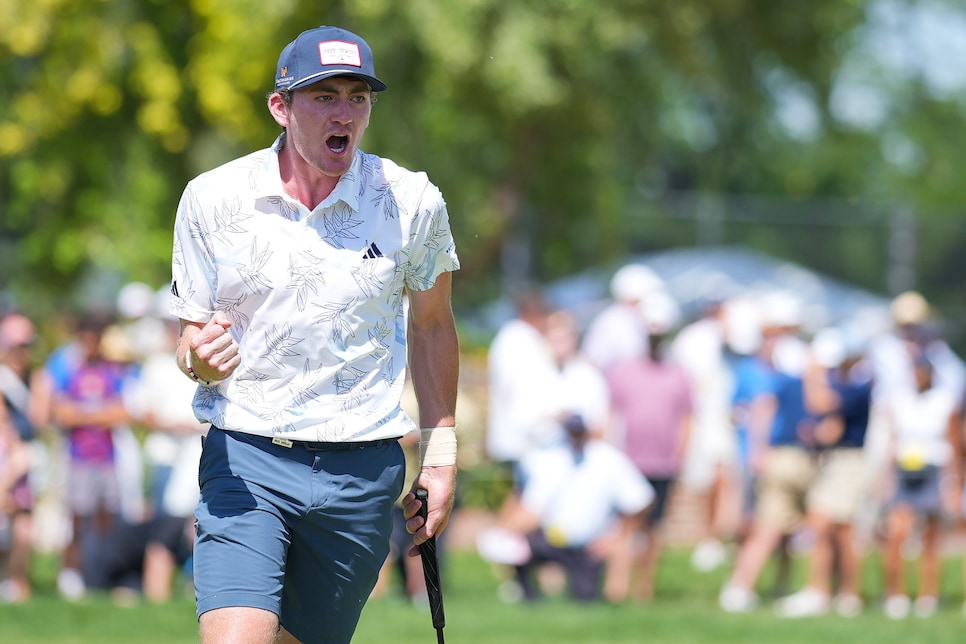 Talk about ELITE company. Of course, Tiger won both titles three times in a six-year span, but this is impressive from the 19-year-old who went on his own birdie barrage during the championship match at Cherry Hills, making 12 (with concessions) over 33 holes. Poor Neal Shipley must have felt like he got run over just like Scottie Scheffler and Matt Fitzpatrick at the BMW. And to keep the car puns rolling, Viktor and everyone else might want to keep an eye on the rearview mirror because Nick is racing towards the PGA Tour.
Alexa Pano: Speaking of 19-year-olds, congrats to this one on earning her maiden LPGA Tour title. Although many golf fans were introduced to her more than a decade ago on Netflix's "The Short Game," which chronicled Pano and several other 7- and 8-year-old golfers.
Talk about great casting! Anyway, glad to see a fellow Alex(a) finding her way. And glad to see her love of the game hasn't burnt out! Yet.
Motorized walkways: Check this out from a golf course in Japan:
What a genius innovation. I can think of a bunch of places I play that could use that in a few spots. And now I'm going to be dreaming about this thing every time I hike those hills. Sigh. On second thought, I wish I'd never seen this.
Scottie Scheffler's putting: We've touched on this time and time again, but the numbers continue to be mind-boggling. Just look at where his putting stacks up in relation to his brilliant ball-striking for the entire season:
On the positive side, this guy's ball-striking is literally almost off the charts. Just look at how it matches up with Tiger Woods' best strokes gained/tee-to-green numbers!
On the other hand, it really feels like he's squandered that historic ball-striking with only two wins this season, while Woods won eight times, including two majors, in 2006. Tough. Then again, if he finishes off the FedEx Cup this year for that $18 million, in addition to the $21 million he earned over the course of 2022-23, we're guessing he'll still sleep OK at night.
Having to talk to Tyrrell Hatton after a bad finish: There's awkward and then there's what happened when the PGA Tour filmed an employee talking to Hatton about the various Tour Championship bubble scenarios after he finished with a double bogey and two bogeys over his final four holes at the BMW Championship:
Jeez, let the guy stew by himself a little. Imagine what Hatton's reaction would have been if the cameras weren't rolling?! Look, we're all for creating content here, but that was tough to watch.
Playing behind this group: Behold one of the ugliest scorecards in golf history: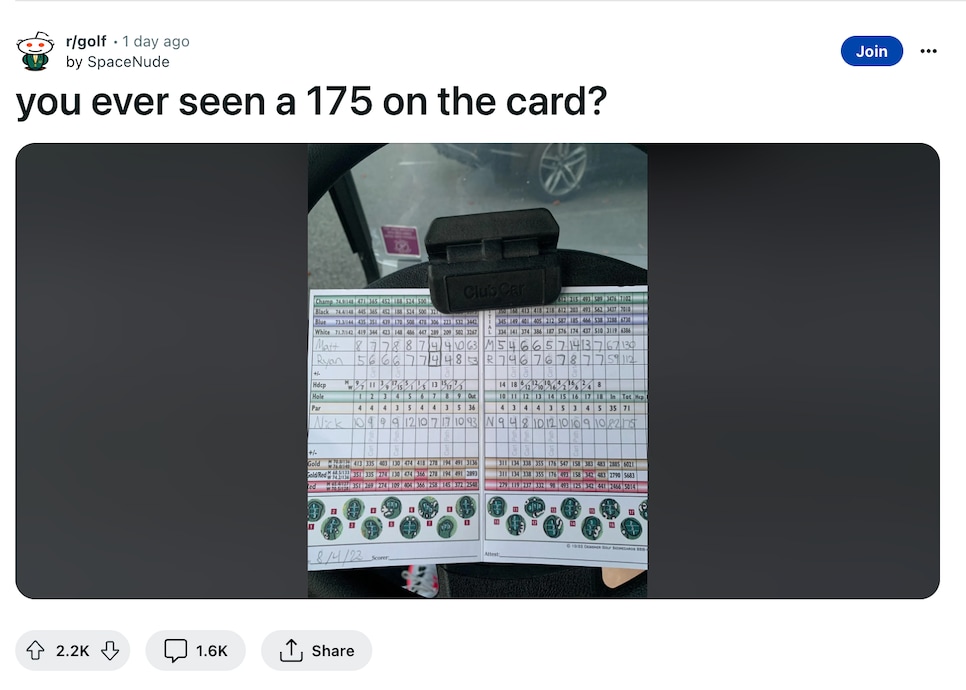 Now the guy who posted this claims they weren't holding up the golf course, but 417 shots?! For three players?! Including a 175 by Nick?! Unless that course was completely empty, I find that hard to believe. Kudos, though, for actually tallying all those shots up!
The PGA Tour heads to the Tour Championship, AKA that one at East Lake, AKA that one with the insane prize money, AKA that one with the weird staggered start leaderboard, AKA that one in Atlanta, AKA that place known as "HOTlanta":
Pray for Lucas Glover's khakis.
Random tournament fact: Since the PGA Tour went to the staggered start leaderboard in 2019, the player beginning the event No. 2 has never finished in the top five. That's not good news for Viktor Hovland fans.
RANDOM PROP BETS OF THE WEEK
—Another golfer will ever win three U.S. Juniors and three U.S. Ams: 1 MILLION-to-1 odds
—Scottie Scheffler will win the Tour Championship: 1.4-to-1 odds (Actual odds, favorite)
—Scottie Scheffler will win if he actually putts well: LOCK
PHOTO/TWEET/INSTAGRAM OF THE WEEK
This is NOT the reaction you want from your spouse when you send her a photo after you make a hole-in-one:
Ramen?! LOL just an incredible response. It doesn't get more random or irrelevant than that. Then again, the previous "K" should have been a hint for this guy to keep the golf chatter to a minimum. In any event, congrats on the ace, guy. And for your sake, I hope you didn't throw away that ramen.
CLUB PRO GUY TWEET OF THE WEEK
VIRAL VIDEO OF THE WEEK (PGA TOUR DIVISION)
The PGA Tour put together a sweet video of 103-year-old "Grandma Susie" attending her first golf tournament and meeting some of her favorite players including Rickie Fowler:
VIRAL VIDEO OF THE WEEK (FORMER PGA TOUR DIVISION)
Like I said last week, the guy is just a content king, and I'm glad to see him up to his old tricks.
VIRAL VIDEO OF THE WEEK (CELEBRITY GOLFER DIVISION)
A couple of ELITE quarterbacks put their not-so-elite golf swings on display. Here's Lamar Jackson at Topgolf:
And here's Jalen Hurts at practice:
Hopefully, the latter didn't cost his team some wind sprints. And then there was J.J. Redick, who broke 80 for the first time at The Bridge (NBD):
Well played, JJ. And well done by me giving props to a guy who was my mortal enemy in college when I was at Wake Forest and JJ was at Puke, I mean, Duke. Man, I've really grown a lot these past two decades.
THIS WEEK IN PUBLIC DISPLAYS OF AFFECTION
Matt Fitzpatrick couldn't resist cursing at Viktor Hovland after his Ryder Cup teammate stole his BMW (title) in broad daylight:
Can't say that I blame him. That was highway robbery.
THIS WEEK IN PUBLIC DISPLAYS OF
AFFECTION

ALCOHOL
Congrats to Chan Kim for claiming his first Korn Ferry Tour title at the Magnit Championship and pulling off a spill-free triple beer pour and chug:
THIS WEEK IN PUBLIC DISPLAYS OF
AFFECTION

EMOTION
That also led to a pretty great PDA moment as well with friend John Daly:
We're guessing those two old pals put down just a few more celebratory beverages than young Chan on Sunday night.
THIS WEEK IN PUBLIC DISPLAYS OF
AFFECTION

ENCOURAGEMENT
Check out the message Nick Dunlap's caddie, Jeff Curl, scribbled in his yardage book after the 19-year-old was five over through seven holes to start the U.S. Amateur:
That's just brilliant caddieing right/write there.
"To go through what he went through with his putter and to come out the other side, I think about like Andy Dufresne, crawling through the river and coming out clean the other side." —Brian Harman, who is flying up my list of favorite golfers after dropping a "Shawshank Redemption" (GOAT) reference.
Congrats to Dan Brown (no relation to the famed novelist) on winning his first DP World Tour event. Alex Fitzpatrick, related to Matt Fitzpatrick as his brother, finished runner-up. … Congrats to Blades Brown (no relation to either Dan Brown) on breaking Bobby Jones' 103-year-old record as the youngest medalist in U.S. Amateur history. And the 16-year-old is the son of former WNBA player Rhonda Blades Brown.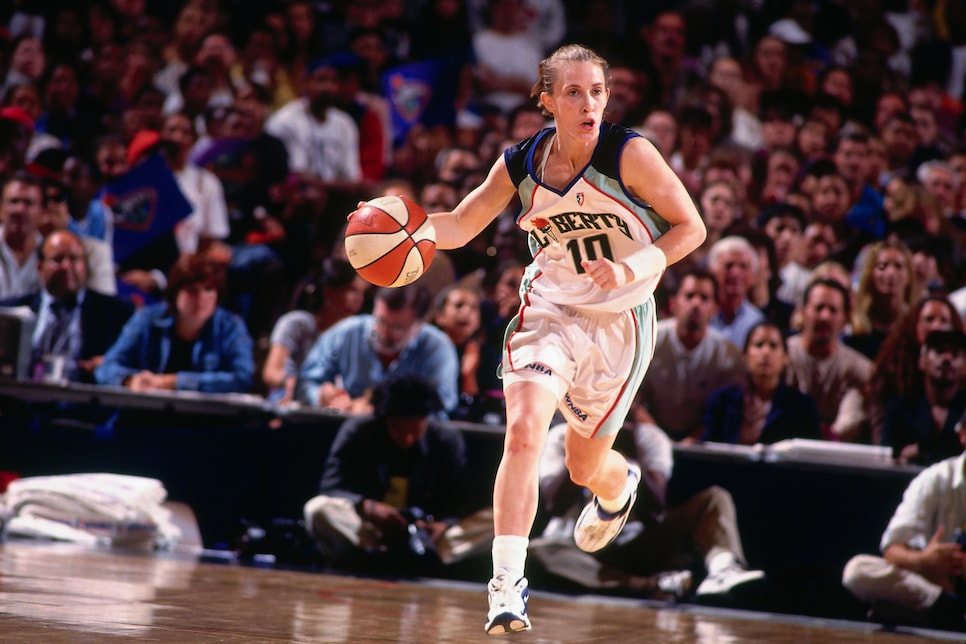 Talk about great genes! … Speaking of good genes, Luke Poulter (yes, Ian's son) finished top 25 in his first start in a pro event on the Asian Tour (Ian finished runner-up). Team USA might not be done facing this family after all. … Brendon Todd broke the record for most pars over 72 holes in a PGA Tour event. And that might just be the most Brendon Todd accomplishment ever. … Finland's Lauri Ruuska shot a 59 on the Challenge Tour despite being banged up from playing ice hockey the day before. Funny, that never helps my boss Sam Weinman's scores. … And finally, TaylorMade's plans for a luxury golf resort next to the new PGA of America headquarters in Frisco, Texas, were released, and they look spectacular:
Why hasn't anyone put private hitting bays in hotel suites before?! Genius!
RANDOM QUESTIONS TO PONDER
Can Jeff Curl write me motivational messages on the golf course?
Will a movie ever top "The Shawshank Redemption"?
Will my hamstrings ever stop being sore?