Surprise show
Watch U.S. Amateur fan Bryson DeChambeau absolutely kill balls with persimmon wood at Cherry HIlls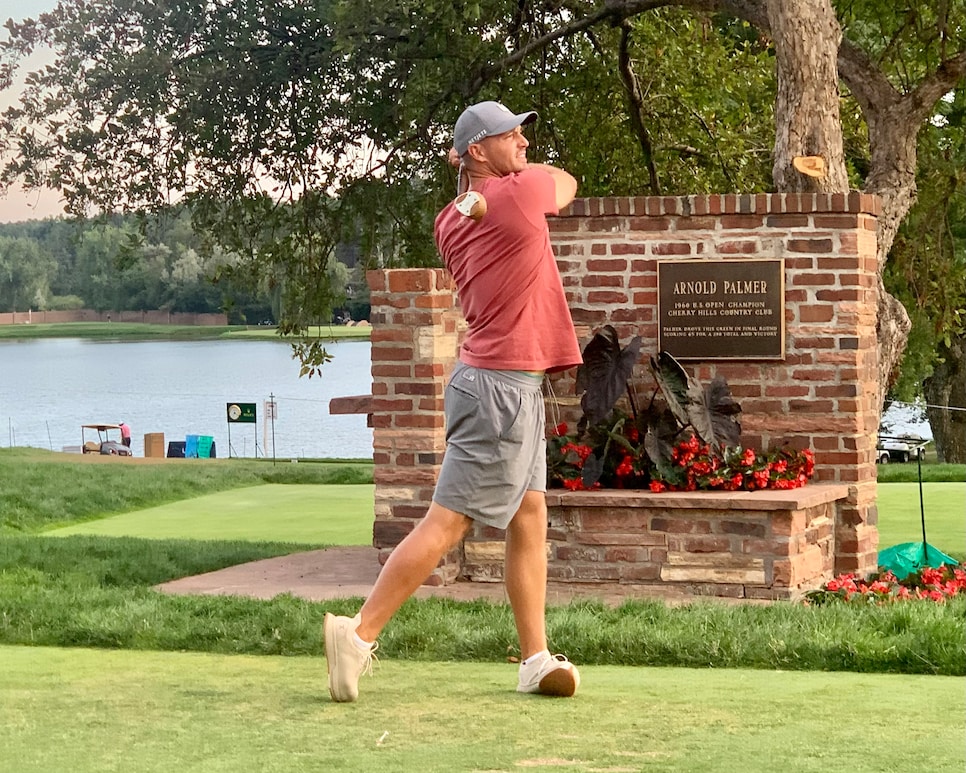 Bryson DeChambeau swings for the green with a persimmon wood on the first tee at Cherry Hills. (Tod Leonard)
CHERRY HILLS VILLAGE, Colo. — The sunlight was fading and the Round of 16 matches were winding down on Thursday at Cherry Hills Country Club. After a long day, the few fans left seemed sleepy, while the bar was full.
Then a surprise guest, Bryson DeChambeau, started doing the things that only he can do, and the buzz was back. Kids and adults gathered around the famous first tee, where in the 1960 U.S. Open, Arnold Palmer drove the green from 346 yards away for an opening birdie in the final round that fueled his comeback from seven shots to beat Jack Nicklaus.
As both a U.S. Amateur and U.S. Open champion, DeChambeau appreciates his USGA history, and he played in the 2012 Am here, shooting 67 in the opening round of stroke play before being eliminated in match play. So, there he was, in rubber-soled shoes, shorts and a T-shirt, hammering balls with a blond-headed persimmon club.
Of course, DeChambeau was like a dog after a juicy steak. He very badly wanted to reach the green—so much so that after it first seemed like he would just hit a couple of balls, he kept asking for more. And more.
Honestly, we lost count of how many swings he took, but he really seemed to love one ball better than most. "Can't do better than that," he said. The problem was, nobody could see more than 350 yards in the low light.
And still … Bryson asked for another ball and promised to do show off his "long drive swing." The coil was unbelievable.
Finally, DeChambeau was done, drawing pats on the back from the small gallery, and then he got on the back of a golf cart because he had to see if he'd reached the green. He missed it … just barely, as Golf Channel showed him finding the ball in the rough in front of the green, posing for a photo while kids circled it.
On a memorable day for so many reasons, Bryson's cameo will rank up there.