Karma
This golf cult hero's first PGA Tour Champions win has the weirdest connection to his lone PGA Tour win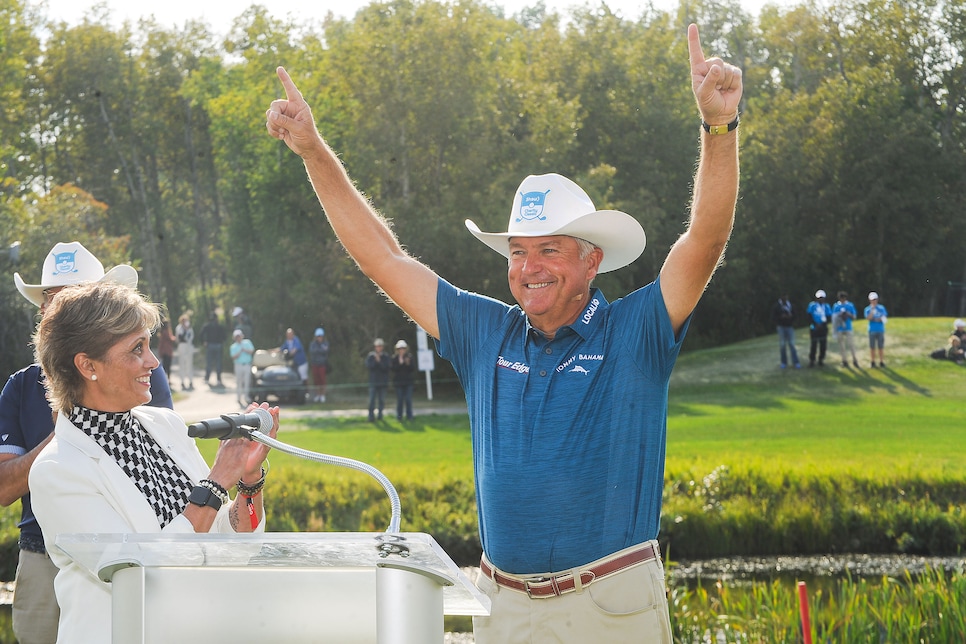 Ken Duke enjoys the cowboy hat given as one of the spoils of winning the Shaw Charity Classic, his first PGA Tour Champions victory, on Sunday.
Derek Leung
There is something about Ken Duke that resonates with golf fans. Maybe it's the Arkansas native's downhome personality, which sent out an everyman feel as he grinded on mini-tours before finally playing on to the PGA Tour and, since turning 50 in 2019, on the PGA Tour Champions.
"What course was Ken Duke playing today? Can anyone tell me? Was he playing across the road?" asked Jason Day afterward, the Aussie winning the tournament the next day. "I mean it was just … to be able to shoot that score is better … I think that should be the course record. It was just an absolute joke. Sitting there looking at his score is just amazing."
All this brings us to the fact that when Duke claimed his first senior victory Sunday in Canada at the Shaw Charity Classic, in his 100th start, it resonated with those who feel a connection to him. On the 18th hole at Calgary's Canyon Meadows Golf & Country Club, Duke hit an approach to six feet, then rolled in the birdie putt that gave him a one-stroke victory with a final-round 66.
Of course, Duke's reaction to the win was, well, so very Ken Duke.
After the round, an elated Duke talked about the final hole and offered up this amazing tidbit that links the victory to that lone PGA Tour win at the Travelers a decade ago.
"I had 105 yards [to the hole]. That's exactly the number I had at Hartford in 2013 when I won in a playoff against Chris Stroud," Duke said. "All it was was a 52 (-degree) sand wedge, just hitting the range shot and just focus on it and just do that. A great memory of that win, and obviously I hit a good shot here as well."
Seriously, how crazy is that?!? Well take a look for yourself.
Duke, 54, was grateful to have pulled off the win in Canada, too, given his career connections to the country. During his journeyman days he played on the Canadian Tour from 1996 to 2003.
"This is exciting. I mean, I've always dreamed about this," Duke said. "This is where I started my professional career up here in Canada and I always thought that I'd win up here, and here we are. I mean, 1996 to 2003, so here we are finally doing it.
Whether this win is a springboard for more senior success, who knows. And yet, maybe it doesn't matter. Ken Duke will always have this memory, and so will his fans.