U.S. Women's Open
Brooks Koepka is Mel Reid's not-so-secret weapon this week at the U.S. Women's Open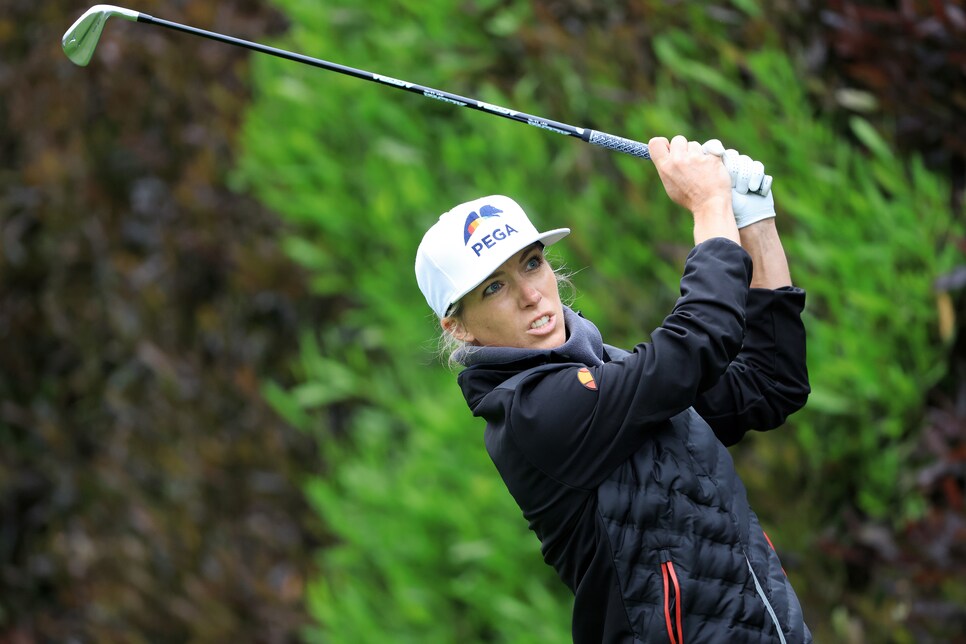 Mel Reid hits her tee shot on the 13th hole during the first round of the 76th U.S. Women's Open.
Sean M. Haffey
SAN FRANCSICO — Mel Reid is a golfer with friends. Lots of friends. Her chill vibe, outgoing nature and the willingness to tell it like it is make her someone who people are drawn to and fascinated by.
One of those friends happens to be Brooks Koepka, a neighbor in Florida who will trade some green bills with her in matches at home. This week, that relationship has been very, very good to Reid.
Seeking a method to approach the U.S. Women's Open on one of the most demanding layouts she'll ever see in The Olympic Club's Lake Course, the native of England reached out to Koepka on Tuesday. That led to an hour-long FaceTime session in which Koepka offered strategy for every hole at Olympic while revealing what's in the secret sauce of his majors success.
Since Koepka has been a beast in the biggest events, winning two U.S. Opens and two PGA Championships, it was like being tutored by Stephen Hawking on the nature of the universe.
"We went through a game plan," Reid said. "He gave me the rules he has during major championships, which hasn't been too bad for him. Honestly, he made me feel a lot calmer about the week. I feel like I've prepared the best I possibly could. It's amazing he took the time."
Through one round, the teamwork has been a remarkable success. With five birdies and a single bogey, Reid outmuscled Olympic for a four-under-par 67 that gave her the solo lead when the morning wave finished. She was one shot up on Angel Yin, and though the Lake Course wasn't yet playing quite as onerous as some anticipated, it had only yielded eight under-par scores.
"I didn't think that score was out there honestly," Reid said. "Yeah, I had a pretty good game plan. It's probably the best I've had for a tournament. We had a game plan and stuck to it.
"If you're in trouble, just get it out, make bogey. I think the key here is to not take many risks the first two, three days, and I didn't do that."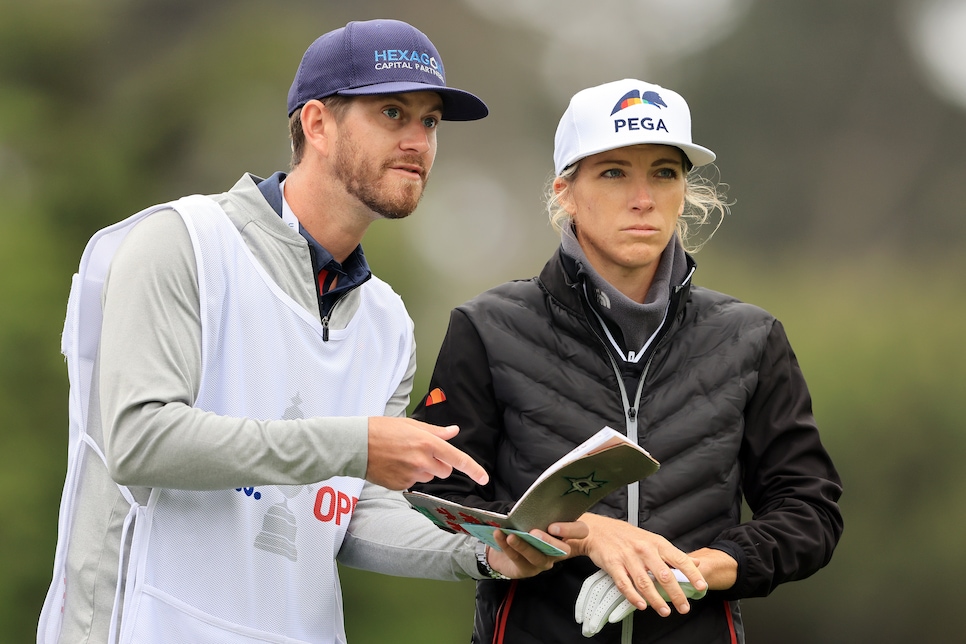 Mel Reid and caddie Ryan Desveaux discuss a shot on the 12th hole during the first round of the 76th U.S. Women's Open.
Sean M. Haffey
Reid's exceptional play early is notable for this reason alone: The 33-year-old who is ranked 33rd in the world has an unremarkable U.S. Women's Open résumé. She's only made five appearances and played the weekend just once. This is not a championship that seemed to suit her.
But she's a far different and more confident player now. She earned her maiden LPGA Tour victory last October, and she says that she's more settled in her life than she's ever been. And there is a subtle swagger, a seeming touch of confidence in everything she does. In that, she feels a kinship with Koepka.
"Mentally, he's unbelievable," Reid said. "He's similar to me in a lot of ways. He just goes out and plays; he doesn't care. His mentality is something I ascribe to. Playing with him, watching him practice, he's one of the greatest players in the game now. Why wouldn't I want to imitate him?"
Physically, Reid and Koepka could not be more different. Reid is generously listed at 5-foot-7 in her tour bio and doesn't look like she weighs much more than her golf bag.
"I'm built like a grasshopper," Reid said. "Actually, these are about as big as my legs can get without going into cross-fit or something."
Nevertheless, she considers herself one of the strongest players on tour out of the rough, which is a highly valuable asset this week. "I work my ass off in the gym," she said.
A three-time European Solheim Cup player and six-time winner on the Ladies European Tour, Reid took time deciding to move to the U.S. Tragically, her mother, Joy, died in a car accident in 2012, and it was not an easy decision to leave her dad in England and come live in the U.S. in 2018. Supported by a team that includes her fiancée Carly Grenfell, Reid's golf has been on an upward trajectory ever since.
"She's more empowered than she ever has been," Grenfell wrote in a first-person account of their lives for the Summer issue of the USGA's Golf Journal.
In 2018, Reid revealed that she is gay. This week, in a city that boasts one of the largest LGBQT communities in the world, and during Pride Month, her signature flat-billed cap is emblazoned for the first time with a rainbow.
"It's all about inclusion, right?" Reid said after her round. "We want to get more people in the game. Whatever your background, race, sexuality, you're just trying to get more people into the game.
"I've seen the bad side of discrimination-against people of all backgrounds. And I've also seen the positive side of inclusion. That's why I'm going to try to fight more. That's represented with the hat this week."
To wear it during the championship is a win. To be leading, that's a whole other level of pride.