News
Mel Reid breaks through for first tour win at ShopRite LPGA Classic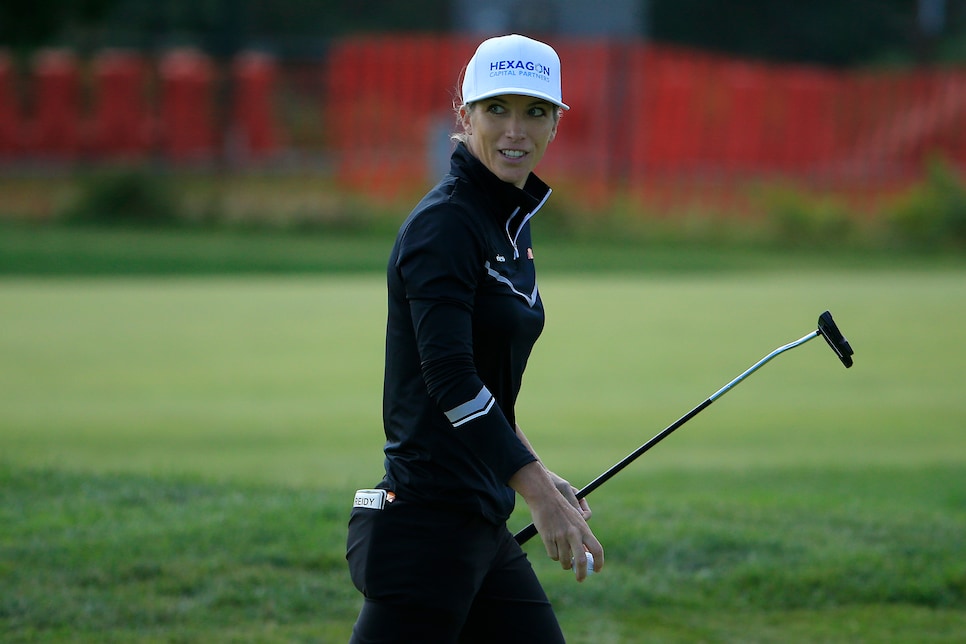 Mel Reid finally got what she's known she was always capable of. Thirteen years after turning professional, the 33-year-old Brit is an LPGA Tour winner. With rounds of 68-64-66-67, Reid took the title at the ShopRite LPGA Classic in Atlantic City, N.J., by two shots over Jennifer Kupcho. As evidence by the number of people who swarmed the green to spray the new champion with champagne, Reid is someone people are happy to see succeed.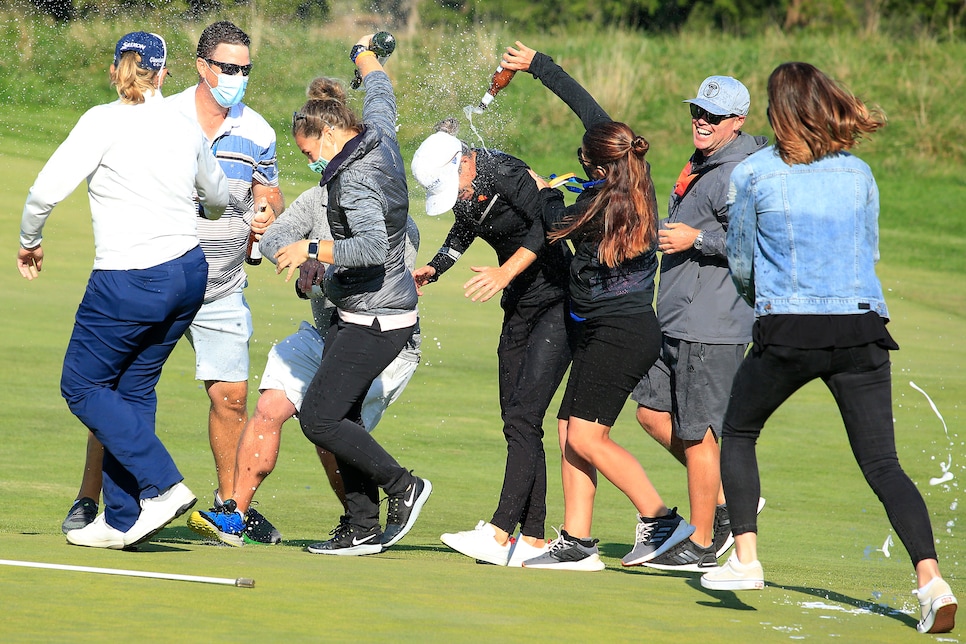 Mel Reid is doused with champagne after winning the ShopRite LPGA Classic.
Michael Cohen
Reid spent the majority of her career on the Ladies European Tour, where she won six times. It wasn't until Q School in 2016 that she broke through to get her LPGA Tour card and played her rookie year in the United States in 2017. That season was highlighted with a spot on the European Solheim Cup team (her third appearance), but when the next Solheim Cup came around in 2019, Reid didn't qualify nor receive a captain's pick, despite finishing T-3 at the KPMG Women's PGA Championship just months before the competition. She handled the disappointment as well as anyone could—better, maybe—and went to Gleneagles as an assistant captain for the victorious Europeans.
That's one of the things that makes Reid likeable: She knows when the moment is about her and she knows when the moment is bigger than her personal goals. And she lives in all moments with a consistently high level of tenacity.
Despite her competitiveness and obvious talent, this first tour win has alluded Reid for some time. "Everyone has been talking about it for a while or years that I should win and be contending every week, and it's not been happening," Reid said.
In her last start before the ShopRite, it looked like it was finally going to happen. Reid held the 36-hold lead in the Cambia Porland Classic, which had been shortened to 54 holes, but shot 74 in the final round to finish T-5. Her countrywoman Georgia Hall took the title.
For a moment on Sunday, it looked like Reid might falter again. After bogeys at 6 and 7 on the Bay Course at Seaview Resort, she had lost the lead.
"I read a tweet yesterday and it was probably one of the only bad tweets that I got, saying she'll choke. It gave me a little bit of motivation," Reid said. "I was like, I'm going to prove it. I know it sounds stupid, but probably the best thing I could have read. I'm definitely not letting that happen. Someone is going to have to beat me today. I'm not going to give it away."
She didn't give it away by any means. After those bogeys, Reid birdied four of the next five holes. Suddenly a tight leader board that also included Jennifer Song in contention saw Reid begin to run away. She stood on the 17th tee with a four-shot lead, only to make a bogey to Kupcho's birdie, cutting her lead to two. Still, Reid remained steely and closed out the short par-5 18th with a birdie.
"It changes your life honestly," Reid said of finally getting her first win on the LPGA Tour. "These are the best players in the world. The LPGA is in my opinion the best tour, the tour you want to be on if you want to be the best in the world. To win out here you get a different—people look at you a bit differently. So, it's tough to win out here. I can tell that you. Just it get it done is a huge relief and I'm ecstatic."