Live Blog
U.S. Open 2023 live updates: McIlroy, DJ chasing down Fowler and Schauffele in primetime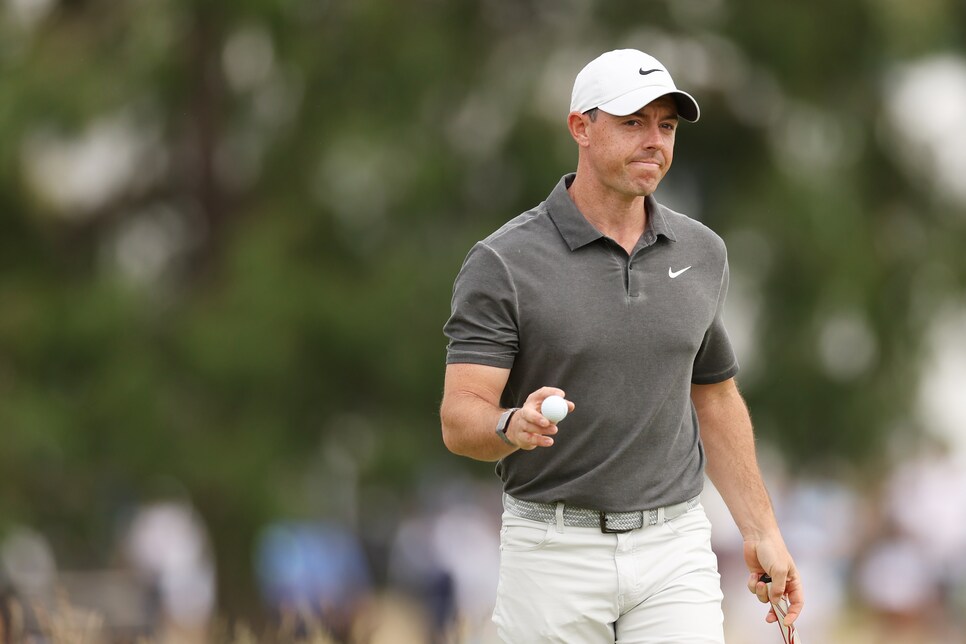 (Scroll down for live updates)
How the world's best players navigate this classic George C. Thomas Jr. venue will be most intriguing. Firm-and-fast conditions should challenge players to control and shape shots into these rolling fairways and greens. There should be more of an emphasis this week on the ground game—which is often lost in this era of bomb and gouge—which should excite most purists.
Of course, there's also the lingering news about the PGA Tour's future with its PIF partnership. That's for another day, though it won't be totally ignored now that shots are being hit. All of it just adds to the anticipation of this Thursday at LACC.
U.S. Open 2023: Latest Updates (all times eastern):
10:54 p.m.: That'll just about do it for the day at LACC. After historically low scores in Round 1, expect a much more difficult setup on Friday.
10:07 p.m.: After whiffing on his chip from the thick stuff left of the 18th green, McIlroy sinks an 11-foot bogey putt to only drop one shot and fall to five-under and three shots behind Schauffele and Fowler. A massive up-and-down.
9:56 p.m.: McIlroy will find the "heavy, heavy rough" on his final hole of the day while still tied for third with Dustin Johnson and Wyndham Clark. Rory will then brick a shot and try to escape No. 18 without too much damage. That one's gonna cause nightmares between rounds.
9:50 p.m.: The only bogey of the day for Dustin Johnson will come on his final hole. That'll be a six-under 64 for DJ. He's first in tee-to-green and 98th in putting, while being just a few shots back of Fowler and Schauffele.
9:40 p.m.: Hmm. Dustin Johnson will fly it over the ninth green, his final hole of the day, into the greenside bunker of No. 18. He opted for a five-iron instead of a six-iron, which the majority of the pros have been using. Certainly too much on that one. A bit bizarre from DJ considering he was moments ago just one shot away from tying the U.S. Open 18-hole scoring record.
9:32 p.m.: 62% of the fairways. That's how the golfers today are doing, and that kind of says it all. Rory McIlroy tees off on the wide No. 17, as Dustin Johnson takes a long putt on No. 17 that would've tied him up for the Day 1 lead. He'll birdie and now jump to seven under, just one back of the co-leaders.
9:17 p.m.: Wyndham Clark will finish his day with a six-under 64 and will somehow trail two pros starting Friday by two strokes. After starting his day with an eagle, Clark added seven birdies to his Day 1 card. He'll tee off in the first half of the day tomorrow.
9:13 p.m.: Another birdie for Rory McIlroy will jump him up to six under and put him into T-3 with Dustin Johnson. There have been two holes-in-one already on the 16th hole and McIlroy takes advantage of it as well with a birdie. Playing partner Hideki Matsuyama will birdie as well.
9:05 p.m.: And would you look at that? A big name at the Masters is back in yet another major as Sam Bennett. The recent amateur is five under thru 16 in his professional major debut. An impressively slow birdie putt on No. 16, for his sixth birdie of the day, ties him up with McIlroy.
8:56 p.m.: Brooks Koepka isn't matching the stellar play of his previous two majors (at least so far). He'll miss the green and find the extremely long par-5 14. Rory McIlroy will hit the following shot and land it on the green. Koepka is at one over now, as his LIV Golf bretheren Dustin Johnson keeps on climbing. DJ is now six under with four birdies already on his back nine and quite a few holes left.
8:43 p.m.: Very impressive par save from Sahith Theegala on the 15th hole. Seemed to stop the Walk & Talk with the NBC cameras after a down start to the hole. That's a wild 4 considering it took him multiple shots with a greenside chip.
8:35 p.m.: Rory McIlroy is on a par streak at the moment after five birdies on the front nine. It was his lowest opening-nine score ever in a major, so such a hot streak wasn't going to last for 18, so keeping away from bogeys has been big for the Northern Irishman. He remains knotted up with Wyndham Clark in the T-4 spot.
And ... just after that McIlroy update, Rory hits a beautiful shot out of the rough to the green on No. 13. He seems pretty happy with that one as the ball keeps rolling for quite some time on the fast green. He'll par this one. Wyndham Clark will now move up to six under after a strong birdie.
8:24 p.m.: Despite being just one over, Jordan Spieth has to be disappointed with his play thus far. Many of the best in the world have been going low and Spieth can't sink makeable putts to stay in the thick of things. He still has most of his back nine left, so there's still time to sink a few and be in a better place early Friday.
8:12 p.m.: Not a great hole for Phil Mickelson here after a nice charge. Lefty needs to punch out into the fairway on No. 6 after missing way left and may ultimately give one or two back. He's had two birdies so far on the front nine without a bogey, but that'll change soon enough, it seems.
What a shot from the dirt. He'll just lose one stroke and bogey the hole. That 10-footer will have him at two under, tied for 13th place.
8 p.m.: Welcome to the NBC primetime late shift. It's 8pm on the east coast, but the LACC U.S. Open is going strong. We start the broadcast with a recap of the dueling 62s from Fowler and Schauffele. At the moment, Harman is two back, McIlroy is three back and Los Angeles Country Club is having a tough Day 1.
7:48 p.m.: Don't look now, but Phil Mickelson just dropped a BOMB at the 223-yard par-3 fourth, his second consecutive birdie. He's at three under ... in the U.S. Open. Good golly miss molly.
7:44 p.m.: Not surprisingly, we're seeing some gritty stuff from Brooks Koepka this evening. After starting three over through six, he's worked it back to one over with birdies at No.'s 8 and 9, and he's about to tap in for birdie at the par-5 first to climb back to level par. A few more on the back without any blowups, and he's got everybody right where he wants 'em.
As for the scorching hot McIlroy, he made par at the 10th and remains at five under. That's no longer good enough for second, however, as Harman has reached six under thanks to a birdie at the 10th. These guys are torching this place.
7:21 p.m.: Jordan Spieth had another great look at the par-4 18th, and yet again, it violently lipped out. He turns in one over. Brutal, but at least he has the gettable par-5 first coming up. Meanwhile, Rory can't stop, won't stop making birdies. Another at the par-5 eighth has him at five under for the day.
6:49 p.m.: The all-out assault of LACC continues. Rory McIlroy just hit an absolute dime piece at the par-3 seventh, setting up what should be a tap-in birdie to get to four under. Golf Twitter definitely won't start overreacting to this start from the Northern Irishman.
6:32 p.m.: Jordan Spieth gets his first really good birdie look of the day at the 15th and ... he bricks it. The 2015 champ is now one over through six holes. It's far too early to talk like this, but the way the scoring is going, you might want to shoot at least one or two under to feel good about your chances. Lot of work to do to get there for Jordy.
Some other early mixers from the afternoon wave: Wyndham Clark is four under through eight (!), Nick Hardy is three under through 10 and Sam Burns is three udner through seven. Brian Harman is also three under, having just made a short birdie putt at No. 6. On the back nine, LIV's Dustin Johnson, a two-time major champ, is off to a strong start. Back-to-back birdies at 14 and 15 have him at two under.
6:21 p.m.: Another birdie for Rory McIlroy, though you wouldn't have known it if you weren't paying extremely close attention. McIlroy's third birdie of the day occurred on "Playing Through," which continues to destroy the flow of golf coverage and we all just sit here and take it.
6:14 p.m.: It's just about primetime here on the east coast which means the A squad of Dan Hicks and Paul Azinger have joined us. How were they welcomed on to the air? With a hole-in-one by Sam Burns at the 15th, the second ace of the day on that hole. Some "U.S. Open" this is, huh?
6:02 p.m.: Two bogeys in his first four holes for Brooks Koepka isn't the way you want to start a major. However, just for reference, that's exactly how he started the PGA Championship last month, and well, that turned out OK.
5:30 p.m.: Rory McIlroy's struggles in the opening round of majors in recent years have been well chronicled. But he's doing his best to fix that today as he begins his round birdie-birdie.
5:22 p.m.: Lots of talk this week about the drivable par-4 sixth hole. But did we really expect somebody to put it this close?
Alejandro Del Ray to 2 feet, 7 inches. Impressive (oh, and yes he made the eagle putt).
5:10 p.m.: Don't look now but guess who is two under through four holes? A certain six-time major champion and a six time U.S. Open runner-up. Welcome Phil Mickelson to the party.
5:04 p.m.: A lot will be said about the low scoring on Day 1 at LACC, but the overall scoring average mid-day was still around 72 and the next closest score in the clubhouse to Fowler and Schauffele's 62s is a 67.
4:54 p.m.: The thing about a West Coast Open is that it feels like so much has happened already and yet we're barely halfway through the round. For instance, the threesome of Brooks Koepka, Rory McIlroy and Hideki Matsuyama are just now teeing off. McIlroy is the only one to find the fairway on the par-5 first hole, with a 384-yard bomb.
4:38 p.m.: A reasonable tee shot on the par-3 ninth leaves Schauffele 27 feet for a 61. And somehow he leaves the putt short three feet short?!? Not often you "settle" for a 62 in a U.S. Open, but that might be where Schauffele winds up.
4:25 p.m.: So it took 50 years for Johnny Miller's 63 mark at the U.S. Open to finally be broken. And now it might be only 20 minutes until Rickie Fowler's 62 gets eclipsed as Xander Schauffele birdies the par-5 eighth hole to get himself to eight under par, tying for the lead.
4:15 p.m.: And there it is. Rickie Fowler holes his par putt on the par-3 9th, his 18th hole, for an eight-under 62. The score is the best in U.S. Open history, coming on the 50th anniversary of Johnny Miller's historic 63 at Oakmont. Fowler joins Branden Grace, who became the first player to shoot 62 in a major at the Open Championship at Royal Birkdale in 2017. Even more remarkable is that Xander Schauffele is a shot behind Fowler and ALSO has a shot at 62.
4:09 p.m.: As we await to see if Rickie Fowler can par the last for 62 — he has a long two-putt on the par-3 ninth — it's worth checking out this video analysis from our Luke Kerr-Dineen of the changes Fowler has made to his swing.
4:02 p.m.: There was a time when we might have expected Rickie Fowler to lead the U.S. Open. But it wasn't necessarily this week, and it certainly wasn't with a potential U.S. Open-record 62. But now that's a distinct possibility after Fowler capitalized on his lucky break on 8, chipping out from the woods, then getting up and down for birdie, moving to eight under. One more par and he'd have the first U.S. Open 62, and only the second in men's major history.
3:50 p.m.: Rickie Fowler's pursuit of a U.S. Open-record 62 is still in play, and that's in part thanks to a fortunate break on the par-5 8th. After pushing his tee shot right and into trouble, Fowler was able to locate his ball to the right of a footbridge, but with a clear enough window to the green to advance it up the fairway.
3:39 p.m.: Imagine being six under in your first 14 holes of the U.S. Open, including three birdies in five holes on the back nine, and NOT leading. That is Xander Schauffele, who moved to six under but trails Rickie Fowler by one. Those two are three clear of their nearest pursuers, Scottie Scheffler and Bryson DeChambeau. both three under.
3:30 p.m.: Fowler looks unflappable. After laying up off the tee on the par-4 sixth hole, he sets himself up for a eight-foot birdie attempt that frankly never looked like it was going to miss. He's now at seven under with three holes left, nine birdies on the day. USGA record books look like they're about to be re-written.
2:54 p.m.: Well, this was inevitable. Fowler's momentum finally runs out when he short-sides himself into a bunker shot on the par-3 fourth. He is definitely in trouble...actually never mind. Fowler's bunker comes within an inch of the hole, and he taps in for par. He did, however, lose ground to Xander Schauffele, who birdied the second to pull within a stroke of Fowler at five under.
2:35 p.m.: We'll let you in on a little secret: If TV quickly cuts to obscure French tour pro Mathieu Pavon, it's probably because Pavon is about to do something spectacular. Sure enough: Pavon just aced the par-3 15th hole to move to even par in the first round. More incredible, he's still six shots (!) behind leader Rickie Fowler, who just spun a wedge into the par-4 third. Fowler leads Xander Schauffele by two.
2:17 p.m: Get those orange flat brims out of storage, kids. Rickie Fowler is your U.S. Open leader by two after three straight birdies. Fowler executed a deft up-and-down out of a greenside bunker on the par-5 first, his 10th hole of the day, then rolled in another birdie putt to move to five under, two shots clear of Jacob Solomon and Xander Schauffele.
2:02 p.m.: Uh-oh. In what's definitely NOT a good sign for the rest of the field, Scottie Scheffler's putter might be starting to heat up. After converting a five-footer for birdie on No. 9, the World No. 1 rolls in a 20-footer for another birdie on No. 10 and suddenly he's in red figures. Combined with a bogey on No. 18 by Jon Rahm to fall out of red figures and Scheffler now has the lead in that two-man matchup. Playing alongside Rahm, Xander Schauffele pars 18 to make the turn at three under.
1:51 p.m.: Jacob freaking Solomon. Have a day, dude. The 26-year-old Auburn product rolls in an 18-footer on the short 15th to become the first player to four under and grab the solo lead. Pretty darn impressive for a guy with $92,444 in career earnings.
1:45 p.m.: It took awhile, but Scottie Scheffler is finally on the board with a birdie. After opening with tough bogey on the par-5 first, the World No. 1 rattled off seven consecutive pars before stuffing a beautiful 7-iron to five feet on the par-3 ninth. He'll make the turn at even par.
1:39 p.m.: After a bogey on 17 (his eighth hole of the day), Fowler bounces back with birdie on LACC's closing par 4 to make the turn at three under. That's five birdies on his front nine—a rarity at a U.S. Open, but potentially not as rare with LACC's variety of scoring holes. It's a bit of a logjam at that number right now with Fowler, Xander Schauffele, Jacob Solomon, Dylan Wu, Paul Barjon, and Gunn Charoenkul.
1:30 p.m.: A 17-footer for birdie on No. 15 and a 14-footer for par on No. 16 has Jon Rahm at one under. He's hit a couple wayward tee shots, but that putter looks locked in. Meanwhile, World No. 1 Scottie Scheffler remains at one over through seven following that opening bogey. His much maligned putter hasn't been bad, but his historic run of ball-striking has cooled off a bit. For now. There's still a LOT of golf left.
1:23 p.m.: We've talked about some surprising names at the top of the leaderboard, but let's look at some surprising big names near the bottom. Again, it's early, but Jason Day (three over thru seve), Justin Rose (two over thru seven), Viktor Hovland (two over thru six), and Patrick Reed (four over thru seven) are the names jumping out. Justin Thomas finally rolled in a lengthy birdie on No. 9, but he's still two over as he makes the turn.
1:08 p.m.: Coverage has moved to USA and as an old-fashioned cable guy, thank goodness. For me, Peacock was skipping more than the golf balls on some of these firm greens. Anyway, like we were saying before, Rickie Fowler is in the mix, and not only in the mix, but in a share of the lead after birdieing No. 16, his seventh hole of the day to move to three under. What a story this would be. This, after a pretty neat story came out yesterday that he played a practice round with Michael Brennan, who 11 years ago dressed up as Rickie for Halloween and received a note from Fowler promising to play a U.S. Open practice round with him in . . . 2025! So close!
Maybe Rickie is being rewarded by the golf gods with good karma. Regardless, it's nice to see his name at the top of any leaderboard again.
1:00 p.m.: OK, we've finally got a BIG name atop the leaderboard in Xander Schauffele. The seven-time PGA Tour winner and many-time major contender reaches the par-5 14th (his fifth hole of the day) in two and two-putts for birdie to move to three under. Schauffele is in a tie with Jacob Solomon and Dylan Wu, one shot ahead of a group that includes . . . Rickie Fowler! The resurgent star is back in this event after two years due to his top-50 ranking and he's off to a nice start at two under through six.
12:45 p.m.: Justin Thomas is having a tough day, and not just because of his score. On No. 3, he nearly holed his approach shot, but his ball glanced off the flagstick and spun back some 80 feet. And on No. 6, he appeared to drive the green only to have his ball just barely catch one of the greenside bunkers instead of funnelling toward the hole. Another bogey on the following hole and he's suddenly three over thru seven. Thomas won his second major at last year's PGA Championship, but hasn't won since. The former World No. 1 has fallen all the way to 16th in the world. And it doesn't look like he'll be making a reversal this week.
12:37 p.m.: It hasn't been the best start for the best two players in the world, Scottie Scheffler and Jon Rahm, but they both make nice par saves on 4 and 13, respectively. Scheffler remains at one over while Rahm remains at even. And in case you're wondering about Brooks Koepka, well, he's got another four hours until his tee time.
12:27 p.m.: Someone named Jacob Solomon is tied for the lead at the U.S. Open. Hang on, let's look up his bio . . . OK, he went to Auburn. And . . . he's ranked No. 737 in the world . . . he's made eight of 12 cuts this season on the Korn Ferry Tour with zero top-15 finishes . . . he's from San Ramon, California (local roots!) . . . and . . . that's about it. Anyway, what an impressive start for the young man, who is three under thru 10.
12:14 p.m.: Xander Schauffele rolls in another birdie on No. 12 to quickly move to two under. World No. 1 Jon Rahm bogeys the short par 4 to fall back to even. Meanwhile, the hometown favorite, Max Homa, makes his first birdie of the tournament at No. 3. But they are still all chasing UCLA's Omar Morales, who remains at three under.
11:54 a.m.: Scottie Scheffler had a nice look for a rare birdie at the difficult second hole to make up for that opening birdie, but his look slips by. He'll remain at +1 for his first two. His fellow Walker Cup teammate Collin Morikawa can't get off the bogey train, failing to convert a par putt from off the green. He'll start his 2023 U.S. Open at +2 through 2.
11:50 a.m.: Omar Morales continues to impressive early at LACC—just a few miles from his campus at UCLA. The 20-year-old owns the outright lead once again as he continues his clean card with a two-putt birdie at the par-5 eighth. Morales is the first player to get to 3-under.
11:34 a.m.: Things are happening early here. Scottie Scheffler found trouble off the tee, needing to pitch out of the sideways out of the fairway bunker. He then tugged his fairway wood third hole into the front bunker, leading to an opening bogey on the handshake opener. That's notttt the kind of start people expected from the World No. 1. In the same group, Collin Morikawa three-putted—with his birdie putt from 30 feet going 11 feet (!) past the hole. Two members of that vaunted Walker Cup team from 2017 are off to tough starts early in their opening rounds.
Meanwhile, Xander Schauffele and Jon Rahm are off to terrific starts at No. 10. Rahm had a thick lie in the rough to the left of the 10th, but stuck it to about 20 feet and buries the birdie putt to get to 1-under. Xander holed an even longer putt from 38 feet to start their days off with an opening birdie.
11:20 a.m.: More big-time groups have now started their opening rounds as Max Homa, Collin Morikawa and Scottie Scheffler are off the first tee. The Cali kids Homa and Morikawa are in the fairway, with Scheffler finding the left fairway bunker ... and it looks like he might have a lie from which he'll need to pitch out from close to that lip.
11:13 a.m.: We're seeing some of the world's best players find some trouble. Jason Day came up way short at his first hole, the par-4 10th hole, from a tough lie in the rough ... barely finding the front bunker. Bryson DeChambeau missed his tee shot at the par-3 11th hole waaaay right, leading to a bogey. Justin Thomas and Tommy Fleetwood also came up well short with their approach shots at the par-4 second.
Hayden Buckley's morning is off to an impressive start, despite a disappointing bogey at the gettable par-5 first hole, he has added birdies at Nos. 3 and 4 to get to 1-under.
And we now have the first player to get to 2-under with Dylan Wu birdieing the second and third holes, though the Northwestern grad is now joined by a fellow (future) Big Ten golfer, Omar Morales, who is back on top after a birdie at the short par-4 sixth hole. He nearly drove the green off the tee ... executing a chip from just in front beautifully. Morales, at only 20 years old, is really impressing so far.
10:45 a.m.: The morning's first 'featured group' is getting underway on the first hole as Shane Lowry, Justin Thomas and Tommy Fleetwood all start their rounds off on the handshake opener. And actually all three players missed the fairway. It's a massive fairway at No. 1, so that's a bit of a surprise.
At No. 10, Tyrrell Hatton, Bryson DeChambeau and Francesco Molinari have began their days. It'll be interesting to see how big and brawny Bryson does on this layout that demands finesse.
Molinari and Lowry converted birdies out of this sextet. That gives us 10 players tied at the top at one under. We've yet to see anybody reach 2-under, but there are some birdies out there this morning.
10:34 a.m.: How about this shot from amateur Michael Brennan! In this precarious spot right of the third green, it didn't look like Brennan had much of a shot. But as we know from his incredible up and down he converted to earn a spot in sectional qualifying at the Woodmont qualifier, this kid's got all the shots.
10:18 a.m.: You will see a number of players start their day with birdies at the par-5 opener. One thing you'll see on some other George Thomas designs is how he liked to start golfers off with a nice opener, followed by a tough second hole—also designed to spread out groups for pace-of-play purposes. Ryan Gerard and Adam Svensson holed short birdie putts at the par-5 first. But Michael Kim and Scott Stallings actually birdied their first holes, the 10th, to start their days. Omar Morales will always have those 8-10 minutes where he led the U.S. Open by himself!
10:02 a.m.: We highlighted Morales below, and he hit two high-quality shots into the par-5 opener. His fairway wood from 245 yards out rolled nicely onto the green and came back within about 20 feet of the cup. The eagle bid slid by, but he converts the short birdie putt. Now the native of Mexico can boast that he led the U.S. Open all by himself, regardless of what happens from here. Seriously, Morales has played LACC North dozens of times being a UCLA kid. For those of us in office pools and playing DFS, why did we not play this kid?!
On the other end is Hank Lebioda, who did not have as easy of a time on his first hole. He went bunker to bunker for his second and third shots, leading to an opening double bogey.
9:45 a.m.: The first groupings are in position and ready to start the 123rd U.S. Open! The first tee shot of the day was hit by a kid with experience playing LA golf—Omar Morales, who just wrapped up his sophomore season at UCLA, and who shot rounds of 65-65 as the medalist at Hillcrest to qualify. It's worth watching the USGA video below to hear more about Morales' story:
Berry Henson was one of the first players to tee off as well, starting his round at 6:45 a.m. local time. Henson has an interesting story—traveling all over the world to try to make it, including playing the Asian Tour. He's gotten a lot of publicity this week as he has been known to drive for Uber in his downtime. Our Joel Beall wrote a great story about Henson earlier this week.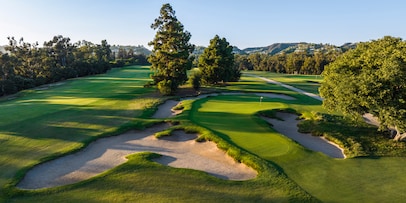 It's on the edge of Tinsel Town, but the architecture of the North Course at Los Angeles Country Club has been solid gold ever since its 2010 restoration by architect Gil Hanse, his associate Jim Wagner and their colleague Geoff Shackelford. It matters not that Hanse's team didn't replicate the bunkering style of original architect George C. Thomas, but rather the more visually exciting style of Thomas' associate, William P. Bell. The first nine plays rustically up and down a shallow canyon with holes switching back and forth across a dry barranca, and the second nine loops across a more spacious upland section with one par 3 (the 11th) that can stretch to nearly 300 yards and another (the 15th) that often plays just 90 yards. The hole strategies reinstituted by Hanse will play sensationally when LACC's North course hosts the 2023 U.S. Open.
Explore our full review
MORE FROM GOLF DIGEST @ THE U.S. OPEN